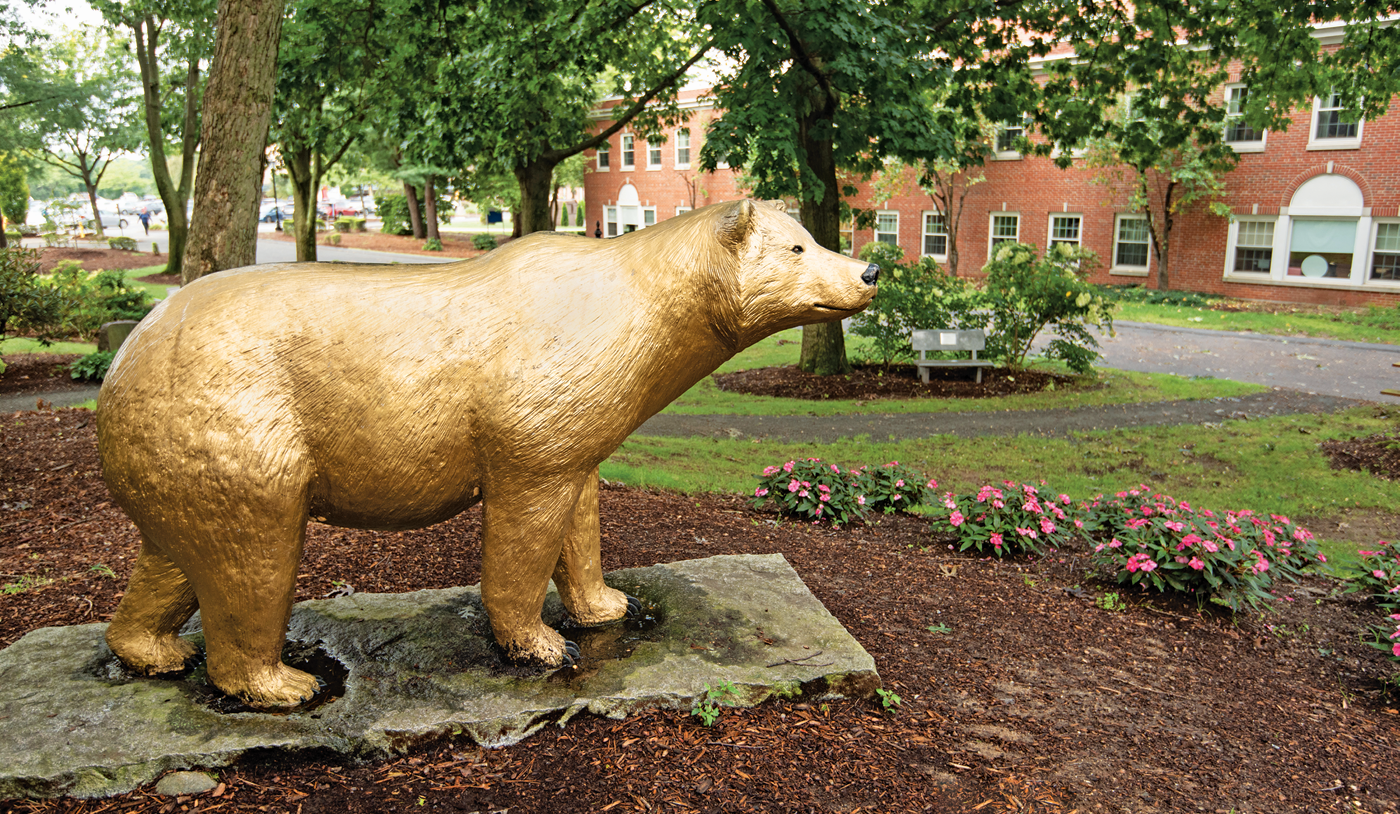 Professional Updates and Accomplishments
Stay Connected
Your classmates want to know about the milestones in your life. Send your news including career changes, accomplishments, publications, weddings, births, and adoptions to the Office of Alumni Relations. Email alumwne@wne.edu or complete a short online form.
JACK LOONEY L'76 (JD) was recently elected to the Board of Directors of the Association to Preserve Cape Cod, Inc. in Dennis, MA. He is currently staff attorney at Connecticut Fund for the Environment.
DAVE DRAGON '78 (Accounting) recently published I Solve Mysteries: The Art and Science of Business Process Optimization and Transformation. He is president of Dragon Management Consulting.
EDWARD WILLIAMSON L'79 (JD) retired as the Associate General Counsel for Hearings, Enforcement and Administration with the Office of the General Counsel, U.S. Nuclear Regulatory Commission. Formerly, he was the Deputy Chief Attorney in the Office of the Chief Attorney, Headquarters Services-Washington, Department of the Army, at the Pentagon. Ed is currently an adjunct professor of business law for a Tampa, FL area college.
BRIAN ADE L'80 (JD) has been named to the prestigious Best Lawyers® in America for 2020. He is a partner at Rivkin Radler Attorneys at Law.
ADRIENNE SMITH '81/G'84 (Electrical Engineering/Engineering Management) was named interim dean of Holyoke Community College's division of Science, Technology, Engineering, and Math (STEM). Smith previously served as dean of the School of Engineering, Technologies, and Mathematics at Springfield Technical Community College.
BRIAN HAYNES L'83 (JD) was selected for inclusion in 2019 Super Lawyers for his work with Employee Benefits. He is an employee benefits and executive compensation attorney and cochair of the tax practice at Bond, Schoeneck & King.
SHARI BORNSTEIN L'88 (JD) has returned to private practice, continuing her matrimonial and family law work as a mediator, collaborative attorney, and litigator with The Law Firm of John Yacos, P.C. Previously, she worked at the nonprofit organization FamilyKind, Ltd.
EDWARD HOURIHAN JR. L'90 (JD) was selected for inclusion in 2019 Super Lawyers for his work with business litigation. He is a managing member of the Rochester office of Bond, Schoeneck & King.
KATHLEEN PORTER L'90 (JD) was named a Best Lawyers® 2020 "Lawyer of the Year" in Boston, MA, in the area of Information Technology Law. Porter is a partner at Robinson+Cole.
JULIE PHILLIPS '91 (English) recently joined Holyoke Community College as coordinator of Alumni Relations and Annual Giving. She was previously associate director of advancement services and coordinator of donor relations and annual giving at Westfield State University.
JOHN KOVALCHIK '92 (Psychology) was promoted to director of accountable care organizations at Holyoke Medical Center, where he was previously manager of the Center for Behavioral Health.
PATRICK DAGLE G'93 (MBA) was honored at the AFCEA International Conference held in Baltimore, MD. AFCEA presented Dagle its prestigious Leadership Award for providing stalwart service and forceful leadership to the Lexington-Concord Chapter for more than 25 years.
MATTHEW SCOTT L'93 (JD) was named head of the Northeast division for Hartford Financial Services Group's middle and large commercial insurance business.
TODD SHELANSKY '93 (Accounting) was named to the Connecticut Society of Certified Public Accountants Advisory Council for the 2019-20 activity year. He is a partner in Harper & Whitfield, PC in Farmington, CT.
RITA AQUILIO L'97 (JD), matrimonial and family law attorney with Lawrence Law, was recently appointed to the New Jersey State Bar Association's General Council. This fall, Aquilio also begins her second year as Trustee to the Somerset County Bar Association.
DARLENE MARK '97/G'02 (Finance/MBA) has joined Monson Savings Bank as vice president and commercial loan officer. Formerly with Country Bank, Mark has been in banking for 20 years.
AMIE (BURTMAN) KALAC L'98 (JD) has joined the law offices of Cullen and Dykman LLP. Kalac was previously counsel at Hoagland, Longo, Moran, Dunst & Doukas LLP.
CHARLES VANDERMILLER, III L'98 (JD) was named legal advisor to the National Guard Bureau's Counter Drug Program. Major VanDerMiller has been serving on active duty as a Judge Advocate Officer with the Army National Guard since 2011.
MICHEAL STRATTON '00 (Integrated Liberal Studies) was named president of the Management and Organizational Behavior Teaching Society.
STEVEN TROSTLE L'00 (JD) was appointed as Chief of the State's Attorney's Office's Police Integrity Unit, overseeing criminal investigations and prosecutions of corrupt police officers in the Baltimore, MD Police Department.
RICHARD KNEELAND L'01 (JD) was promoted to Senior Vice President & General Counsel at Allegro Microsystems, Inc. In his spare time, Kneeland is a music producer working with an artist at Abbey Road Studios in London.
DARRYL KONICKI '03 (Business Management) was promoted to associate commissioner of the Little East Conference (LEC). Konicki joined LEC in September 2017 as assistant commissioner.
KEVIN WILLIAMS L'05 (JD) was recently selected as a 2019 Georgia Super Lawyer by Super Lawyers magazine. He is a partner at Weinberg Wheeler Hudgins Gunn & Dial in Atlanta, GA.
STEPHANIE SCHLATTER L'07 (JD) is now the pro bono manager for the worldwide pro bono program at Dechert LLP.
RYAN AGNEW L'09 (JD) has joined Wright, Lindsey & Jennings LLP in Bentonville, AR, where his practice focuses on adult-use and medical cannabis businesses.
DAVID FLINT, JR. '09/G'13 (Business Adminstration/Accounting) was appointed to serve on the Advisory Council for Government Accounting and Auditing for the Connecticut Society of Certified Public Accountants' 2019-2020 activity year. Flint is a manager with BlumShapiro in West Hartford, CT.
MATTHEW HUTCHINSON '09/L'12 (Political Science/JD) recently joined the law firm Halloran Sage as an associate. His work is focused on insurance coverage and defense litigation in the Insurance Defense practice group.
AIMEE DALENTA '10 (Elementary Education) was recently appointed chair of the Early Childhood Education Department at Springfield Technical Community College.
DANIELLE DUPLESSIS L'10 (JD) has joined Charter Communications in Stamford, CT as manager, counsel. She was previously an associate at Neubert, Pepe & Monteith PC.
JESSICA KEIFER '12 (Marketing) moved to Los Angeles, CA after accepting a position at Farmers Insurance as a personal lines product manager.
RICHARD VELARDI L'12 (JD) starting a new position as associate director, compliance at SK Life Science, Inc. Previously, he was the chief compliance officer at Kedrion Biopharma.
EMILY FITZGERALD '14 (Political Science) started a new job at Smith College working in the Office of Alumnae Relations.
TALIA LANDRY L'15 (JD) has recently joined the law firm of Doherty, Wallace, Pillsbury and Murphy, P.C. Landry's practice includes estate planning and elder law, personal injury, and commercial litigation.
GENNAH BORG '16 (Communication) started a new job with Meyvyn, Inc., an A.P. Keaton agency, as an account coordinator.
KAITLYN LABBE '16 (Marketing Communication/Advertising) recently graduated with her MA in Communications Management from Webster University and accepted a position at Thompson Coburn, LLP as a marketing specialist.
MATTHEW LACOILLE '16 (Sport Management) started a new position as associate director of development and stewardship at Eagle Hill School.
TROY SANDERS '16 (Chemistry) received his white coat which marks the start of his medical school journey at the David Geffen School of Medicine at UCLA, a top 10 medical school. He was selected to receive the merit-based David Geffen Medical Student Scholarship, the highest honor awarded to an entering medical student.
STEFAN SJOBERG L'18/G'18 (JD/General Business) has recently joined the law firm of Doherty, Wallace, Pillsbury and Murphy, P.C. His practice encompasses business law, estate planning, probate litigation, and taxation.
BENJAMIN GREENBERG '19 (Civil Engineering) started a new job as civil engineer at Diversified Technology Consultants, Inc. in Hamden, CT.
Correction
Derek Beaulieu '13 (Biology and Chemistry), who graduated from Tufts University School of Medicine, is completing his Dermatology residency at Stanford University Medical Center in Stanford, CA, not Stamford, CT as noted in a previous publication.
Chris Kelley L'85 (JD) was appointed to the New York State Court of Claims where she will serve as an Acting Supreme Court Judge in Suffolk County. Judge Kelley is female, but was incorrectly identified using male pronouns in a previous publication.