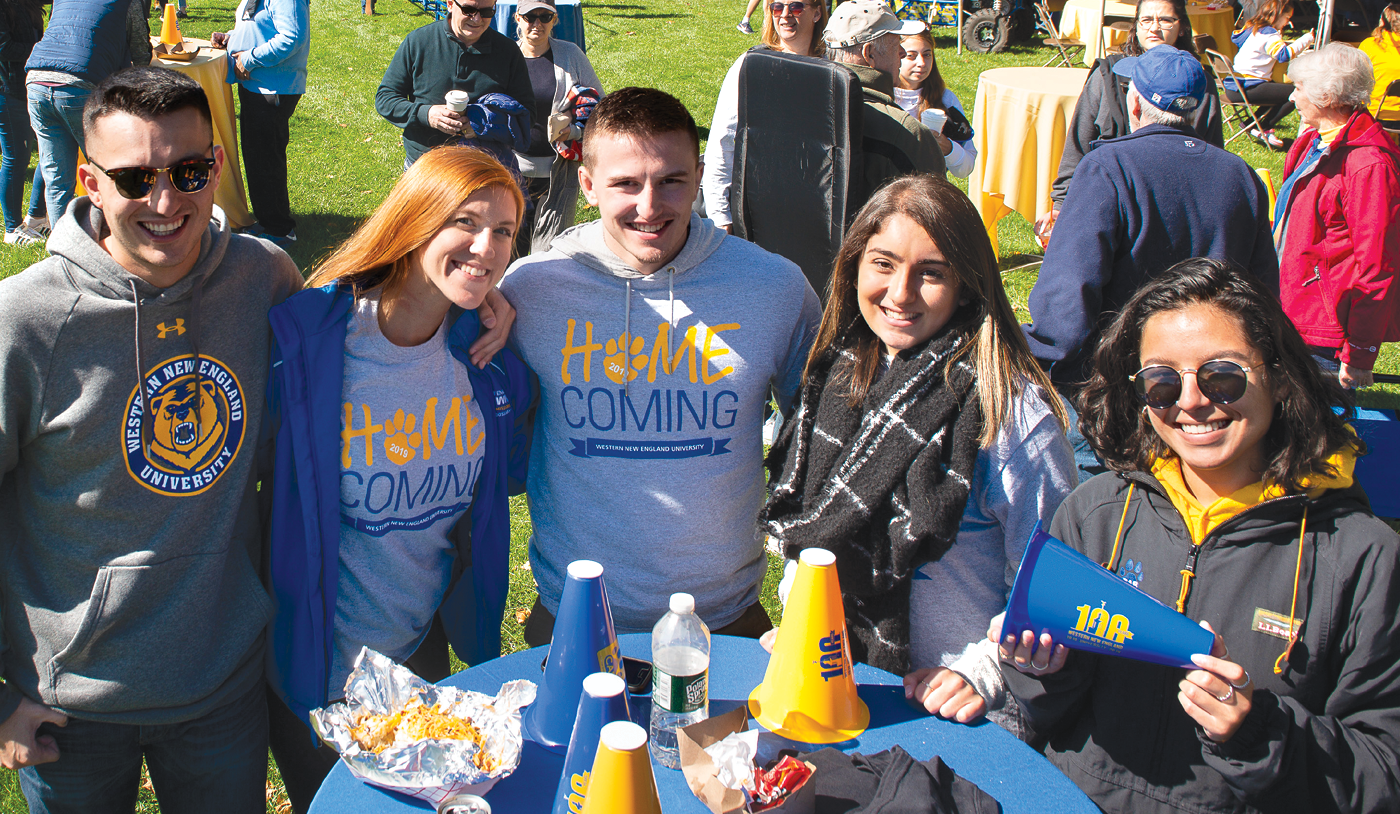 100 Years of Golden Bear Pride on Display at Homecoming 2019
By Mary McLean Orszulak G'10
It was a glorious weekend for a homecoming to Western New England University with non-stop celebrations happening on campus and throughout the region.
Kicking off the Homecoming festivities on Friday, October 4, President Anthony S. Caprio welcomed alumni who graduated 50 or more years ago to the Golden Graduates Luncheon. The Class of 1969 announced a scholarship fundraising effort for their 50th Reunion in honor of Andrew Mulcahy, longtime dean of students, who served the University from 1961–1993. On Saturday evening, members of the Class of 1969 enjoyed '60s and '70s music at the 50th Reunion Banquet, held at the Sheraton Springfield Monarch Place Hotel.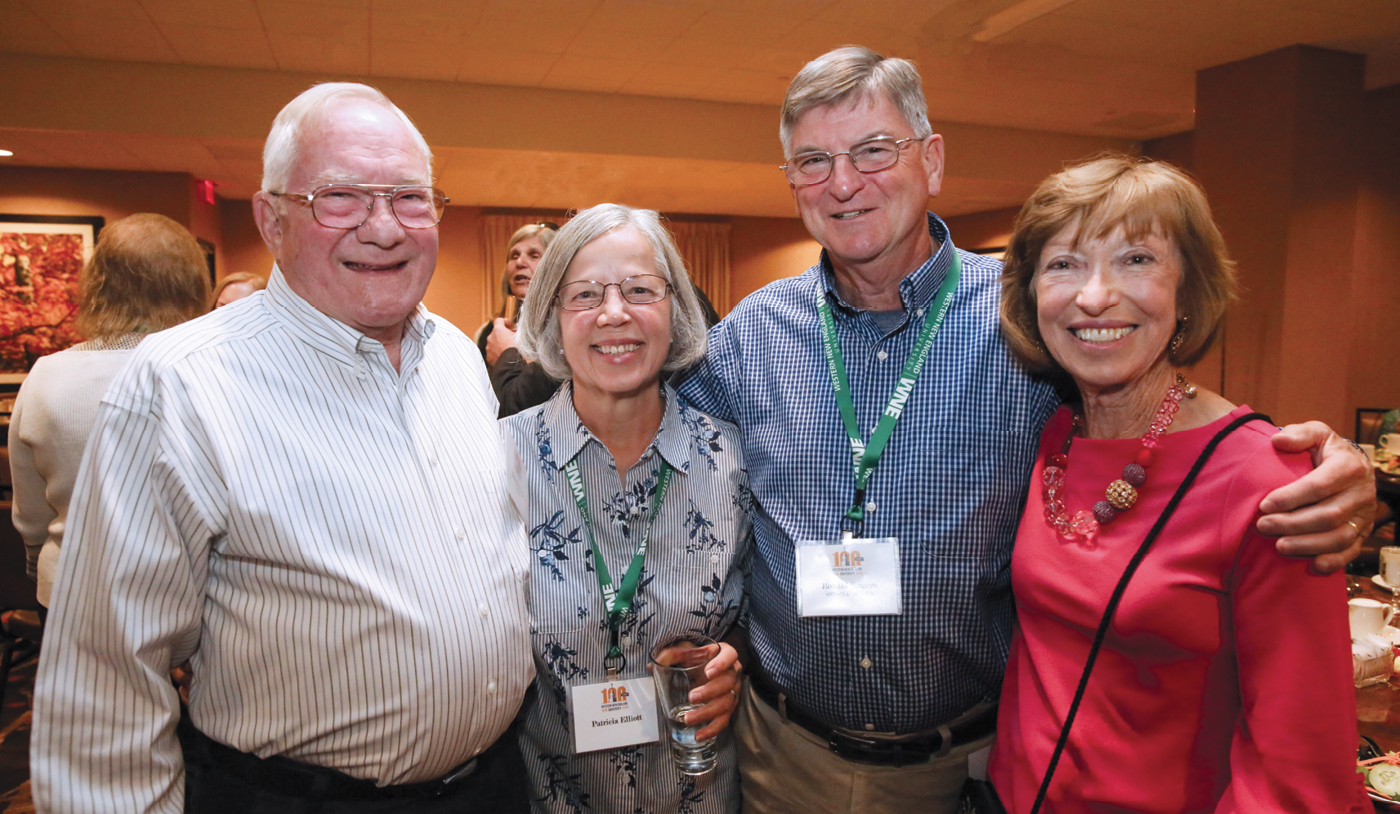 Mother Nature delivered a spectacular autumn day for Saturday's Homecoming festivities. The morning began with the President's Donor Recognition Brunch, where members of the University's donor societies were honored in a special event held in the St. Germain Campus Center.
Alumni gathered to march in the Parade of Classes, led by the University's drum line, President Caprio, and Spirit, the Golden Bear mascot. Wearing commemorative tee shirts, participants in the inaugural parade spanned five decades of graduates—and included some future Golden Bears, too.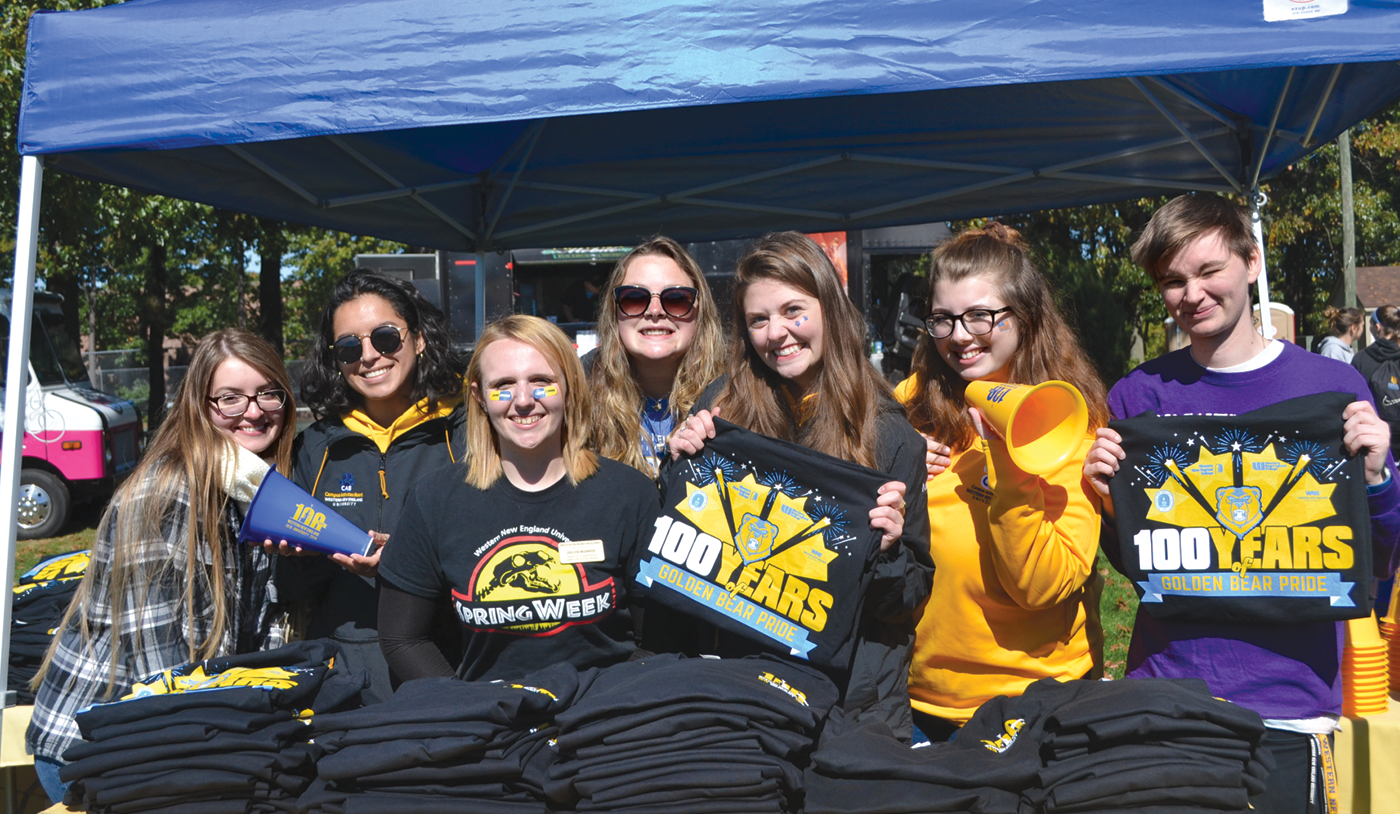 On Golden Bear Boulevard, alumni connected with faculty and staff from the Colleges of Arts and Sciences, Business, Engineering, and Pharmacy and Health Sciences. Fun Zone activities appealed to all ages, including games, inflatables, a face painter, music, and a variety of activities.
Fans and Alumni Athletes Support the Blue and Gold
Packing the stands and overflowing onto the adjoining hilltop, students and alumni united to cheer on the G-Bears for the Homecoming football game. The Golden Bears defeated Nichols College, 30-19. Homecoming also included contests for Women's Volleyball (W, 3-2), Women's Tennis (L, 9-0), Women's Soccer (W, 3-2), and Men's Soccer (W, 5-0).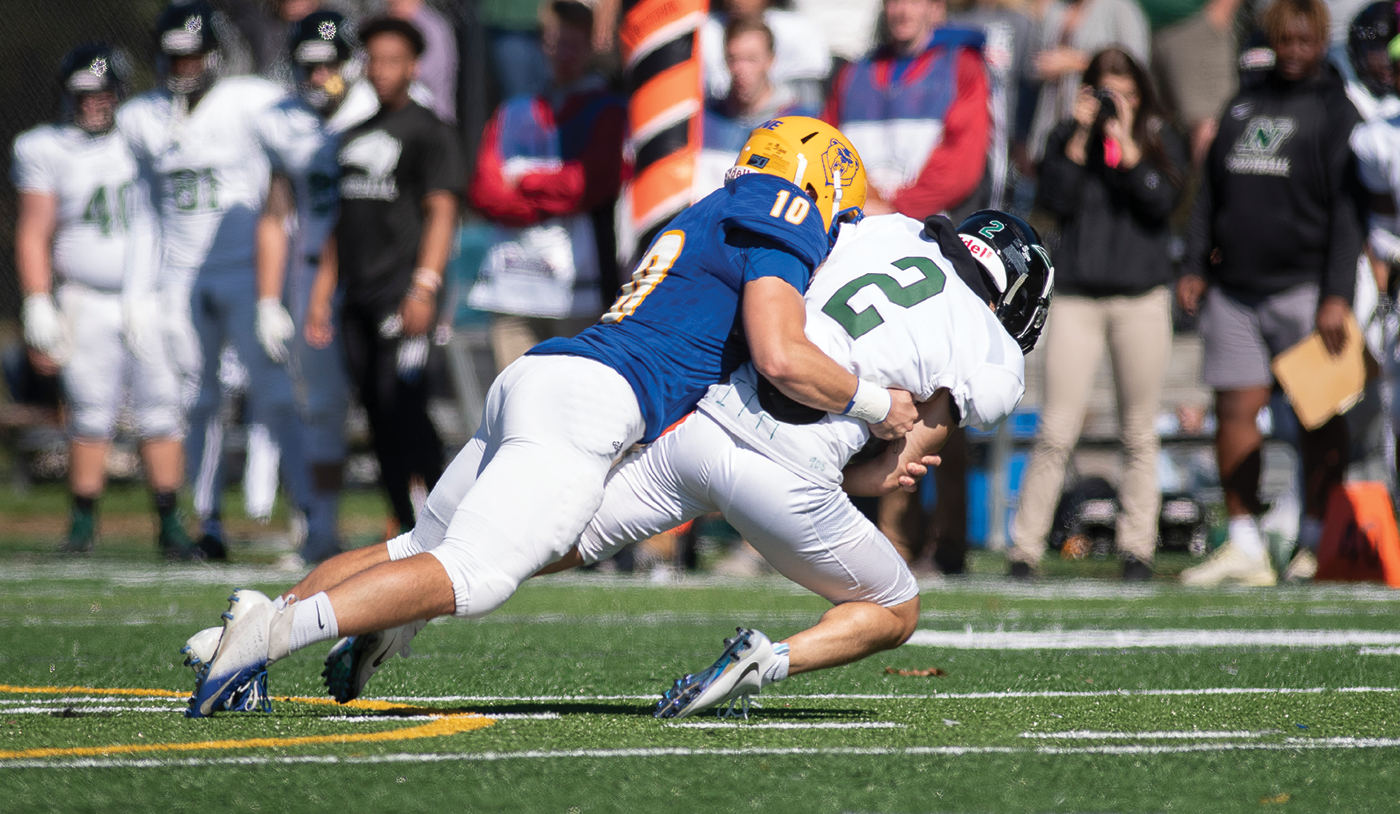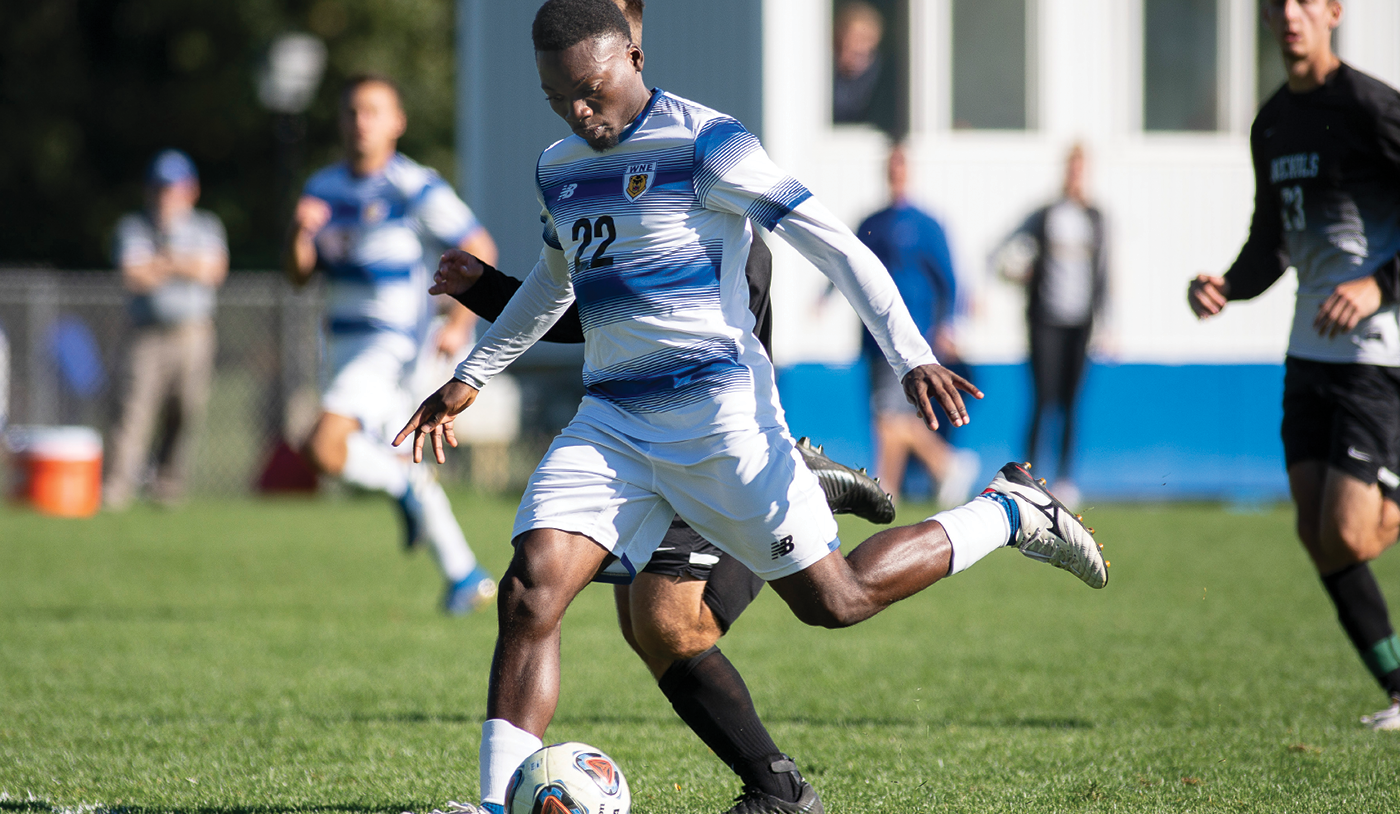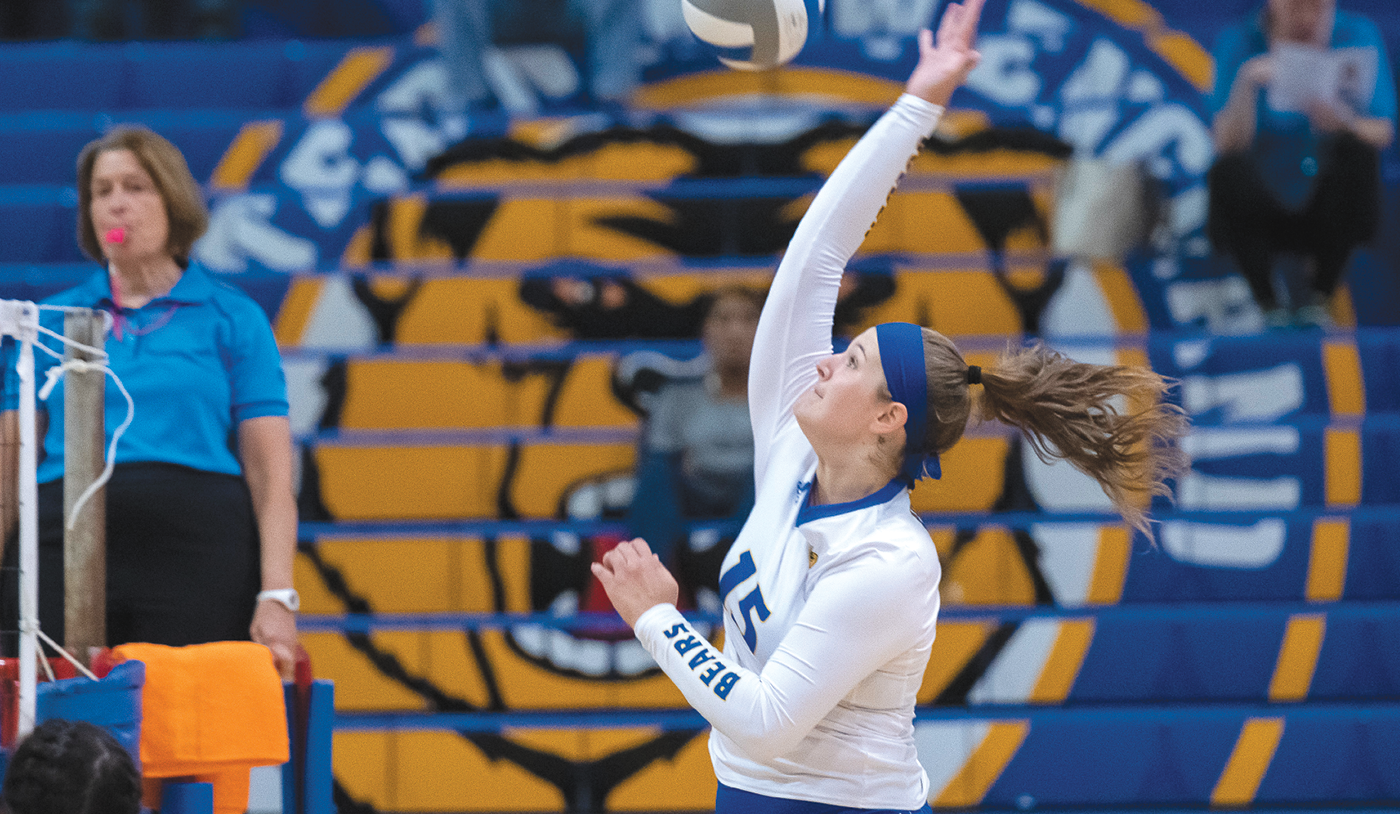 Alumni games included Women's Lacrosse, Women's Basketball, Women's Volleyball, and Men's Soccer. And current and former Golden Bear athletes gathered with the Women's Athletic Council on Sunday for a Celebration of Women's Athletics Brunch at Springfield's Max's Tavern, where they were joined by Director of Athletics Matt LaBranche and President Caprio.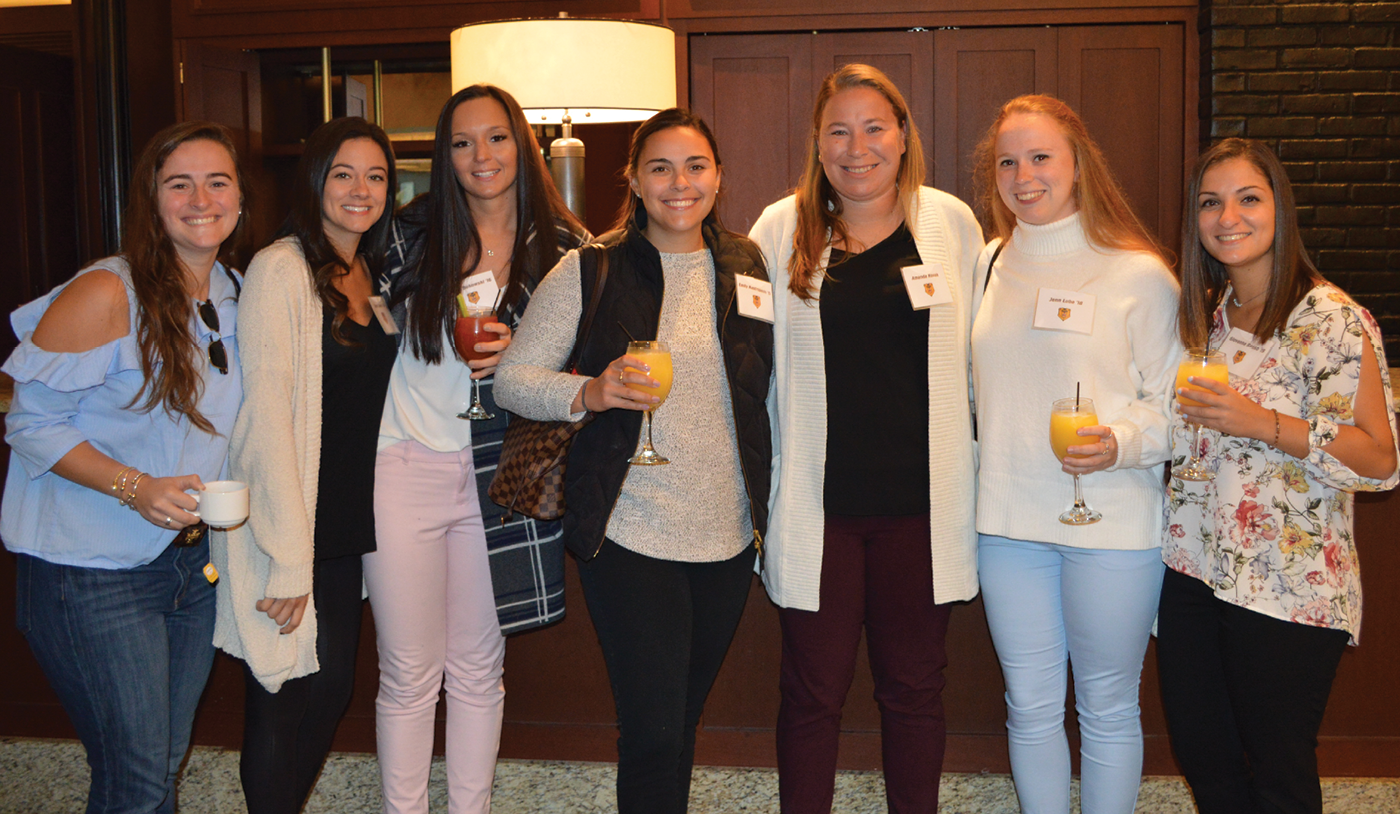 Forever a Golden Bear: Cheers to 100 Years
After the Homecoming game, crowds made their way to Commonwealth Lawn for a Centennial Celebration. Affinity Tents offered guests the opportunity to connect with student organizations. A special Centennial IPA brewed for WNE by alumnus Jeff Goulet '88 was offered in commemorative glasses. Desserts and tasty treats were enjoyed by all, as they raised a glass to toast Western New England. President Caprio spoke of the shared pride in the University's first 100 years and looked toward the bright future ahead.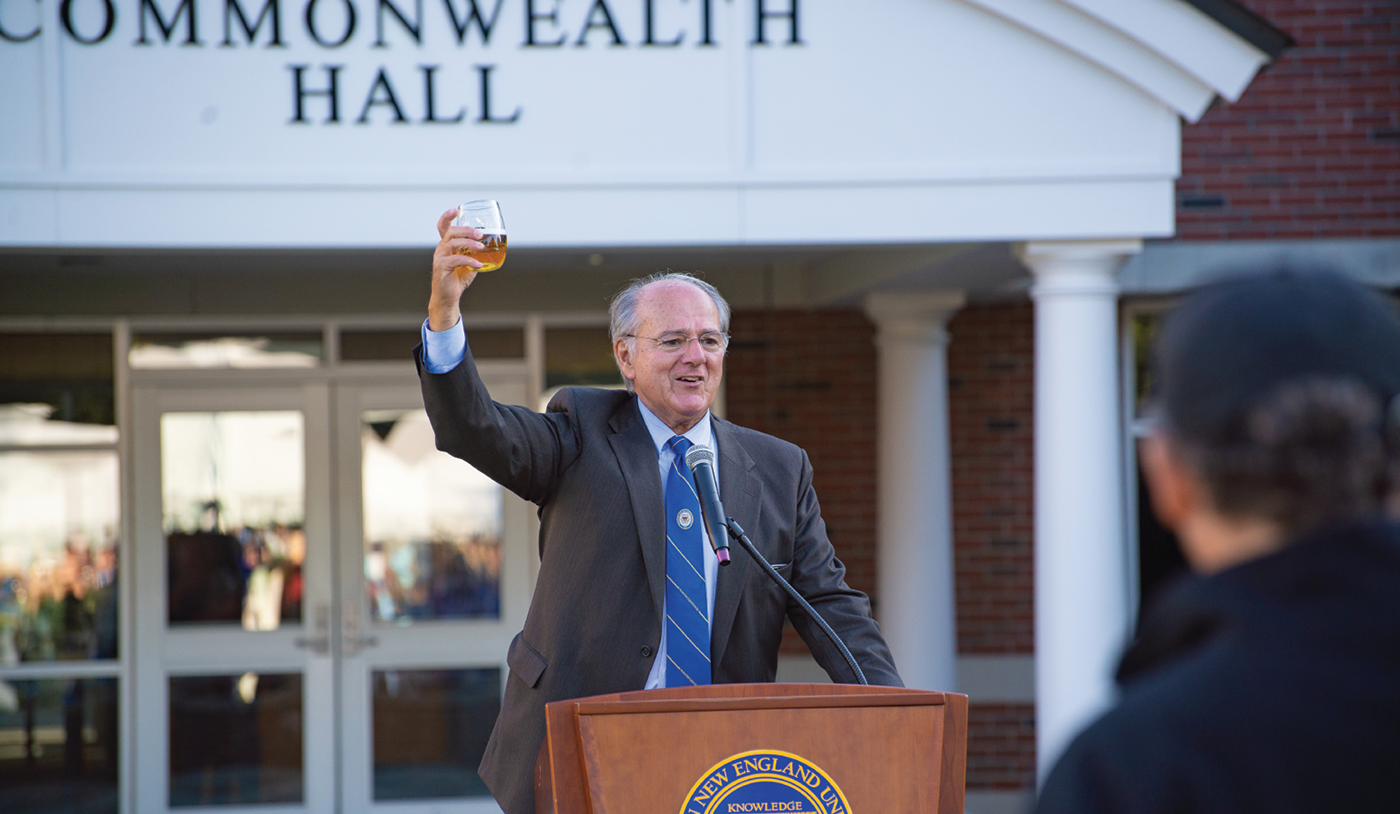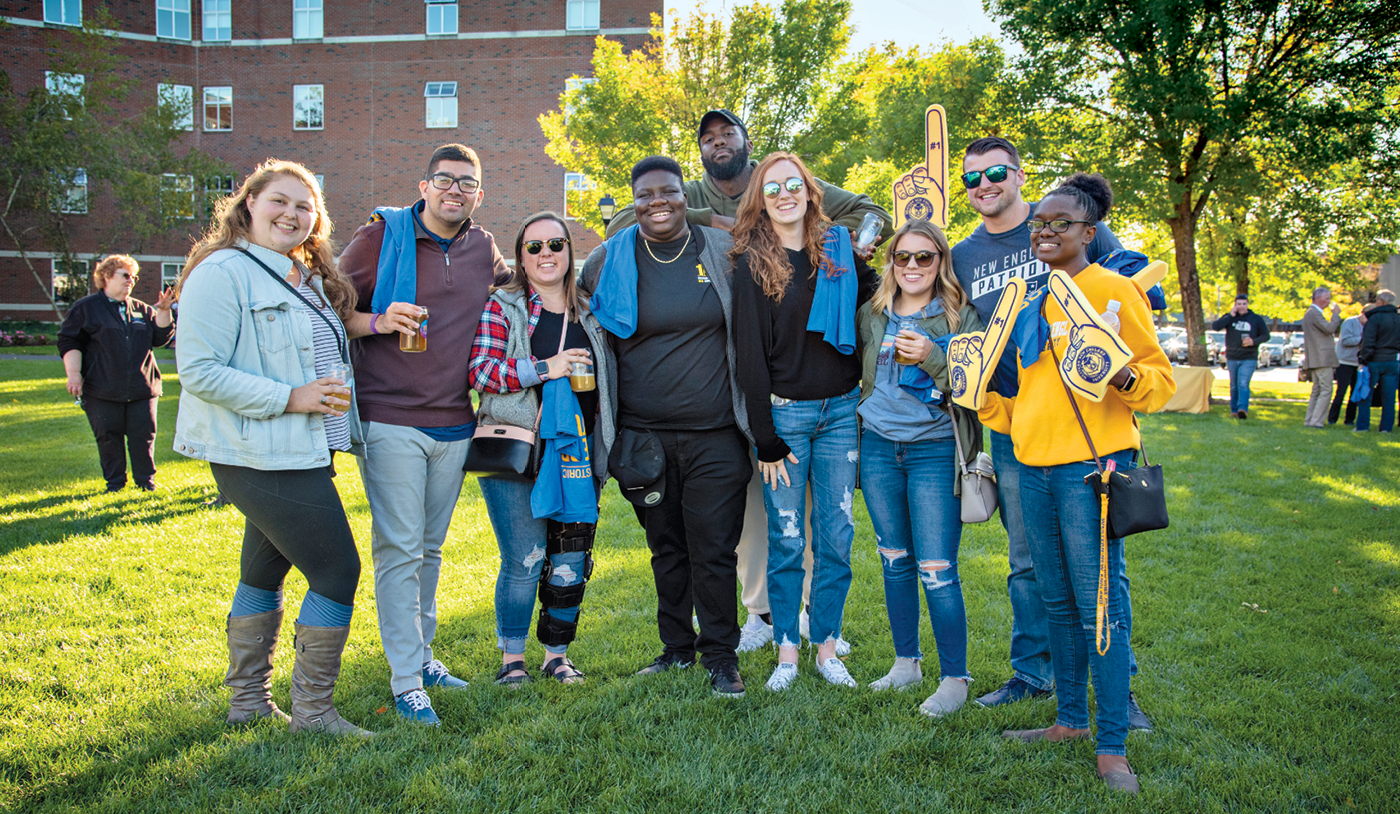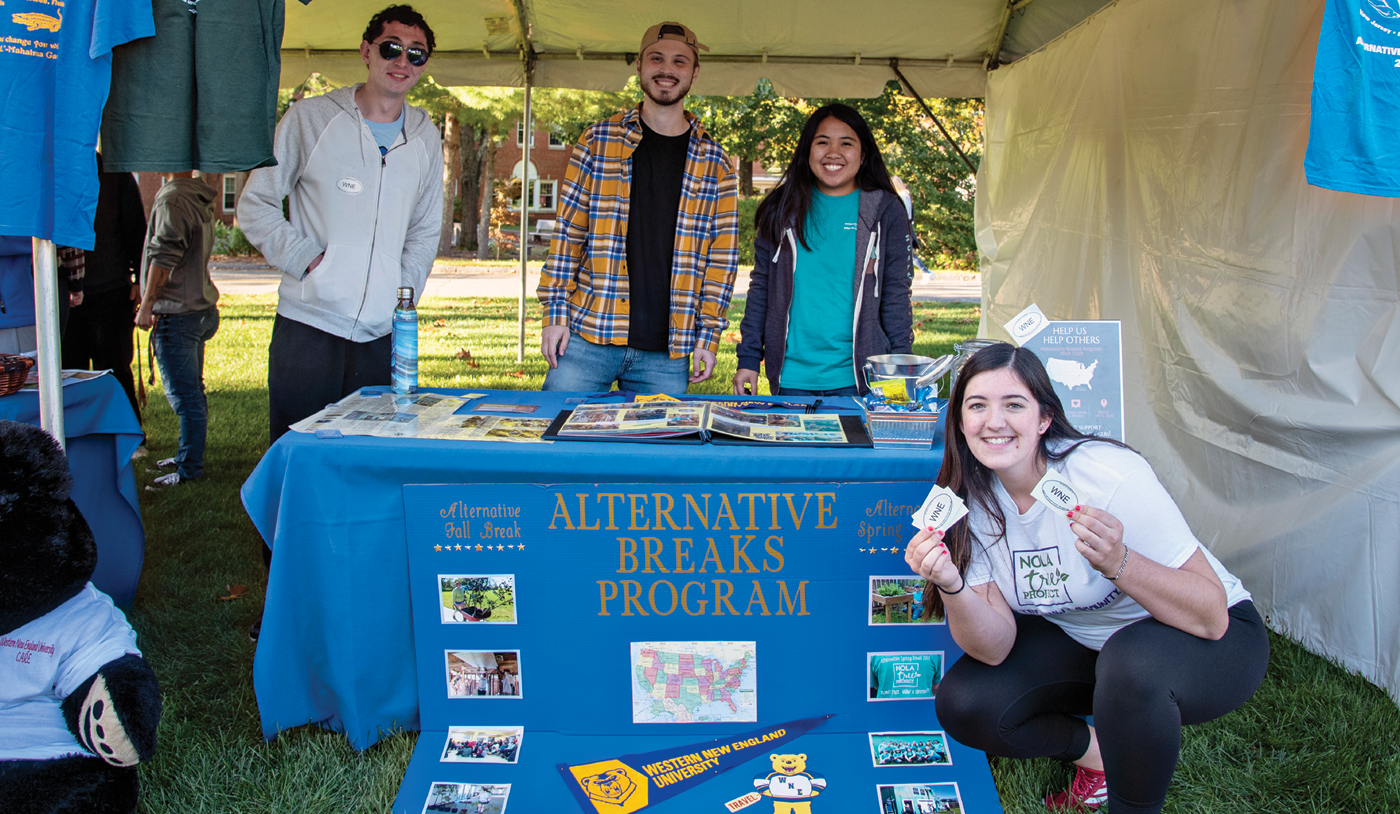 Law Community Celebrations
Law alumni gathered October 4 at the Law Alumni Recognition Reception. Dean's Alumni Excellence Awards honored Philmore H. Colburn II L'91, co-managing partner, Cantor Colburn LLP, and Sunila Thomas-George L'95, chairwoman, Massachusetts Commission Against Discrimination. Ascending Alumni Awards were presented to Kathleen E. Dion L'09, partner, Robinson+Cole, and Michael A. Fenton L'12, shareholder, Shatz, Schwartz and Fentin. The evening culminated with the Honorable William J. Meade L'89, associate justice, Massachusetts Appeals Court being recognized with the Distinguished Alumni Award.
On Saturday, the School of Law hosted the 20th Annual Dinner Celebrating Law Alumni & Students of Color, featuring remarks from Ashley Thorpe 2L, president of the Black Law Student Association, Rishi K. Desai L'09, managing partner at RKD Law, and Julian T. Tynes L'97, assistant secretary for the Office of Diversity and Civil Rights for MassDOT.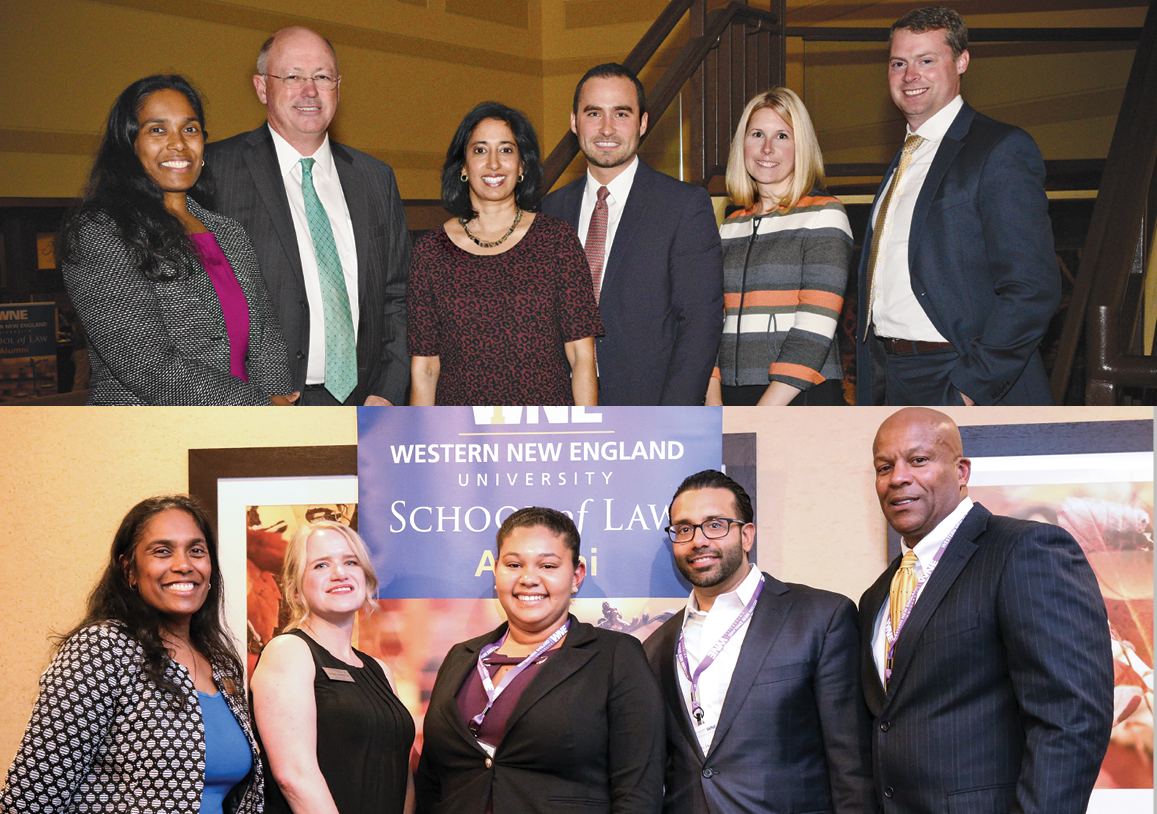 Honoring Another Centennial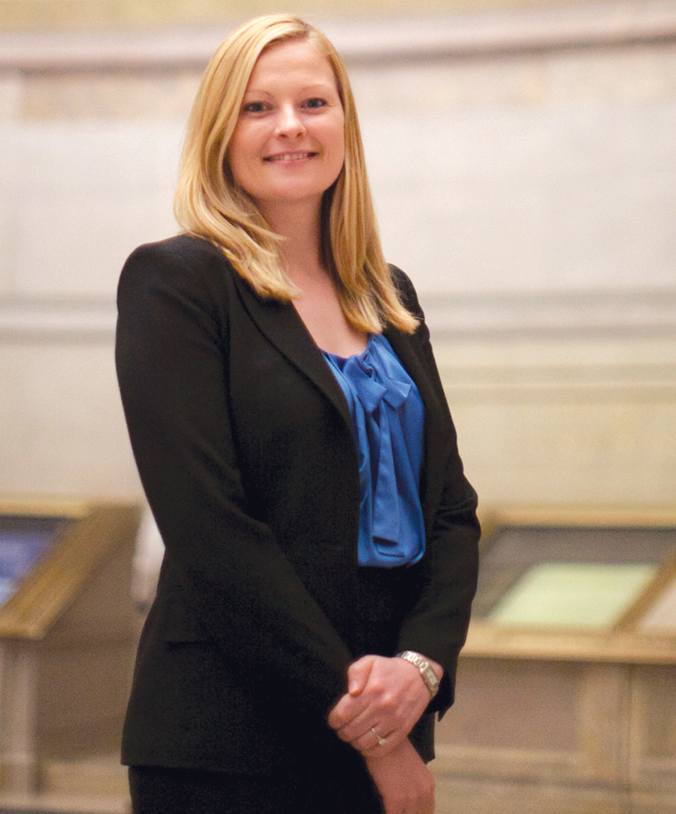 The University's own historic milestone corresponds with an important centennial marker in U.S. history, the passing of the 19th Amendment. On Thursday, October 3, U.S. National Archives curator Corinne Porter '07 was on campus to deliver a presentation about her experience developing the "Rightfully Hers: American Women and the Vote" exhibition in Washington, DC.