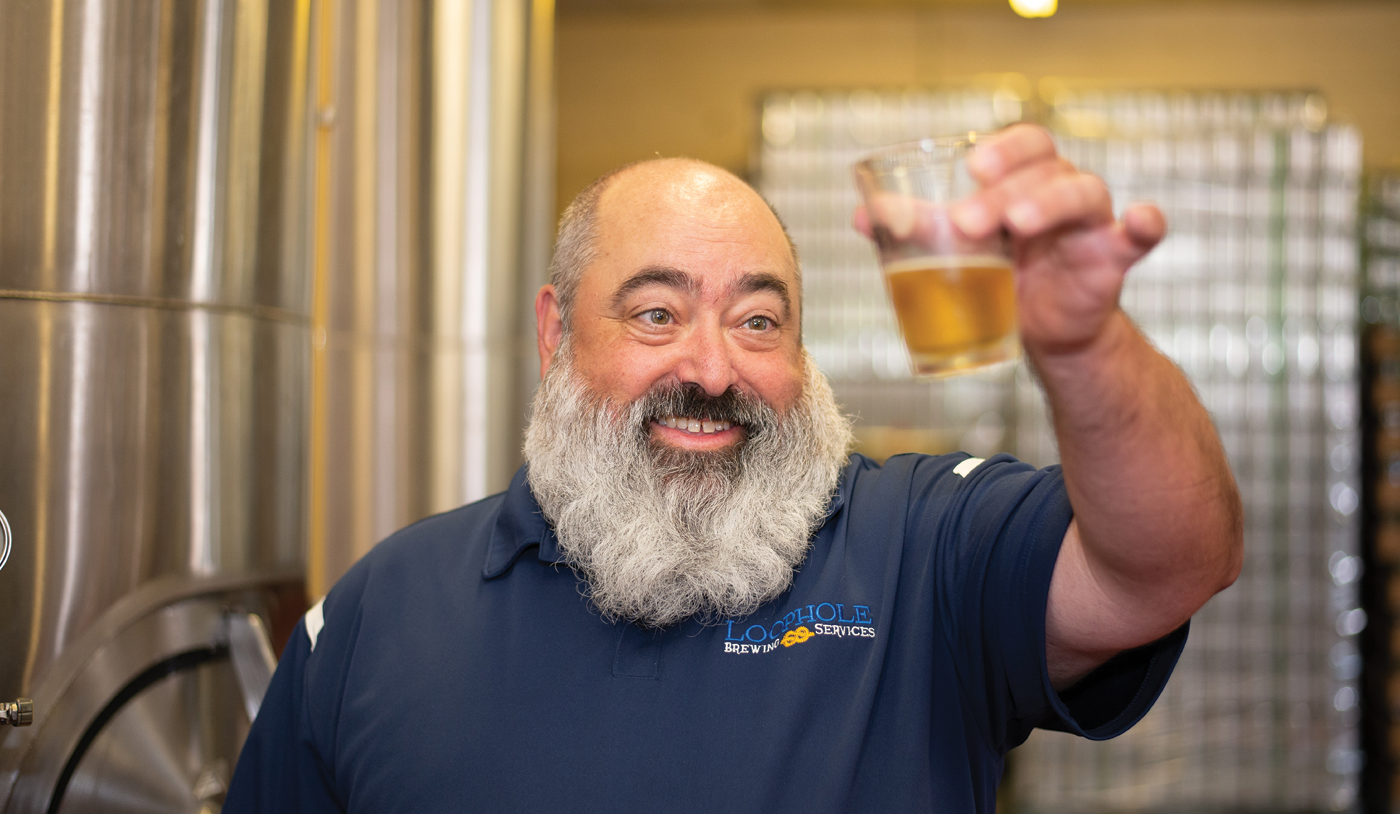 Jeff Goulet '88 Fills Microbrew Niche with Loophole Brewing Services
By Shaun McGrady '02/G'09
It's no secret that the craft beer industry in the U.S. is thriving. With more than 7,000 breweries pouring their creations and a growing market share of nearly 15%, craft beer accounts for almost $30 billion in annual beer sales.
Aspiring brewers across the country are perfecting their recipes in their garages and kitchens, and even though hundreds of new breweries are opening each year, the process of securing funds, licensing, and building a facility can be monumental tasks for those dreaming of owning a production brewery.
Is all hope lost for a homebrewer with promising products and big dreams? Jeff Goulet '88 doesn't believe that needs to be the case, so he cofounded a unique business: Loophole Brewing Services. "The original idea for Loophole is to be a resource for brewery startups—an incubator for people who are aspiring to be brewers, where we can bring in people who are serious about getting into the business," says Goulet, who looks to alleviate the numerous pain points associated with bringing a new product to market. The name Loophole is derived from the idea that prospective brewers don't need to seek their own license just yet, but can produce their beer under the Loophole name at Loophole's location.
Loophole Brewing Services operates a production brewing facility in Holyoke, MA, where those hoping to break into the industry can hone their craft. With lower minimum order requirements than typical contract brewing facilities, Loophole removes the barriers to small production runs. They also offer contract brewing services for established breweries who are looking to increase their output.
"We're going to be doing batches in our facility as low as three barrels, so for a fraction of the cost of what a [typical] investment would be, we're going to allow people to be able to make commercial quality beer," Goulet explains. Loophole will also have an on-site taproom which will allow the public to try any beer that's produced on-site. "We're going to serve beer that's made from a homebrewer in our facility, in our taproom, which is a great opportunity for up-and-coming brewers to test their product and their market viability, and improve their recipes."
Brewing up other people's dreams isn't all that'll be happening at Loophole's Holyoke location. Another division of the business, Loophole Brewing Company, will produce its own beer to be sold under its own label. Those in attendance at Homecoming this year had the opportunity to enjoy one of Loophole Brewing Company's first offerings, a beer that was commissioned for the University's Centennial celebration.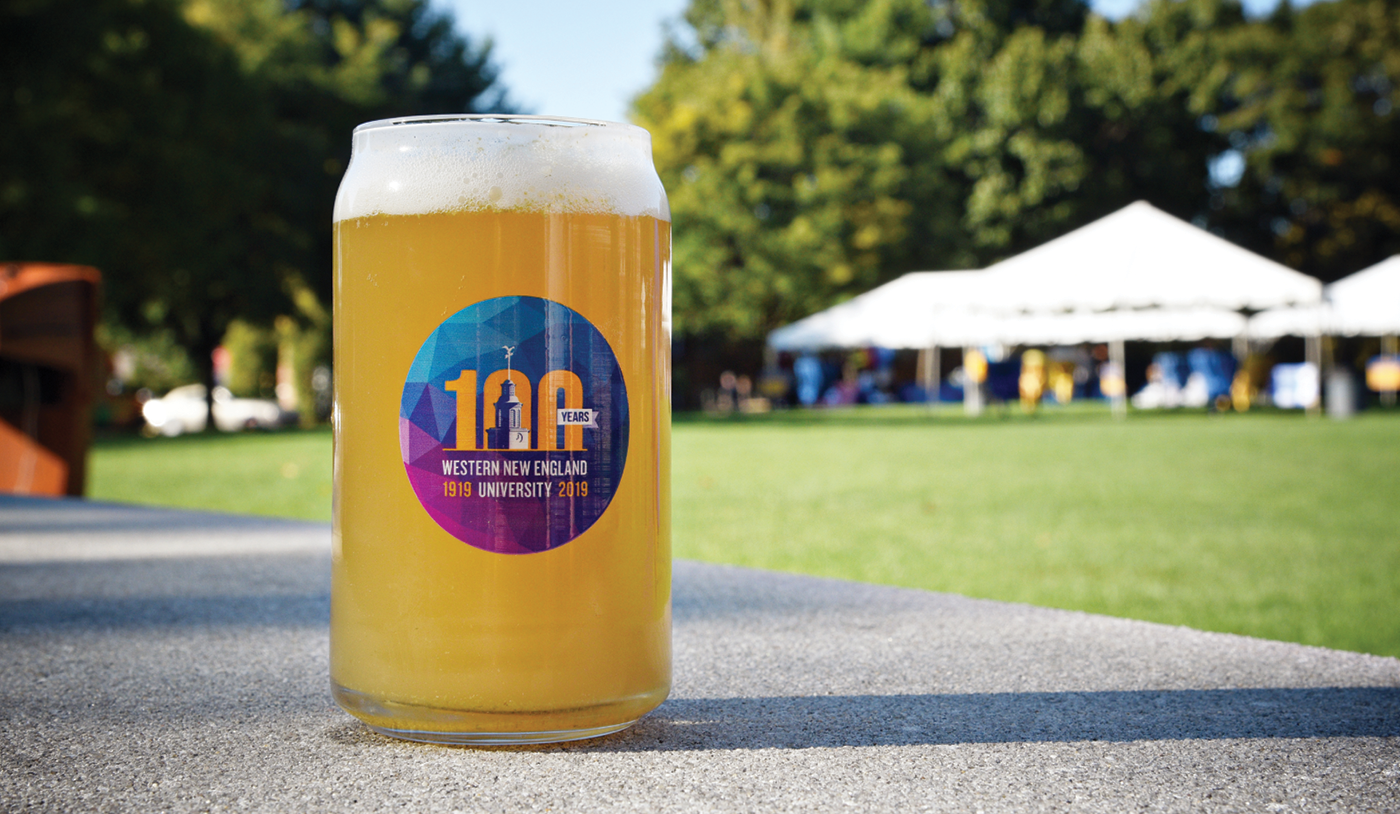 When the idea of creating a beer to commemorate the Centennial was proposed, he already knew what one of the important ingredients would be—a bittering and aroma hop variety called centennial. "I loved the idea of brewing a beer for WNE. Why not make a Centennial IPA for the 100th anniversary celebration of the University?" Goulet says of his involvement. And thus the WNE Centennial IPA was born.
"I'm an alum, my brother (Gary '91) is an alum, my father (Ronald '67) was an alum and was on the Board of Trustees, and my grandfather (Alfred) taught here when it was part of Northeastern. We have huge ties to Western New England, and anything that we can do to link back to that is welcome." - Jeff Goulet '88
Goulet entered the brewing industry while continuing to operate PRN Corporation, a successful sales and marketing firm cofounded in 1991 with his father Ronald.
Today, with such a multifaceted business, Goulet often draws upon lessons learned working in industrial manufacturing and his time as a Marketing student at the University. "Beer has a different connotation to it; it's like a fun thing. Bringing it down to its base level, it's manufacturing. I'm taking that knowledge and trying to relay that into the brewing operations. You want to utilize your equipment," Goulet recalls from the Sales and Marketing course. "When you brew a beer it sits in a fermenter for anywhere from 14 to 40 days. Your brewhouse sits idle until you have another empty fermenter. So you either invest in a farm of fermenters, or you wait. By contract brewing for a large number of customers, we're able to invest in a good number of fermenters, and keep our brewhouses busy, lowering our overall costs."
Another important takeaway is the value of networking and establishing relationships. Part of the idea that fueled Loophole's inception came from Goulet's time organizing and overseeing the operation of a popular local event, The Worthy Brewfest, which gives homebrewers an opportunity to compete with each other for votes from both attendees and qualified judges. Each year, the winner is able to take their recipe to an established brewery and work with them to produce a full-scale batch of their creation.
Centennial Glass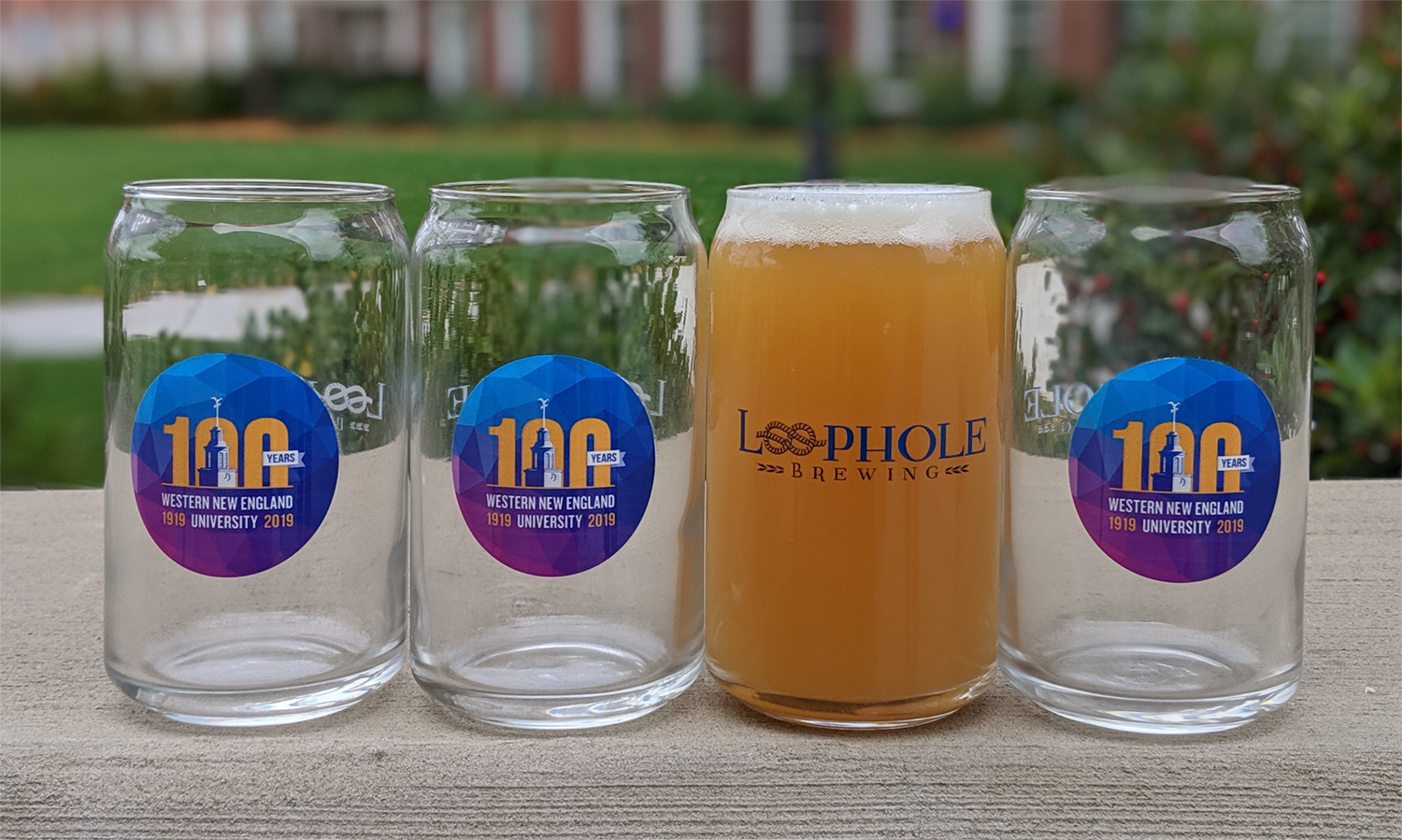 Miss out on your chance to pick up a WNE Centennial glass (or two) at Homecoming? For a limited time, Loophole is producing a 2-pack of these Centennial-themed glasses. Proceeds will benefit the Goulet Family Scholarship at Western New England University, helping to keep a WNE education accessible and affordable Order yours today!
"One of the core things that I like to lead my life towards, an old school Zig Ziglar mantra, is that the more you give people what they're looking for, the more you get back yourself," says Goulet. "That ties in with The Worthy Brewfest and the homebrewers—offering them a showcase, believing in them, backing them, encouraging them, and now giving them the opportunity to brew at Loophole."