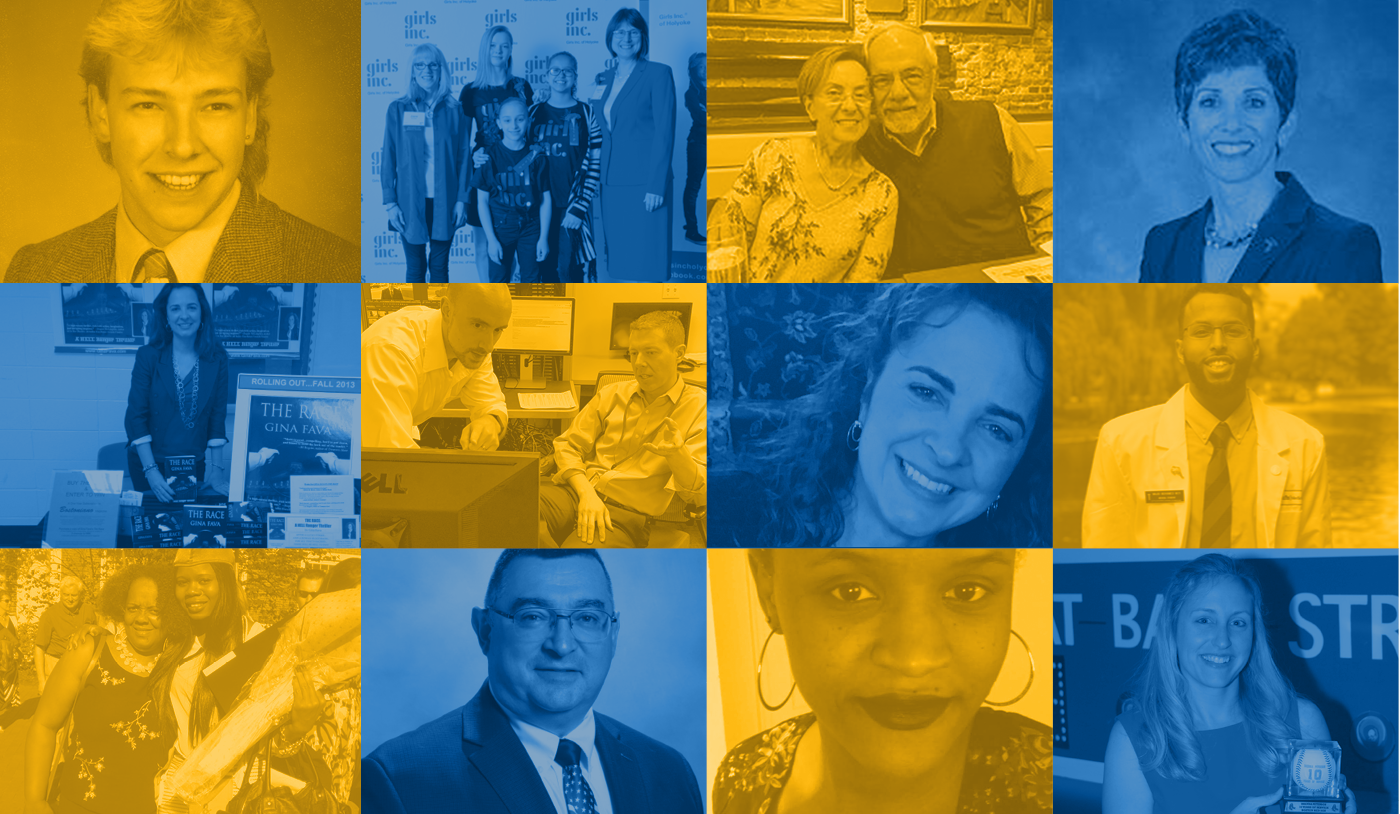 Through Their Eyes
WNE100 Profiles Project Shares University Experiences
By Kenneth Stratton '19
Western New England's Centennial has been a celebration of the rich history that makes the University so unique. From our first rented classrooms in the Springfield Central YMCA to the brick-laid pathways of our modern campus, thousands of students have contributed to the story of the school that was once proclaimed "The Miracle on Wilbraham Road."
The WNE100 Profiles Project sheds a light on the stories of those individuals—alumni, faculty, staff, and students—who have helped shape Western New England into the proud University that it is today.
The stories shared come from across the University's unique set of academic disciplines, and from generations of Golden Bears. Together, they reflect a diversity of backgrounds and varied careers that illustrate that while no single experience at Western New England is alike, all find common ground in how the University has transformed their lives.
Graduates of the College of Business have gone on to work in the City of Champions, for teams such as the Boston Red Sox and Boston Celtics. Their educations have led to opportunities in human resources, in IT, and to become titans of industry through innovation. Former student athlete and College of Business graduate Dave Fortier '87/G'96 founded a nonprofit called One World Strong Foundation. The organization is dedicated to connecting survivors of violent extremism across borders, regardless of religion, race, and politics, sometimes using sport as a vehicle for those connections.
"I never thought I would be in the nonprofit world," Fortier explained. "I've been learning as I go, but I attribute a lot of my success to Western New England."
Bill Laramee '69 also finds himself living a life devoted to service. At first uncertain about attending college, Laramee would graduate and go on to become a college administrator. Now in retirement, he spends his time working with small special mission institutions.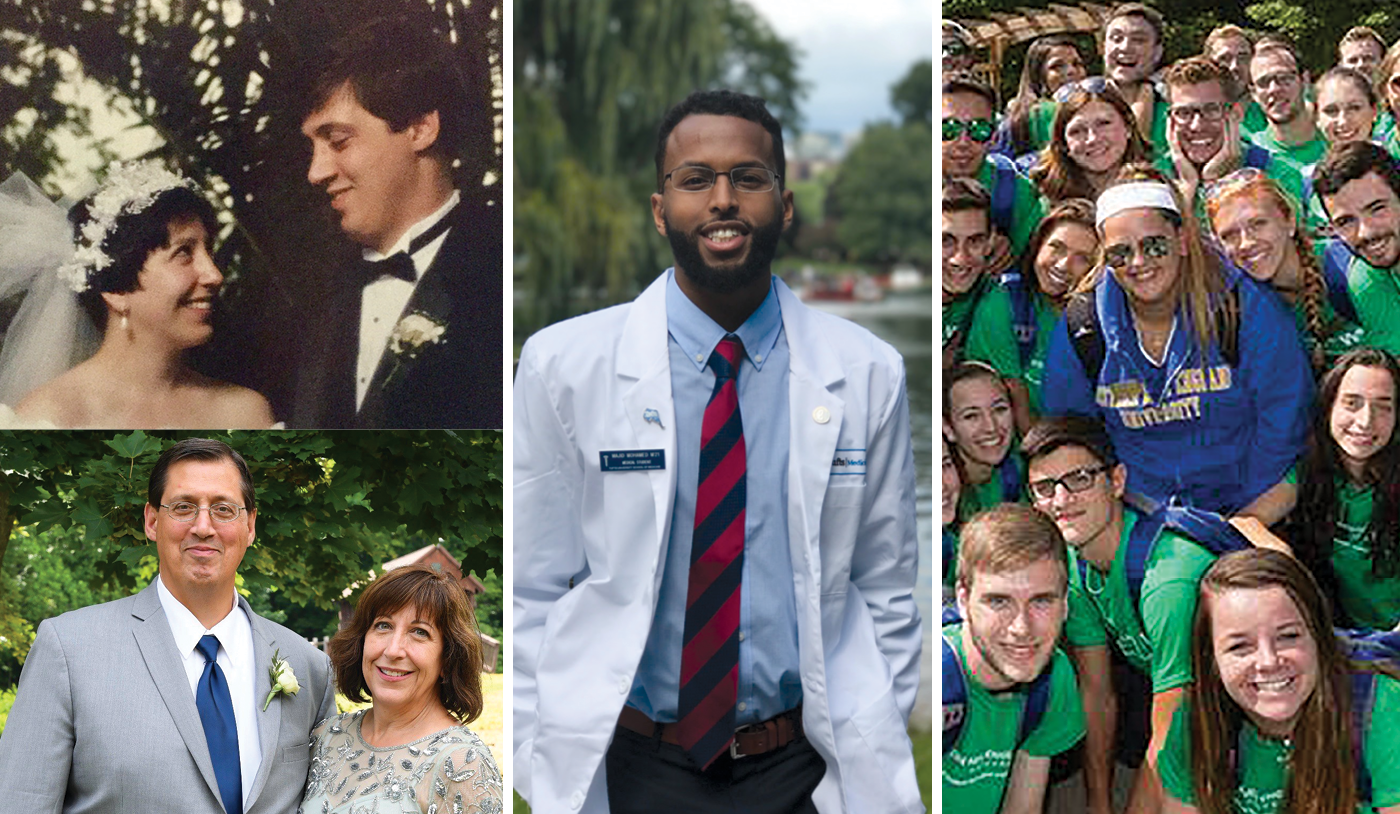 "I would say that WNE provided the type of environment, encouragement, and support that made it possible for a first-generation college student to prosper and to move from a place of uncertainty to a greater place of clarity of purpose," Laramee said.
In the College of Arts and Sciences, some alumni have found their niche in the flourishing realm of social media, as well as in the world of broadcast media. They hold posts in the National Archives, and serve their communities in healthcare, criminal, justice, psychology, and social work. They teach in classrooms and work on college campuses from New England to New Mexico, guiding the next generation from the challenges of college to fulfilling careers.
Lashawna Wright Edmond '12 has dedicated her career to working with students. "It takes a village, it takes a community like the one I found at Western New England," Wright Edmond said, reflecting on her success. Early in her college career, she didn't know if she wanted to stay at Western New England. But she found a home in the friends of United & Mutually Equal, the University's multicultural student organization. Wright Edmond channeled her passion for diversity issues on college campuses into a career, and today serves as assistant director for multicultural student affairs at University of South Carolina-Columbia.
In addition to finding their own career paths after graduation, Robin '83 and Roger Chiasson '84 found each other.
"In countless ways both Roger and I have continued to carry Western New England with us," said Robin. The Chiassons even lived on campus after graduation when Robin worked in Residence Life. Today they are proud parents of a Golden Bear of their own.
After many hours immersed in the labs of Sleith Hall, engineering graduates have gone on to tackle some of society's greatest needs—whether in biomedical, mechanical, or any of the College's other engineering disciplines. Perhaps nobody better exemplifies this dedication than Elizabeth Griffin '85, who has enjoyed a career with positions in the U.S. Army Reserves, the U.S. Navy Reserves, and the U.S. Food & Drug Administration.
"My education at Western New England set me up well for a career," Griffin said, adding that she's proud to have served in the military. Thinking back on her days in school, and on the career that followed, she said it's "been a good journey." And despite being sometimes the only woman in her engineering classes at Western New England in the early '80s, she remembers a positive environment: "I found my classmates supportive, sharing similar goals and challenges."
Hundreds of international students have journeyed from around the world to study on Wilbraham Road, while others were drawn from just a short drive away. For Justin Parlapiano '16, the route to Western New England was an unconventional one, trading in a business career for a chance to return to school and pursue a passion for the environment and building design.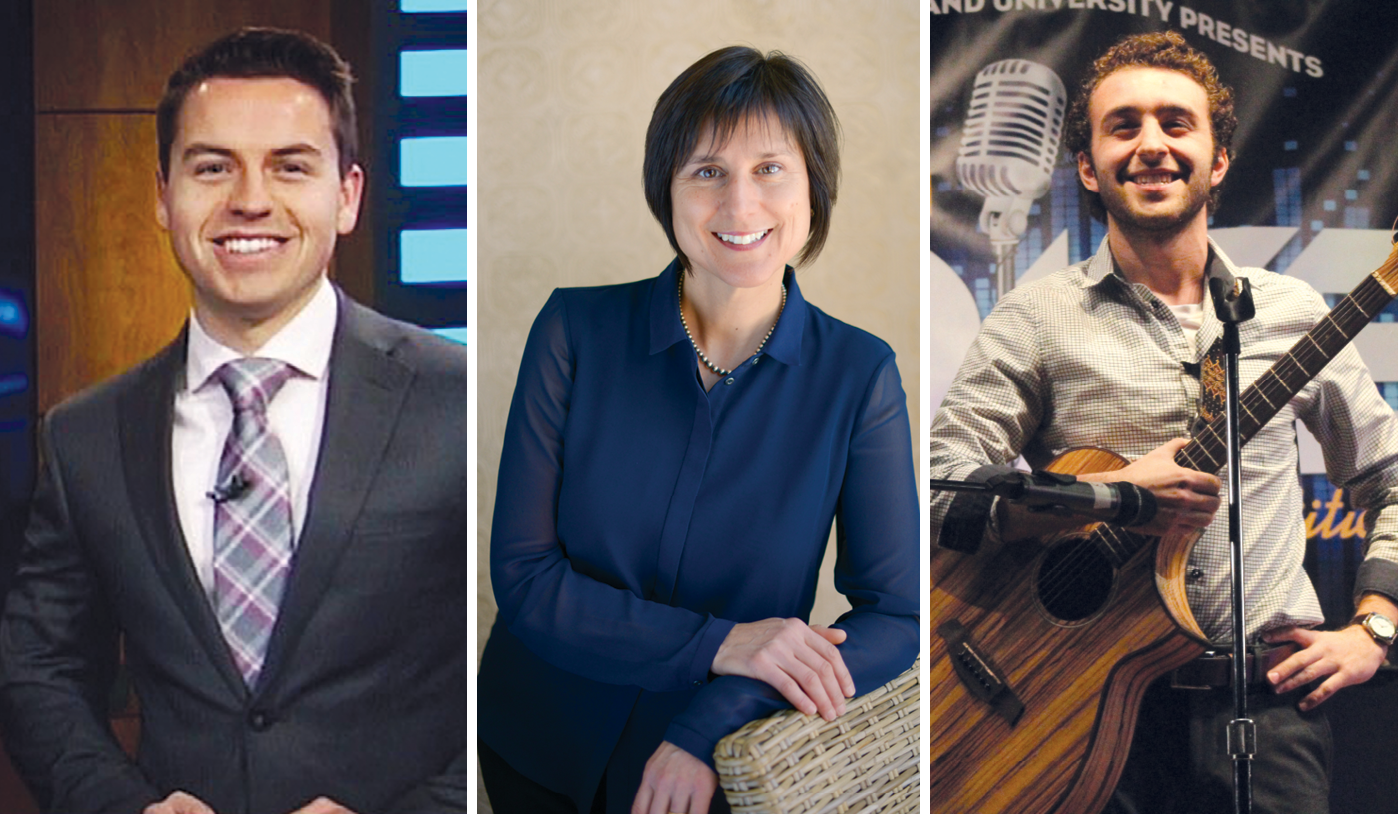 "I would not be where I am today if it wasn't for Dr. Kenneth Lee and the importance he placed on opportunity outside of the classroom," explained Parlapiano. While a student, he landed several internships, which led to his current career as Project Engineer with Connecticut Water. "It is important for all students to get real-world experience because the network you build eventually becomes your pathway to success."
The study of law has been an integral part of Western New England's curriculum since its earliest days in the twentieth century. Today's graduates of the School of Law find themselves serving on the bench, running local nonprofits, and practicing in firms throughout the country. Once a law student gaining skills in the Small Business Clinic, Rishi Desai L'09 is now Managing Attorney at RKD Law LLC.
"The professors were some of the best in their respective fields, always open to connect outside of class," Desai recalls. "The coursework combined with experiential learning significantly prepared me for my path, and I made some lifelong best friends during my time at WNE."
Less than a decade ago, the College of Pharmacy and Health Sciences opened its doors at Western New England. In that short time, it has developed professional programs with international appeal and commitment to serving the community. Christine Galinski '13/PharmD'15 took a leap of faith when deciding to attend Western New England for her pharmacy studies, as it was still a brand new program and going through the accreditation process at the time. But for her, the leap was worth it.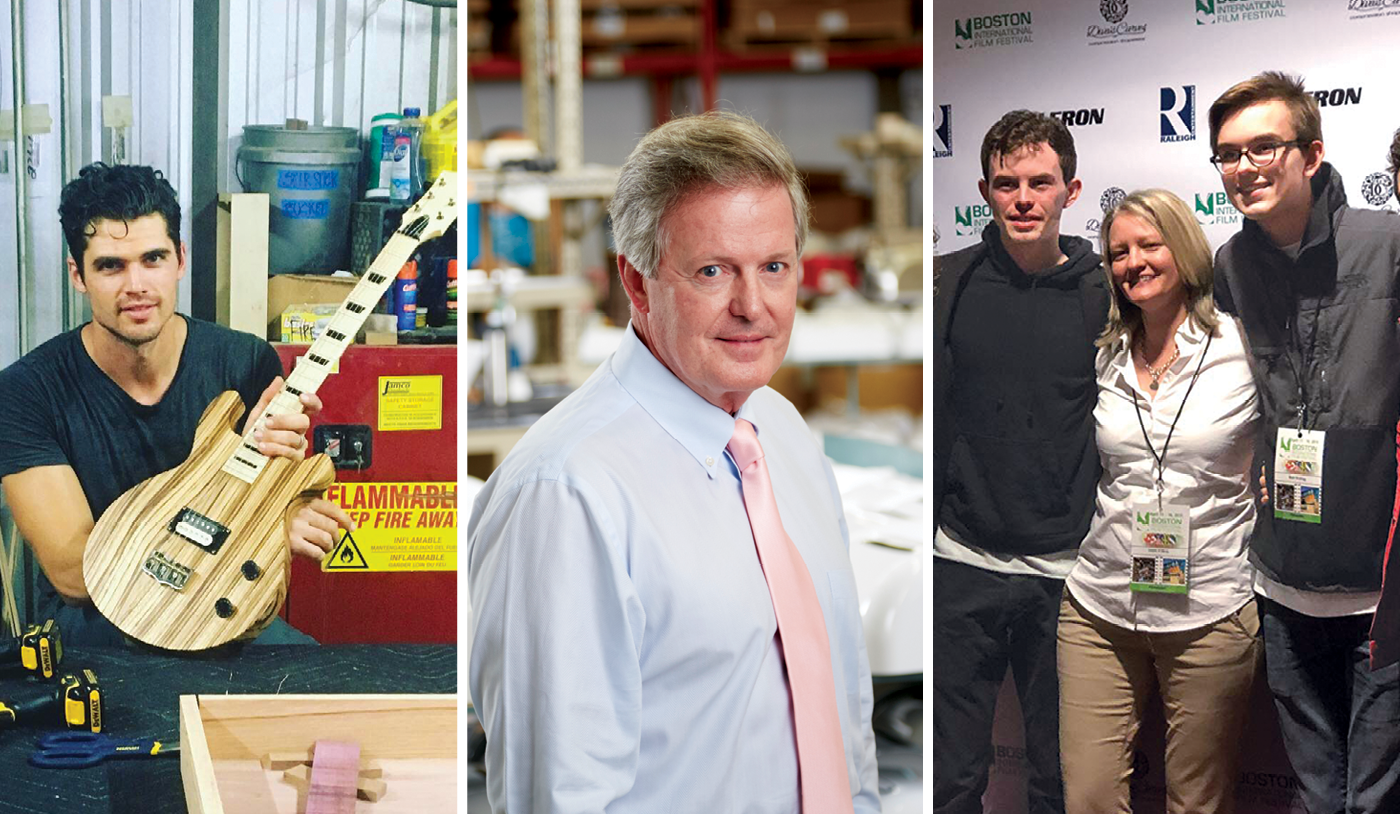 "Western New England is still my second home and I am completely devoted to it," said Galinski, now a Pharmacy Manager at Genoa Healthcare. "It gave me the best and most challenging experiences of my life and is what lead me to all of the opportunities that have made me successful."
Of course, no Western New England experience would be complete without the dedication of the University's faculty and staff. Whether they have been on campus for decades as department heads and deans, or just a few years as adjuncts and professors, each have touched the lives of students and alumni, helping prepare them for that next step. Brenda Garton-Sjoberg, of the Department of Communication in the College of Arts and Sciences, traded in a successful career as a local news anchor for the opportunity to guide students just starting out on their own career paths.
"I believe this was the path that I was always meant to take," Garton-Sjoberg said, reflecting on her work with students. "Watching their success reminds me of my early days. It is extremely rewarding to see students I've met as teenagers grow into professionals. To think I may have played a part in their life in becoming a professional is a feeling of pride difficult to describe. At times, I feel like a proud mom as much as I do a professor."
These stories and more, reflected in the WNE100 Profiles Project, prove that not one student, one alumnus, one faculty or staff member, has experienced the University in the same way. Yet, they are forever bonded and woven into the tapestry of Western New England University. These are the individuals who have not only made up our remarkable first century, but have helped make possible the bright future of Western New England University.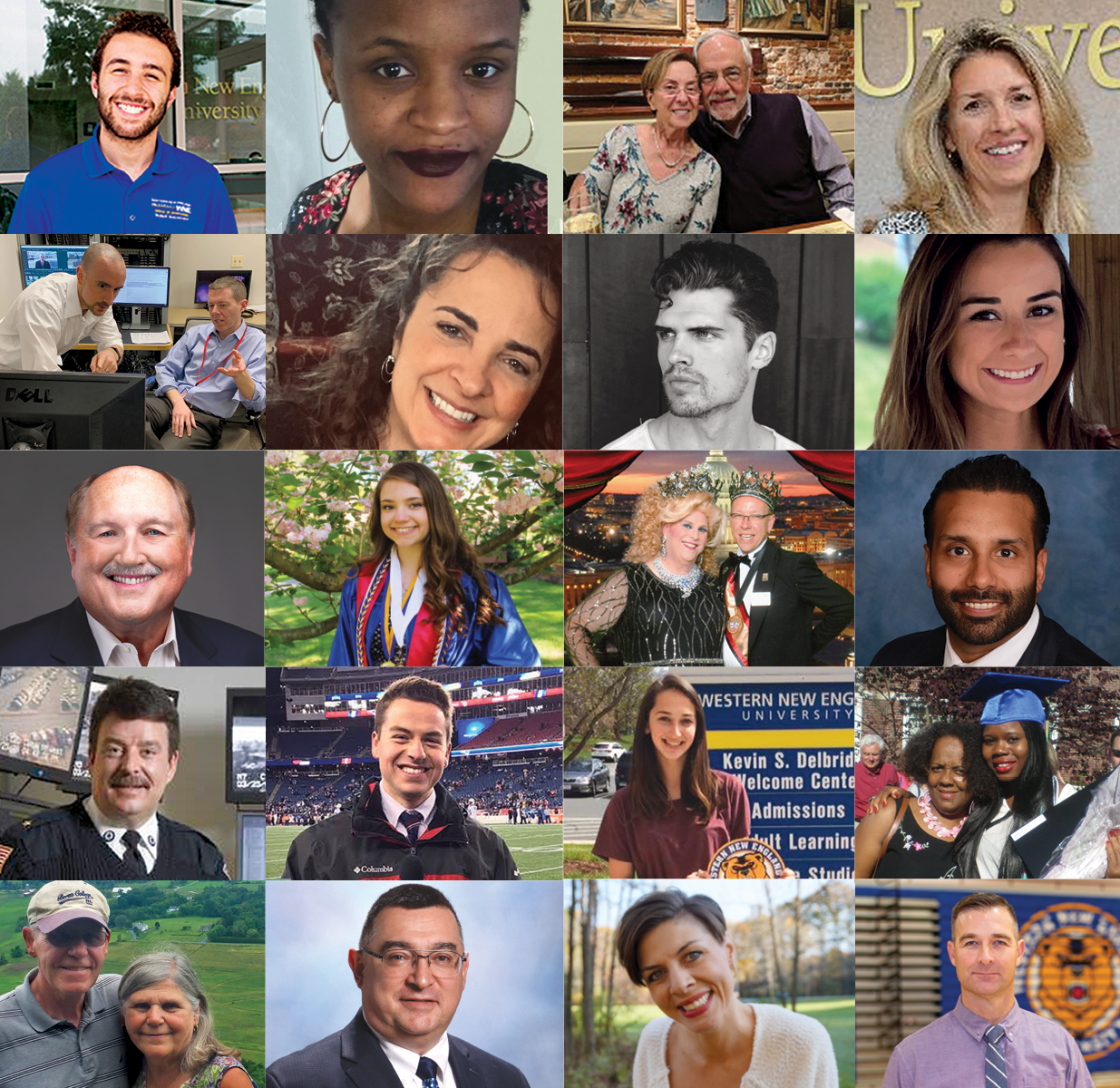 Thank you to all who have contributed to the WNE100 Profiles Project, including at the time of publication:
Hadiatou Barry '15/L'17
Mark Berthiaume '78
Alyssa Caliguri '13
Anthony Cammilleri '94
Sophie Cannon '17
Bani Chandrasena '93
Robin '84 & Roger '83 Chiasson
Danielle Chylinski '17
Andrew Cohen
Donna Craig L'82
Rishi Desai L'09
Bryan Dickinson '12
Alyssa DiNubila '11
Nick Domings '04
David Dragon '78
Gina Fava L'96
David Fortier '87/G'96
Denis Gagnon G'76
Christine Galinski '13/PharmD'15
Brenda Garton-Sjoberg
Rebecca Giudici '06
Leigh-Ann Gomes '10
Samantha Gray '10
Elizabeth Griffin '85
Jeanne Hart-Steffes
Henry Hayes '70
Baylee Houldson '19
Scott Hubener '16
Kerri Jarzabski '98
Hayley Johnson '18
Kara Kapinos '87/G'89
Chris Kelley L'85
Maureen Keizer
Devin Kindred '18
Dennis Kolodziejski
Cheryl Kozak '88
Matthew LaBranche
Gina Lanzano '18
Bill Laramee '69
Mike Masciadrelli '15
Emily McGuinness
Brenna McShane Peterson '06
Bruce Miller
Abdimajid Mohamed '14
William Nagel '85/G'99
Katelyn O'Brien '17
Layla O'Shea '00
Mark Parent '70
Suzanne Parker L'03
Justin Parlapiano '16
McKenzie Pezze '16
Corinne Porter-Taugher '07
Trevor Reynolds '87
Kristina Rossi '11
Sudha Setty
Brian Shimansky '08
Cheryl Smith L'83
Andrea St. James '96/G'00
Kenneth Stratton '19
Arianna Surprise
Joe Van Allen '08
Adam Woodrow '02/G'04
Lashawna Wright Edmond '12



Read the stories of alumni, faculty, staff, and students featured in the WNE100 Profiles Project.
Ready to share your story? Complete our WNE100 Profiles Questionnaire and your responses will be included in the project and added to the official University Archives.
Is there a member of the University community you would like to see included in this project? Send your request to alumwne@wne.edu or call 413-796-2240.