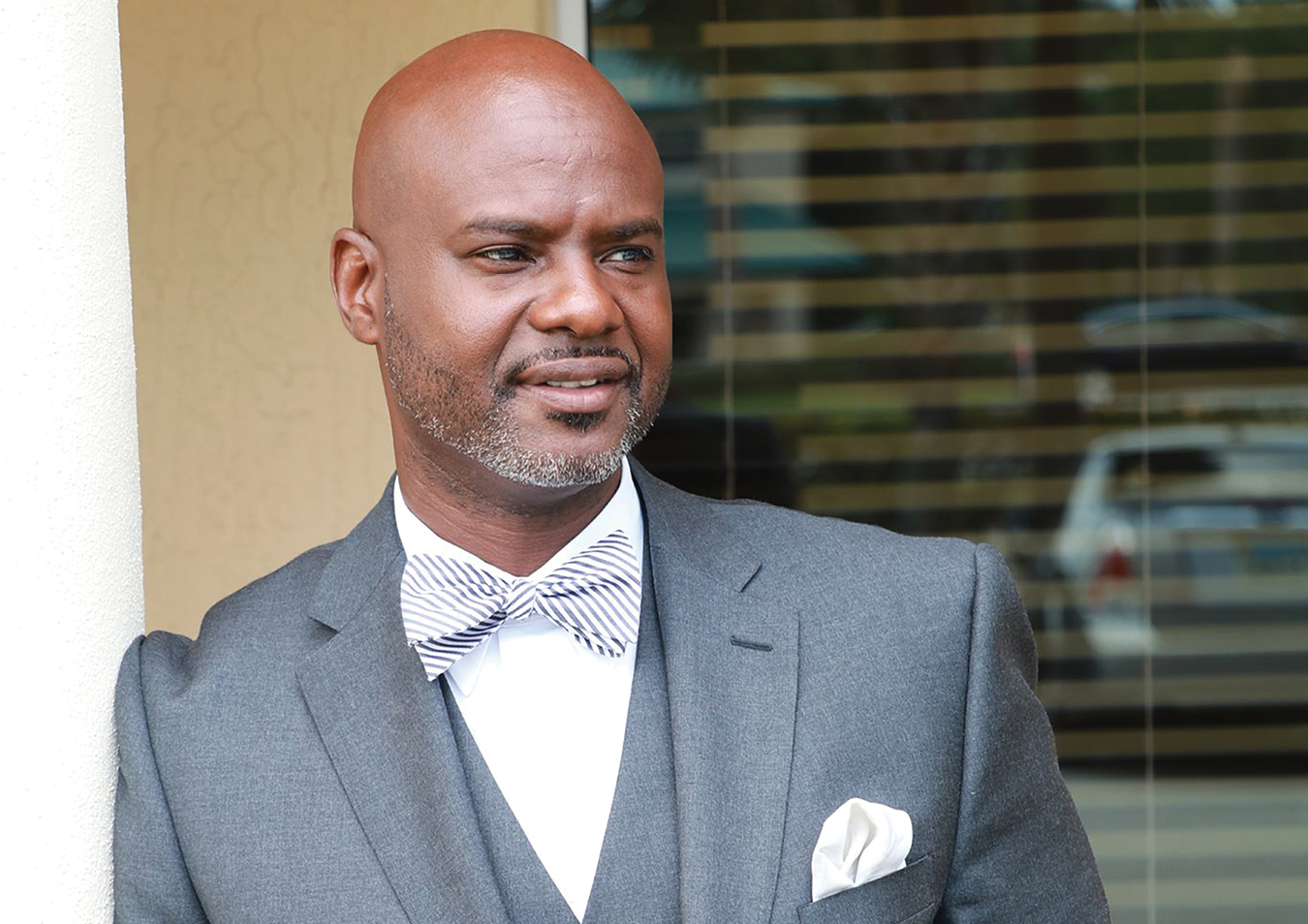 Byrnes Guillaume L'06 Gives Back by Paying it Forward
For Byrnes Guillaume L'06, giving to others is fundamental to his identity.
By Patricia Gagnon
Born in Haiti, Byrnes Guillaume L'06 immigrated to the United States with his parents in the early 1980s when he was 5 years old. The family settled in Florida, where Guillaume attended school in Miami-Dade County. His father drove a taxicab and earned his degree to become a registered nurse. His mother worked as a housekeeper while going to school to become a nursing assistant. "I saw firsthand how hard work and dedication pay off, and they taught me to go after my goals and dreams," said Guillaume.
Inspired by his parents' passion for education, Guillaume earned a Bachelor of Science in Marketing from Florida State University, an MBA from Howard University, and a JD from Western New England University School of Law. As a graduate of the Florida Bar Leadership Academy, he has served as president of both the Haitian Lawyers Association and the F. Malcolm Cunningham Bar Association. Guillaume is also a member of the Palm Beach Bar Association and the Virgil Hawkins Florida Chapter Bar Association of the National Bar Association.
Prior to becoming a lawyer, Guillaume worked for United Technologies P&W Commercial Engines Legal/Contracts team as a contract manager, where he oversaw proposal preparation activities associated with the delivery of large commercial engine contracts. Guillaume also worked as a senior financial analyst for Sikorsky, Travelers Insurance, and ADT. After leaving United Technologies, he relocated to South Florida, where he gained experience as a prosecutor for the State Attorney's Office in the Seventeenth Judicial Circuit of Florida.
Guillaume is now the managing attorney of Byrnes Guillaume, Attorney at Law, PLLC, providing legal services in personal injury, criminal law, commercial litigation, foreclosure, deportation, family law, and ad hoc law areas.
A Passion for Law
"I'll never forget that day," said Guillaume of the incident that sparked his passion for law. "I was stopped by the police for a procedural stop in Orlando and was accused of speeding. I knew I wasn't speeding. My license was checked and I stayed calm, though I was given a ticket for speeding," he recalled. "I was overwhelmed trying to defend myself in traffic court. That experience made me want to be a lawyer. I didn't want others to feel the way I did, and I wanted to help them. My business and law degrees helped me to establish my own law firm."
When Guillaume came to Western New England University School of Law, he immediately fell in love with the campus and University. "It felt like home. They were so welcoming. I call it the 'jewel.' It really is the top-notch law school in the Northeast," he said.
"It's only right that we give back a portion of our blessing so we can pave the road for others." - Byrnes Guillaume L'06
"The professors were caring, understanding, and smart, and you can just see their love of teaching. The classes sparked an excitement in me for trial work, specifically in criminal law," Guillaume said. "Professor Arthur Leavens taught criminal law, and I loved his class. He championed diversity. My viewpoint was different from others in the class, and he told me he loved having me in class because I brought a different set of life experiences, which created rich discussion."
Giving Back
In addition to his dedication to law, Guillaume has committed his time to volunteering in his community. "Growing up in the '80s as a Haitian immigrant in South Florida, I saw unfair treatment of the people in my community. I knew when I grew up, I wanted to be there to protect my community. At the time, I didn't know it was going to be as a lawyer," said Guillaume.
Guillaume is board chair for the Florida State University (FSU) Black Alumni Association. To help ensure financial resources are available to support students in their pursuits and to increase diversity in the program, he established the Byrnes Guillaume, Esq. Scholarship for a Black Student of Caribbean Descent at FSU. He also volunteers as a legal analyst at local poll stations in Palm Beach County, assisting citizens with questions or concerns while voting.
Guillaume also serves as the president of the Board for Families First of Palm Beach County, an organization that addresses systemic racism and oppression and provides assistance to families to help them find their way back to self sufficiency and provide safe, loving homes for their children. "We serve 51,000 children and family members in the Palm Beach area to help them return to being contributing and self-sustaining members of our communities," Guillaume said.
Through a generous gift to his alma mater, Guillaume awards a scholarship to a deserving student each year at the WNE School of Law. In 2015, he established the Byrnes Guillaume, Attorney at Law, PLLC Endowed Scholarship, awarded to a law student with an achieved academic average of a B or higher. In support of diversity, preference is given to a student who is a member of the Black Law Students Association (BLSA), who actively participates in BLSA-sponsored activities, or who was born in the Caribbean.
Paying it Forward
"It's my hope that my endowed scholarship provides a lasting legacy so that a student of color's financial means will not be a deterrent to receiving an education at such a jewel as WNE," said Guillaume.
Guillaume credits WNE with providing him an exceptional legal education, instilling in him a passion for applying the principles of law to benefit others, and a clear path for future lawyers of color. "There is a phrase, 'To whom much is given, much is required.' I believe my success is due to the education I received from WNE, and if any of us are in the position to give back... we should do so," said Guillaume. "It's only right that we give back a portion of our blessing so we can pave the road for others."