Celebrating the Spirit of Philanthropy and the Generosity of Kevin S. '77/H'19 and Sandra E. Delbridge
A Momentous Milestone for a Monumental Family of Philanthropists
By Kate Burke
The importance of education and giving back to the community were family values instilled in both Kevin '77/H'19 and Sandra Delbridge from an early age, values that they consistently reinforce through their commitment to enhancing the Western New England University student experience. In December 2021, culminating more than three decades of leadership in philanthropy, these values were never more evident as Kevin and Sandra achieved the remarkable milestone of more than $10 million in gifts to WNE, becoming the most generous benefactors in University history.
"It's important that if people can help, they should," said Sandra. "My dad's philosophy was you get back what you give. By giving, you won't get back necessarily monetarily; you'll get back those things that count the most."
The Value of Education
With the sentiment from his grandfather that "you can lose everything, but you can never lose your education," forever resonating with him, Kevin, a native of the Sixteen Acres neighborhood in Springfield, embarked on his own WNE student experience more than 45 years ago after serving six years in the United States Navy Reserves. Thanks to a generous financial aid package, the unmatched proximity to home and work, and the educational and hands-on opportunities available through the College of Business, Kevin became a full-time commuter student pursuing his degree in Business Administration while also working 25 to 30 hours each week at Stop & Shop.
"Expectations were high to attend school," said Kevin, who couldn't afford to go to a college where he would have to live on campus. "And especially, go for a reason and do as well as you can."
Kevin shared that he had initially aspired to be an engineer; aspirations he quickly redirected to accounting after reading a list of starting salaries for college graduates in the 1970s. "It was a list of the 25 top-earning careers," he said. "At the bottom was engineering, and at the top was accounting. I looked up accounting, saw it was all about numbers, and I love numbers. That's how I got into the profession."
With the positive reputation and stature of the WNE Business and Accounting programs, the guidance of professors, and the relationships the school had with companies in Springfield, Kevin thrived in classes, projects, and summer work with local accounting firms. He also served as Class President his freshman year and as a member of the Accounting Club.
"Dr. Louis Raverta, the Chair of the Department of Accounting, had a very interesting teaching style," said Kevin, fondly remembering his time on campus. "If you had a question, he would say, 'that's a very good question. Are there other good questions?' It taught you that you had to figure out the answer on your own, and that's what it's like in real life."
From Campus to Career
After completing his degree and graduating summa cum laude, Kevin passed the CPA exam in 1977 and launched his career as an Auditor at Coopers & Lybrand, one of the local accounting firms that WNE had a great relationship with at the time. "It was a big eight accounting firm back then, and I got an offer from them," he said. "I was able to get offers from seven of the big eight firms. Half of them offered more money, but I liked the people at Coopers & Lybrand, and some of my classmates worked there too." 
While making his way through the early years of his career, Kevin earned his MBA from the University of Massachusetts Amherst and soon migrated from accounting into the investment arena. Though he was on the partner track at Coopers & Lybrand, after four years, he decided to move in a different direction and joined the insurance company CIGNA to work in their investment group as an accountant. Initially a career move he questioned, he transitioned to their venture capital division, and the career decision he first thought could have been his worst, suddenly set him on the path to his successful career in investments.
"Everything that happens to you, it does happen for a reason, whether it's good or bad, and it's up to you to take it forward," said Kevin, reflecting on his career decisions and how he felt after leaving Coopers & Lybrand. "No matter how bad things may seem to be, there's a reason you're going through it, and you're going to come out the other side of it."
By 1988, Kevin joined John Hancock Venture Capital, a subsidiary of John Hancock Insurance. A short 10 years later, he and fellow senior partners bought the company to form HarbourVest Partners, now one of the largest private equity investment companies in the world. He served as Senior Managing Director until 2010, and over the past decade has slowly taken steps back from day-to-day management, now holding the role of Senior Advisor.
Remembering Their Roots
Never forgetting their family values and emphasis on the importance of education and giving back to the community, Kevin and Sandra have always remembered where they started and the many helping hands that helped lift them up along the way.
After Kevin graduated in 1977, he and Sandra welcomed two daughters, and though focused on family and career, they would still make a point of sending small gifts every year in support of WNE. In the mid-1990s, Sandra—who was involved in a local education fund, their church, garden club, women's club, and cultural arts association—suggested Kevin should get involved outside the family with something other than work.
"She was the east coast distributor for our volunteer time," said Kevin with a laugh, sharing that it was at about this time that Dr. Anthony Caprio, then-President of WNE, reached out to him to get involved. "I thought it was a really good idea; I have an affinity for the University, it's something close to my heart, and the campus wasn't that far away," he said. "It was Sandra giving me the nudge, saying it's your turn to step up to the plate."
Now more than 25 years later, Kevin is still connected to his alma mater, serving as a member of the WNE Board of Trustees since 1998, including as Chair from 2009-2015 and Vice Chair from 2006-2009. Widely recognized for his passion for advancing the WNE student experience, Kevin was honored with the Alumnus of the Year Award in 2001, the Honorary Doctor of Humane Letters in 2019, and served as Commencement Speaker in 2019. He and Sandra have also been steadfast supporters of campus fundraising campaigns and initiatives, and Kevin also served as the Honorary Cochair for the Campaign for Our Second Century from 2016-2020 and Cochair of the Transformations Campaign from 2003-2008.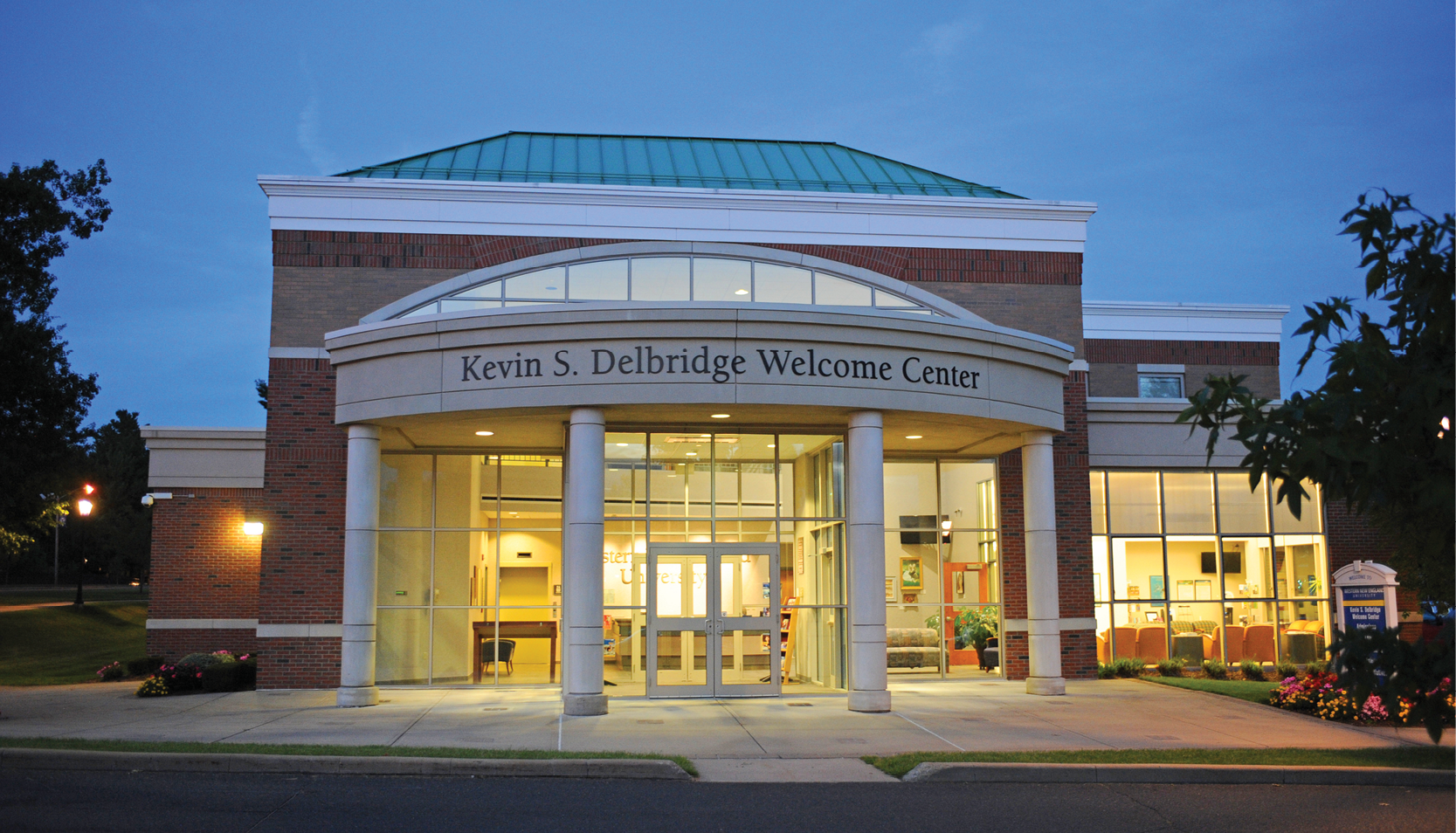 Paying It Forward
With a strong affinity for education and the arts, Kevin and Sandra have always stayed connected to the University through annual giving and supporting students. After making their first gift over 35 years ago to support capital projects in Churchill Hall, the Delbridge family has made an undeniable impact on the WNE student experience.
With the Delbridges' transformational gift to the Career Center in 2020, the Kevin S. and Sandra E. Delbridge Career Center now provides students with dynamic tools and resources to enhance educational and experiential learning opportunities while cultivating career strategies now and into the future.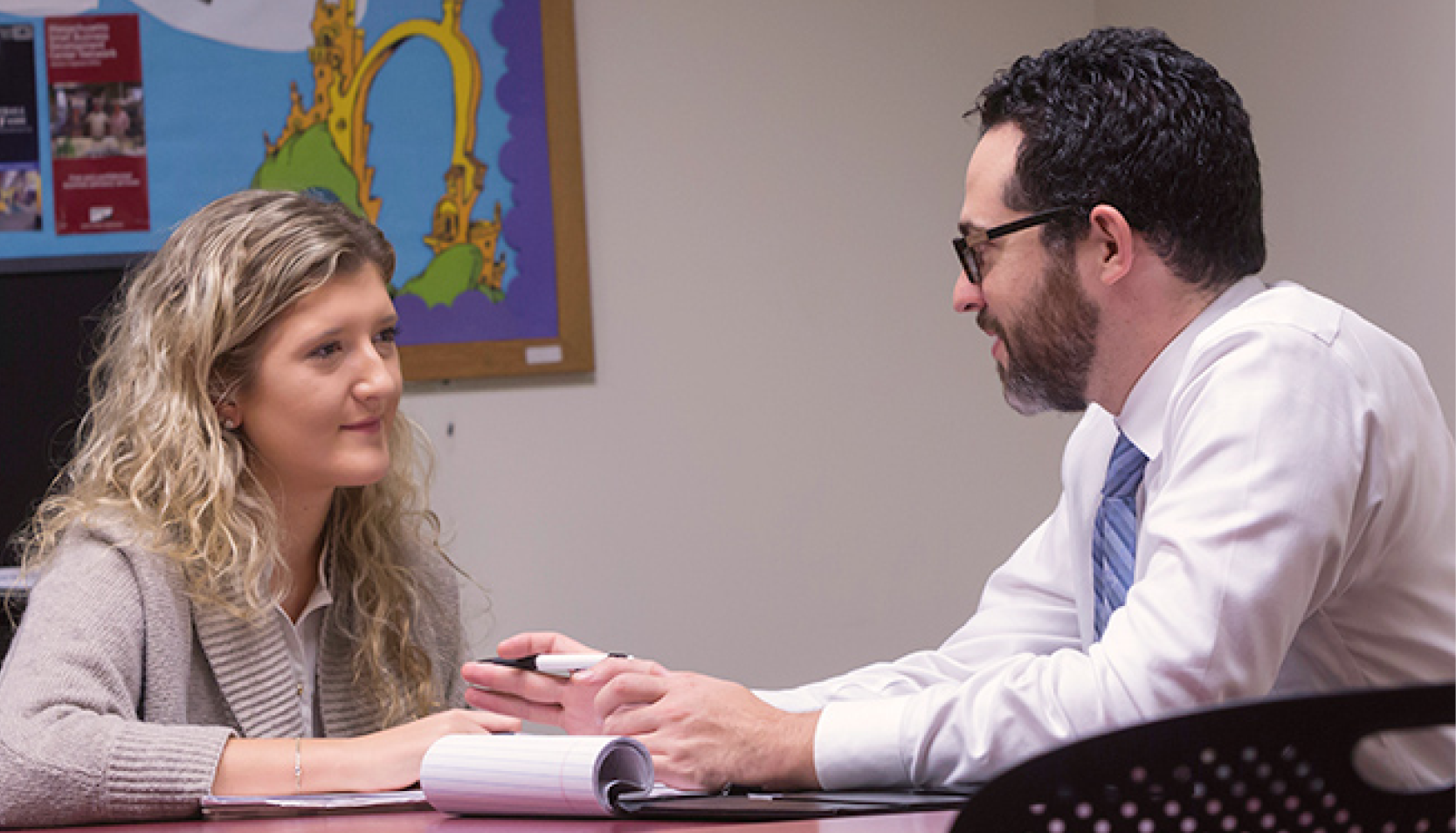 "Having our name attached to the Career Center means a lot," said Kevin. "Many years ago, Sandra and I decided where we would put our philanthropic dollars over the years, and there were two areas that were very important to us. One was in the arts, for the soul. The other was in education, for the mind."
Further augmenting their commitment to student success, the Delbridge family has impacted hundreds of Golden Bears from Springfield and surrounding communities through the development of the Kevin S. Delbridge Endowed Scholarship and the Delbridge Family Endowed Scholarship. Additionally, through the years, the Delbridge Family Atrium in 2011 and the Kevin S. Delbridge Welcome Center in 2006 have been named in their honor; as well as academic spaces and programs including the conference room in Sleith Hall, the Neuroscience Lab, and the College of Business Honors Program.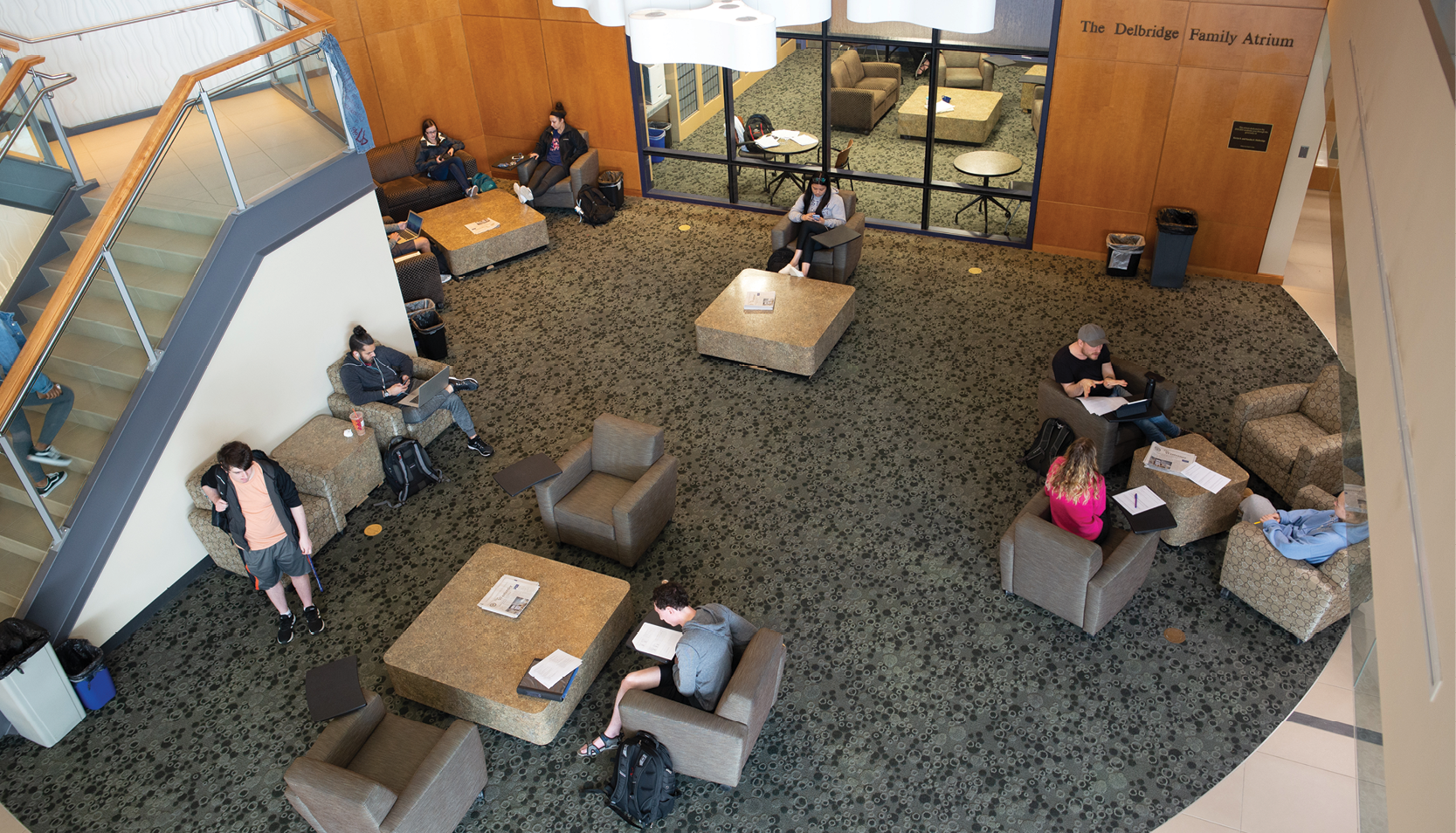 "We didn't necessarily give to create a legacy, but we did it more as an example for others who are thinking of doing it to actually do it," said Kevin. "Many educational and art organizations can't just operate on their revenue; they need additional help and additional funds. We're more than happy to provide some of those funds. In the case of the University, this is helping young people as they are in their formative years, as they are acquiring knowledge and thinking about what they want to do. They need support, they need guidance, they need resources. To us, the most important thing is helping these students get what they need." 
Since 2011, the Delbridges have also hosted a scholar's dinner for the recipients of their scholarships, an event they've enjoyed for the opportunity to meet and share advice with Golden Bear students embarking on their next steps beyond campus. "Your career is not always up and to the right," said Kevin. "There are peaks and valleys, and when you're in a valley, you can be concerned about it, but you're going to get out of it. Your next peak will be higher than your last peak. The chance to convey to students that we came from relatively humble beginnings to get to where we are, and that they can do the same thing, is very compelling."
"This is helping young people as they are in their formative years, as they are acquiring knowledge and thinking about what they want to do. They need support, they need guidance, they need resources. To us, the most important thing is helping these students get what they need." - Kevin Delbridge '77/H'19
Inspiring the Next Generation of Philanthropists
"Writing a check is one thing, but we wanted to do more than that," said Kevin. "We wanted to be involved. Serving on the Board of Trustees fulfilled me. Having a role in helping the University continue its upward trajectory, that alone makes me feel good."
Kevin and Sandra hope to serve as an example of the impact giving can make, and they encourage alumni to give back with their time, talent, and treasure. "It's both monetary and lending of your expertise," said Kevin. "Consider being a mentor to a few students and really having an impact. Share the practical experience you've gained over 10, 20, or 30 years to help students navigate today's world."
The Delbridges have truly embodied the saying "actions speak louder than words" in the past 35 years of their remarkable philanthropy and leadership at WNE. Through their active engagement, focused vision, generosity, and steadfast support, they have set the stage for alumni to follow in their footsteps and continue to impact the WNE student experience today and into the future. 
Kevin and Sandra challenge alumni and donors to be inspired by their story, to get involved, and to exceed the impact they've had the opportunity to make. "We talked about doing things by example," said Kevin. "We're not going to be around forever, and hopefully there are others coming up who will view this and think, 'maybe I should follow that path or spend some time giving my expertise to help them out,' and with dollars too, of course." 
Learn more about the Kevin S. and Sandra E. Delbridge Career Center at wne.edu/career-development-center. 
Explore ways to make your impact on the Golden Bear experience at alumni.wne.edu/ways-to-give or make a gift today at alumni.wne.edu/make-a-gift.