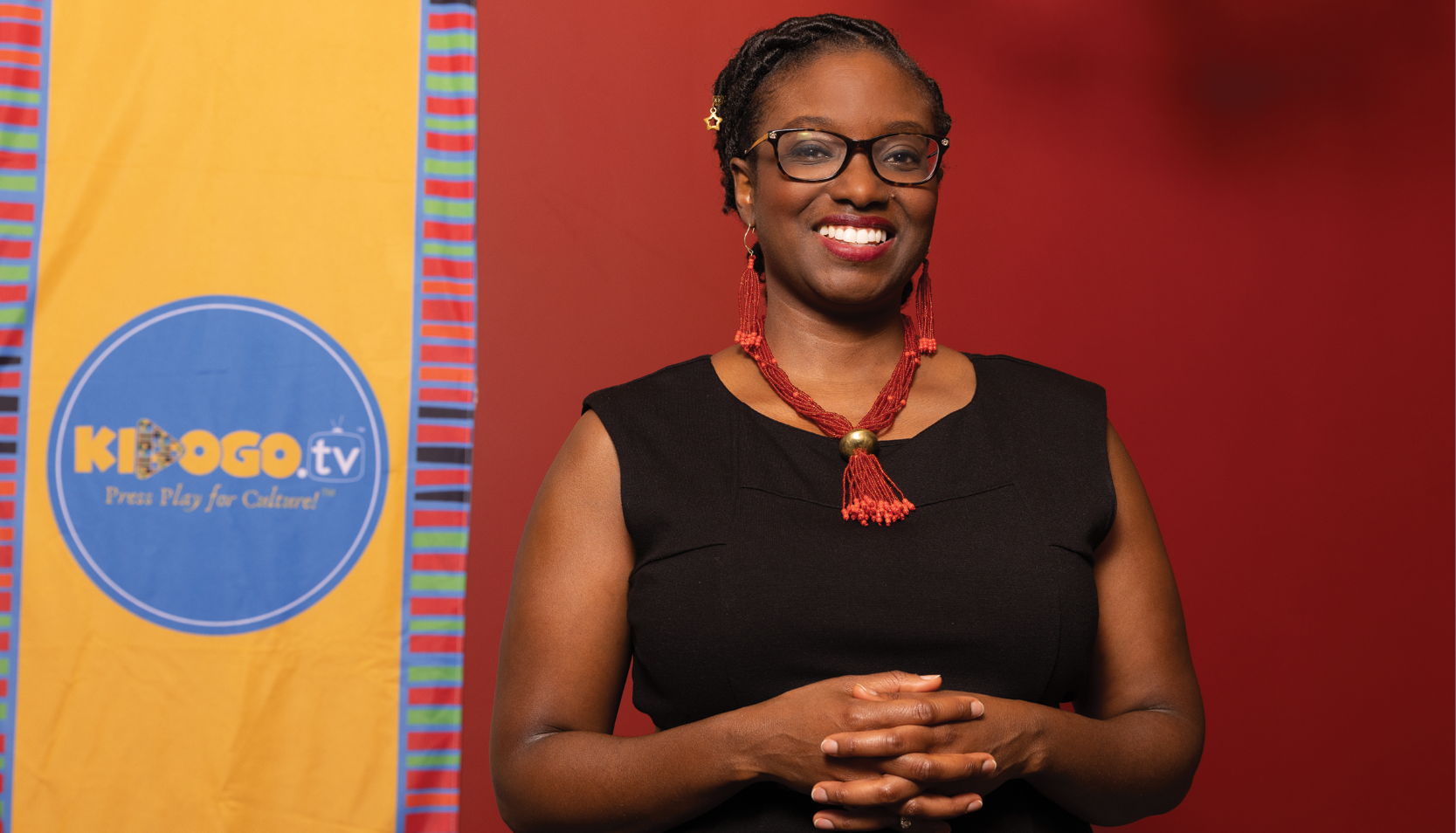 Creatively Impacting Cultural Change And Youth Educational Enrichment
Keeana Saxon L'03 created Kidogo Productions LLC and kidogo.tv to provide culturally engaging and enriching content for the youth of today and into the future
By Kate Burke
In 2018, with a young daughter who loved nursery rhymes, cartoons, youth television programs, and online games for children, Keeana Saxon L'03 recognized that the content her daughter was engaging with on various media platforms wasn't representative of cultural differences, and instead reinforced cultural stereotypes. Rather than focus on her frustration, she did something about it.
What started as an idea to create a culturally inclusive educational environment for her daughter, evolved into a growing platform impacting youth of all ages. In 2019, Keeana founded Kidogo Productions LLC, a Boston-based educational media company with the goal "to connect with and have a positive impact on children from across the world through Black-centered curated videos, interactive activities, and live events."
A Leader in Faith, Cultural, Educational, and Legal Communities
Originally from Washington D.C., Keeana and her family moved to Newton, Massachusetts, when she was a child. Following the lead of her parents—with her mother working in ministry after earning a master's degree in Divinity and a doctoral degree in Theology, and her father serving as a Deacon in his wife's church while teaching middle school math—Keeana began making an impact on the community and her church at a young age. Through music enrichment and education, including serving as a church pianist for several years and trips abroad spreading ministry and music with her chorus and orchestra, Keeana developed a passion not only for music, but for different cultures and community involvement.
With a plan to earn a graduate degree in Ethnomusicology, she advanced her music and educational career as a Music major (Classical Piano Performance) and French minor at Spelman College, a Historically Black College or University (HBCU) in Atlanta. Throughout her undergraduate career, she continued to combine her passion for music and culture through involvement in recitals, performances, student organizations, and spending time abroad studying at a private conservatory in Paris. After completing her studies at Spelman, Keeana swayed from her plan to go to graduate school, ultimately deciding to chart a new path to pursue a degree in Law, which led her to the Western New England University School of Law.
"I loved Western New England University," said Keeana. "WNE was one of only two schools at the time that had rolling admission. I decided in July of 2000 that I was submitting my application, moved from Boston to Springfield, and was in my seat in the classroom in August," she said of her quick decision to pivot to law school.
Keeana reflected on the positive experience she had at the School of Law and the influences of her professors, including Bruce Miller, William Baker, Anne Goldstein, and Nancy Sykes L'89, and others. "Whether they used the Socratic method of requiring participation, formally or informally, I really gained a sense of the ability to speak. And we had so many cultural opportunities," said Keeana, who served as President of the Multicultural Law Student Association; participated in after school seminars and conferences; and was part of the Frederick Douglass Moot Court Competition team that beat Harvard's team in the first round, winning the Best Respondent's Brief award.
"At WNE the professors gave students opportunities to develop the confidence building blocks that you may need to call on when you don't feel so confident, individually or on teams, throughout your career," she said. "I could call on those days when I stood taller, and that helped build my confidence."
After earning her Juris Doctor, Keeana briefly dipped her toes into corporate law, but eventually found her footing working in the public sector, first with a Massachusetts state senator, then as Counsell at the Department of Housing and Community Development, and finally as Deputy General Counsel with the Executive Office of Housing and Economic Development.
Due to the diversity of her educational and professional background, combined with her passions for music, education, law, and public service, Keeana has been able to apply her experience and passions to every aspect of developing, launching, and continually advancing Kidogo Productions LLC and kidogo.tv.
An Entrepreneur Making Her Impact
Equipped with her wealth of educational and legal experience, Keeana fully embraced the process of taking her ideas for her youth media company from concept to reality. Her journey took her into the unfamiliar world of business startups, and she ultimately watched herself evolve into a respected business owner and entrepreneur.

For parents, educators, community organizations, and professional caregivers, Kidogo offers a community, which nurtures children mentally and emotionally with culturally rich content.
Kidogo.tv by the Numbers (and counting!):
581 site members
34 channels
4,500 curated videos
28 activities
4 live events
By drawing on her personal and professional experiences, as well as the support of her family, church, and entrepreneurial peers, Keeana sought out mentors in the business and media community while using her experience in education and law to propel her ideas forward. She recognized that starting a business was no easy feat and she would need to continue to learn and lean on her community and resources.
As an emerging entrepreneur, she was introduced to business accelerator programs, incubators, pitch nights, fellowships, and leadership institutes. Keeana immersed herself in Boston's EforAll program, a free one-year community program that offers a unique combination of immersive business training, mentorship, and access to an extended professional network; the Innovation Studio, a four-week program that helps entrepreneurs create compelling stories for their businesses; and MassChallenge, a nonprofit organization dedicated to supporting innovation and entrepreneurship through collaboration and development. Through her participation in these programs, Keeana enhanced her vision for kidogo.tv, launched a second version of her website, interviewed and started featuring more content creators, and further developed her business team to include a producer, an animator, a music supervisor, voice talent, and activity designers.
After earning recognition for her pitches and placing in various entrepreneurial competitions, Keeana's business plan was in position and continuing to evolve. Keeana is working toward developing a pipeline of capital by consistently applying for grants, connecting with angel investors, and even considering crowdfunding, live events, and brand sponsorships. She hopes to eventually create monthly or yearly subscriptions for parents, educators, and creators to utilize, share, and enhance the kidogo.tv platform and experience.
An Advocate for Youth Education
Reflecting on her experiences from her law education and career to now leading the charge and direction of kidogo.tv, Keeana draws on each experience and the lessons learned.
"I'm a server, I'm a servant, I'm of service to people," she said. "That's just what I do. I'm constantly fighting for the little person, the person whose voice is not as prominent."
Drawing from African roots, kidogo means "a little" in Swahili, and emphasizes the intended audience for the cultural phenomenon and impact of kidogo.tv. "With Kidogo, I'm literally fighting for the little person," she said. "I'm fighting for the children who don't even know what to ask for when they're kids."
Keeana is hopeful that by 2023 she will be able to achieve the capital funding to build a customizable site that will allow children to navigate the site themselves, without the immediate assistance of an adult.
A Driving Force for Change and Empowering Example for Women and Community Volunteerism
Keeana continues to go above and beyond to seek leadership opportunities and leadership education. Due to her unwavering dedication to making a difference, she has compiled a more than impressive résumé of extensive involvement in community leadership and volunteerism.
In 2021, she completed a facilitative leadership training at the Interaction Institute for Social Change, an organization engaging the social sector and providing community resources to "build collaborative capacity in individuals, organizations, and networks for social justice and racial equity."
She also participated in LeadBoston, a signature leadership program of the parent organization YW Boston, a community-based organization "dedicated to eliminating racism, empowering women, and promoting peace, justice, freedom, and dignity for all." Keeana reflected on her experience as offering her a "hyper-local perspective of Boston looking through the lens of social justice issues and inequalities that plague some parts of the city, but not others," an experience that made her more aware of inequities in education, racial disparities, and racial tensions.
Additionally, Keeana is a graduate of the Black Women's Entrepreneurial Leadership Program (BWELL) at Babson College, a program "designed specifically for Black women and allies seeking to hone their entrepreneurial leadership skills, grow their network, and gain resources to propel their businesses and professional growth."
Through her continued participation in community education and leadership programs, she has had the opportunity to network with fellow female entrepreneurs and female leaders. "I've been humbled by these experiences and the opportunities to meet women who are so much further along in their businesses, they've all been so encouraging," she said, including that two BWELL program participants were the first people to be sponsors of an event she hosted this past June.
A Resource for Cultural Education
Keeana's hard work and dedication to cultural change and educational enrichment for youth isn't going unnoticed. She received a $1,000 grant from the ParentPreneur Foundation, an organization that provides grants to grow businesses and empower "Black ParentPreneurs to see themselves as a great parent, as a great partner or spouse, and as a great entrepreneur—to see their children inspired to live a purposeful and prosperous life because of the choices their parents made." She also won a MassChallenge Community Choice Award for $25,000 in October.
As an entrepreneur, Keeana started Kidogo Productions LLC and launched kidogo.tv as self-funded ventures. Now that she's beginning to secure grants and sponsoring funding support, she will continue to apply all financial benefits to the enhancement of kidogo.tv for youth now and into the future.
Learn more about Keeana and Kidogo Productions LLC's youth programming, activities, events and more at kidogo.tv.