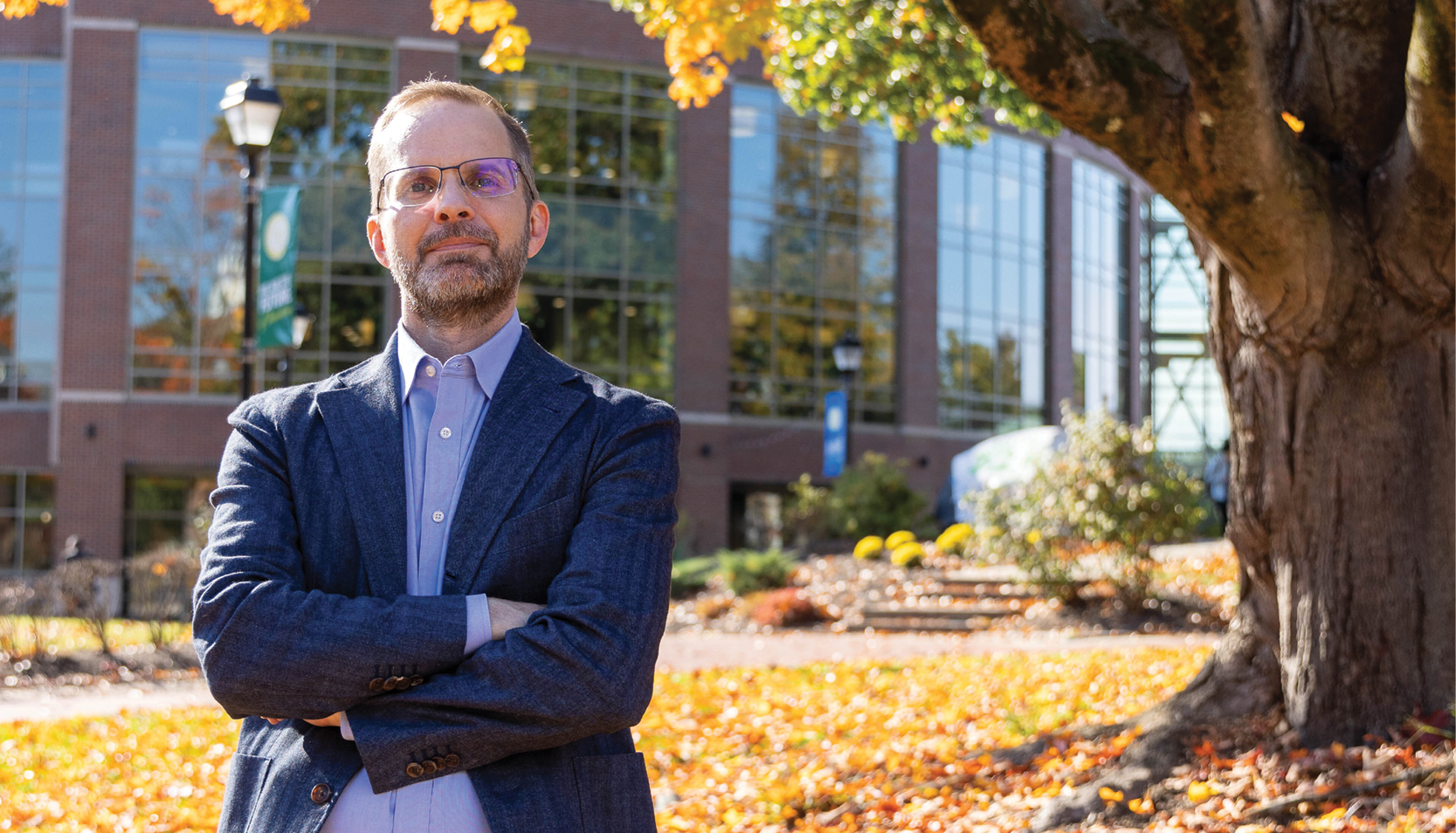 The Anatomy of a College of Arts and Sciences
Dean Marcus Davis Seeks to Build Structure of Empowerment and Curiosity
By Alex Lyman '12/G'16
Coming to Western New England University from James Madison University in Virginia, where he served as the Associate Dean of the College of Science and Mathematics and Interim Department Head for Mathematics and Statistics, new Dean of the WNE College of Arts and Sciences Marcus Davis was in search of a place of growth and possibility.
When asked what he wanted the University community to know about him, Dean Davis was certain of his answer and how it will define his role at WNE.
"I naturally identify as a builder—I like building things that may have a longstanding impact and can be a resource for others. I want what we do to empower people and solve problems."
That said, Dean Davis' desire to build doesn't require the demolition of the longstanding values of the College of Arts and Sciences, but rather a respect for what has been and a curiosity for what will be. In fact, his attraction to WNE largely centered on our identity as a New Traditional University.
"I saw a University that was bold to recognize that we are one-fifth of the way into the 21st century—we have to move with flexibility and creativity while bringing with us all the excellence that we already have," he said about his first impressions of WNE. "For me, it's about a similar mindset—this is a University that has a lot of great traditions, but is bold enough and brave enough, to think about new things."
Dean Davis hopes to encourage faculty, students and families, alumni, and industry partners to share conversations about how to best connect students with career paths—especially when it comes to families who may not yet be aware of the diversity of fulfilling career options unlocked by a given academic major. In doing so, he wants to help them think outside the box and understand that while paths forward may not be initially obvious, they very much exist. "I love having conversations with families about what their student can do with a particular degree," he noted. "Companies need diverse groups of people with the professional expertise to problem-solve. That's how we solve grand and wicked problems in society. I think we have an opportunity to work in partnership to decipher what newly emerging career paths look like and to translate what students learn on campus into opportunities to be leaders in our communities and the world beyond."
"I naturally identify as a builder—I like building things that may have a longstanding impact and can be a resource for others. I want what we do to empower people and solve problems." - Dean Marcus Davis
Dean Davis explains that one of the best ways to help students understand and explore their options is through building new types of programs that are at the intersection of already-existing programs and are relevant to students. In order to best benefit our students, these programs should ideally be informed by the job market, involve industry players, and encourage their interest in what we do.
"Careers are always evolving, so our approach to preparing students for their careers must evolve, too. We also have an opportunity to redefine what unites the College of Arts and Sciences, despite the perception that our programs exist at opposite ends of the academic spectrum," he added.
"We are all in the novelty business. The origin of the word novel is the generation of something new. As a biologist, I study novelty—the origin of novel structures and functions in nature. Where does newness come from in the world?"
Novelty is a collective attribute of the College of Arts and Sciences scholarship mission, regardless of discipline. Historians seek to unravel the origins of human history. Literature and the performing arts generate novelty through the exploration of the human experience in their craft. Science seeks to generate novel models that have predictive power to explain how our world works, solve practical problems, and to heal our bodies.
"We are in the business of generating newness, and I think that's something that binds us," said Dean Davis. "If there's something that's important for me to recognize, it's the intrinsic value we share as vanguards for understanding our world and the human condition, something we can each define through the lens of our chosen disciplines. We may take what we learn and know and apply it to expression, or theory, or application, but we're still united in a shared mission of discovery."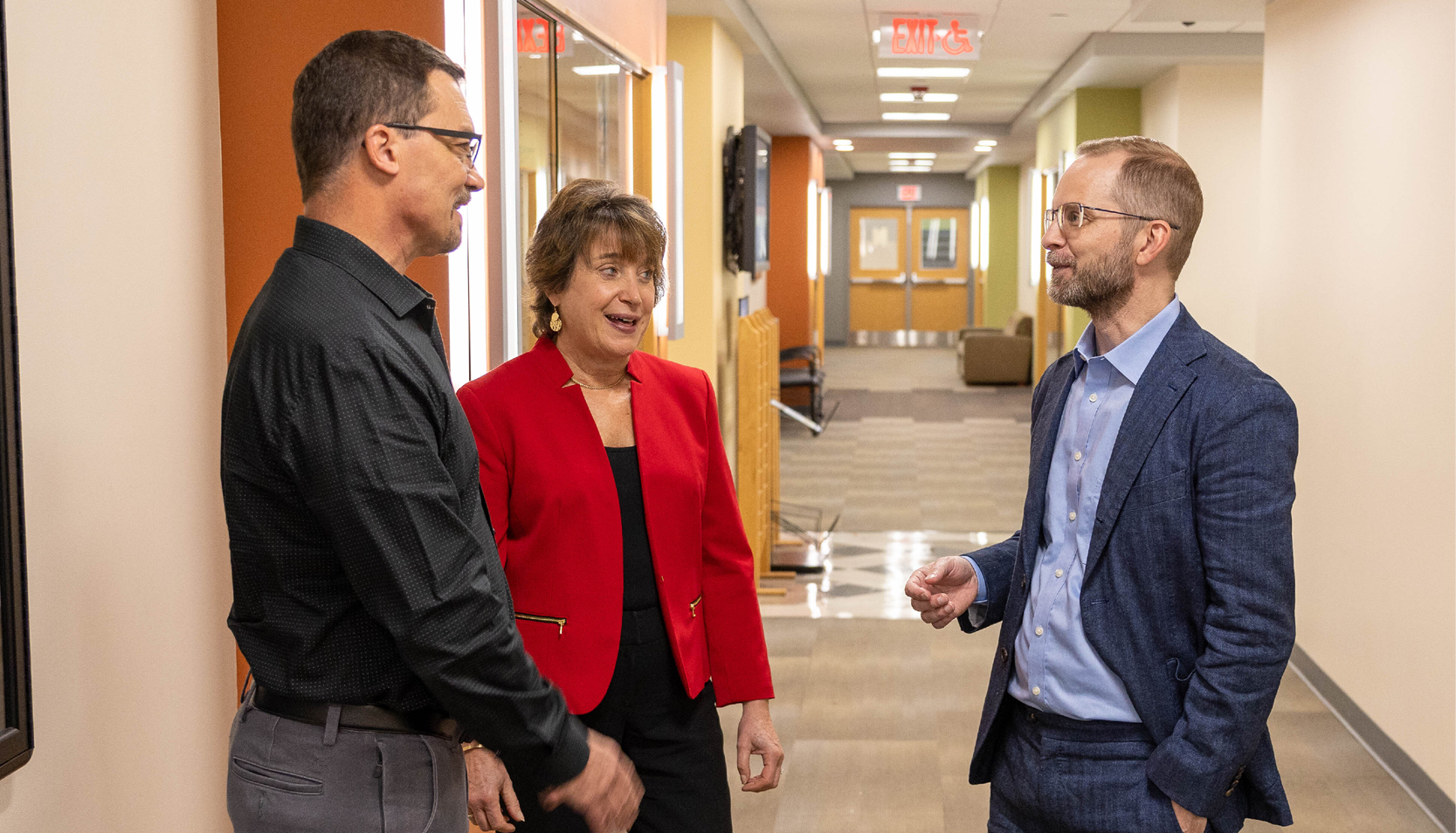 Understanding the Human Condition by Looking Beyond Humans
Dean Davis' past research also has a lot to do with generating—or regenerating—new growth. As an evolutionary biologist, he has leveraged developmental biology to ask questions about how our bodies have changed over time. With a background in paleontology, he is especially interested in how gene regulation has influenced how our skeletons have evolved, especially in terms of transitions over evolutionary time. His particular focus is the transition from fins in fishes to our own arms and legs as humans.
"It's an interesting evolutionary story, but it is fair for someone to say why should I care about that and what does it have to do with my own body?" he said. "The fact is that because we have arms and legs, we have trouble with them. People are born with congenital defects, and we can get injuries. We break bones and get arthritis, so there is damage to these structures over time as we age, and we'd like to understand more about how to heal them or to repair them."
Dean Davis noted that with evolution, you can try to understand these structures in a few ways, with differing results. By studying animals that have the same problems that humans do, such as mice, you can see that the same issues are present—and perhaps same underlying genetic cause. But you may not always learn something new. An alternative approach is to also study creatures that possess the "superpowers" that we would like to have as humans and see what's so different about their biology.
For example, paddlefish, a weird fish related to sturgeon that Davis has studied for nearly a quarter of a century, can regrow the part of their skeleton that are equivalent to human fingers and toes. They also have the ability to maintain cartilage throughout their lives, so they probably don't get arthritis. Paddlefish are using the equivalent genes to make their skeletons as humans do to make theirs, and yet the paddlefish can heal wounds and regrown skeletal structures. So, what's different?
"In a rough sense, the paddlefish are effectively turning back on embryonic development," said Dean Davis. "Humans generate fingers in the womb, but if you lose one, your body isn't capable of instructing itself to make another index finger. The genes are there to send the signal, but for some reason the body can no longer hear it. But a paddlefish remains competent to send and receive that message and reactivate that program. Understanding why some animals can effectively turn programming back on later in life and others can't is the secret to understanding regeneration and wound healing. 
"Labs around the world are leveraging the natural experiments of evolution to understand our own bodies by looking at animals who can do things that we can't. They are understanding the human condition by looking beyond the human condition."
Dr. Marcus Davis has proven experience in leadership roles in academics and diversity, capacity for innovation, and demonstrated student and faculty centricity. He previously served as the Associate Dean of the College of Science and Mathematics, and Interim Department Head for Mathematics and Statistics at James Madison University (JMU), until his was hired as the Dean of College of Arts and Sciences in August 2022.
At JMU, Dean Davis supported faculty research, student recruitment, and DEI initiatives across the five departments of the College and on behalf of 196 full-time faculty and 1500 majors. Within the Department of Mathematics and Statistics, Dean Davis supported 70+ faculty as they provided diverse programming to meet the general education and STEM major requirements of thousands of students each year.
Prior to JMU, Dean Davis served as Associate Dean for Research for the College of Science and Mathematics at Kennesaw State University in Georgia. He received his PhD in Organismal Biology and Anatomy from the University of Chicago and a BS in Applied Biology from the Georgia Institute of Technology. He has enjoyed a successful research career in the field of evolutionary developmental biology, and his lab has been continuously supported by grants from the National Science Foundation for over a decade.
Dr. Davis has nearly two decades of paleontological fieldwork experience in the Devonian of High Arctic Canada, the Triassic of Greenland, and Morocco including outreach to Inuk (Inuit) community members and students.
His professional affiliations include The American Association of Colleges and Universities, The American Conference of Academic Deans, The Council of Colleges of Arts and Sciences, The Council for Undergraduate Research, The Society for Integrative and Comparative Biology, The Society for Developmental Biology, and The Society of Vertebrate Paleontology.
Rock 'n Anything that Rolls
When he
isn't
working, Dean Davis is a cyclist and a gearhead. In fact, his love of offroad mountain biking was a big draw in his decision to settle in western Massachusetts. He grew up around motorsports and is a car aficionado—but he
doesn't
need to watch
cars go around the track to enjoy the sport
. Much like a baseball fanatic who can understand how a whole game
transpire
d
based on the
game statistics
, Dean Davis
enjoys
watch
ing
the
live telemetry
and data streams of his favorite sports car and formula 1 races to predict who will get to the checkered flag first.
He is also into music as a self-proclaimed "lifer of rock 'n roll," and
an avid fan of
heavy metal, which may come as a surprise to those who know the academic side of him. Dean Davis lives with his wife
(also a biology professor)
and Maine Coon cats.