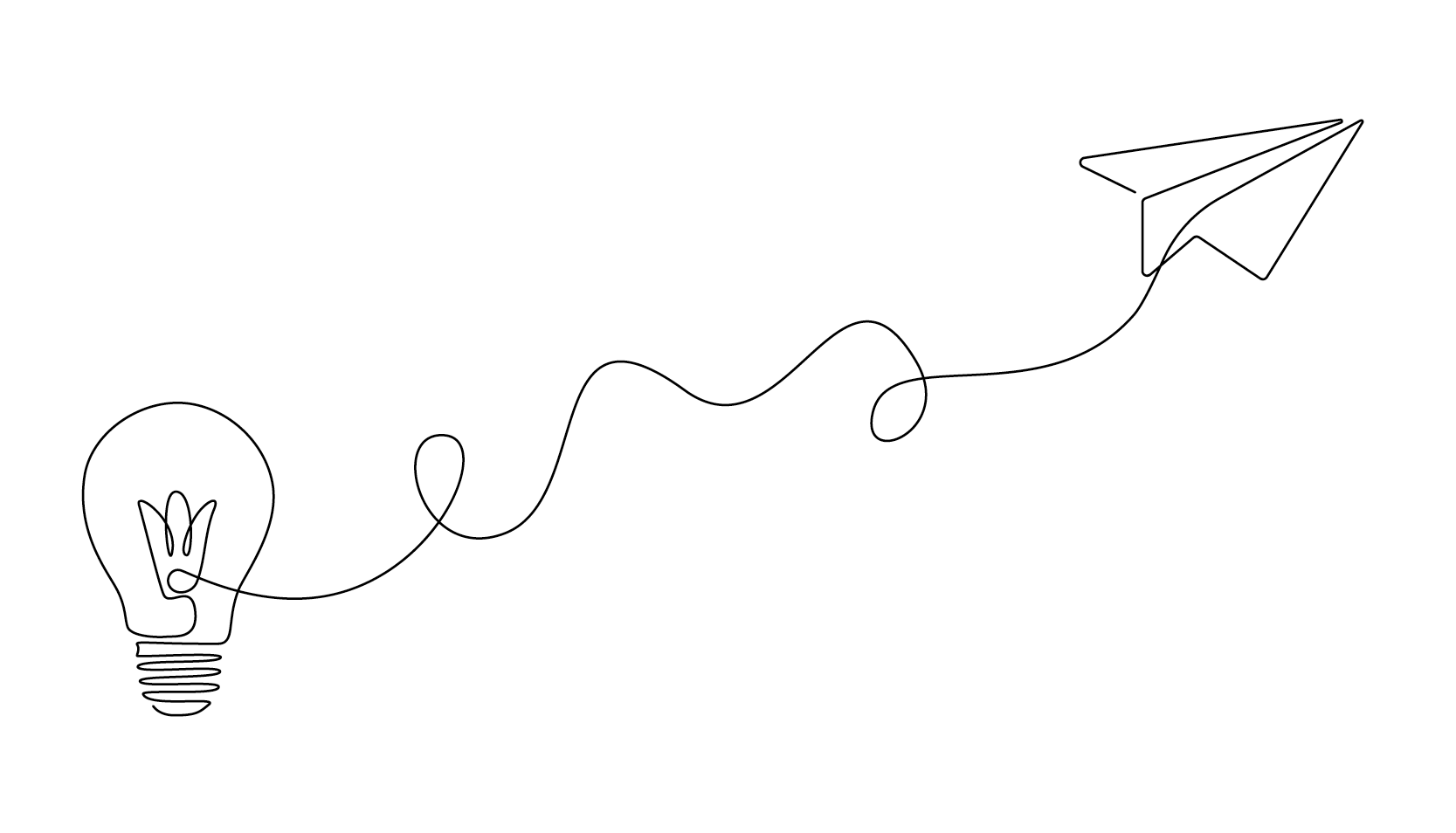 From Idea to Reality
College of Business Students Get Entrepreneurial
By Nicole Acevedo '22
Entrepreneurship rules the business world, and Western New England University's College of Business is committed to offering students the opportunities they need to turn their innovative ideas into realities. 
To facilitate and prepare students for these opportunities, faculty offer continual support to students through mentoring and networking events. Two of the biggest entrepreneurial incubators students have the chance to participate in take place during the fall semester. 
Annual Golden Bear Innovation Jam Centers on Healthcare Solutions
The Golden Bear Innovation Jam (GBIJ) is designed to encourage students to unlock their creative potential and develop skills to foster their entrepreneurial aspirations. The 2021 theme was centered around healthcare, reflecting the current pandemic-related demand for industry solutions. 
Senior Entrepreneurship major Ethan Valdes, cofounder of the Innovation and Entrepreneurship Club, proposed the idea for the GBIJ alongside senior Entrepreneurship and Marketing major Grace Buttrick, following their attendance at Smith College's Western Massachusetts Innovation Jam (WMIJ). 
Western New England students accompanied students from Mount Holyoke College, UMass Amherst, Hampshire College, and Smith at the WMIJ in September 2019. After seeing how beneficial the résumé-building opportunity was, Grace and Ethan worked together to bring a similar event to the WNE campus. 
"We have not had a full event yet, due to COVID-19; however, the idea is that a bunch of different colleges come together to create their business ideas, join a team, come up with a pitch, and then act as if they are actually running the business," said Ethan. 
This year's Golden Bear Innovation Jam was sponsored by PeoplesBank, which awarded six student teams the 2021 PeoplesBank Award to further advance innovation and entrepreneurship across the University, and the entire Pioneer Valley. 
2021 PeoplesBank Award Winners
Undergraduate Students
Jeremy Bowler
Electronically controlled, continuously variable transmission
Tytianie Brown
Funding for beauty services equipment
Caleb Miller
Cofounded an RV startup
Dante Talamini
Frost Alert
Ethan Valdes
Bus Boiz

Graduate Students
Shemika White
Notes of Beauty (chemical-free beauty products)
WNE Students Launch Functioning Prototypes at Product Innovation Showcase
The Product Innovation Showcase is a unique and crowd-pleasing event to spotlight entrepreneurial growth and teamwork. Each year, College of Business and College of Engineering students team up to collaborate in a cross-disciplinary course and develop marketable products. Over the course of a semester, engineering students are instructed to invent and develop a functioning prototype, while their business teammates focus on constructing a marketing strategy and business plan.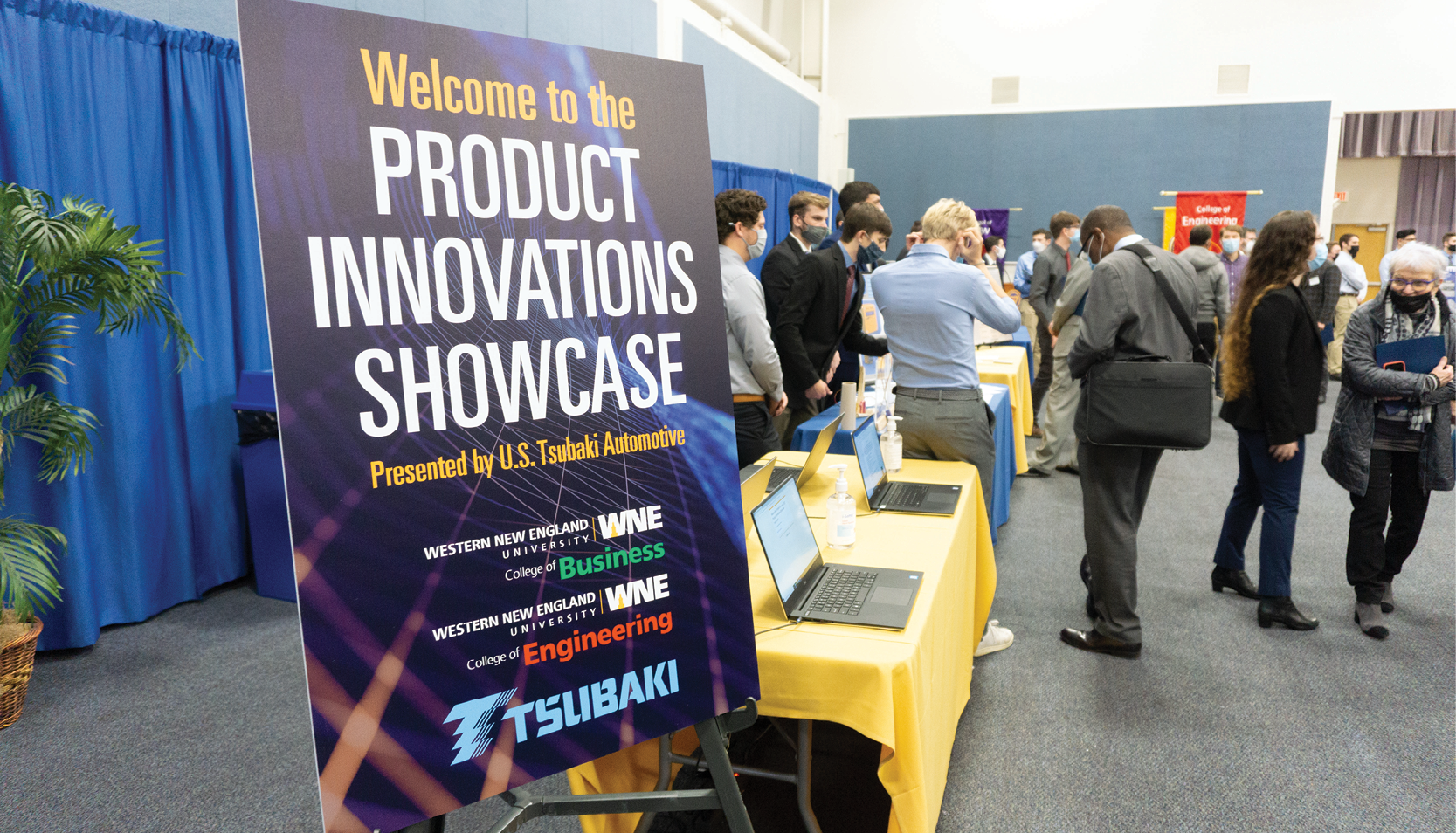 U.S. Tsubaki Automotive, a leading manufacturer and supplier of power transmission and motion control products, granted Western New England University $12,500 to support the Product Development and Innovation course over the next five years. 
The 7th Annual Product Innovation Showcase took place in December 2021 in Rivers Memorial Hall and featured 18 innovations. Each team was given the chance to pitch their product to investors and sell them on their commercial viability. Some of the successful innovations included Eyedar, a glove for the blind that converts distance measurements into vibrations for the user; Reel Deal, a fishing pole that allows users with a loss of strength or arm mobility to fish; and Gear Electric, which provides low-resource countries and individuals who live off the grid with sustainable, reliable power. 
VIP investors were each given one million Golden Bear Dollars to invest in the product and team that they felt had a quality prototype, was the most useful and beneficial, and upheld professionalism in their presentation of financial questions and revenue projections.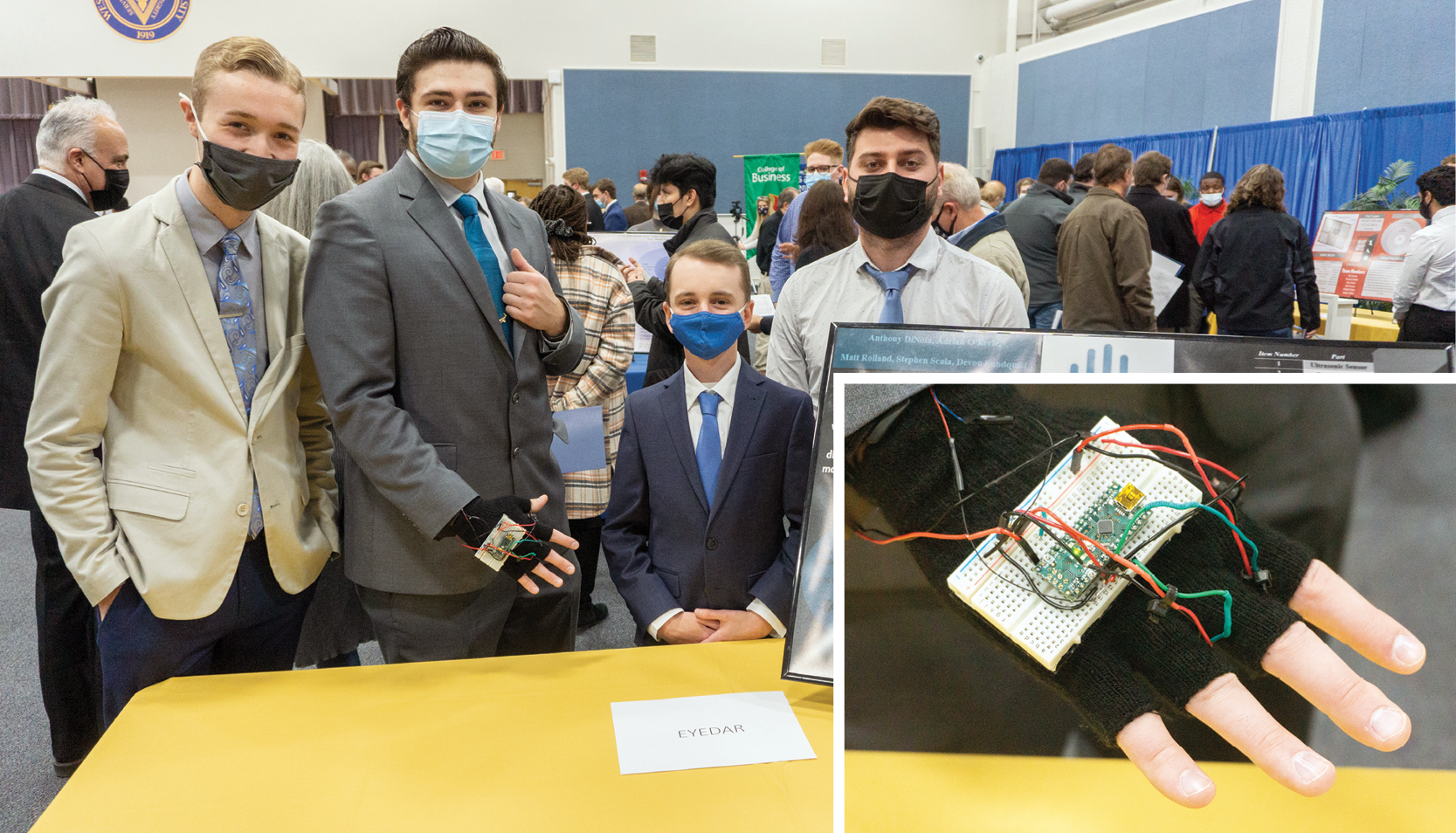 By pulling inspiration from previous internship experiences and personal passions, Grace Buttrick brainstormed the product idea for her team's development of Praequa.
"After working as an intern for Hanover Insurance and helping out their innovation team with the analysis of Internet of Things (IoT) devices, I knew I wanted to do something that I was familiar with," said Grace. "From that came my suggestion to create a smart flood detector."
Every group received funds that significantly surpassed their investment "ask." The top four products that obtained substantial investments were Eyedar as the Accessibility winner, raising $5.1 million; Praequa as the Safety Cluster winner, raising $4.2 million; Mailsense, a mailbox sensor, as the Household and Industrial winner, raising $3.6 million; and the Reel Deal as the Outdoors and Recreational winner, raising $1.8 million.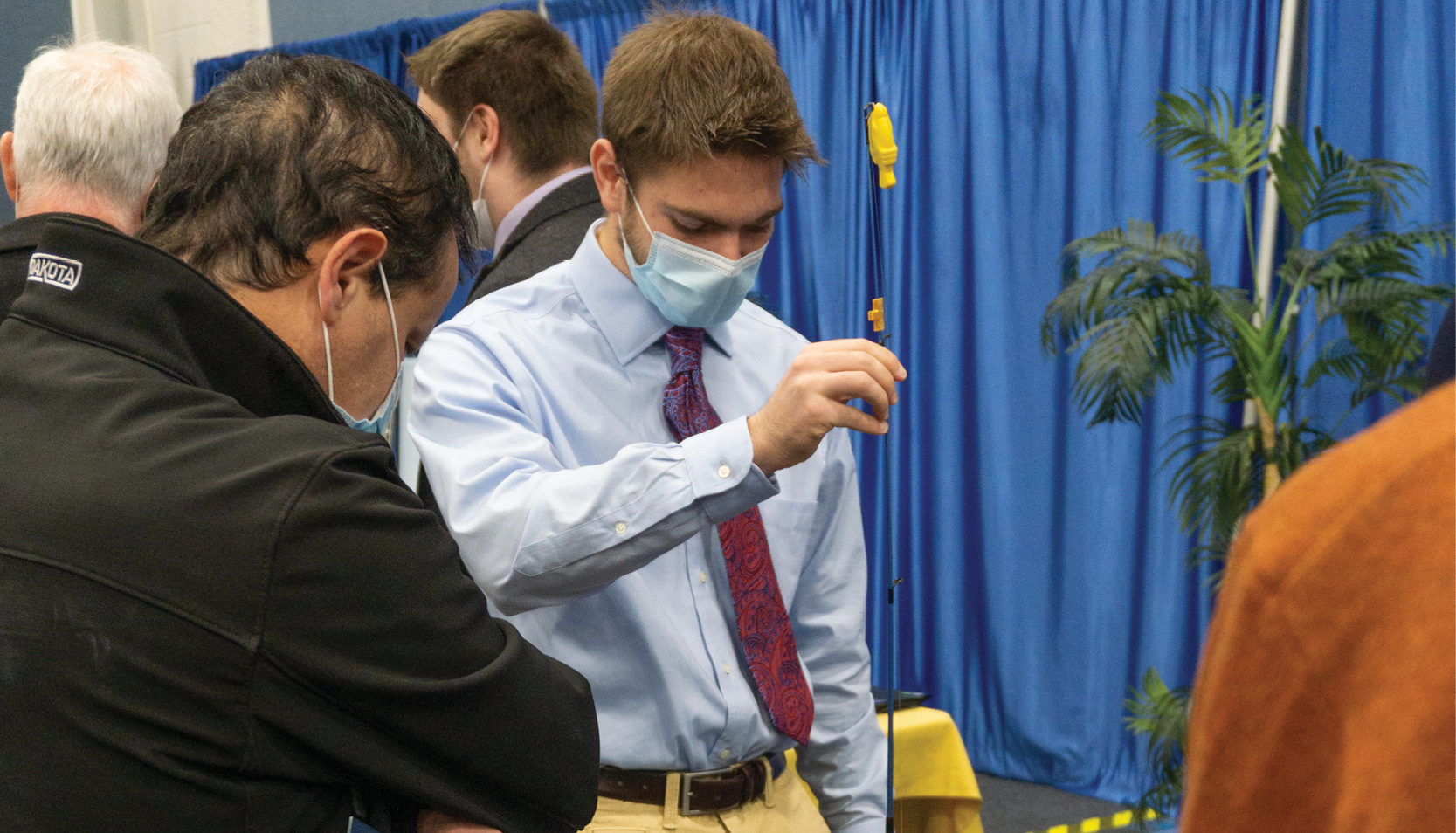 During this year's Showcase, College of Business Dean Sharianne Walker created the Dean's Award for Societal Impact, which spotlights innovative ideas that could potentially lead to sustainable, long-term societal impact. With the input from several University trustees and Hossein Cheraghi, Dean of the College of Engineering, the first-time award was presented to the Reel Deal, with honorable mentions going to Eyedar and Versa Chair, a modified wheelchair that helps the user get in and out of bed easily. 
To learn more about what's happening in the College of Business, visit wne.edu/business.