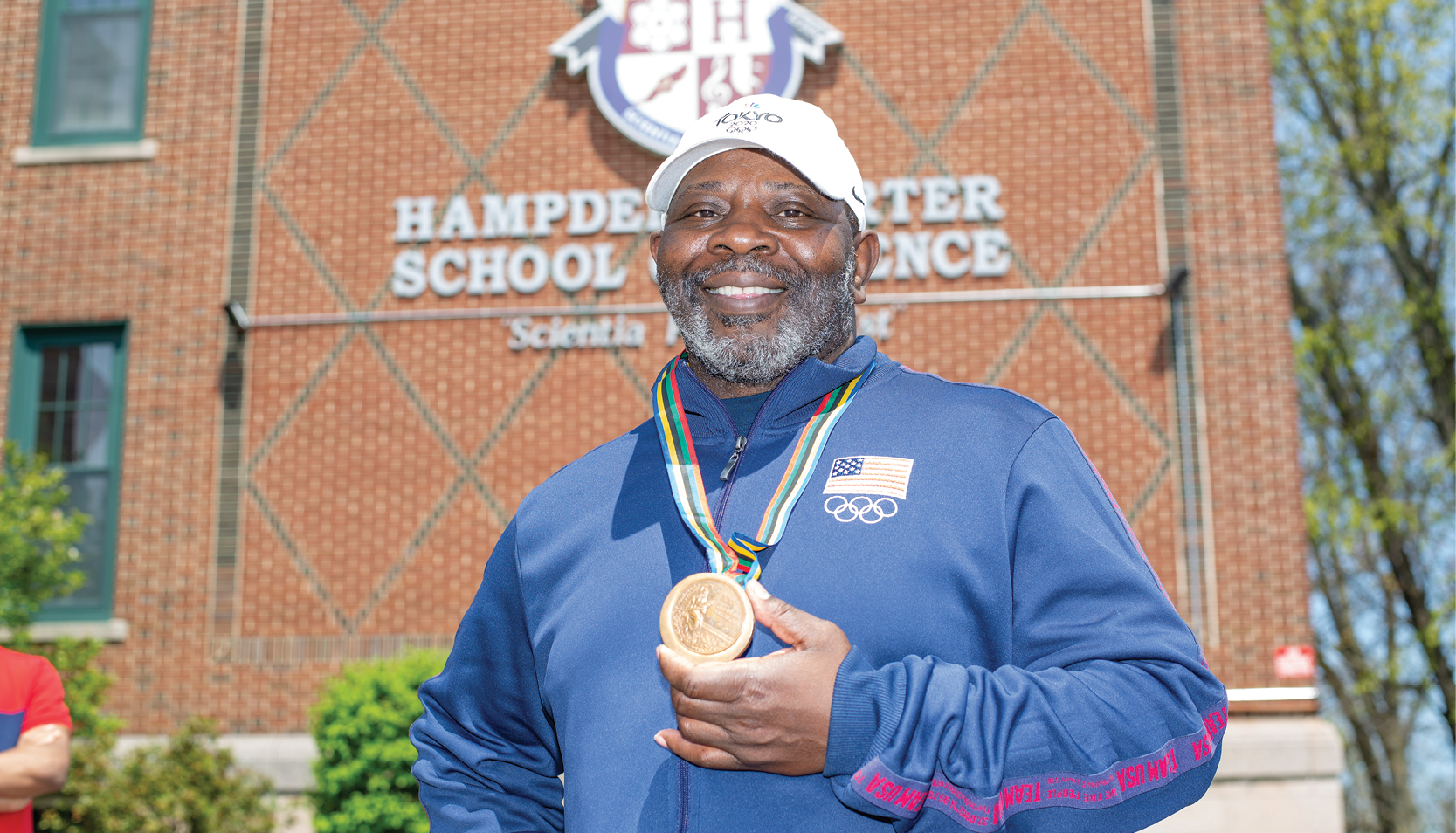 The Heart of a Champion, the Soul of a Community
Rodney Smith '89/G'03, an Olympian, Coach, Mentor, and Friend
By Kate Burke
In November 2021, culminating a more than 30-year career of achievements and awards, Rodney Smith '89/G'03 was inducted into the Massachusetts Chapter of the National Wrestling Hall of Fame. Recognized for his athletic prowess and community leadership, Rodney received the Outstanding American Award. 
"His influence and impact as a leader extend far beyond winning matches and earning trophies," said the National Wrestling Hall of Fame. "His desire is to give back to both his country and local community. Legacy can be seen and heard across generations; from his former coaches, teammates, and comrades, to his current students and wrestlers. Rodney Smith truly embodies what it means to be an outstanding American." 
Greatly humbled by these honors, Rodney reflected on his journey from athlete, to coach, to teacher, and his continuing role as a community impact maker. "The embodiment of your body of work coming to a point, you can say to yourself 'wow, somebody appreciates what I do,'" he said. "I know I work really hard, and this award meant everything. It makes me want to do more." 
An Olympic Dream
A lifelong athlete with youthful dreams of becoming a professional football player or an Olympian, Rodney earned early athletic success growing up in Springfield, MA, playing football and wrestling.
Shortly after high school, he made a decision that would ultimately change the trajectory of his life: he enlisted in the Marines, a decision and commitment that inadvertently put him on an unexpected path to achieve his Olympic dreams, just not on any roads he had ever traveled or expected to travel. 
As Smith was gearing up to begin his service with the Marines, he was recruited to play football at WNE and his obligation to the Marines was halted before it began. He was permitted to defer his service to pursue his education and athletics at WNE, with the caveat that he had to graduate and then return to the Armed Forces to fulfill his obligation. 
Golden Moments as a Golden Bear Scholar Athlete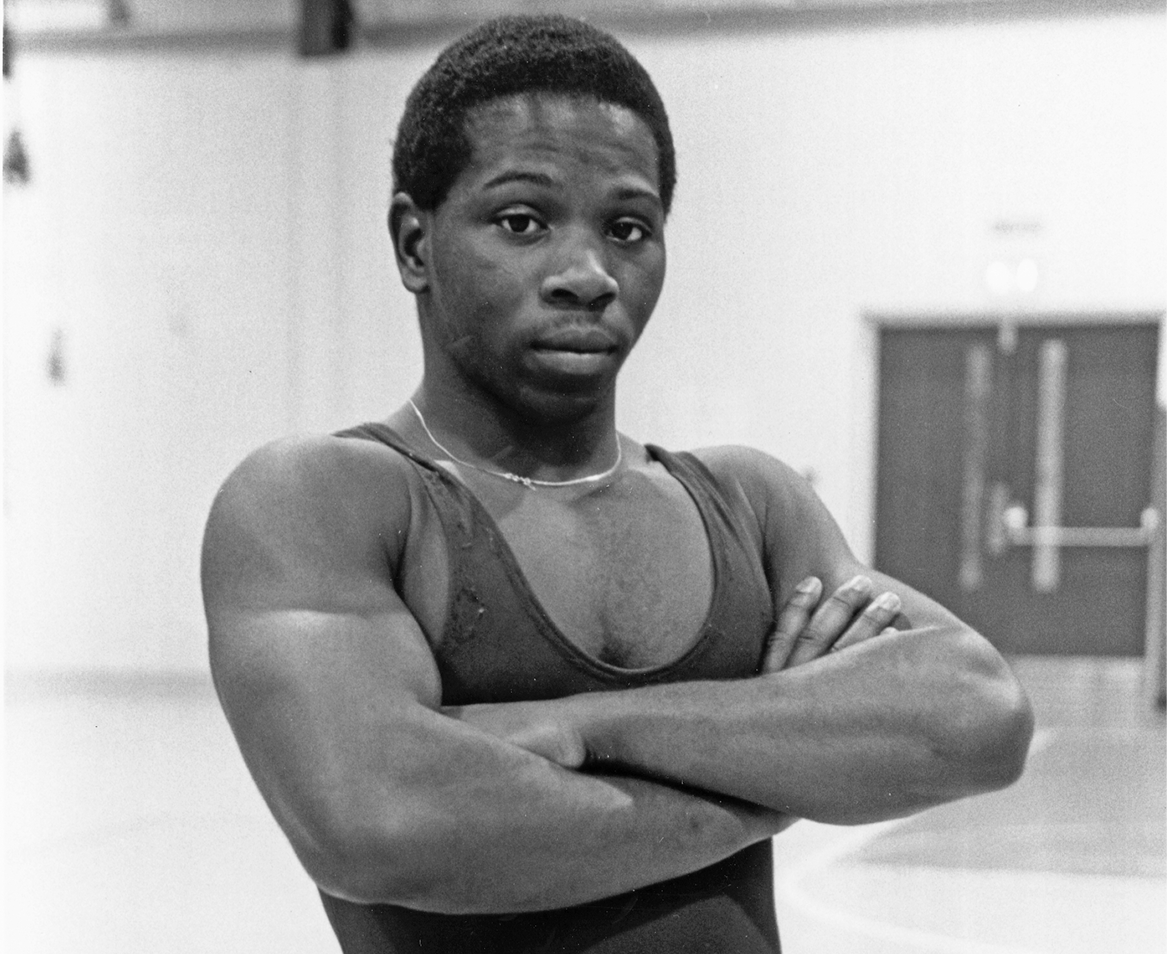 Initially recruited to play football for the Golden Bears, Rodney started college life as a "big man" on campus who admittedly took his athletic and academic opportunities for granted. 
Influenced by the unwavering guidance of his mom and the support of campus faculty and staff, including current WNE Assistant Dean for Inclusive Excellence Yvonne Bogle and past WNE Athletic Director Eric Geldart, he recentered his focus, shifted his academic and athletic priorities, turned his grades around, and exchanged his football jersey for a wrestling singlet. 
"As I grew with the culture of WNE, I learned to involve myself," he said.
In addition to wrestling, Rodney became involved with the campus community including as a disc jockey with the WNEK radio station, where he was known as DJ Rod Melody; as a student senator; and as the elected representative on the WNE Board of Trustees. 
"What changed my life, in how I defined myself as an athlete, was after sophomore year, when I realized that I could be a scholar athlete" he said. 
With restructured priorities, Rodney started having great success on the mat and that youthful dream of going to the Olympics started to become less of a dream and more of a true possibility. By his junior year, he was ranked third in National Collegiate Athletic Association (NCAA) Wrestling across all divisions. 
"I just became a different athlete," he said. "A lot of cool moments followed that I learned a lot from," said Rodney. "My mom always said to stick with it until you get to the end of the story." 
Military Service and an Olympic Journey
Following the conclusion of his college wrestling career and earning his bachelor's degree in Criminal Justice at WNE, Rodney's focus was redirected to his commitment to military service. While gearing up to deploy for Desert Storm, General Norman Schwarzkopf tasked him with the mission "to keep the health and welfare of our troops and maintain morale through the Health and Welfare Tour." 
This opportunity set the wheels in motion for Rodney's collective 10 years of service with the U.S. Army, beginning with the U.S. Army's World Class Athlete Program (WCAP), which allows top-ranked soldier-athletes, selected for their ability to perform at the highest level of their sports, to perform at the international level while also serving their nation in the military.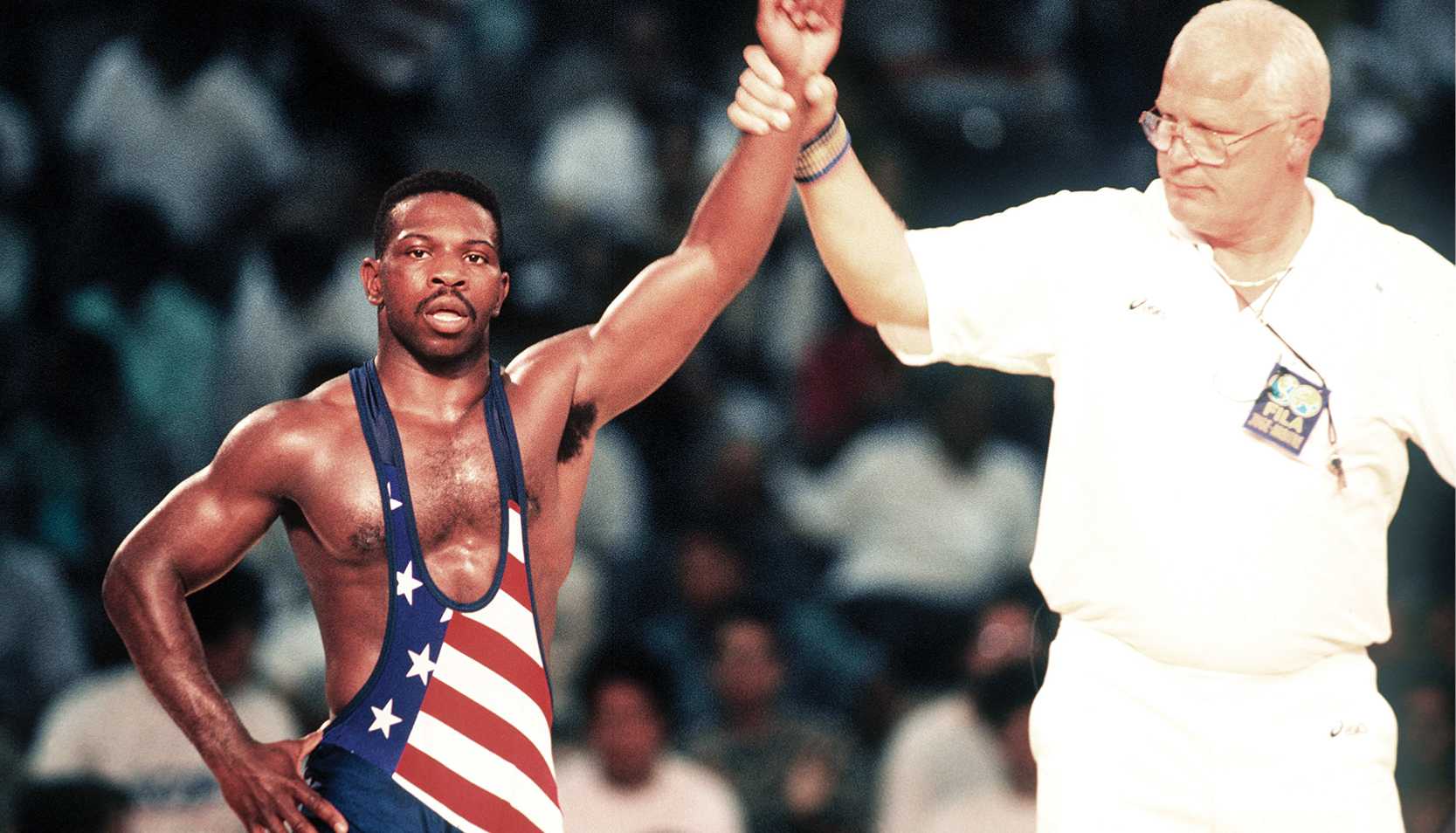 His service and training as a member of WCAP helped pave Rodney's path to the Olympics and his commitment to community outreach. Ultimately earning the bronze medal in the Men's Greco-Roman 68 kilograms (149lbs) at the 1992 Summer Olympics in Barcelona, Spain, he became one of only 446 soldiers to have represented the U.S. at the Olympics, contributing to the 111 medals earned by the U.S. across all sports to date. 
Reflecting on his wrestling career success and the Olympic medal he won 30 years ago, Rodney encourages aspiring athletes to "celebrate your moment." 
Life Lessons and a Legacy of Community Impact
Following his journey to the Olympics and his career in the U.S. Army, Rodney returned to New England to continue his commitment to service and community by becoming a coach, mentor, and teacher to countless aspiring wrestlers and students. He has impacted a number of college and youth wrestling programs including WNE, Northeast Elite Wrestling, and New Fairfield High School. 
"I've had a lot of love in my life," he said. "A lot of kids need love and to know that people love them." 
In 2011, Rodney started the wrestling program at Hampden Charter School of Science-East (HCSS-East) in Chicopee, MA. With background and experience as both a teacher and coach, he continues to coach and is also now Dean of Student Culture/Director of Athletics at HCSS-West in West Springfield, MA. 
"Being able to be here and be an example, to be a role model, is so important," he said. "I want there to be a bunch of people like me coming out of Springfield. I want students to see me in them and know that they can do more and go beyond what I have achieved. I tell them that I know the blueprint, and if they follow the trail, they will succeed." 
With his WNE wrestling roots, Rodney has continued to stay connected to the Golden Bear program and the University at large. He attends preseason wrestling practices and season competitions, participates in Sport Management guest speaking events, and supports United & Mutually Equal (U&ME) multicultural campus programming. 
"Coach Smith has been an inspiration to the student-athletes at WNE for nearly three decades," said WNE Head Wrestling Coach Mike Sugermeyer G'17. "His message to our wrestlers has always been 'Why dream, for I am the dream come true.' He has shown all of our student-athletes that no dream is too small and that with hard work and dedication, anything can be achieved." 
Awards and Recognitions
• Two-time NCAA Division III All-America Selection
• Three-time New England College Conference Wrestling Association Champion
• Two-time NECCWA Most Outstanding Performer
• 1987 NCAA DIII Wrestling Championships, 4th Place
• 1988 NCAA DIII Wrestling Championships, 5th Place
• 1992 Olympics Bronze Medalist, Barcelona
• 1992 National Champion
• 1996 National Champion
• 1996 Olympian and Team Captain, Atlanta
• 1996 Solder of the Year Award and Meritorious Service Medal for Outstanding Achievement
• 1999 WNE Downes Hall of Fame Inductee
• 2021 National Wrestling Hall of Fame Inductee, Outstanding American Award

Learn more about Rodney and his induction into the Massachusetts Chapter of the National Wrestling Hall of Fame at alumni.wne.edu/rodneysmith. 
Interested in learning more about the success stories of Rodney and fellow Golden Bear alumni? Explore alumni.wne.edu/alumni-in-the-news to read about Golden Bears making headlines regionally, nationally, and worldwide.