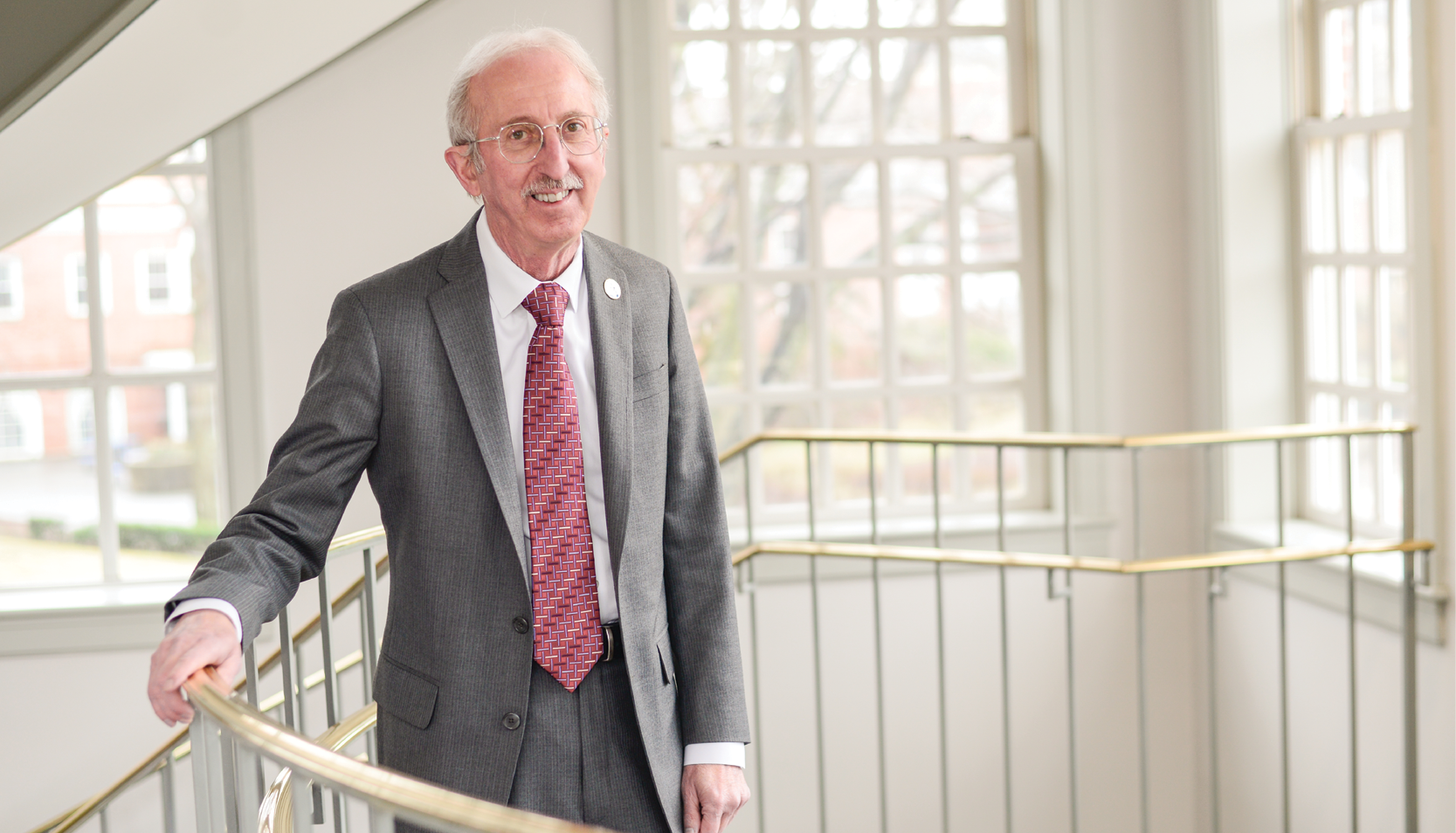 The 2022 Alumnus of the Year Award Recognizes Distinguished Golden Bears
Named in memory of Michael A. Serafino '77, the 2022 award honors the dedication and service of Kenneth Rickson '75
By Kate Burke
For over 50 years, the Western New England University Alumni Association has presented the Alumnus of the Year Award in celebration of members of the Golden Bear alumni community who display an extraordinary commitment to professional achievement, to civic responsibility, to high personal standards, and to WNE with a spirit of knowledge, integrity, and service. 
In 2022, the award continues to honor this proud tradition, now named in tribute to and in fond remembrance of Michael (Mike) A. Serafino '77, who passed away in November 2021. The Michael A. Serafino Alumnus of the Year Award celebrates Mike's legacy and the impact dedicated Golden Bears like him continue to make on campus and the community at large. Initially setting foot on campus as a student, Mike became a devoted alumnus, a caring trustee, a generous donor, and a cherished friend to many at WNE and beyond. 
This past June, the Alumni Association presented the inaugural Michael A. Serafino Alumnus of the Year Award to Ken Rickson '75. Ken has been actively involved with WNE for nearly 50 years—as a student, alumni volunteer, trustee, and donor. 
"It's so meaningful to be the first recipient of the Michael A. Serafino Alumnus of the Year Award," Ken said. "Mike was a good friend, was always very helpful and supportive, was a great listener, and had great advice." 
Ken was elected as a one-year alumni trustee in 1975 and rejoined the board in 1996 after being elected to serve as a two-year alumni trustee. He became a full trustee in 1998 and has been on the board ever since, serving in a number of capacities, including Board Chair in 2018 and leader of the University Presidential Search Committee following the retirement of President Emeritus Anthony S. Caprio. 
"Ken's contributions to the University are truly exemplary," said WNE Vice President of Advancement Beverly Dwight. "He is a shining example of alumni achievement and service to WNE, and it is an honor to be able to recognize him with the Michael A. Serafino Alumnus of the Year Award." 
Crediting his academic career at WNE with giving him the confidence to succeed in his professional career, Ken retired from MassMutual in 2017, after nearly 40 years of service. He began his career at Price Waterhouse & Co. in Hartford, CT, where he spent three years. He joined MassMutual as an auditor in 1978, and continued to rise in the ranks to become Director of Financial Services in 1981, Assistant Controller of Individual Product Lines in 1984, and Senior Vice President of Finance Operations and President from 1990-2002 with MML Investor Services (a subsidiary of Mass Mutual Financial Group). He retired as Vice President for Sales Risk Management for MassMutual Financial Group, a position he held since 2002. 
"I was known as the fixer," said Ken. "I love the challenge when there's a problem and I know I can fix it or figure out a way to fix it. Throughout my life I've kind of earned this reputation." 
A native of Indian Orchard in Springfield, MA, Ken was the first in his family to attend college and graduate. He was actively involved on campus during his time as a student as a member, treasurer, and president of Alpha Kappa Psi and member at large in the Student Accounting Association. He fondly reflects on his undergraduate career on campus, especially the guidance and encouragement he received from a number of faculty and staff in the College of Business, most notably the late Dr. E. Louis Raverta '43/'54, who was Chair of the Department of Accounting.
"Think about what the experience at WNE did for you and the difference it made in your life, and then think about how you can impact the University with your time, talent, and treasure." - Ken Rickson '75
"I love the place," Ken said about his passion for WNE. "The reason I do this isn't because I want to be recognized, it's because I want to give back. I had an amazing career and people need the same opportunities I had." 
Grateful for the support he received as a student, Ken established the Kenneth M. Rickson Endowed Scholarship in 2004 with the intention to support the financial needs of undergraduate students in the College of Business. To date, the scholarship has provided more than $60,000 in aid to WNE students and continues to make a significant impact on the Golden Bear student experience. 
Though Ken continues to make his mark at the University, he in turn continues to be impacted by the campus community. "Creating the scholarship has been gratifying in a number of ways," he said. "I receive scholarship reports and notes from the students who have received financial awards from the scholarship. Reading those is like gold, a real treasure, and I've saved the letters over the years." 
Ken encourages students to make the most of their experience on campus, both in and out of the classroom. "You're better than you think and your education at WNE has you well-prepared, so be confident, be inquisitive, and when opportunities present themselves, evaluate them thoroughly and don't be afraid of taking chances." 
A proud alumnus of WNE, Ken also encourages fellow alumni to take advantage of opportunities available to get involved with the University. 
"Think about what the experience at WNE did for you and the difference it made in your life, and then think about how you can impact the University with your time, talent, and treasure," he said. "Attend Homecoming, go to a football game, attend an alumni event in your area, and talk to friends and family who have kids of college age about WNE and the opportunities here. Be an advocate. Buy a hat or a sweatshirt, wear it, and advertise it. People look at it and want to know more about what is so special about this place." 
The WNE Alumni Association oversees efforts to increase alumni engagement through communications, events and experiences, volunteerism, and philanthropy. Learn more about how you can get involved at alumni.wne.edu/getinvolved or call the Office of Alumni Engagement at (413) 796-2240.
Alumnus of the Year Award
The following Golden Bears have been recognized and honored for their illustrious careers and impact on the campus and in their communities.
2022 Ken Rickson '75
2016 Colleen Loveless '84/G'93
2015 John Brennan '71
2014 Timothy P. Alben G'01
2013 Bonnie Malley '83
2012 Nicholas A. Fyntrilakis G'04
2010 George Burtch Jr. '91
2009 Stan Kowalski III '92
2008 John M. O'Brien III '74
2007 David P. Kruger '68/G'72
2006 Donald G. Campbell '73/G'79
2005 Kim A. MacLeod '73
2004 Robert H. Carnevale '68
2003 Panagiotis (Tak) Argentinis '66
2002 Francis (Frank) P. Fitzgerald '68/L'73
2001 Kevin S. Delbridge '77
2000 Timothy P. Crimmins Jr. '70
1999 Thomas S. Burton '70
1998 Michael J. Susco '70
1997 Michael A. Serafino '77
1996 Christine L. Soverow '84
1995 Neville S. Bogle '75/G'81
1994 Peter B. Stone '70/G'78
1993 Donald A. Ferguson '49
1992 Robert B. MacPherson '38
1991 Raymond Meyers '51/G'64/H'01
1990 John J. Pajak L'62
1989 Bertrand L. McTeague '64
1988 Kenneth D. Cardwell '63/G'66
1987 William J. Bailey L'36
1986 Judge Sidney M. Cooley L'41/LLD'84/H'01
1985 Sidney R. Cook '25/H'75
1984 James S. Teixeira '61
1983 Alfred A. LaRiviere '51/H'95/H'01
1982 Lucien A. Parent '62
1981 Hon. Tullio Francesconi L'36/H'72
1980 Benjamin P. Astley '48/H'01
1979 Richard E. Menzel '37
Karl A. Vester L'38
Violet L. Vester '39/H'01
1978 William H. Sleith '44/G'80
1977 Earl H. Paine '27/H'65
1976 Irving C. Jacobs '26/H'70
1975 Harley B. Goodrich '27/G'42/H'61
1974 Henry T. Downey '50/L'56,
Robert R. Emerson '23/H'58,
Donald M. Macaulay '24/H'56
1973 Irving M. Cohen L'32
1972 Carl O. Chauncey L'25
1971 Leon D. Chapin '39/G'64/H'79
1970 Stanley O. Smith '22/H'54

Award Ceremony Photos