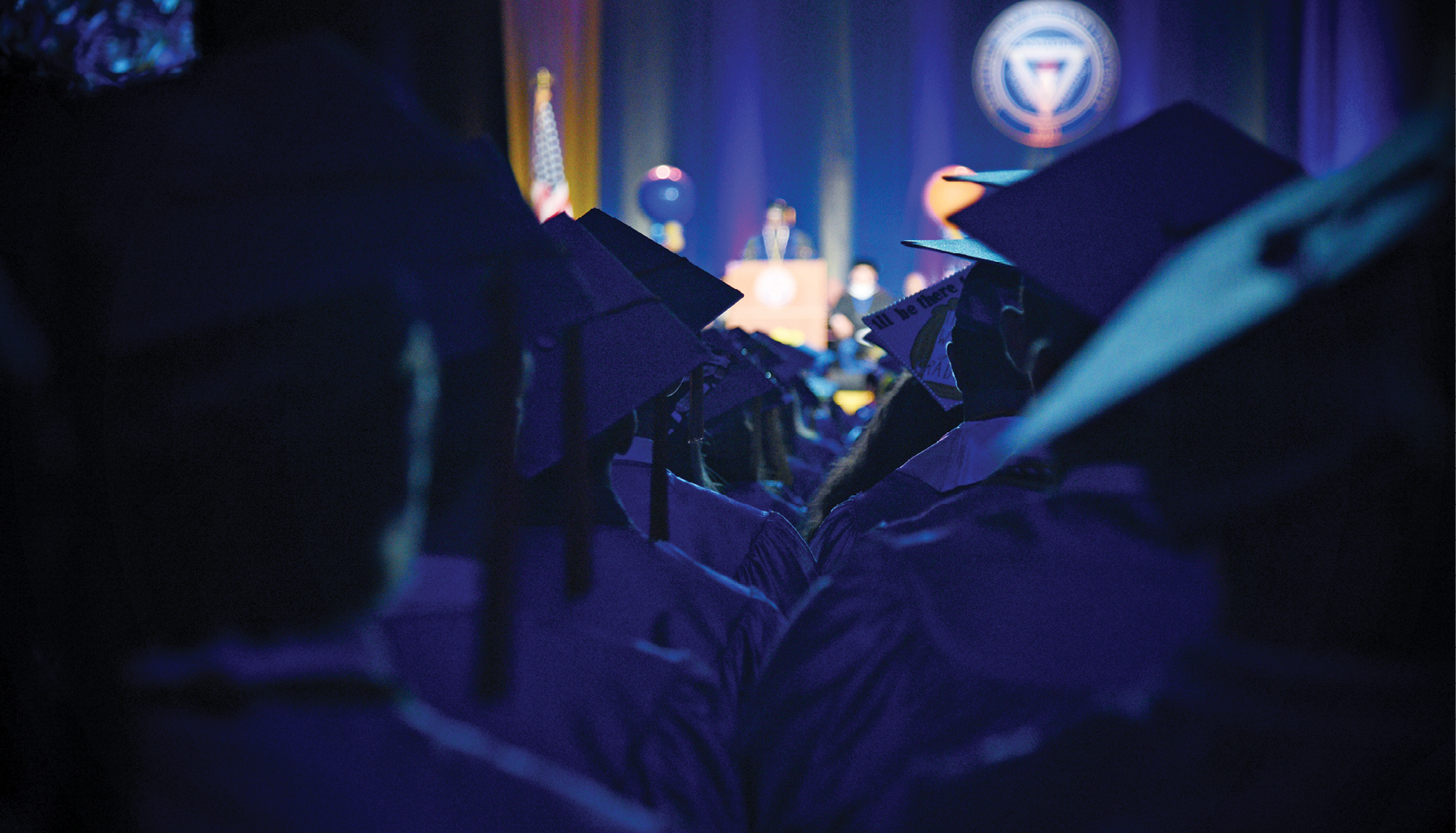 Pomp and (Overcoming) Circumstance
WNE's 2022 Graduates Enter a World of Challenge and Promise
By Joseph Bednar
In an exuberant return to in-person ceremonies, Western New England University celebrated 947 graduates on a weekend marked by themes of resilience, determination, and the importance of seizing opportunities.
The Anthony S. Caprio Alumni Healthful Living Center played host to the 2022 Undergraduate Commencement Ceremony on Saturday, May 21, which included the awarding of 591 bachelor's degrees. The Graduate Commencement Ceremony followed on Sunday, May 22, as 356 advanced degrees were awarded to graduates of the University's doctoral, law, pharmacy, occupational therapy, and numerous master's programs.
WNE President Robert E. Johnson expressed gratitude that this year's graduates and their families were able to celebrate together in person after two years of virtual ceremonies due to the COVID-19 pandemic.
"Over the last two years in the midst of COVID, you have demonstrated resiliency and toughness unlike any generation the world has ever seen," Dr. Johnson said.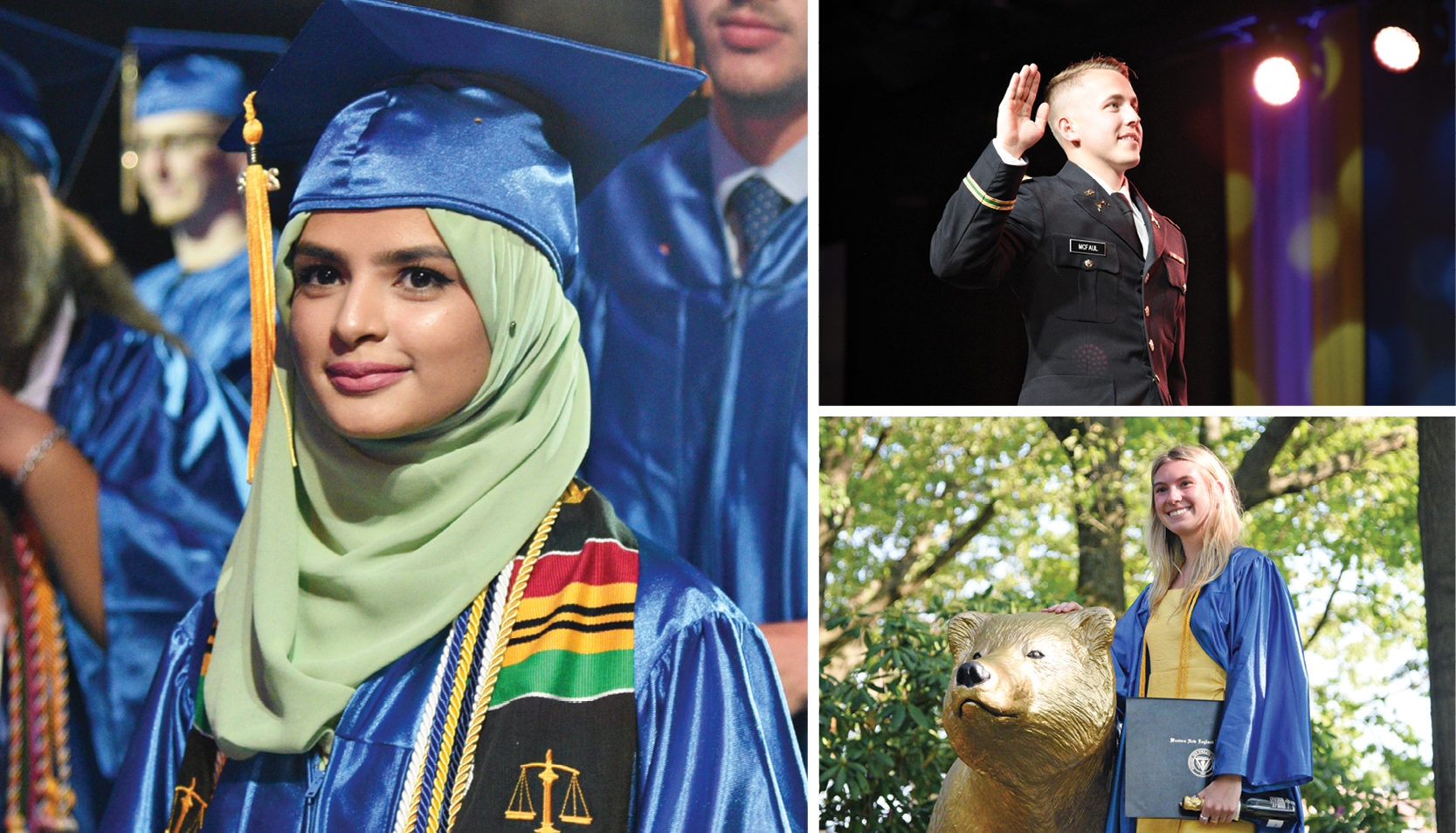 "Through social distancing and remote learning, you never gave up. At times of weariness and feeling lonely, you pursued your dreams, goals, and aspirations. When you were scared and feared for the safety and well-being of those around you, you never gave up."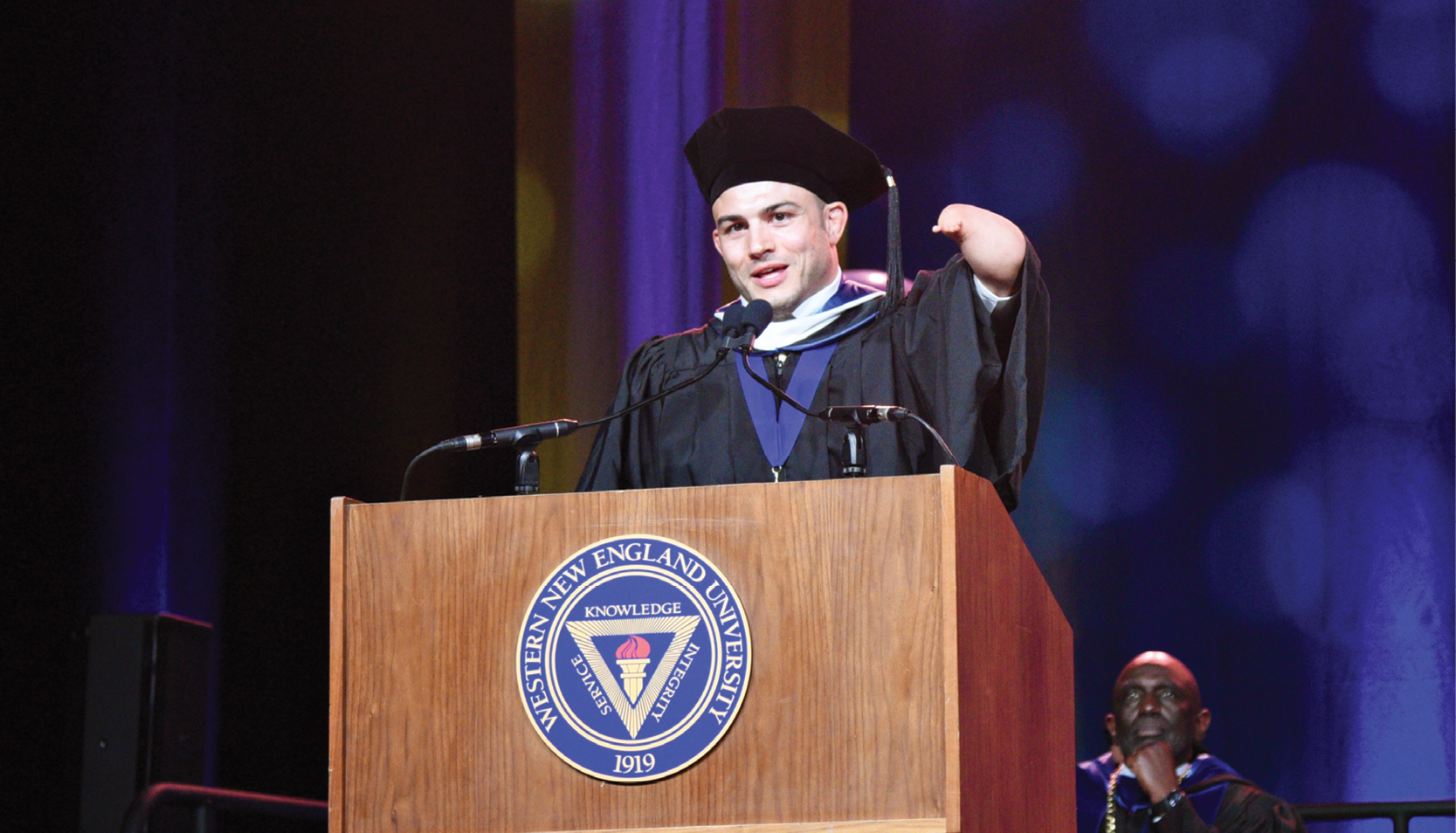 Nick Newell '08—an inspiring example of perseverance and determination —was presented with the President's Medallion before his keynote address during the undergraduate ceremony. He overcame the challenge of being born without a left hand to excel in wrestling at WNE and forge a successful career as a professional mixed martial arts fighter, amassing a 16-4 record and opening his own Fighting Arts Academy franchise in Connecticut. Nick is involved with a number of local and national organizations for individuals with limb deformities, and his story became the subject of the 2021 feature film Notorious Nick.
"To say I never doubted how far I would be able to go or what I would be able to do would be a lie," he told the Class of 2022. "Countless times, I had felt beaten, battered, and broken down. I wondered what I was going after, why I was doing it, and if it would even be possible. I had to remind myself of why I started, why I love it, and what kind of person I am.
"In this life, you can become a victim of your circumstances, or you can create your own," Nick added. "Nothing worthwhile in life comes easy, and as you transition to the next phase of your lives, you will experience that for yourselves. The best advice I can give you all is to be present, be consistent, be efficient, and be patient."
At Sunday's graduate ceremony, the President's Medallion was awarded to Sheila Barcohana Hollender L'80. She cofounded Seventh Generation, which sells eco-friendly cleaning, paper, and personal care products; and Sustain Natural, a company that developed and marketed the first U.S. brand of condoms certified to be fair-trade, free of chemicals of concern, and sustainably produced. The company also became a major voice in raising awareness of safe sex and women's reproductive health.
"Just because you have a graduate degree in hand today and have a professional life planned out, don't hesitate to pivot away from what you know," Hollender told the graduates. "The world is changing at a rapid pace—nothing is stagnant. The best advice I can give you today is to be ready to take on the challenges of the future. You can do it because you already have the tools in hand."
In his remarks, President Johnson challenged the Class of 2022 to find their own ways to make a difference in the world.
"You are the essence of possessing an agile mindset with the ability to learn, unlearn, and relearn," he concluded. "As we confer your degree today, I charge each of you to go out and transform the world, touch someone's life, live your dream, and, most importantly, leave the world better than you found it."