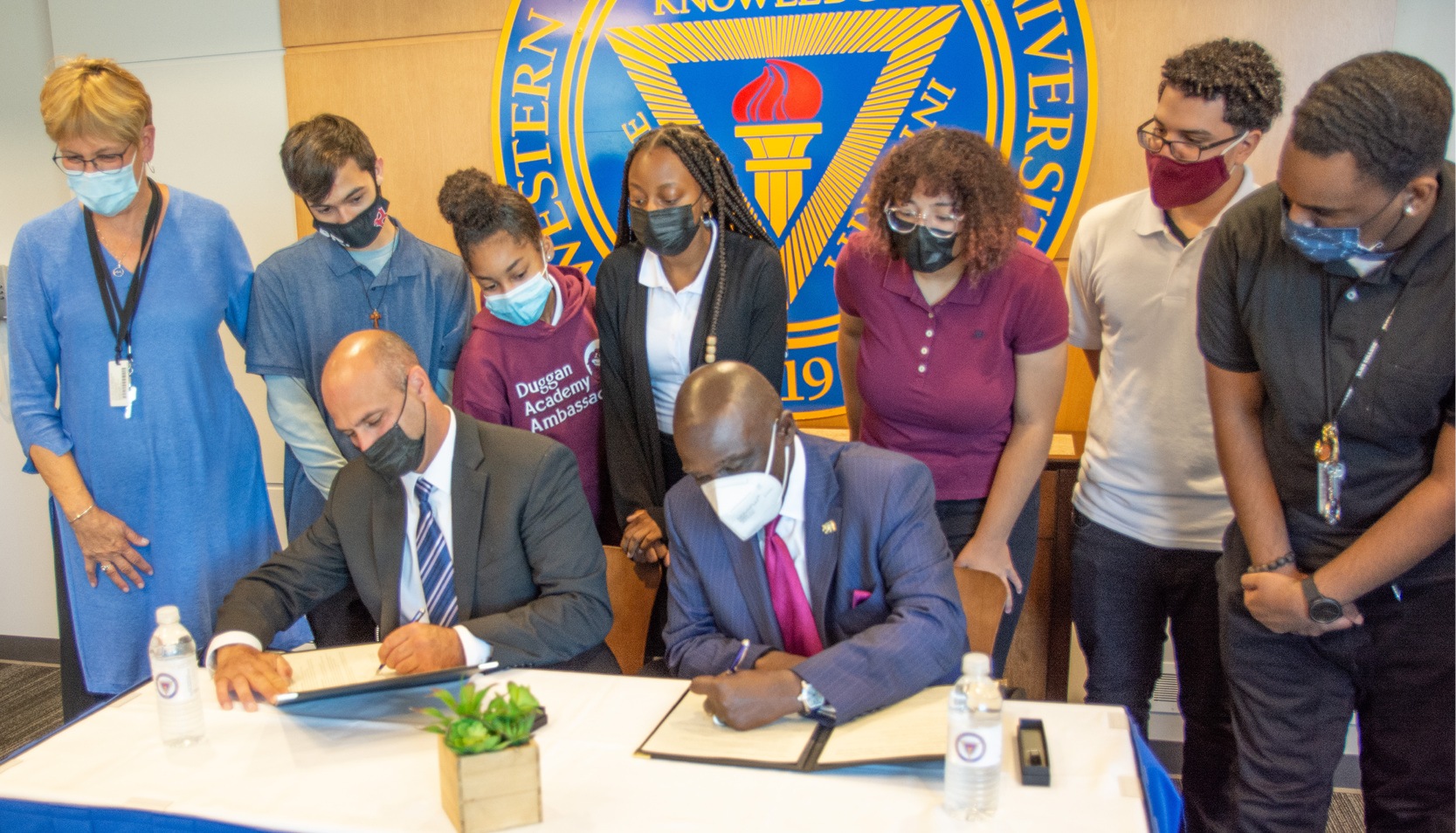 Western New England University and the John J. Duggan Academy—Neighbors Committed to Helping Students Succeed
By Judith Curran
Western New England University and the John J. Duggan Academy have been collaborating for the benefit of students for decades as neighbors. In early September, the leadership of both institutions made the partnership official by signing a formal agreement that reinforces the commitment to bridge public secondary education and private higher education. "I am excited about the possibilities of Western New England University partnering with Duggan Academy and helping our students and our community to evolve in all of its forms and facets. It's about helping each and every one of these young people to realize their dreams, their goals, and their aspirations," said WNE President Robert E. Johnson.
The partnership will bring Duggan students to the WNE campus for tours, athletic events, and other programs such as Cub Connections, which provides academic tutoring for Duggan students. WNE students benefit by having the opportunity to participate in service opportunities on the Duggan campus and act as role models.
"For us to succeed, we know we have to get them to graduation," said Springfield School Superintendent Daniel J. Warwick. "We need partnerships with the colleges to make that happen for our kids and that is what we have here. The real winner is going to be the City of Springfield and our kids because they will have access to such a fine institution and be able to get going on their college path."
Dr. Johnson acknowledged the Duggan students in attendance. "It's all about possibility thinking," he said. "We want to be a beacon of hope within the community to help you become doctors, lawyers, or even to become the next group of individuals, civilians, or maybe even astronauts that fly up to Mars."
With the signing of this three-year partnership agreement (2021-2024), these partner institutions will continue to help students see the continuum that can take them from Duggan to college and beyond.