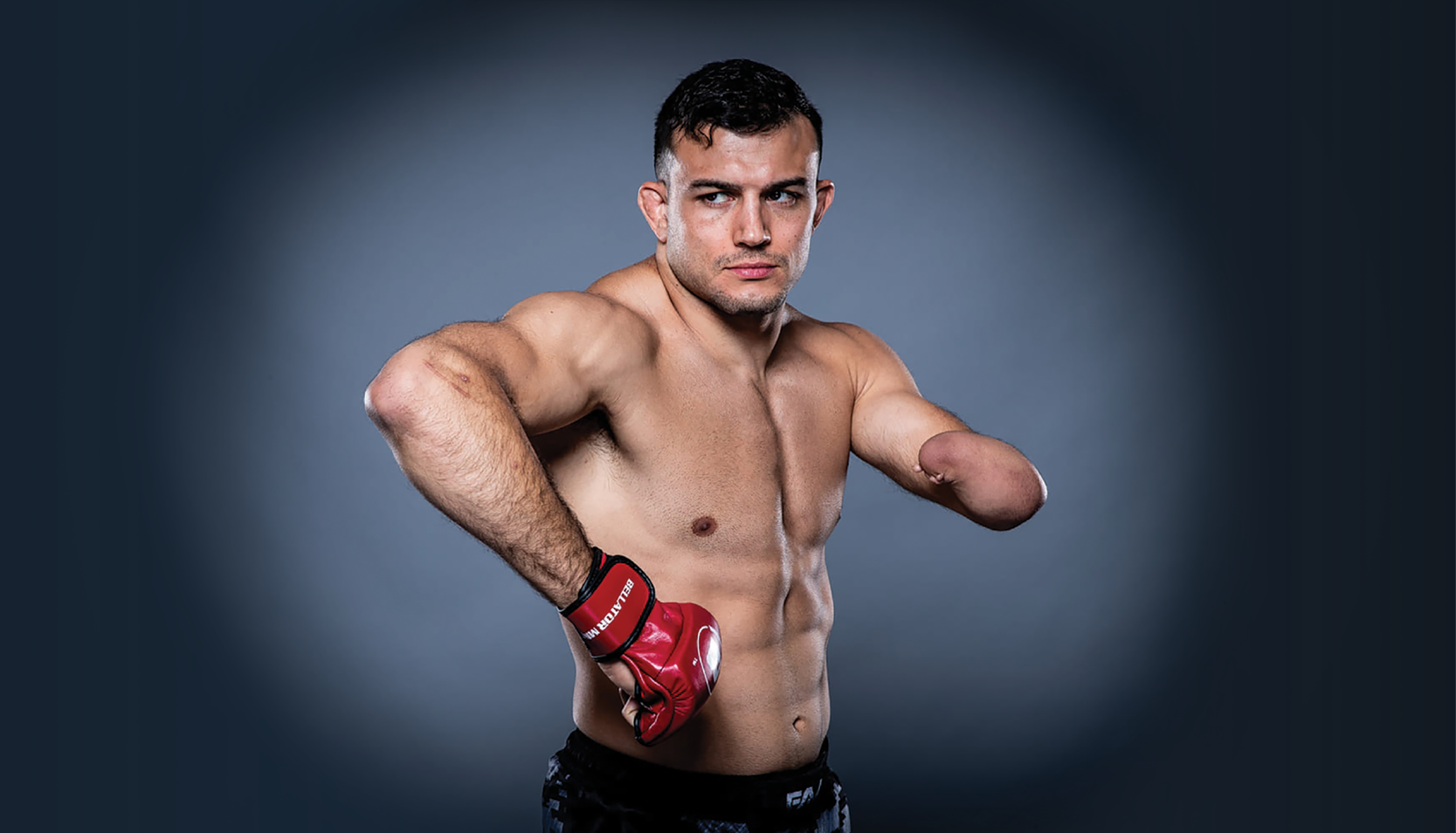 The Life Story of Nick Newell '08 Featured on the Big Screen
By Kate Burke
As an accomplished alumnus of the Western New England wrestling program and a highly touted professional mixed martial arts (MMA) fighter, the impact of Nick "Notorious" Newell's athletic journey has extended beyond the ring to the big screen.
Released by Lionsgate in August 2021, Nick's life story is featured in the film Notorious Nick, sharing his hard-fought journey and achievements as a one-handed fighter born with a congenital amputation of his left arm. "I want to be an example to kids who are like me, or anyone facing adversity that anything can be done and it's not where you start, but where you finish," said Nick. "When you face adversity or have something go wrong, just remember what you're in it for. That message transfers over to everything in life. It's not a fighting thing, it's not a sports thing, it's a life thing, a life lesson."
Inspired at a young age by a chance meeting with Major League Baseball pitcher Jim Abbott, known for his athletic success despite having been born without a right hand, Newell inspires and encourages others to always give the best versions of themselves and to recognize that "there aren't roadblocks in life, just speed bumps."
Prior to his resounding success in the MMA arena, Newell was a member of the WNE Golden Bear family, recruited to wrestle at WNE by coach Jeff Peterson in 2004. Named captain his senior year, Newell was well known for his significant impact on the mat during college, including stepping up to compete and win matches in six different weight classes, but equally known for his selflessness, leadership, drive, and passion for improvement off the mat.
"Nick is no stranger to our program and the selfless personality he had as a student-athlete is the same way he is as an alumnus of the program. He is an inspiration and shows that the sky is the limit," said Mike Sugermeyer G'17, current WNE Head Wrestling Coach.
Throughout his college wrestling career, Newell, a native of Milford, CT, took advantage of off-season training with his WNE teammates at the Fighting Arts Academy (FAA) in Springfield, honing not only their wrestling skills, but developing mixed martial arts, Jiu Jitsu, and kickboxing expertise. It was during those college years of training at FAA that he developed his drive to eventually pursue competitive MMA.
"I loved wrestling at WNE, loved going to college, had a lot of great friends, and made a lot of great connections," said Newell. "Wrestling in college was the toughest because only the best of the best make it to the college level, everyone is a state champ and high level. College wrestling prepared me for MMA competition, polished my skills, and pushed me to get better."
Newell joined the MMA professional ranks in 2009, spearheading his career with an 11-0 record fighting in promotions including the Xtreme Fighting Champions, the Legacy Fighting Alliance, and the World Series of Fighting. Initially retiring in 2015, he stayed connected to the MMA roots he established at the FAA in Springfield and opened his own branch of the FAA in his hometown. After time away from competition to focus on his gym, coaching, and family, he came out of retirement in 2018, returning to the MMA cage as a featured fighter for BELLATOR MMA, a leading mixed martial arts and kickboxing organization.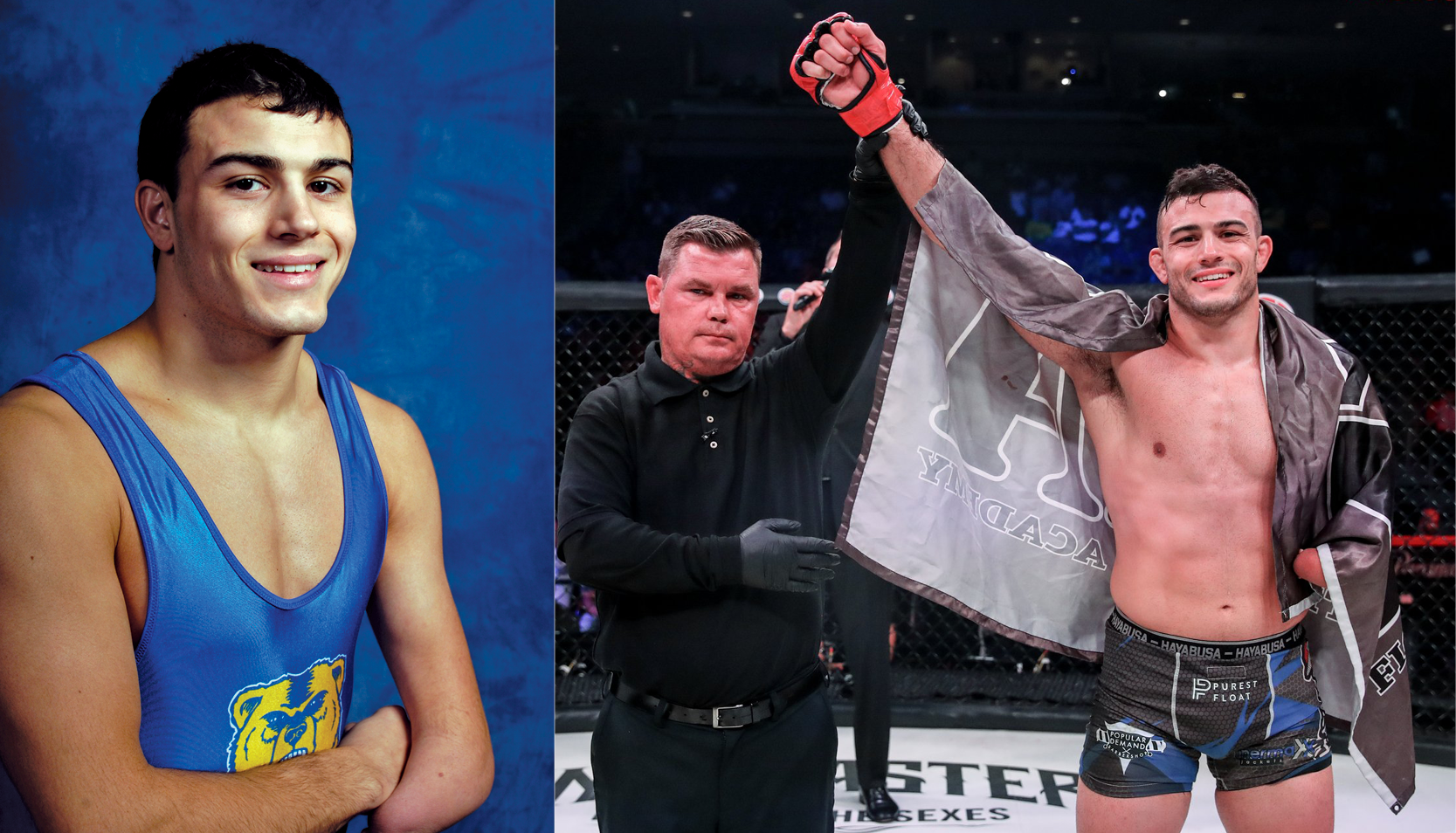 Now having his story cinematically released worldwide, while concurrently training and competing in 2021 MMA promotions, Newell is contacted by the media more than ever before. He gives credit to his WNE education for preparing him with the communication skills needed for his real-world experiences, whether participating in MMA or movie interviews, developing and editing videos to promote himself and the FAA on social media, or speaking at motivational events.
"His commitment to WNE and the WNE wrestling program has never wavered," said Sugermeyer. "We're lucky and grateful to have alumni like Nick Newell, as a world champion, and Rodney Smith '89/G'03, as an Olympic bronze medalist, as role models and leaders our guys can look up to and be an example that impossible is no object, that they can accomplish whatever they want, and we've had great people with great success here at WNE."
In addition to serving as a mentor and motivational speaker for the FAA and WNE, most recently speaking at the WNE Class of 2020 Appreciation Brunch this past October, Newell is also involved with a number of local and national organizations for youth and adults with limb deformities. He has hosted seminars and training sessions at the Walter Reed National Military Medical Center in Maryland for veterans who have lost limbs and has also worked to assist children and families through the Lucky Fin Project in Michigan and the Helping Hands Foundation in Massachusetts.
As he did at WNE, Newell continues to make an impact and define his legacy for his athletic prowess and success, but more importantly for his passion to spread his message of positivity and perseverance, no matter the obstacle.