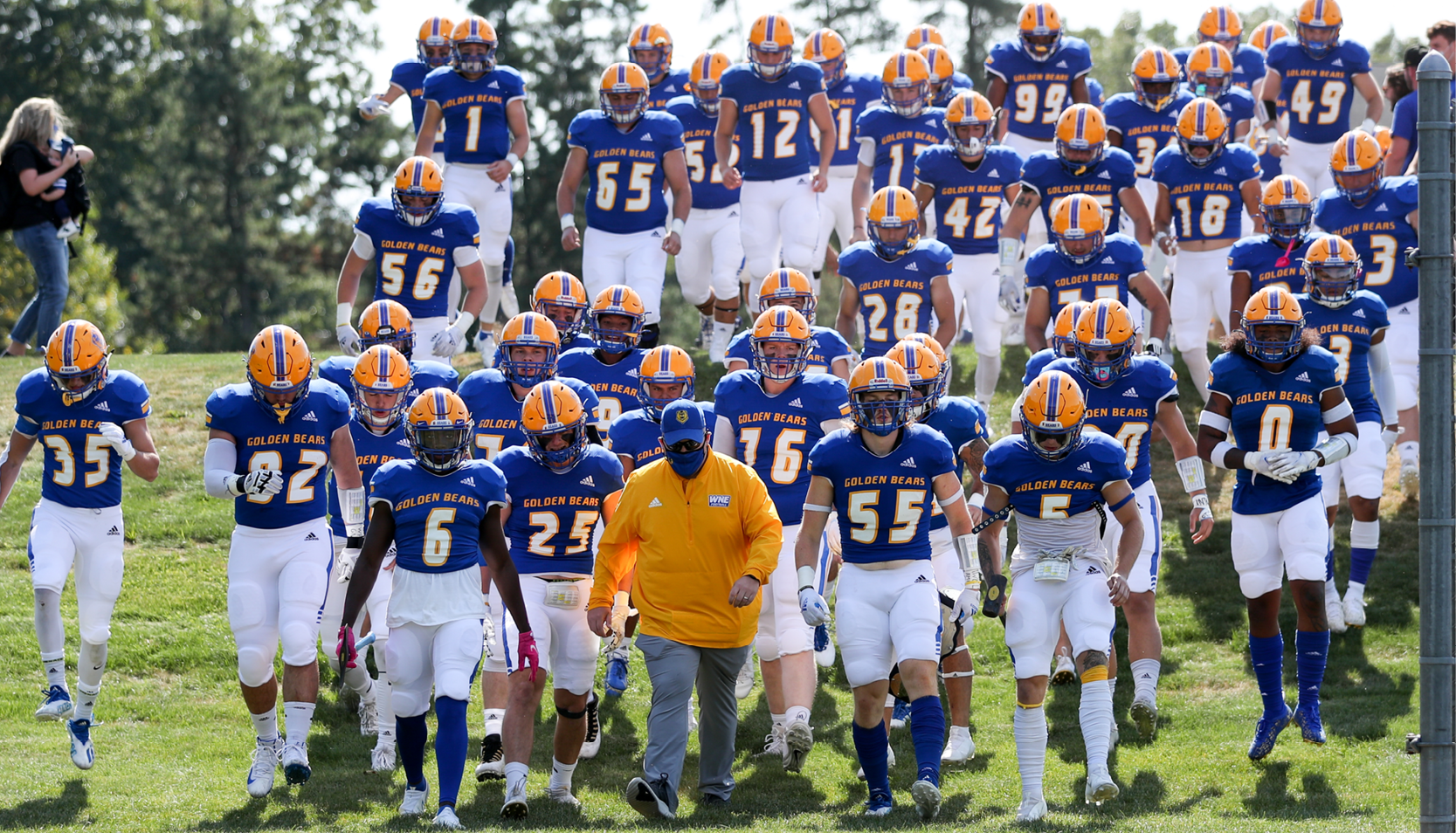 A Look Back at Homecoming 2021
By Kate Burke
Western New England University kicked off the fall season in golden fashion with Homecoming 2021 taking place October 1-3. Blue and gold painted campus streets, buildings, and sports venues as alumni, students, fans, friends, and families joined in the three days of fun and festivities.
Special recognitions were featured throughout the weekend including honors for alumni from the 1975 men's soccer team, the past 50 years of WNE football, and the Class of 2020.
Take a look back at Homecoming 2021 at alumni.wne.edu/homecoming2021.
Golden Bear Boulevard
Leading up to the big game, Saturday's action was centered around Golden Bear Boulevard where there was something for everyone, including food trucks, balloon art, a kid's zone, yard games, Golden Bear merchandise, student organization and academic tabling, and great opportunities to meet, greet, and reconnect. A special classroom lecture series was also hosted by the College of Arts and Sciences in a number of buildings across campus.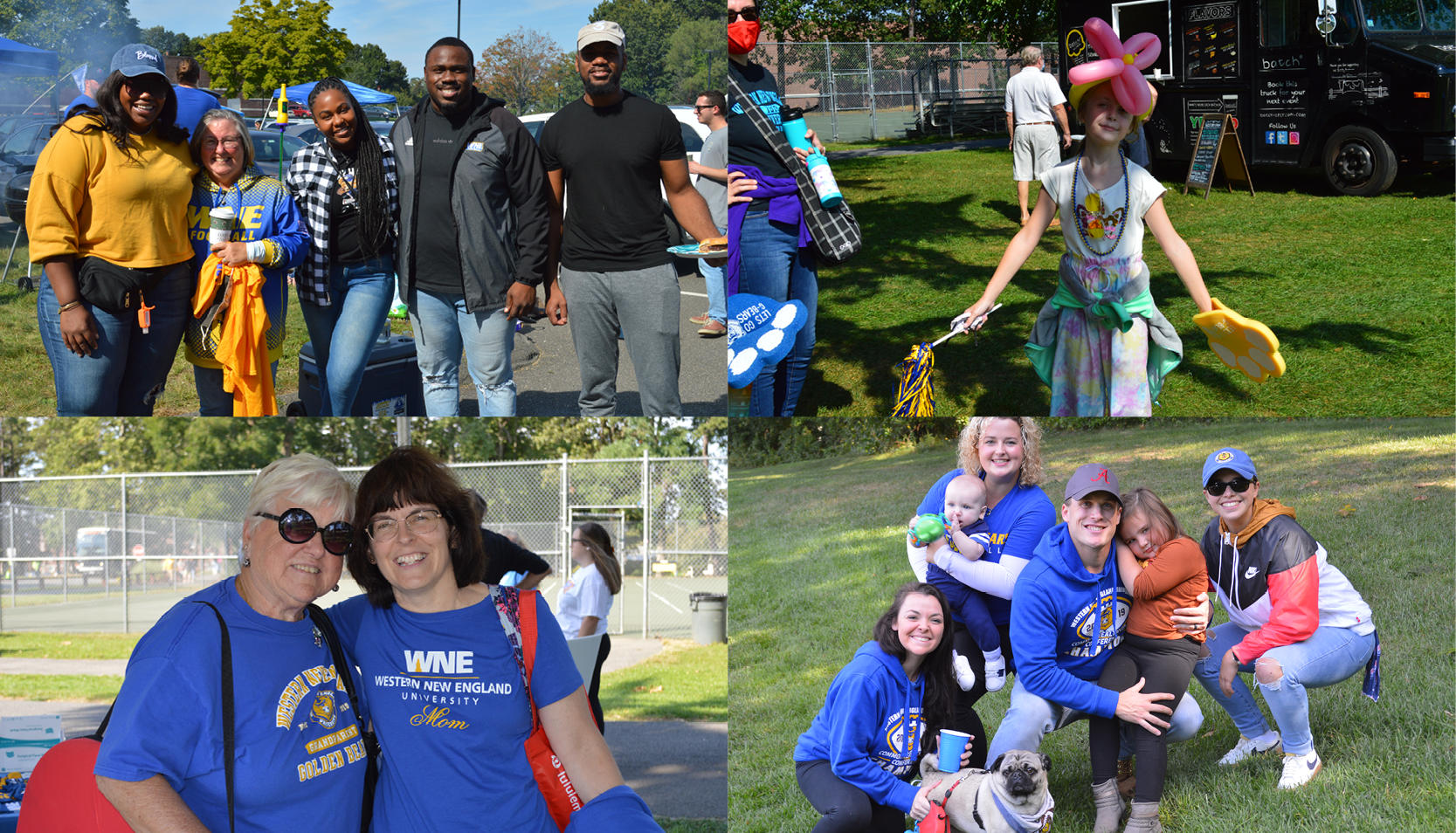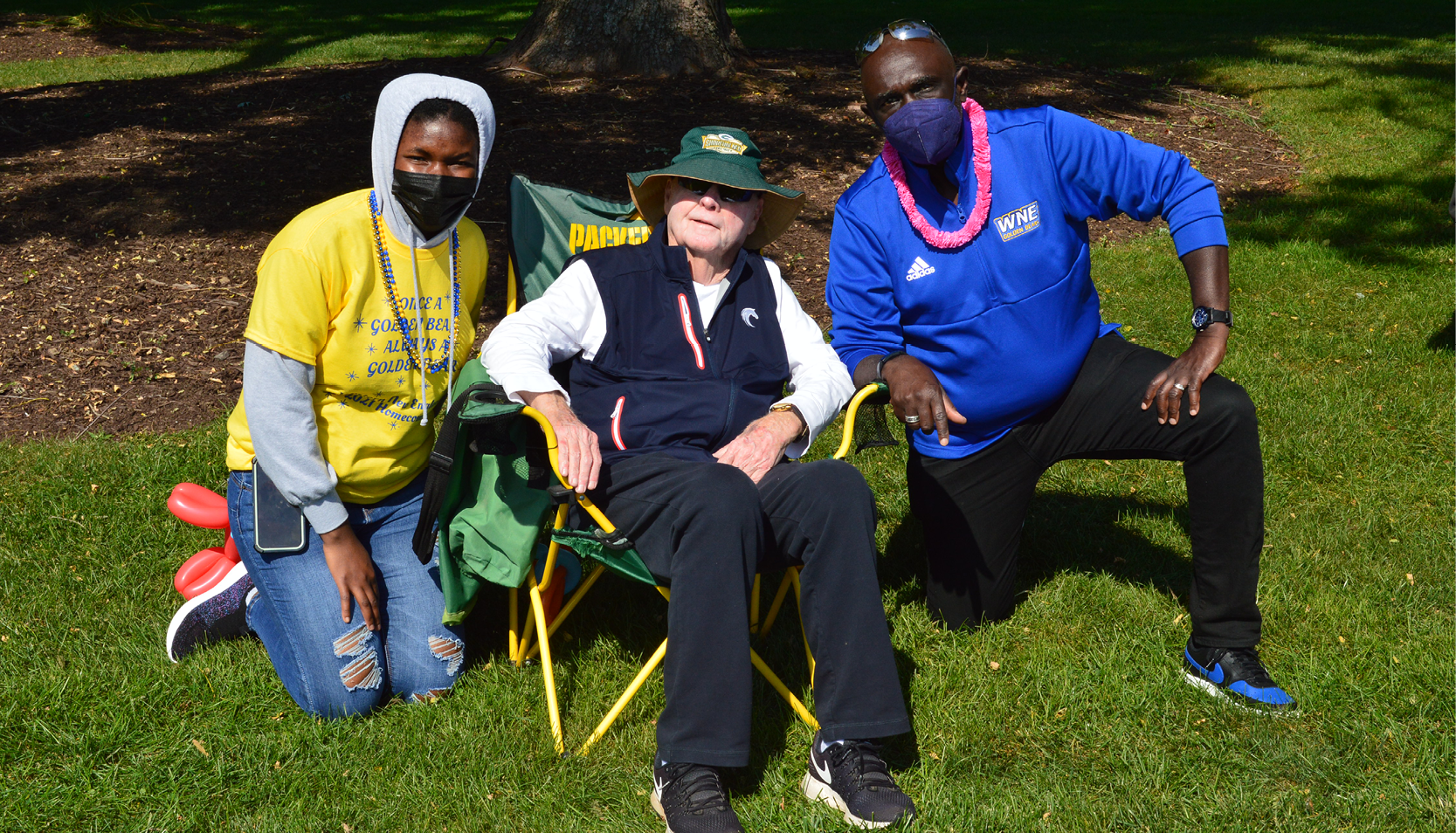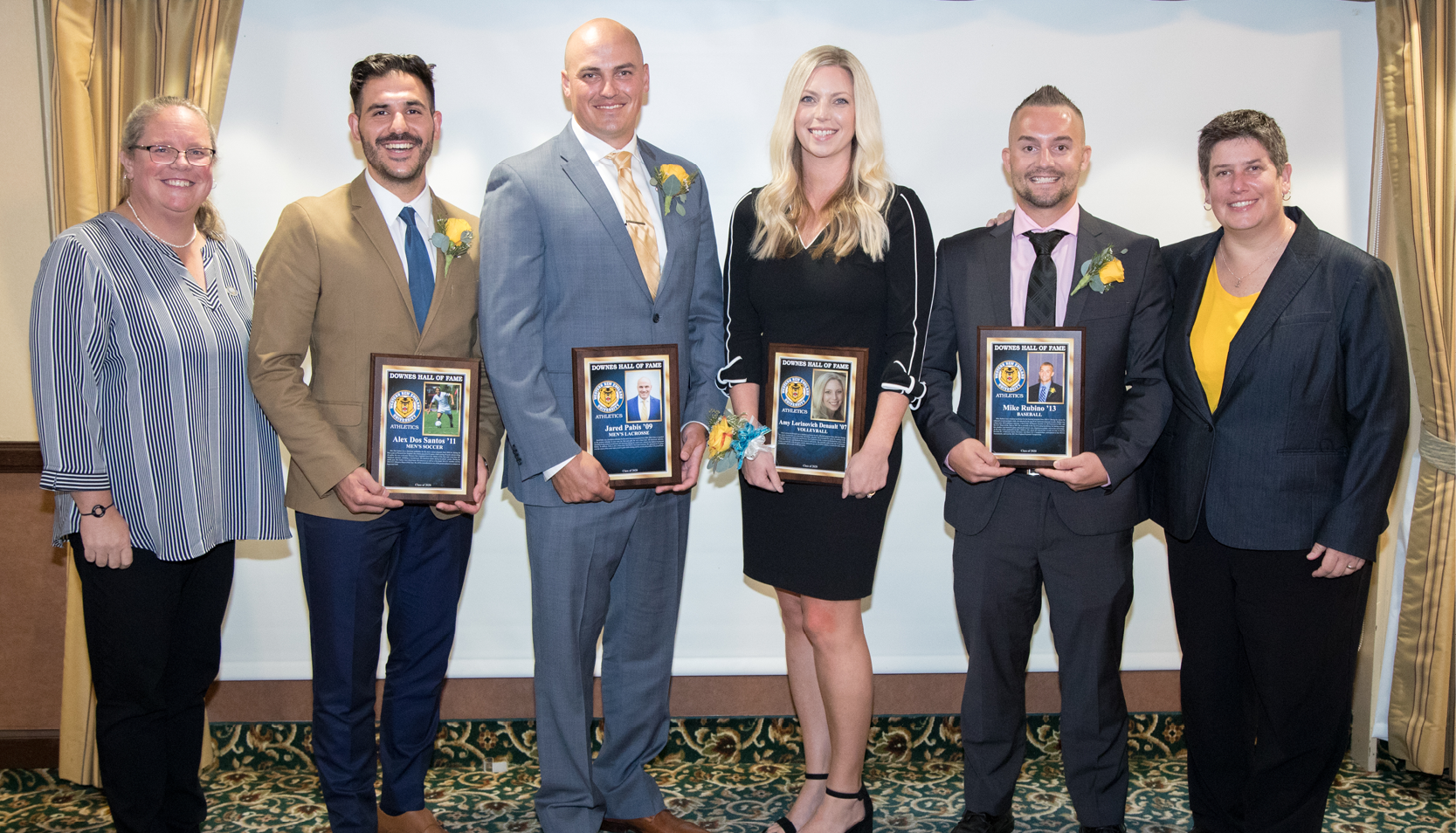 Event celebrations started Friday with the Downes Hall of Fame honoring 2020 inductees including Alex Dos Santos '11 (Men's Soccer), Mike Rubino '13 (Baseball), Amy (Lorinovich) Denault '07 (Volleyball), and Jared Pabis '09 (Men's Lacrosse).
Learn more about honorees at wnegoldenbears.com/information/downes-hall-of-fame.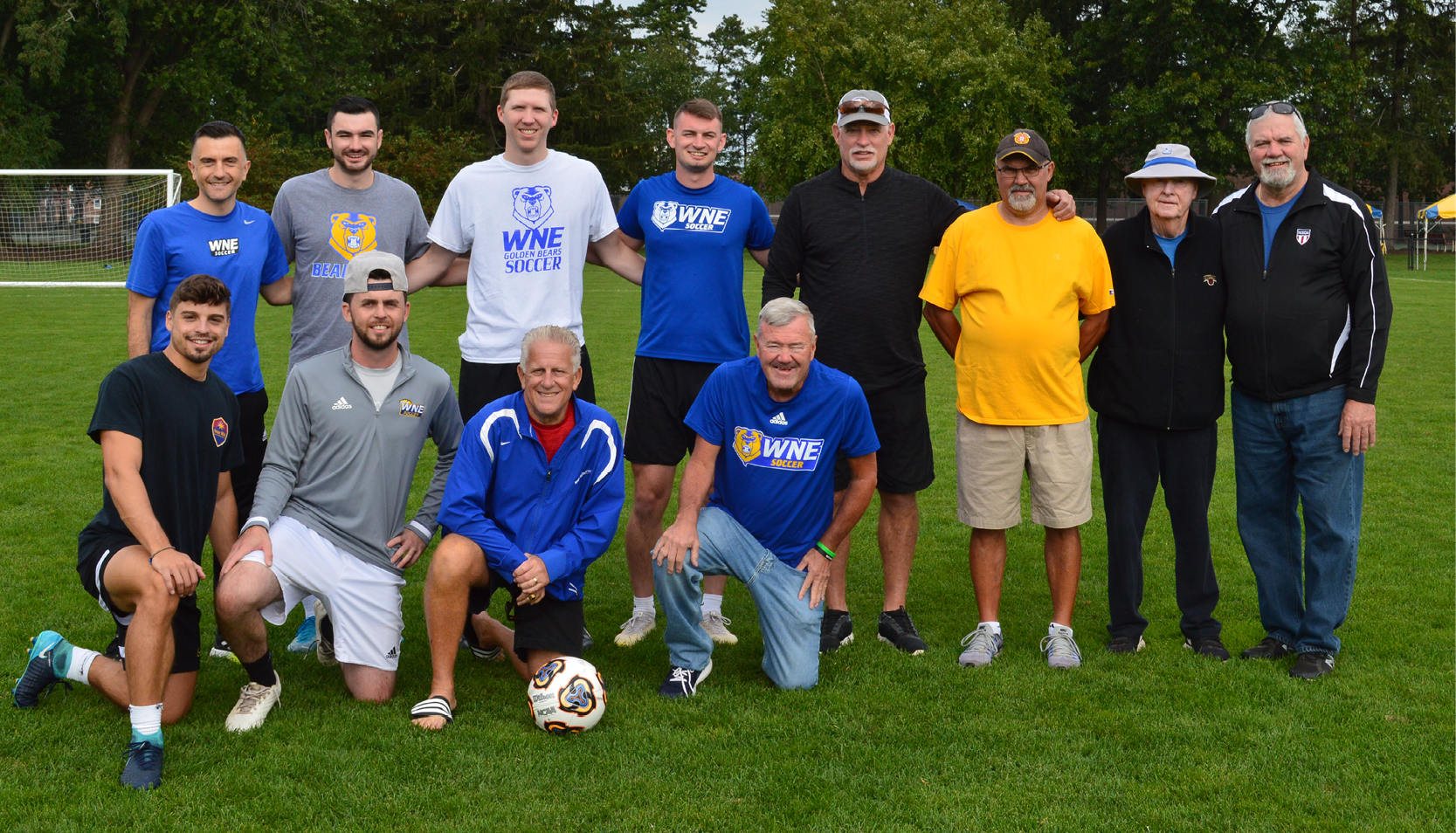 Men's soccer included pre-game on-field honors for the 1975 men's soccer team, who were the champions of the New England Regional Championship and members of the 1975 NAIA National Final Four. Under Head Coach Bill Downes and captains Mark Staropoli '76, Dave Boino '76, and Glen Goldstein '76, the Golden Bears collected a record of 15-4-2 during the season.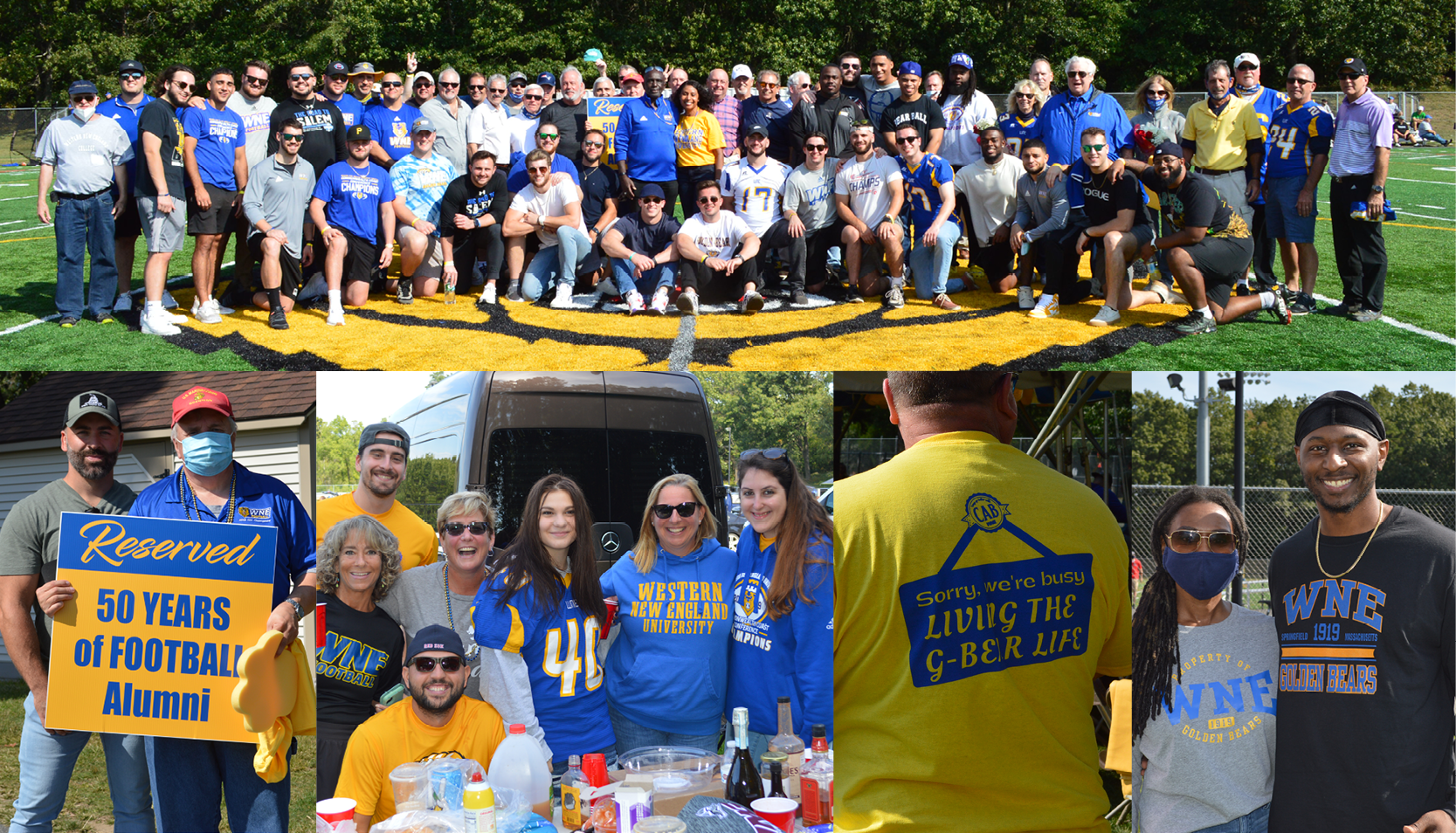 Celebrating 50 years of football, the founding members of the Golden Bear football team were honored during a special on-field halftime recognition. Many of the members of the first decade of the program participated, including Murray Bauer '72, Clif Treco '73, Albie Ferullo '74, Peter Garafalo '74, Kenneth Olejarz '75, Deane Swanson '75, Alan Himmelfarb '76, Bill Moge '76, Rusty Cazalet '78, Charles Rocque Jr. '78, Terry Ryan '78, Ray Shamlian '78, Michael Sullivan '78, Kevin Jandreau '79, Wayne Murphy '81, and Mike Thompson.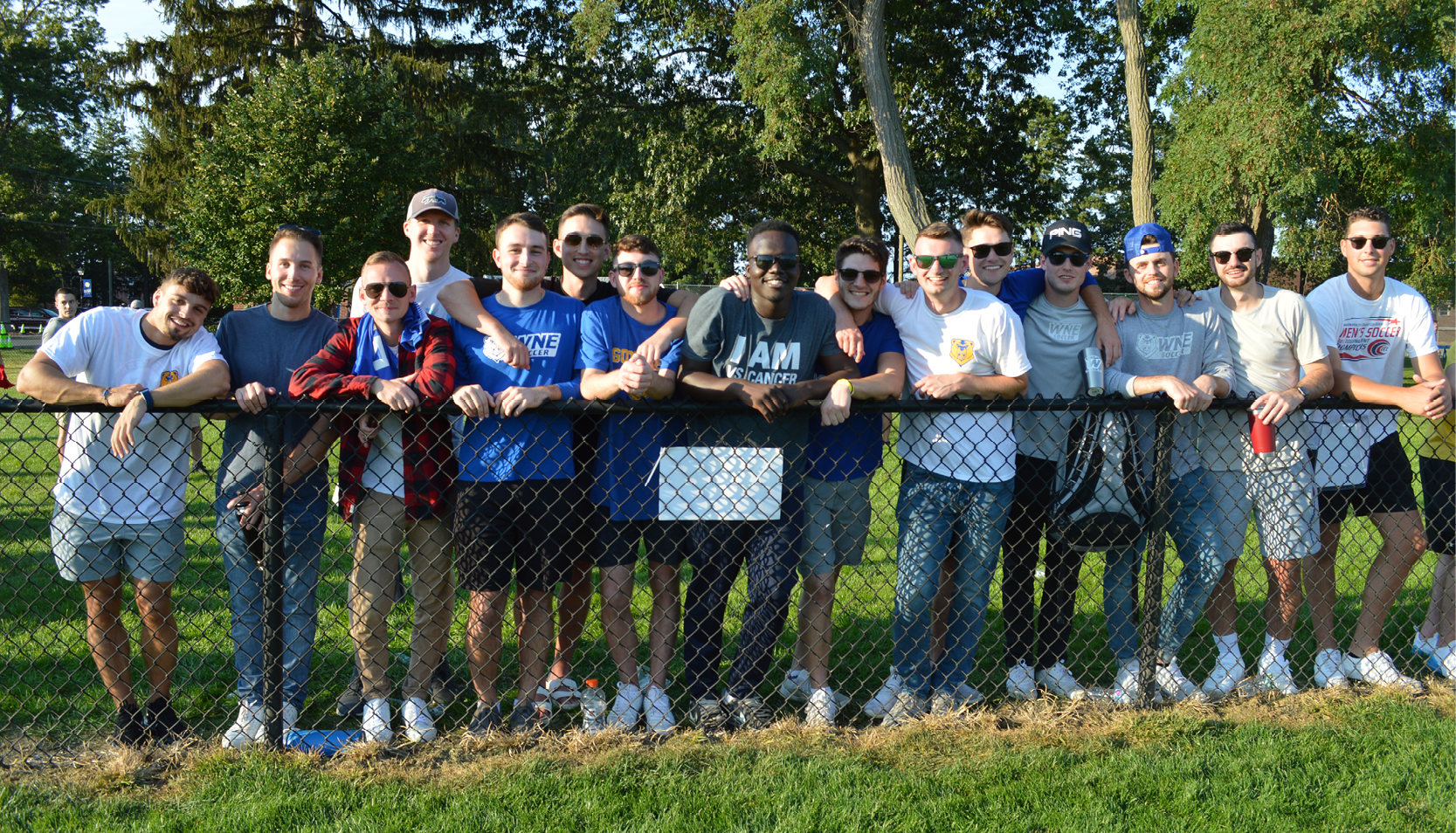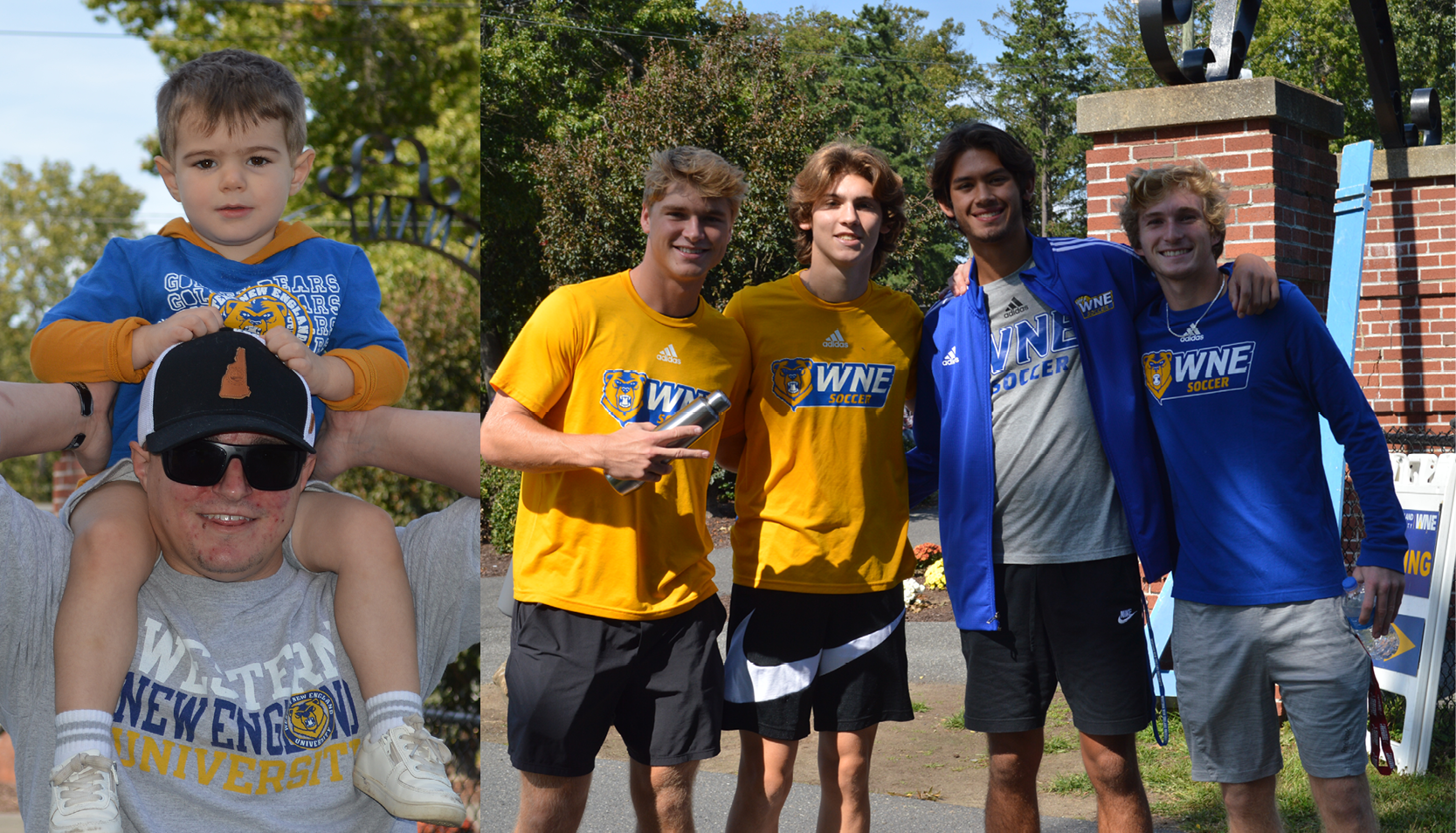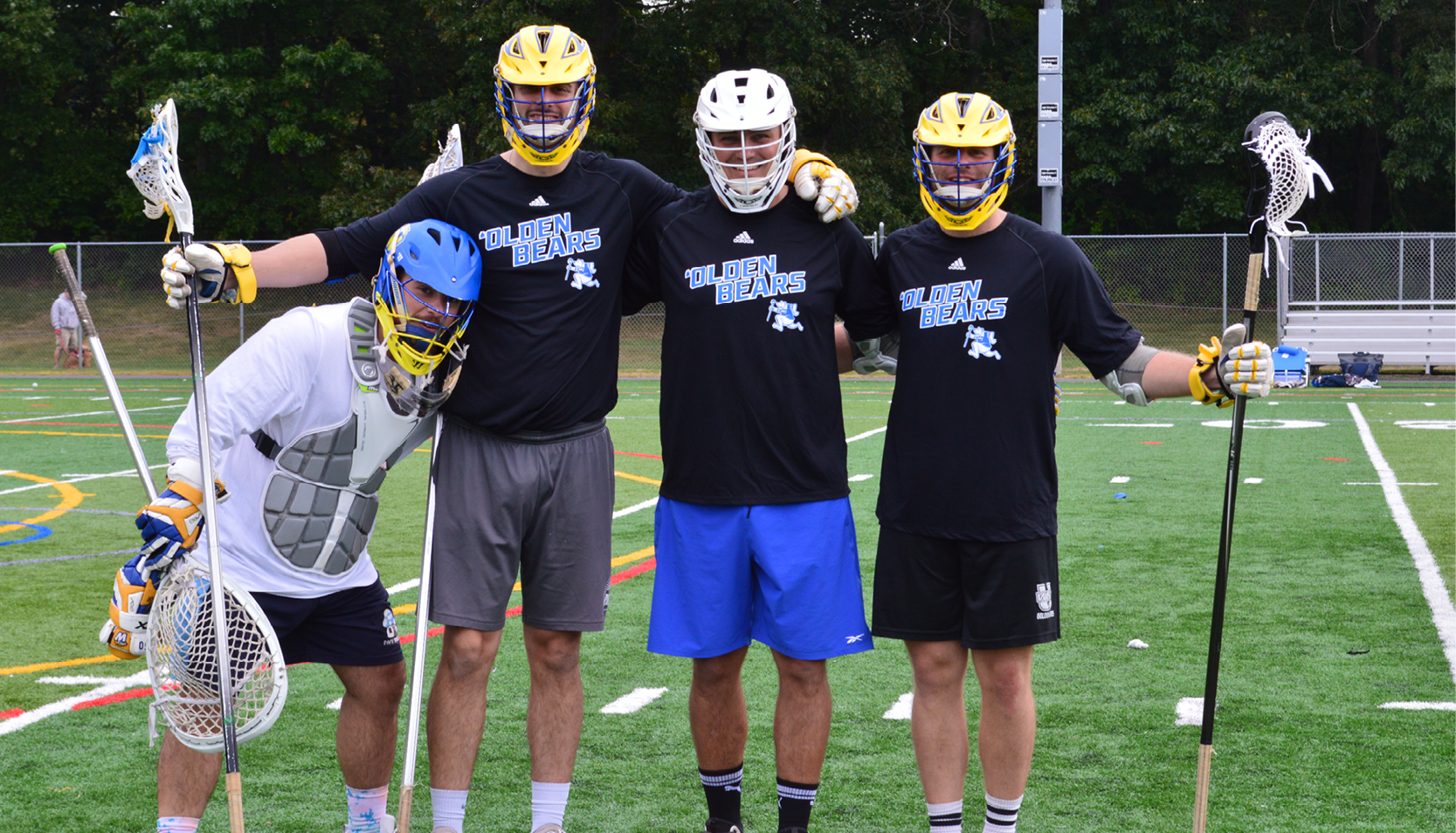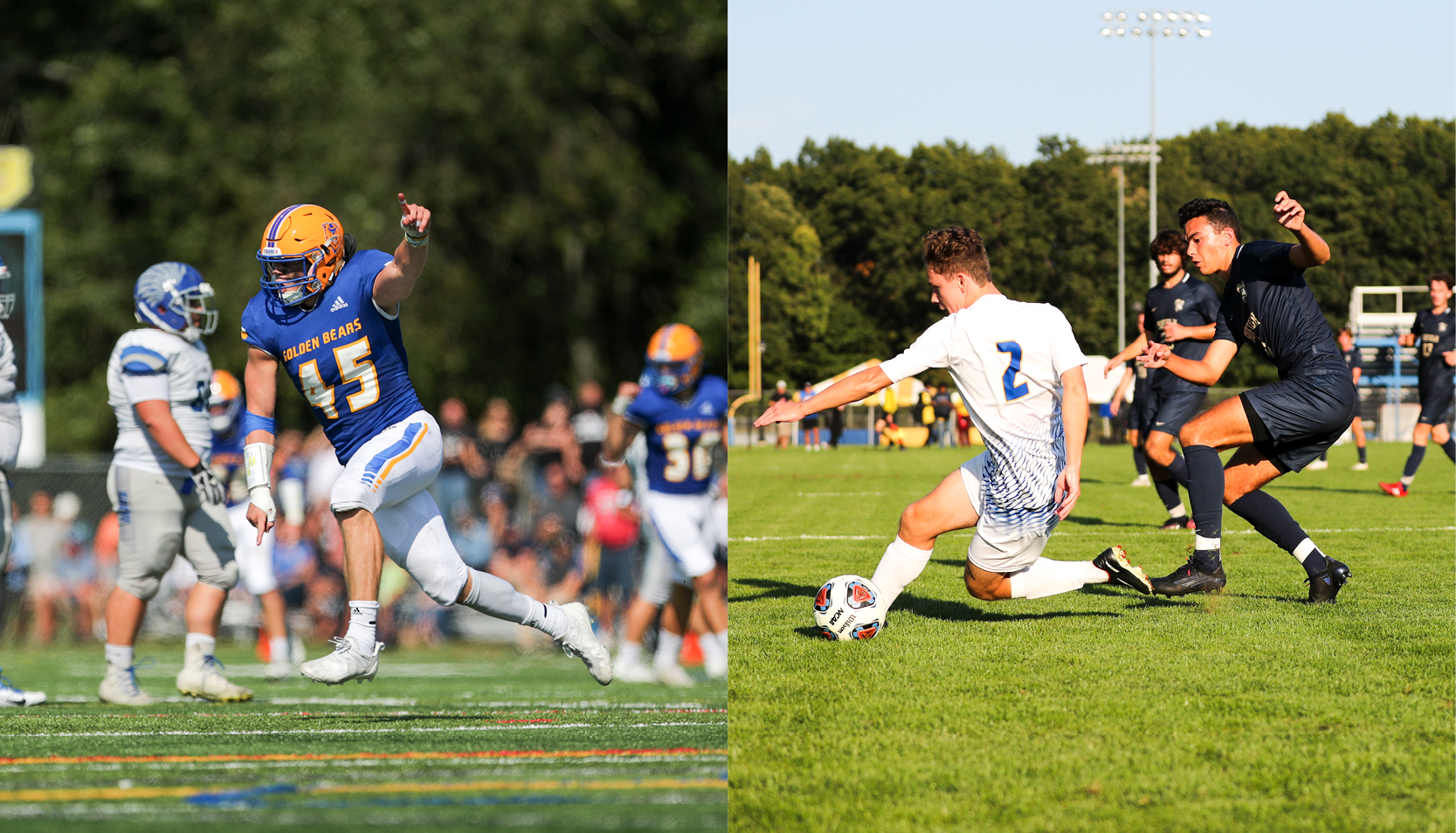 Golden Bear teams scored weekend wins across the board with a 4-1 field hockey win over Salve Regina University, a 3-1 volleyball sweep over Eastern Nazarene, a 41-3 football victory over Salve Reginia University, a 1-0 women's soccer victory over Suffolk University, and a 2-1 men's soccer win against Suffolk University. Alumni games also took place for women's lacrosse, men's lacrosse, men's soccer, and volleyball.
Follow all Golden Bear teams at wnegoldenbears.com.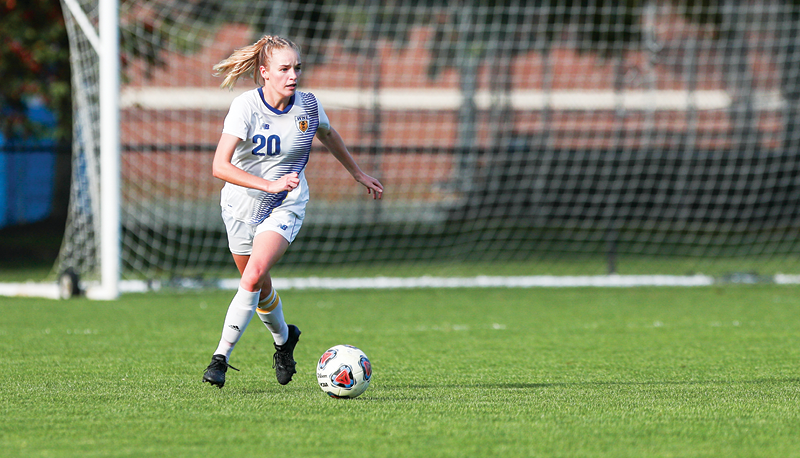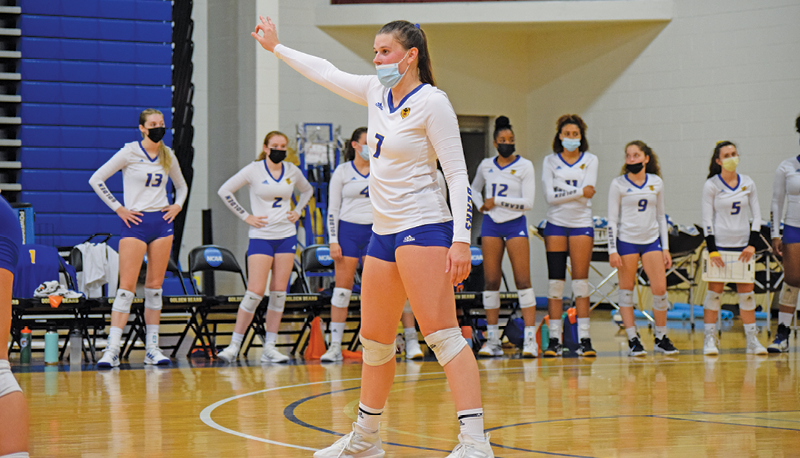 Celebrating the Class of 2020
Weekend festivities concluded with the celebrations for the Class of 2020 including a special Saturday night reunion and reception, as well as a Sunday morning brunch featuring President Emeritus Anthony S. Caprio, President Robert E. Johnson, 2020 Senate President Donna Montgomery '20, and Nick Newell '08.
Stay tuned to alumni.wne.edu for information about Homecoming 2022!