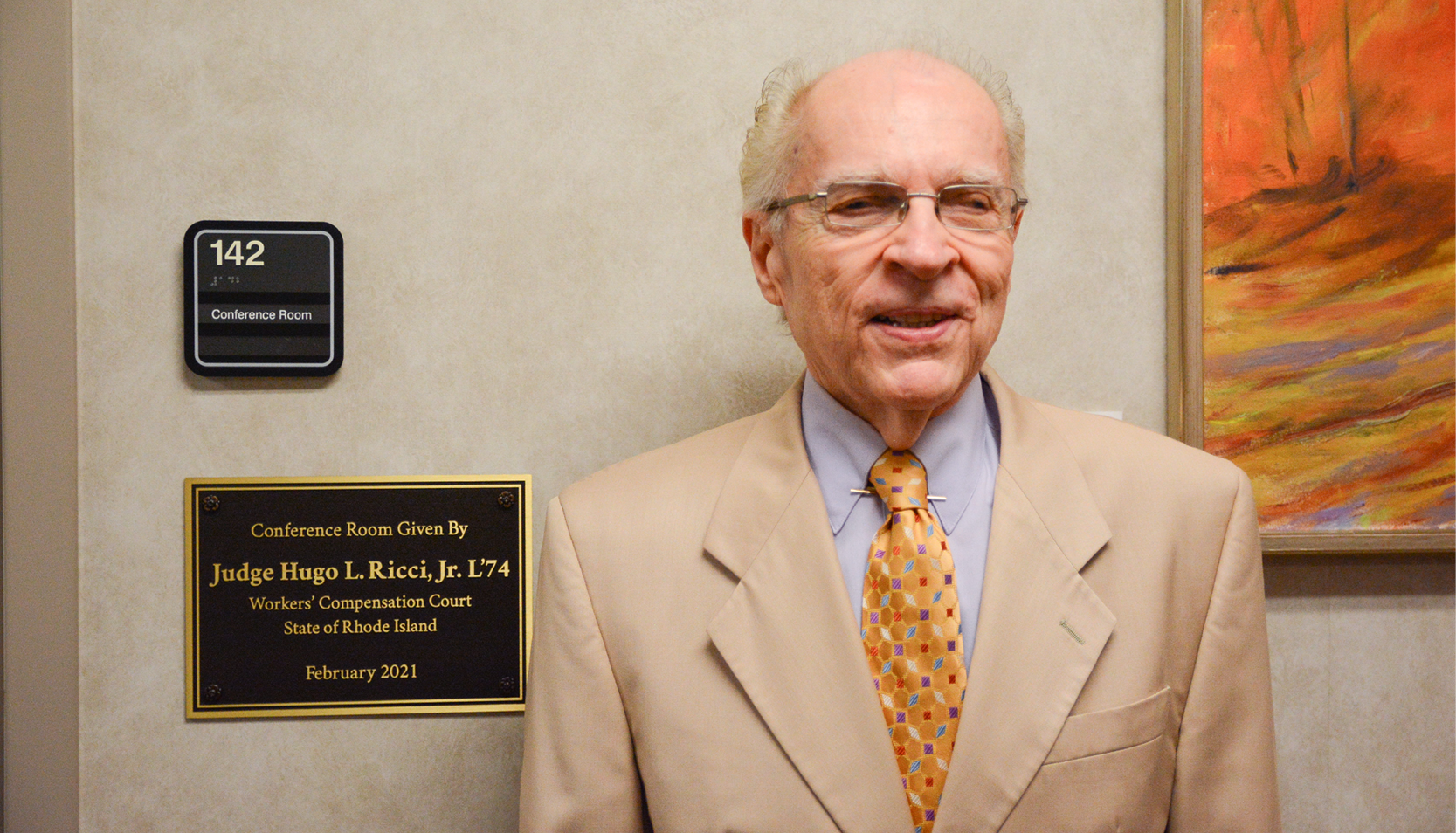 Inspiring the Next Generation of Givers
By Kate Burke
The Honorable Hugo Ricci L'74 credits his education at Western New England University School of Law, and the positive and practical influences of faculty mentors, for laying the foundation that defined his professional successes.
Through the development of the Hugo L. Ricci, Jr. Endowed Law Faculty Enrichment Fund, Ricci is paying it forward hoping to inspire, influence, and impact the next generation of educators, students, and donors. Now retired after 28 years of private practice and 15 years on the bench, highlighted by his accomplished tenure as Associate Justice of the Rhode Island Workers' Compensation Court and his appointment to the Commission on Judicial Tenure and Discipline, Ricci intends for his gift to serve as an ongoing tribute to the School of Law.
"I look at the development of the fund as my thank you to the School of Law," said Ricci. "My career is a credit to the law school that gave me this opportunity to give back."
Through this Faculty Enrichment Fund, an endowment of $100,000 will provide $5,000 of support annually to a School of Law faculty member. The recipient will use the funds toward research in economic justice, good government, and the rule of law, with preferred emphasis on addressing issues related to consumer protection or election law. By providing financial resources for faculty to engage in more robust research, and in turn enhance the curriculum, Ricci is striving to continue to honor the legacy and the efforts of faculty—including Dean Maurice Kirk, Professor Anthony Santoro, and Dean Don Dunn—who were not only influential on his experience as a student, but who were also instrumental in the School of Law American Bar Association's accreditation.
"You couldn't ask for anything better than my experience at the School of Law. To have professors who were practicing lawyers or judges who had the experience of being on the bench, you were able to ask questions of fulltime practitioners who appreciated the practical aspects of the law, not just the philosophical and educational aspects of it." - Hugo Ricci L'74
Ricci encourages current students and young law professionals to get involved in their communities and volunteer their services at law firms and clinics as much as possible, not only to get experience, but to understand how to apply what they're learning in the classroom to real-life situations.
"Society needs so much care today," he said. "Law students have the opportunity to be vigorous and move to challenge the system, within boundaries. This is the time to bring society together and recognize that laws are in place to protect. Law students and law schools have the responsibility to pursue opportunities to make change."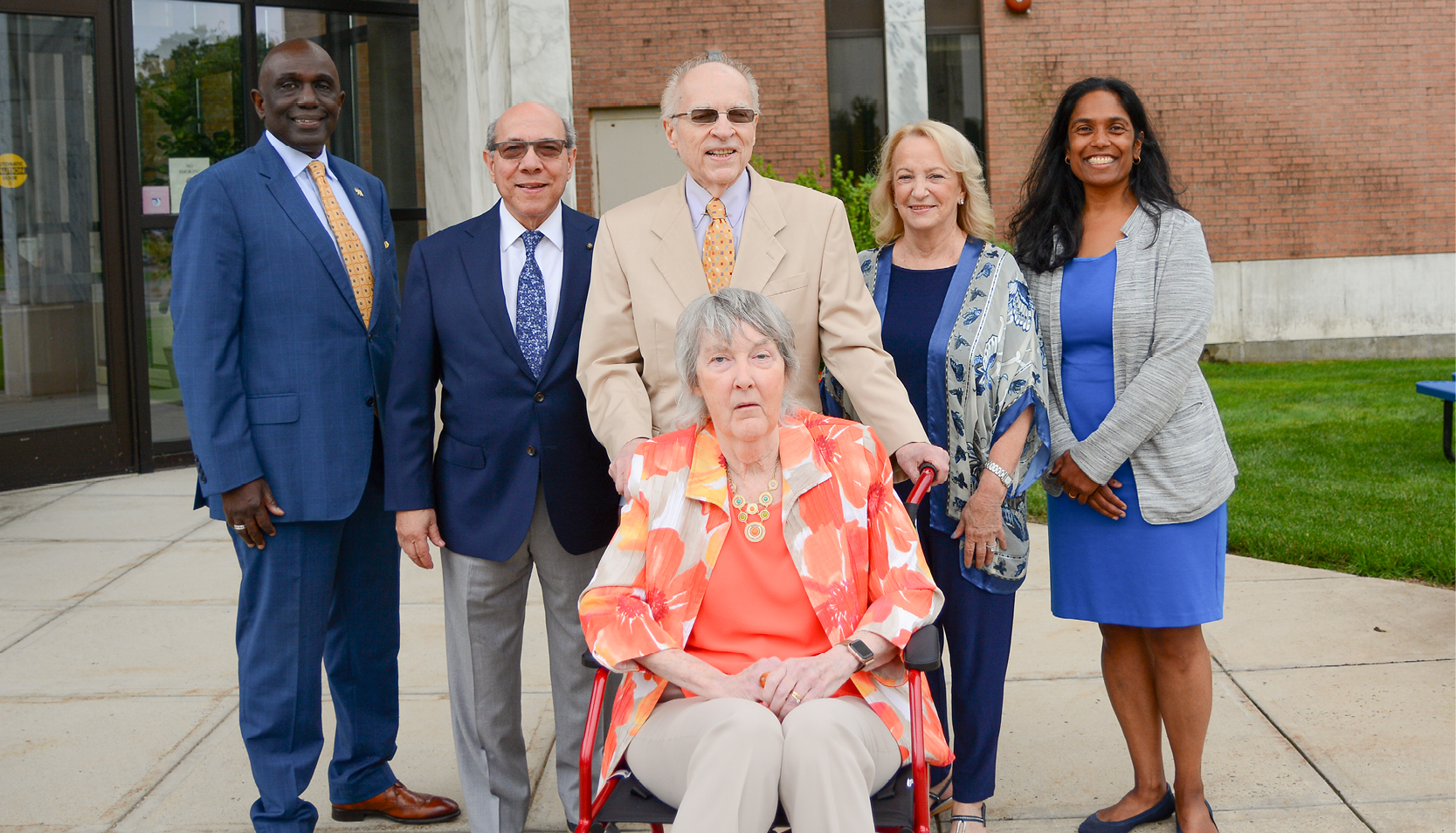 In recognition of Ricci's generous gift, the School of Law hosted a dedication event this past August, naming a conference room in the Dean's Suite in his honor.
"The School of Law is incredibly grateful for the generosity of Judge Ricci and his family in creating a Faculty Enrichment Fund. Every current student and member of the alumni community knows that the School of Law faculty is unparalleled in its dedication to excellent teaching and research. The Hugo L. Ricci, Jr. Endowed Law Faculty Enrichment Fund will help us support the faculty in their outstanding work," said Sudha Setty, Dean of the School of Law.
Intending to serve as an example of the importance and need for alumni to develop and support endowed gifts moving forward, Ricci and his wife Kathy hope other alumni will "do one better" and also make sizable donations to the betterment of the School of Law.
"I want the School of Law to continue to be recognized as a school that really cares about the community, a school that challenges students, and a school that ultimately prepares them to support their communities in any capacity," said Ricci.
To learn how you can support the University, visit alumni.wne.edu/giving or contact WNE Advancement at (413) 782-1400.