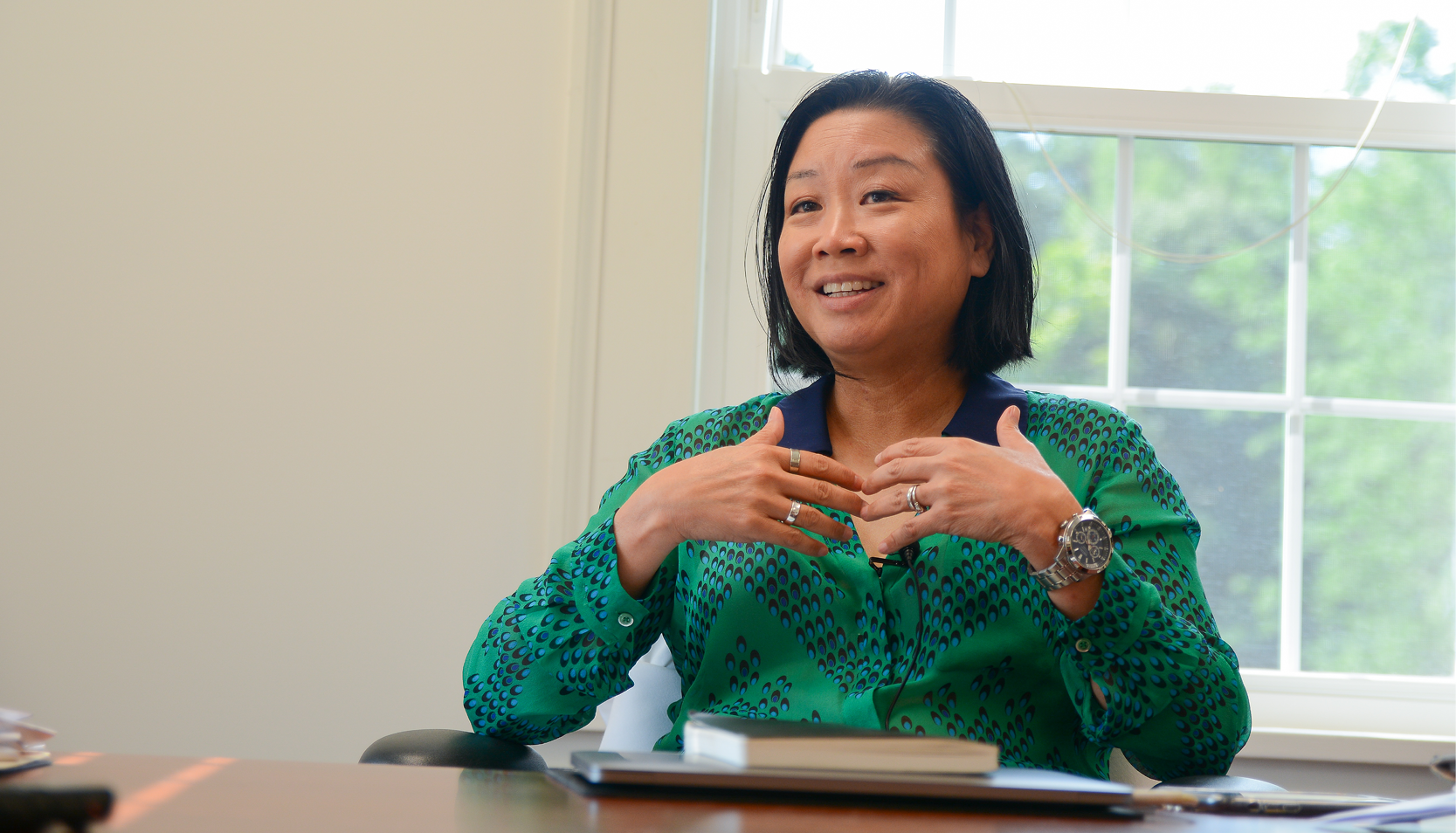 Sharing WNE with the World
Senior Vice President for Academic Affairs and Provost Dr. Maria Toyoda Crafts a Bigger and Brighter Future for Golden Bears
By Alex Lyman '12/G'16
Dr. Maria Toyoda has learned that carving out a path—whether academic, personal or professional—isn't always a straightforward effort. It is the twists and turns along the way that lead you to where you are meant to be; and in her case, right to the WNE campus.
Her journey has led her across the country and around the world—from Stanford, Georgetown, Villanova, and Suffolk Universities to Tokyo and the Czech Republic. For Dr. Toyoda, the appeal of WNE was different from her previous institutions; and that, she says, was what made her decision to come here an easy one.
"When I first learned about WNE, I could not believe that it isn't more widely known," Dr. Toyoda says. "It has so many wonderful attributes, yet it is a hidden gem. I feel like my job here is to make sure everyone knows about WNE.
"One of the great secrets here is that we have a faculty that punches way above its weight class. The research that they conduct, the inventions they are producing, and their knowledge is really pretty incredible; we have to let that shine through."
Dr. Toyoda isn't content to allow the University to remain a hidden gem; she wants to put it all on display. As she says, "Why should we hide WNE from the world?"
So how do we continue to put Golden Bear Nation on the map? For Dr. Toyoda, her own experiences inform her plans to deliberately prepare our students for the future, put them out in the world through global experiences, and teach them to be lifelong learners and introspective enough to boldly find their own directions.
Taking The Road Less Traveled
Before coming to Western New England, Dr. Toyoda has pursued many academic and professional undertakings; her prolific résumé illustrates her rich interests and global ventures. However, it still took her some time during her academic journey to land in the right discipline. 
While she jokes that her academic career is a cautionary tale, she also hopes it encourages students to pursue their interests and not worry so much about the outcome. Having a deep love for the sciences, Dr. Toyoda naturally was drawn to a biology major, which didn't just teach her about the human body, but also the human experience.
"Human biology also introduces the social-psychological aspects of biology, because you can't separate the two when you're talking about human beings," she explains. "It tells you that most people don't have a straight path, which isn't a bad thing. When students start out in their first year, they are exposed to new depth and breadth, which is important for self-discovery. They don't know how broad the world is and how many different kinds of opportunities there are."
She maintains that by helping our students be open to new ideas and introducing them to a variety of options, we can lead them to outcomes they may have never considered.
Another benefit of a path that isn't direct is that everything students pursue will shape them into who they are meant to be.
"Nothing is wasted; no experience is wasted, no class is wasted, no degree is wasted," emphasized Dr. Toyoda. "An agile person should be able to take all of those experiences and synthesize them into something new. In that respect, I hope that is encouraging for a lot of people. It is classes taken just for fun or even to fill up credit hours that actually have an outsized influence on your life." 
This was certainly true for Dr. Toyoda. She eventually wound up leaving Human Biology and transitioning to Government and found herself passionately pursuing research in globalization, foreign aid, and banking. At Villanova University, she created her own niche over time, starting with teaching political science and starting an East Asian Studies program, and later chairing the department, and becoming associate dean for interdisciplinary studies and global initiatives. She did this by taking her own abilities and combining them with what was in demand from students.  
"One of the best ways to design a career is to think about where needs are," Dr. Toyoda notes. Everything that I did was based on a particular need that I could fill. Trying to find unique spaces in which you can work, in which your particular character, skills, and experience are best able to fill is important. People can design their lives and design their careers around needs."
This strategy has certainly worked for Dr. Toyoda and is a concept that she hopes she can impart to our students to help them create value wherever they land.
"One of the best ways to design a career is to think about where needs are. Everything that I did was based on a particular need that I could fill. Trying to find unique spaces in which you can work is important. People can design their lives and their careers around needs." - Dr. Toyoda
Teaching Students at the Intersection of Academia and Industry
As the new Provost, Dr. Toyoda has a clear vision for elevating academics at the University in order to prepare our students for the future of work and for those careers that may not yet exist. She notes that we already have a broad range of academic programs, which are "good bones" that we can build upon. She says that her job isn't necessarily to reinvent the curriculum or overhaul academic programs. She emphasizes that deans and faculty are critical in those areas. However, her role is to identify and implement the continual improvements that will keep us up to date and aligned with industry standards. Dr. Toyoda feels that often such adjustments are more focused on communication with potential students in terms of what they will receive from their education, and what employers may expect from our alumni.
"When we offer a major, we have to make sure that it is aligned with what industry demands are," she notes. "We also want students to be able to go out there with a transcript that reflects the updated curriculum. Are we giving students the leg up that they need in terms of what we call our majors, the classes, the curriculum, and the particular skills and learning goals?"
A structurally sound curriculum, combined with language that communicates what our alumni are capable of, is vital to not only help our graduates get their foot in the door but see their own potential to adapt and pivot whenever needed.
Putting WNE on the World's Stage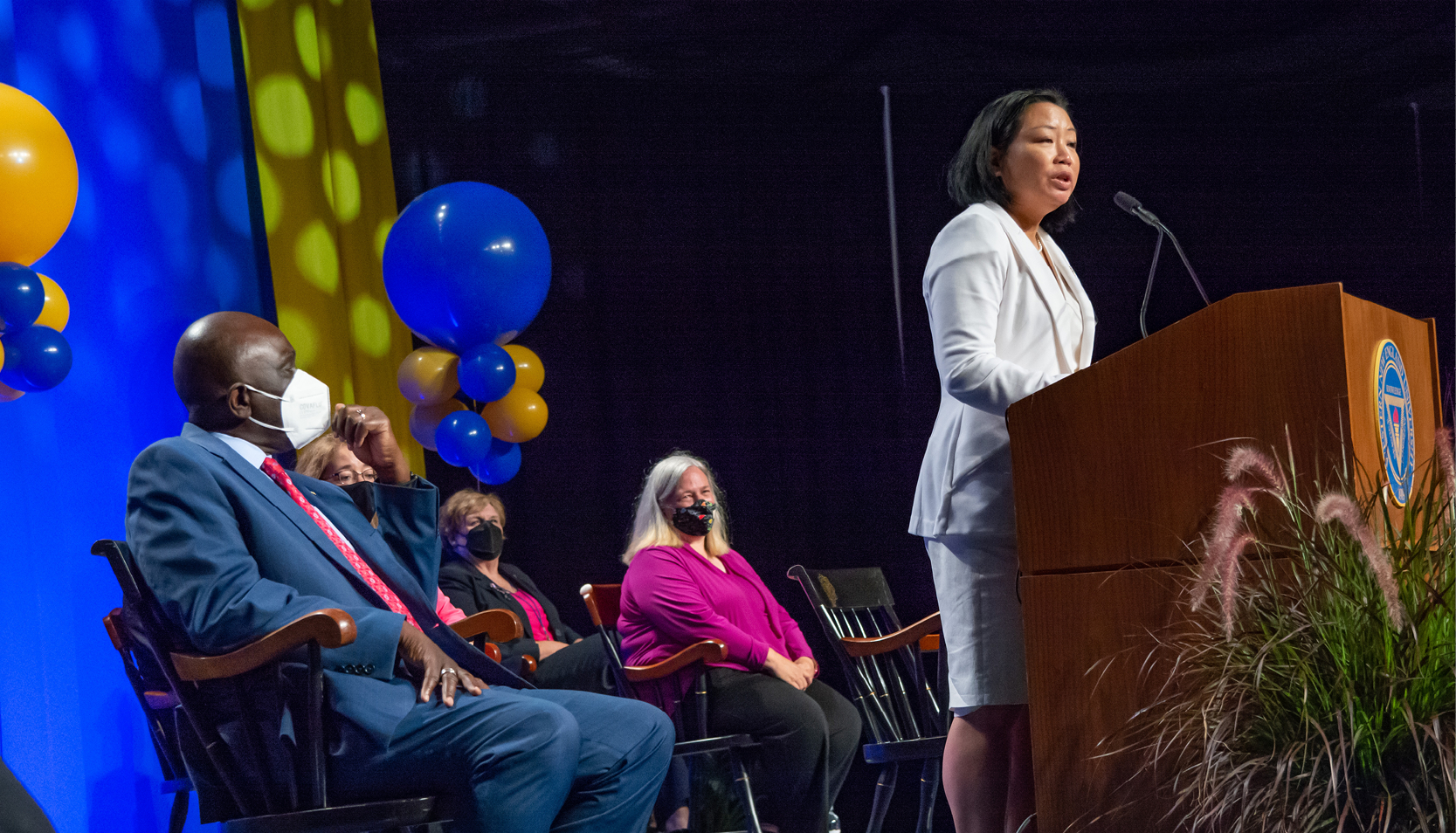 Dr. Toyoda's fundamental question is "Why should we hide WNE from the world?" She cautions that we should not be overly protective of our resources, but rather we share what we have to offer—which is plentiful. She acknowledges that not only has global education and international work always been a thread running through her career, but our faculty also have deep ties to places around the world. This is an asset that is critical for us to use, especially when our faculty may have experiences that deeply connect them, their research, and their teaching to the global environment. 
"I think there is a deep desire on the part of students to see more of the world, and it is a particular goal of mine to open those opportunities up, especially for students who may come here not thinking they would ever have access to those opportunities," she says. "It is important to try and make them realize that it could create new pathways to success that they have not even begun to think about." 
While using the word "transformational" when referring to study abroad experiences may be overdone and clichéd, Dr. Toyoda says she has truly seen travel completely flip the switch of curiosity and wonder in students.
"Once they've had that experience they want to keep going back for more," Dr. Toyoda adds. "They truly then start to view themselves as citizens of the world, with interests that are broader and more global and a perspective that's going to be necessary for the future of work. 
"Americans tend to go abroad thinking they have things they should teach others. But whenever I have traveled with students, it has been the complete opposite. They've been able to absorb the teachings and the influences of new places. They really soak up the environment, they see things with fresh new eyes, and they begin to then incorporate those learnings into their own lives. That's so exciting to see."
This willingness to learn about other countries and cultures will better prepare our alumni for an increasingly global workforce, not to mention instill a passion and desire to see more of the world.
Teaching Our Students to Make a Life
When asked how we can teach our students to carve their own path, a task that is abstract at best, Dr. Toyoda pointed to having the confidence in our curriculum that our students are being taught what they need to know. The coursework in each area of study is aligned with best practices and up-to-date information, and students ar being socialized into the values and behaviors of their desired industry. That alone will help them succeed in their profession. However, each of our student are destined for unique outcomes that they must explore for themselves beyond their coursework.
"How then do you find your own personal path?" she muses. "There is a certain amount of introspection and reflection that needs to take place, and there are multiple opportunities to do this. It's a combination of the curricular and cocurricular activities and the introspection and personal work that you have to do in order to design your own life path. And this, by the way, doesn't end with Commencement and being handed a diploma. We're equipping you with the kernels and the seeds for the kinds of changes you are going to have to make throughout your life."
She says that the future is always changing—from technology and machine learning to every other aspect of our lives. This can be intimidating to some, who fear that they may become obsolete behind artificial intelligence or even outdated knowledge. But Dr. Toyoda sees this from a different perspective.
"I see these developments as being incredibly enriching to humanity and to human-centered design," she explains. "I don't see them as major threats to those who are willing to evolve over time, and in fact, it may create even richer experiences for people. I can't say the way we are working today is any worse than 20 years ago. In fact, I'd say it's better. And why shouldn't it keep getting better? I'm in favor of harnessing science and technology for good. I think it has a lot to offer."
There is a caveat to her viewpoint—advances in sciences and technology may be harmful to people who are not able to pivot, who can't be agile, and who can't view life as a continuous learning process.
She says that it is even more important for universities today to teach people how to learn even more so than what to learn. By teaching our students how to learn, they can continue to do it for the rest of their lives. 
"Being information literate, being discerning consumers of information, being able to write well, and being able to speak well," Dr. Toyoda notes. "Those are the sorts of things that fit into analytical, critical thinking. If we can cultivate those skills and those strengths in people, we will have created an agile mind." 
As the future emerges, Dr. Toyoda is committed to not only creating a more rich and abundant academic experience but also making WNE known for its wealth of knowledge and opportunity.

While carving out a path for our campus and our students isn't likely to be entirely straight, it is one full of limitless possibilities to explore and embrace.
About Dr. Maria Toyoda
Maria Toyoda, PhD was most recently Dean of the College of Arts and Sciences and Professor of Political Science at Suffolk University in Boston. Most of her career has been spent in areas of global engagement, and she is deeply committed to providing economic and political access and opportunities through higher education.
Maria was a Social Science Research Council Abe Fellow, and as a Council on Foreign Relations/Hitachi International Affairs Fellow in Tokyo, where she worked at the Japan Bank for International Cooperation. She was a research scholar at Stanford University's Freeman-Spogli Institute (formerly Institute for International Studies), the Asia/Pacific Research Center, and the Stanford Japan Center-Research in Kyoto. She also served as a program director, chair, associate dean and professor at Villanova University. She received her AB in Human Biology with Honors from Stanford University, and a PhD with Distinction in Government from Georgetown University.
Her research focuses on the mechanisms of financial liberalization; the politics of development aid; and policy-based financing. The work she does with her team members is widely cited and used by organizations such as the International Monetary Fund and DFID. Their articles have appeared in journals such as the American Journal of Political Science, Review of Financial Studies, and IMF Economic Review.