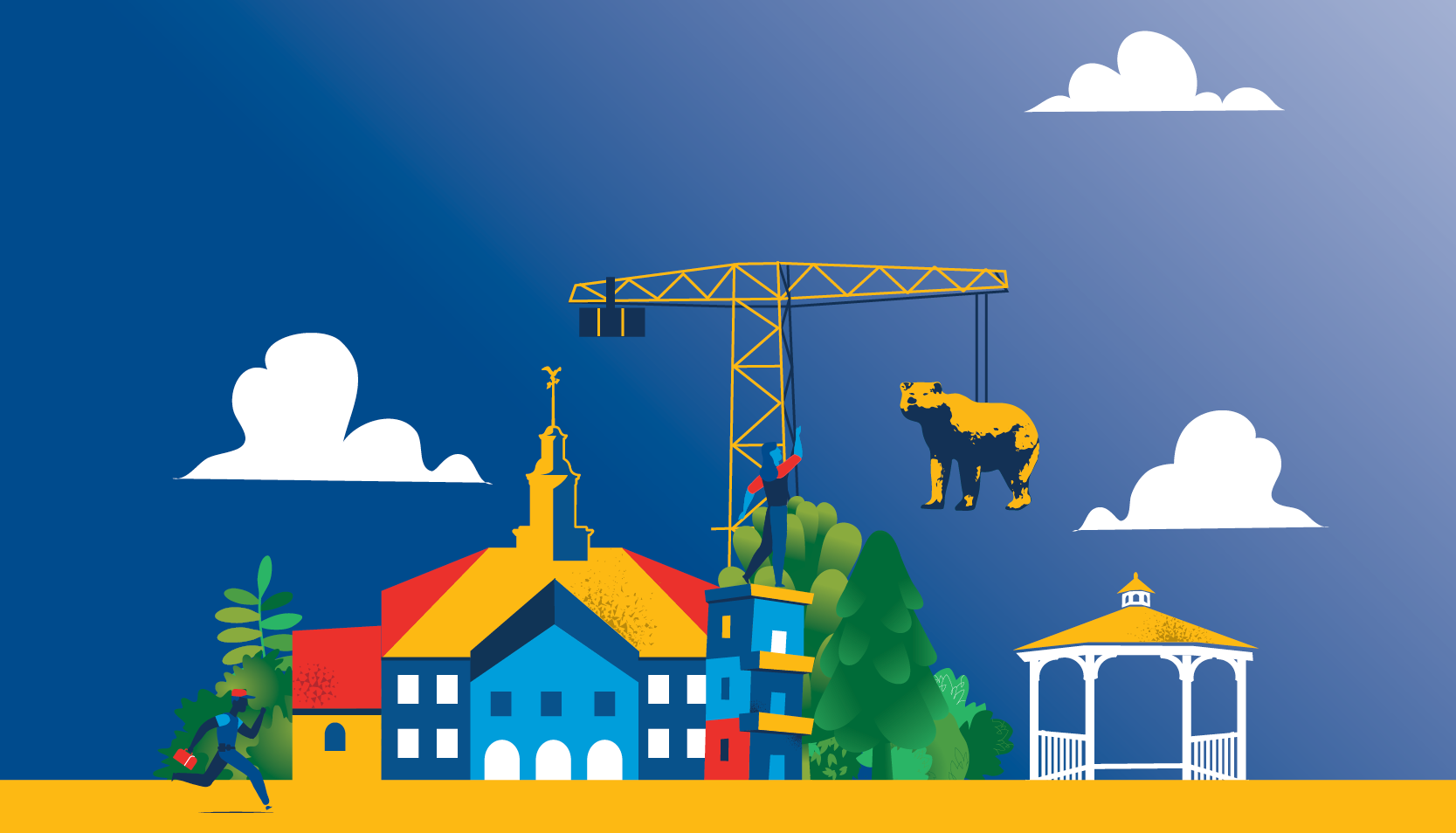 We are WNE: This Is Our Future
WNE Boldly Stakes Its Claim in Higher Education
By Mary McLean Orszulak G '10 and Alex Lyman '12/G'16
It's the start of a new era at Western New England University—but as the institution evolves and grows, the heart of our Golden Bear pride remains strong. It is on the foundation of our past and present that we will continue to build our future—which is one of exciting possibilities.
On September 17, 2021, President Robert E. Johnson stood on the lawn outside the University Commons and announced to faculty, staff, and guests what the future of the University will hold—what our stake in the ground will be as a national university.
The We Are WNE: This Is Our Future event was a culmination of a deep dive into the core of WNE, which resulted in a bold roadmap and a clear delineation of our unique identity and market position. With the vision established for the future of the University, we must own it and apply it in all aspects of our work.
While Western New England University can mean many things to many people, in order to spread the word far and wide, it takes a unified vision, one that all of its stakeholders—from students to alumni, faculty to staff, benefactors to parents—can easily and instantly articulate.
"Everyone has to be saying it like a drum beat," says President Johnson.
Central to that vision is that Western New England University must become the epicenter for preparing students for the future of work, to successfully navigate their career trajectories and to add value as a continuous state.
In his presentation, President Johnson illustrated our new position and detailed what it will mean for generations of Golden Bears to come.
Powerful Preparation for the Future of Work
A New Traditional University preparing learners and earners for the Future of Work, equipping them to create value and thrive in a complex and hyperconnected world.
WNE's position is delivered through three pillars. They are:
A New Traditional University (as a new model for higher education)
An Agile Mind Education
Personal Exploration & Growth
Immediately following President Johnson's reveal, guests gathered for an outdoor celebration that featured beer from Loophole Brewing (cofounded by alumni Jeff Goulet '88), including Second Encounter, the follow-up IPA to the Centennial-inspired First Encounter served at our Centennial Homecoming.
Excitement was palpable as attendees envisioned their roles in promoting the University's position of Powerful Preparation for the Future of Work, while celebrating the opportunity to be together in person for the first time since the start of the pandemic.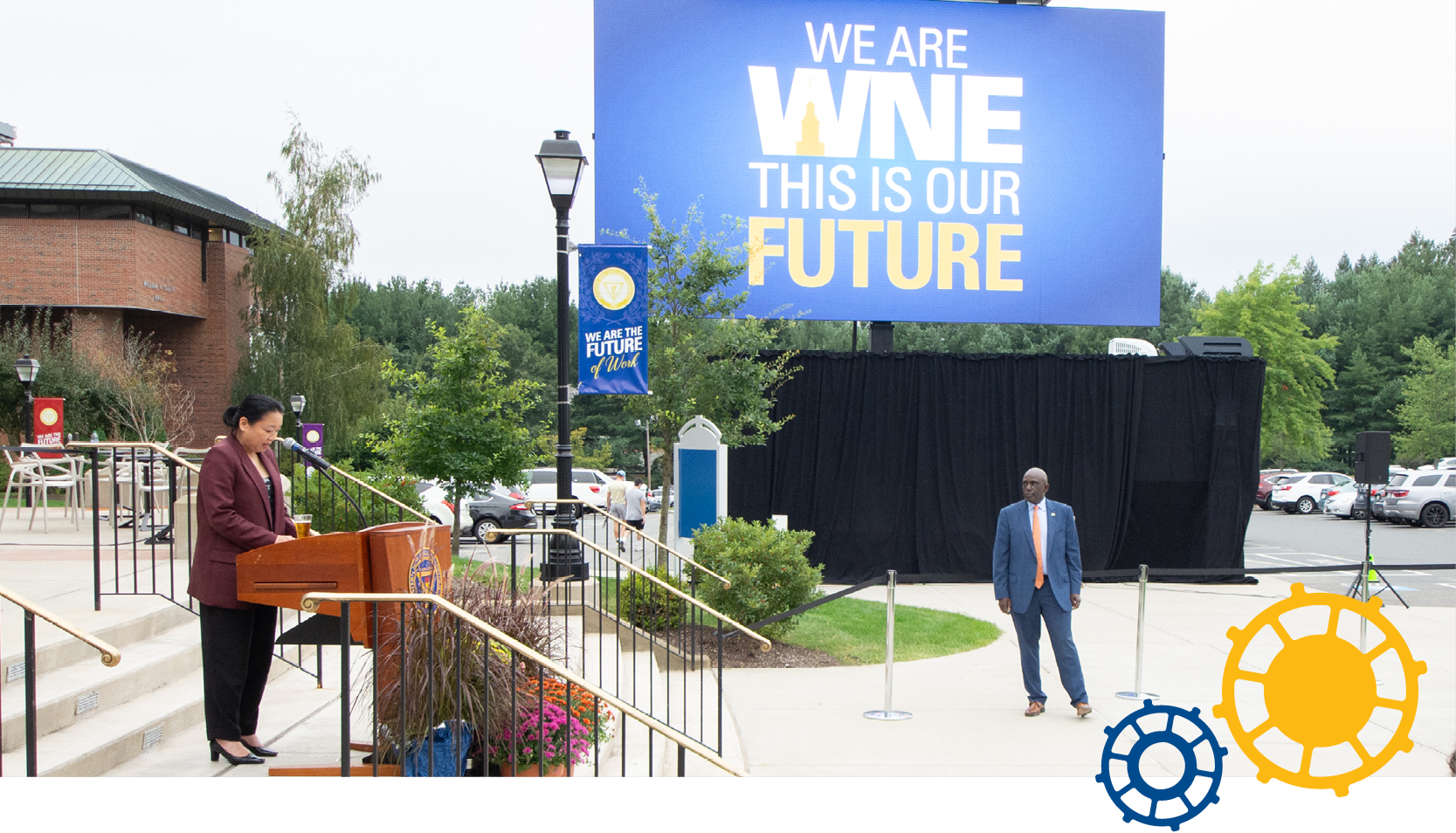 A Brighter Future as a New Traditional University
As Western New England University enters its second century, we reflect on our institution's rich history and cherished traditions, while boldly confronting the challenges and maximizing opportunities the future presents.
In the competitive higher education industry, institutions that can explore, experiment, and execute at the pace of change now reflected in our society will gain a competitive advantage. Western New England University will be such an institution.
We strive to be a pacesetter among national universities with the advantage of being comprehensive yet personal, private, and nimble. By respecting our traditions, capitalizing on our strengths, and with a willingness and drive to be entrepreneurial, we will differentiate ourselves in the marketplace.
We will be known as a 'New Traditional University,' defined by our agility and motivation to create value as we seek an intentional and enriching approach in all aspects of the academic and cocurricular student experience.
As one University with one vision and a shared ambition, we are poised to respond adeptly to the challenges and opportunities of the future. By so doing, all members of our University community—students, faculty, staff, and alumni alike—will benefit.
"This is a place where you come to explore, to understand your "why," to gain the skillset and mindset to thrive in the future of work and to evolve with a sense of humanity so you can transform the world," says President Johnson.
As we endeavor to create a brighter future for WNE and our students, there is no doubt that we have always been powerfully preparing students for the future of work. From experiential learning and research projects to leadership opportunities and student activities, WNE has given students past and present a foundation for being agile, forward-looking, and able to adapt and thrive. Now, we are taking ownership of and articulating what we do best while continuously building and improving upon our strengths—and the proof can be found all over campus.
"Our vision is to be a 'New Traditional University' that is agile, grounded in professional studies, and enhanced by the liberal arts and mentored research, that provides graduates with the skillset and mindset to continuously create value throughout their professional career and assert their humanity in contributing to a global society." - Strategic Focus 2021–2025, One University, One Vision
WNE Class of 2025 Breaks Records and Continues The Golden Bear Legacy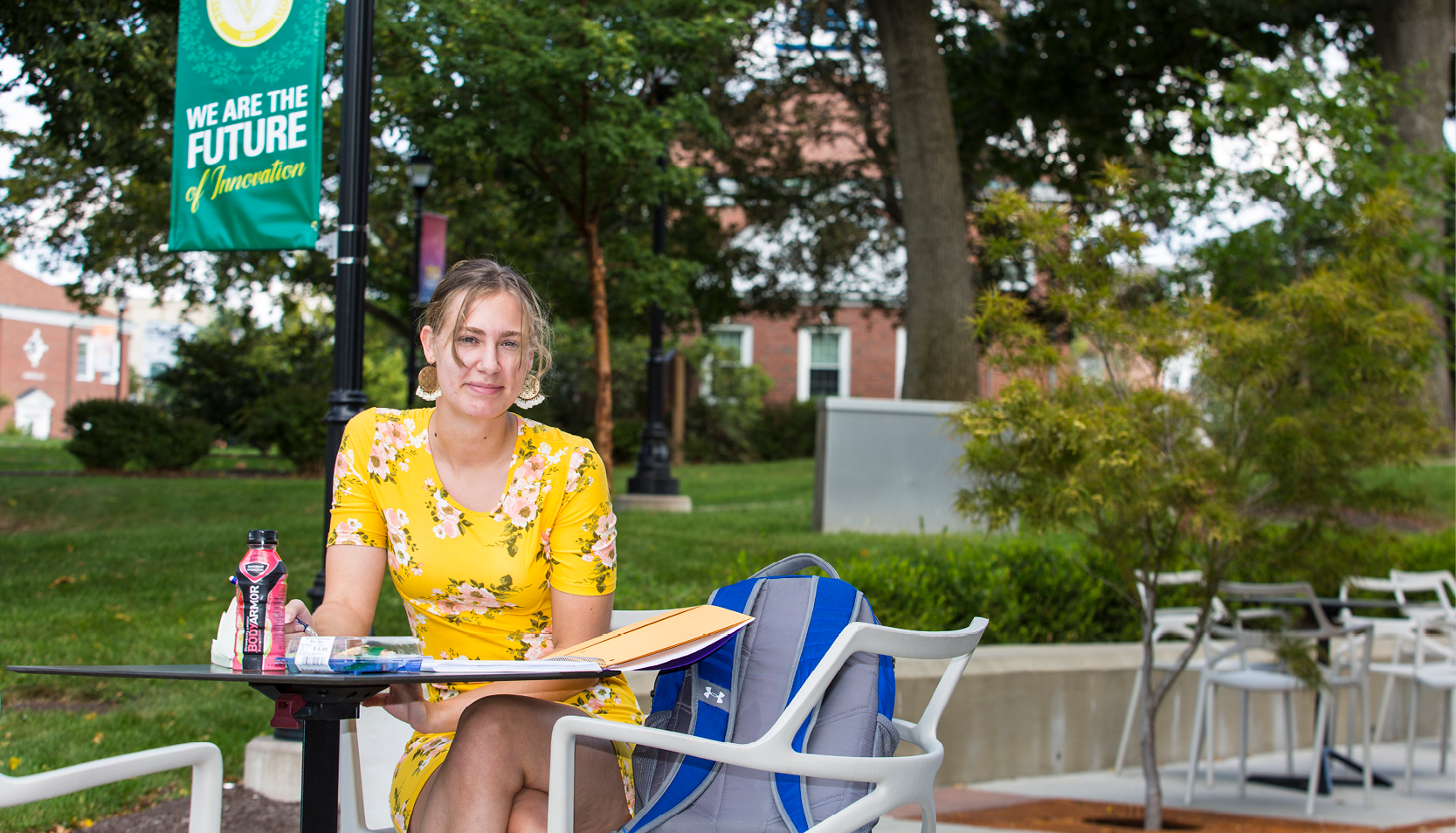 Western New England University's newest class has surpassed opening day enrollment records at 880 and is among the largest, most diverse, and academically talented classes in the University's 100-plus year history. This year's recruiting cycle generated the second largest number of applications ever received at the University with 7,200 applicants.
The Class of 2025 boasts the largest group of first-year Engineering students in the College of Engineering's history at 188—seven students more than the school's record reached in 2014. The College of Arts and Sciences welcomed the largest group of incoming Psychology students at 72—23 students more than its all-time record.
The incoming class consists of 26% of students who are from diverse racial and ethnic backgrounds, making them the third most diverse group of students in the University's history. We also welcomed international students from countries including France, India, Nepal, Peru, Argentina, and Vietnam.
These Golden Bears boast the highest average test scores and the second-highest average GPA in the University's history. This year's average SAT score is 1250, 29 points higher than last year's average.
Our newest Golden Bears don't just want to succeed academically. They want to make a positive impact on the world around them. The Center for Social Justice and related scholarship will help them do that by engaging with programs taking place in the ABA-accredited School of Law.
"It goes beyond just what we see in the data," says Vice President for Enrollment Management and Marketing Bryan Gross. "We have one of the most talented groups of incoming students in WNE history, with students who, despite having the pandemic impact their high school career, come to us with remarkable accomplishments. We have business owners, entrepreneurs, fundraisers, star athletes, and social justice warriors in this year's class. They have proven to be incredibly resourceful and determined in overcoming various challenges. We feel we have a group of students who really strive to make a positive difference in the world."
WNE is the only national, private university in Springfield, MA. Ninety-four percent of all graduates last year were employed or in graduate school within six months of graduation.
This truly unique and record-breaking class, along with the growing retention rate for current students, demonstrates that the University is continuing to attract right-fit students who will join the ranks of the new traditional Golden Bears who graduate understanding their personal value proposition that will propel them to meaningful careers and lives.
WNE Sees Growth in U.S. News And World Report
Not only are our current students making a name for themselves, but WNE as an institution is making headlines in the world of higher education.
WNE has been ranked 4th of Top Performers on Social Mobility among National Universities in Massachusetts by U.S. News and World Report's 2022 "America's Best Colleges," which provides an in-depth look at more than 1,800 institutions of higher education nationwide.
The Top Performers on Social Mobility ranking measures the extent that schools enrolled and graduated students who received federal Pell grants (those typically coming from households whose family incomes are less than $50,000 annually). According to U.S. News and World Report, economically disadvantaged students are less likely to finish college and some colleges are more successful than others at advancing social mobility by enrolling and graduating large proportions of disadvantaged students awarded with Pell grants.
"This category looks at the percent of entering students who are Pell-eligible and our six-year graduation rate among those receiving the Pell funding. Our number was 32% on the entering class and 58% on six-year graduation rate, which is a solid number compared to our national peers," explains Gross.
The U.S. News rankings focus on measures of academic excellence, with schools evaluated on hundreds of data points covering up to 16 measures of academic quality. Individual colleges and universities are compared with institutions that share similar characteristics and academic missions.
"Having moved from the Regional to National University category in 2020, I am pleased to see Western New England climbing the ranks and now competing at a much higher level with some of our prestigious neighbors—Harvard, Yale, and Northeastern," says President Johnson. The University improved its overall ranking to #213 in the nation this year, moving up 14 places from 2021.
Western New England University College of Engineering continues to be top-ranked in the Undergraduate Engineering (no doctorate) program category. The ranking is based on survey results conducted by U.S. News of deans and faculty members of undergraduate engineering programs at peer institutions accredited by the Accreditation Board for Engineering and Technology, Inc. (ABET), the engineering accrediting body.
"A university educates leaders, problem solvers, and lifelong learners that will adapt, compete, and thrive in careers yet to be imagined," President Johnson adds.
"As a national university, we offer the breadth and depth of a comprehensive institution, supported by opportunities for personal exploration and growth. By embracing a distinctive and innovative institutional model as a new traditional university we provide the transformational educational experience that equips students to create value and thrive in a complex and hyperconnected world." - President Johnson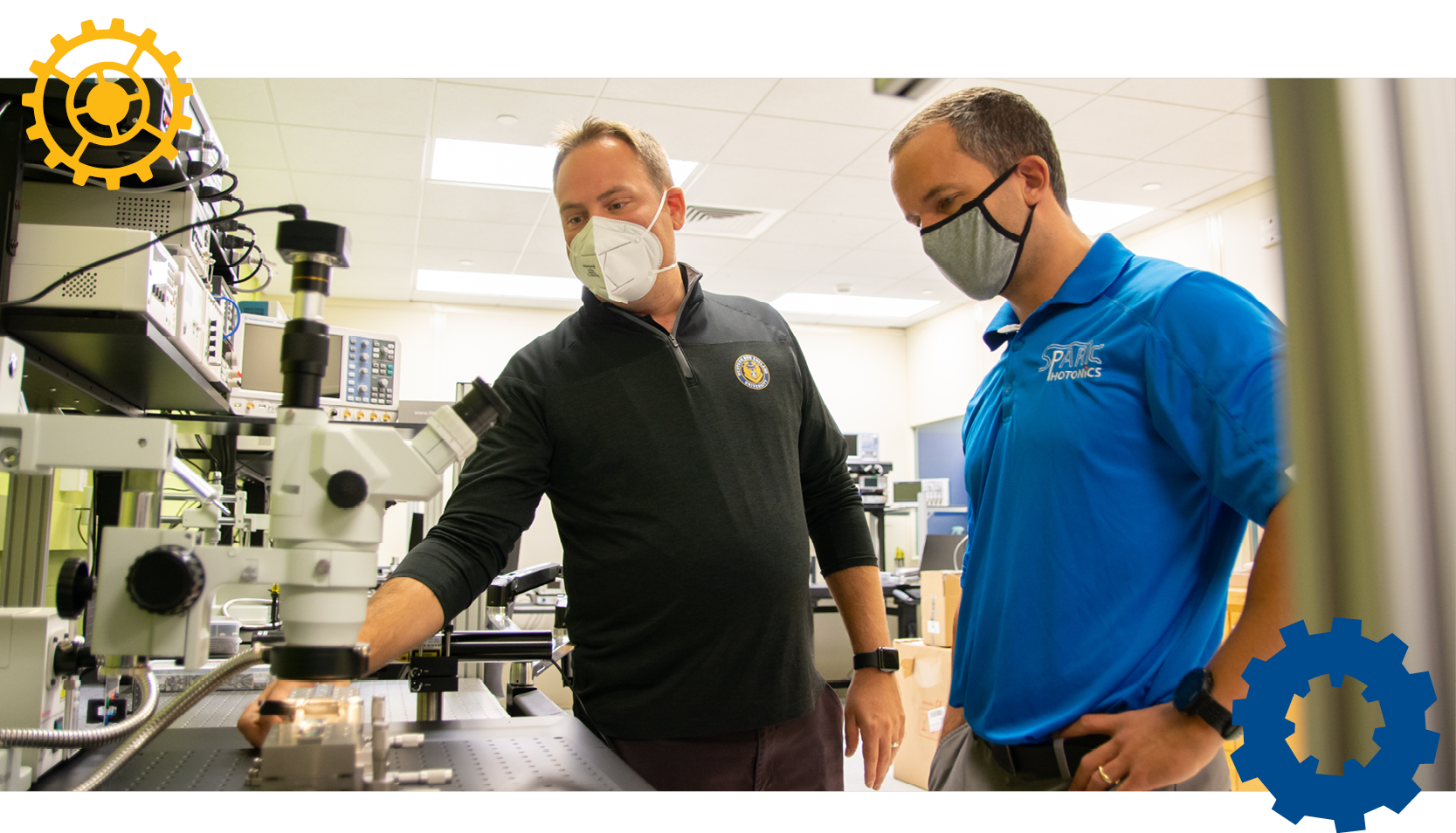 The Western New England University College of Engineering Laboratory for Education and Application Prototypes (LEAP), a state-of-the-art optics/photonics training center, has been established through a grant of $2,581,109 from the Massachusetts Center for Advanced Manufacturing. LEAP@WNE is part of a national effort to advance state-of-the-art manufacturing with the American Institute for Manufacturing Photonics consortium.
With the support of the grant funding, WNE partnered with Convergent Photonics in Chicopee, MA, and Springfield Technical Community College (STCC) for the development of the new advanced manufacturing center, located at Convergent Photonics. The LEAP lab, only the fourth of its kind in the state, will focus on product development, educational training, and collaborative research in the field of integrated photonics.
"WNE is grateful to receive this award with our partners Convergent Photonics and STCC as we aim to build a collaborative learning environment that focuses on training the next generation of highly skilled engineers. The LEAP facility will provide unique hands-on experiential learning that is the hallmark of a WNE education," says President Johnson. "We look forward to strengthening our bonds with the western Massachusetts community as economic development continues to expand and provide opportunities for our students."
The Center For Social Justice: Advancing Social Justice Through Public Engagement
Launched in 2019, the School of Law's Center for Social Justice (CSJ) enriches the rigorous education and practical training that the School of Law currently provides, as well as actively enhances social justice advocacy in our community and beyond.
Under the guidance of Director Ariel Clemmer, the Center has achieved great success in accomplishing its mission of advancing justice through research, education, advocacy, innovation, and public engagement.
While educating and advocating on the WNE campus and within the greater Springfield community, the CSJ generates new opportunities and collaborations for all students, faculty, and community partners to not only research social justice solutions, but to put those ideas into action through active, in-house pro bono projects.
The Center's initiatives address issues such as consumer debt, the cost of gun violence in Springfield, and racially disparate sentencing outcomes, among others.
Law and Society junior Nashali Pagan has been working with the CSJ on its initiative of "Addressing Racism as a Social Determinant of Health Through Restorative Racial Healing Dialogue" to investigate the connection between racism and health disparities. She says that her research has been a meaningful experience for her, both professionally and personally and has the potential to create lasting change.
"Being involved with the Center for Social Justice has reinforced my passion for activism, social change, and restorative justice," she says. "I couldn't be more proud to be a Latina involved in something with so much potential to create change. Empowering minorities and women means a lot to me, and I couldn't ask for a better opportunity to do what I love."
CSJ BY THE NUMBERS 2020-2021
MORE THAN 3,605 VOLUNTEER HOURS COMPLETED
225 TOTAL VOLUNTEERS
NEARLY $750,000 PROVIDED IN FREE LEGAL SERVICE
---
THE CONSUMER DEBT INITIATIVE (CDI)
223 CLIENTS SERVED SINCE OCTOBER
$78,940 SAVED BY CONSUMERS
$65,200 PENDING IN HARDSHIP DISMISSALS
---
THE MASSACHUSETTS VIRTUAL SEALING AND EXPUNGEMENT 2021 EVENT
18 LEGAL/CORICLINIC PARTICIPANTS
75 ATTENDEES
Share the WNE Spirit
Our students, faculty, staff, and alumni are the greatest ambassadors of the WNE spirit— that special sense of Golden Bear pride and community. Through the WNE & U—Share the Spirit initiative, we are inviting all members of our Golden Bear family to play an active role in recruiting new members to our community— from prospective students to new employees and friends of the University.
How can you help? By sharing our story, supporting our community, and showing your Golden Bear Spirit. Visit wne.edu/share-the-spirit to learn about all the ways you can Share the Spirit.
We all are part of the wonderful history of WNE—the foundation of who we are as a University today. Together, we can carry WNE into an even brighter future.
As a member of the University community, YOU are WNE and YOU are its future. Wherever you go, whatever you do, share the WNE spirit.