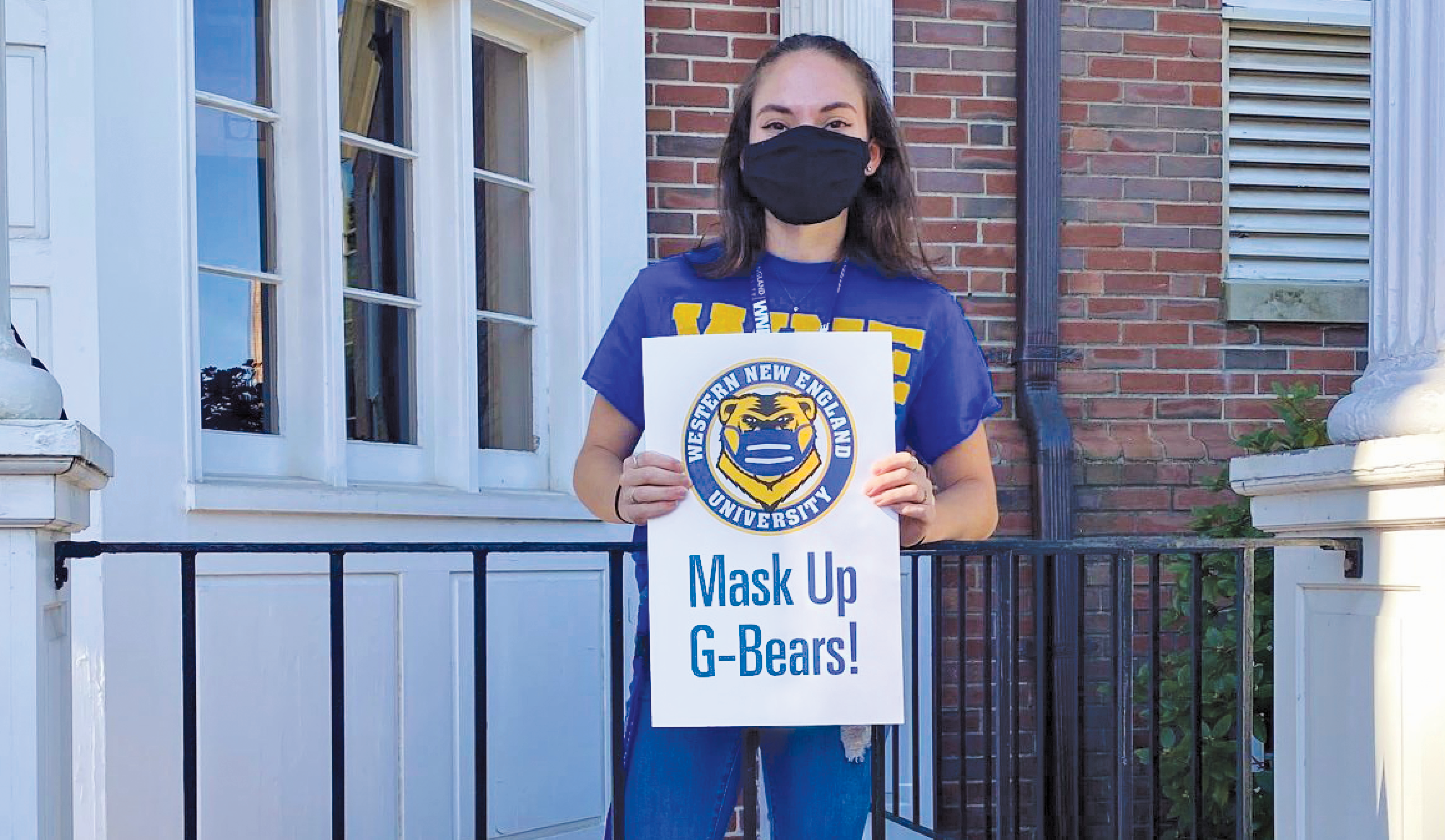 Students Step Up for Communities
To Provide Hope During Pandemic
By Alex Lyman '12/G'16
We so often say that Western New England University attracts a certain kind of person—those with community spirit and a desire to give back. Golden Bears simply have big hearts. Amid the COVID-19 pandemic, that rings true more than ever. Despite the challenges of remote learning, and the stress and uncertainty that our students felt, the pandemic moved many of them into action. Whether they worked on the front lines in healthcare, supported medical professionals, or unified our campus community against racism, we are proud of each and every one of our students who directed their time and energy to giving back.
Pharmacy Students Put Skills to the Test
The COVID-19 pandemic has proven to be an important training ground for our Pharmacy students. PY2 learner Kevin Izzio and PY4 learner Cara O'Toole were no exception. As COVID-19 testing became more widely available and was increasingly critical to managing the pandemic, local pharmacies were tasked with administering such tests. While Kevin and Cara work at separate CVS Pharmacy locations in Massachusetts, when their leadership asked for employees to work at COVID-19 testing sites, they both were among the first to volunteer.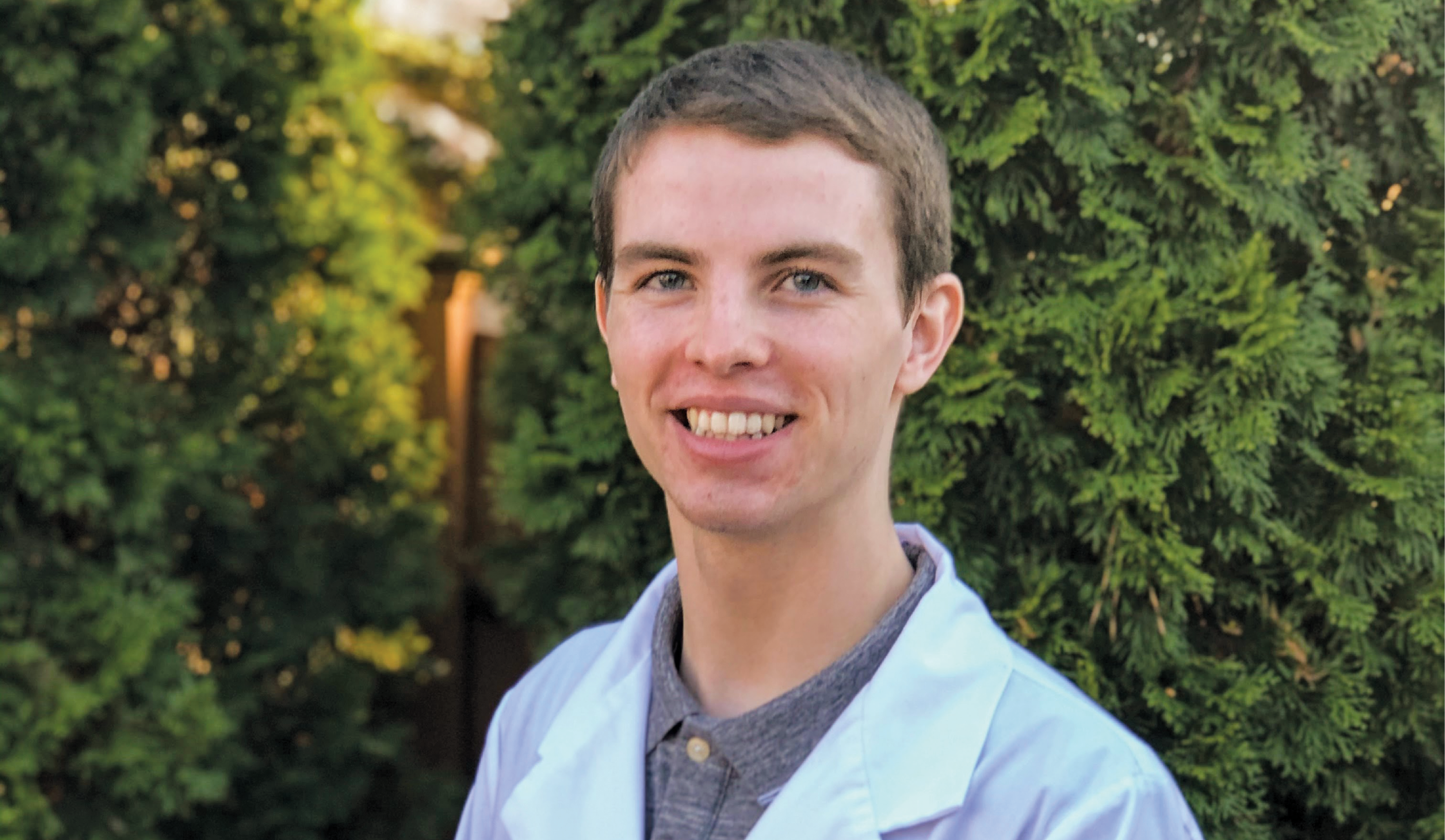 Kevin was sent to a CVS rapid testing site in Lowell, MA, where he rotated between critical jobs such as obtaining patient information, administering and running the test, and giving the paperwork to the patient.
Working on the front lines of a pandemic is no easy task, but Kevin did not shy away from the challenge, even when he could have left the job to licensed pharmacists in the field.
"The College of Pharmacy and Health Sciences prepared my mindset to be a healthcare professional first and to give back to the community," he says. "Despite being a student pharmacist, I still have that obligation to help."
Cara began work at the first public testing site in the state, located in Shrewsbury, catering to first responders and healthcare workers. Cara was responsible for gathering patient information, preparing test kits, and collecting the samples and later sending them for lab collection, while ensuring full compliance with infectious disease protocol.
She says that it was an exciting experience to be on the front lines of monitoring the virus and advancing the role of the modern pharmacist, and that WNE prepared her to take on the challenge.
"Western New England University instilled in me the importance of taking initiative and doing your part, whatever that may be. I felt this was the most vital work I could be doing as it was an opportunity to help others during these unprecedented times." - Cara O'Toole
Supporting our Frontline Heroes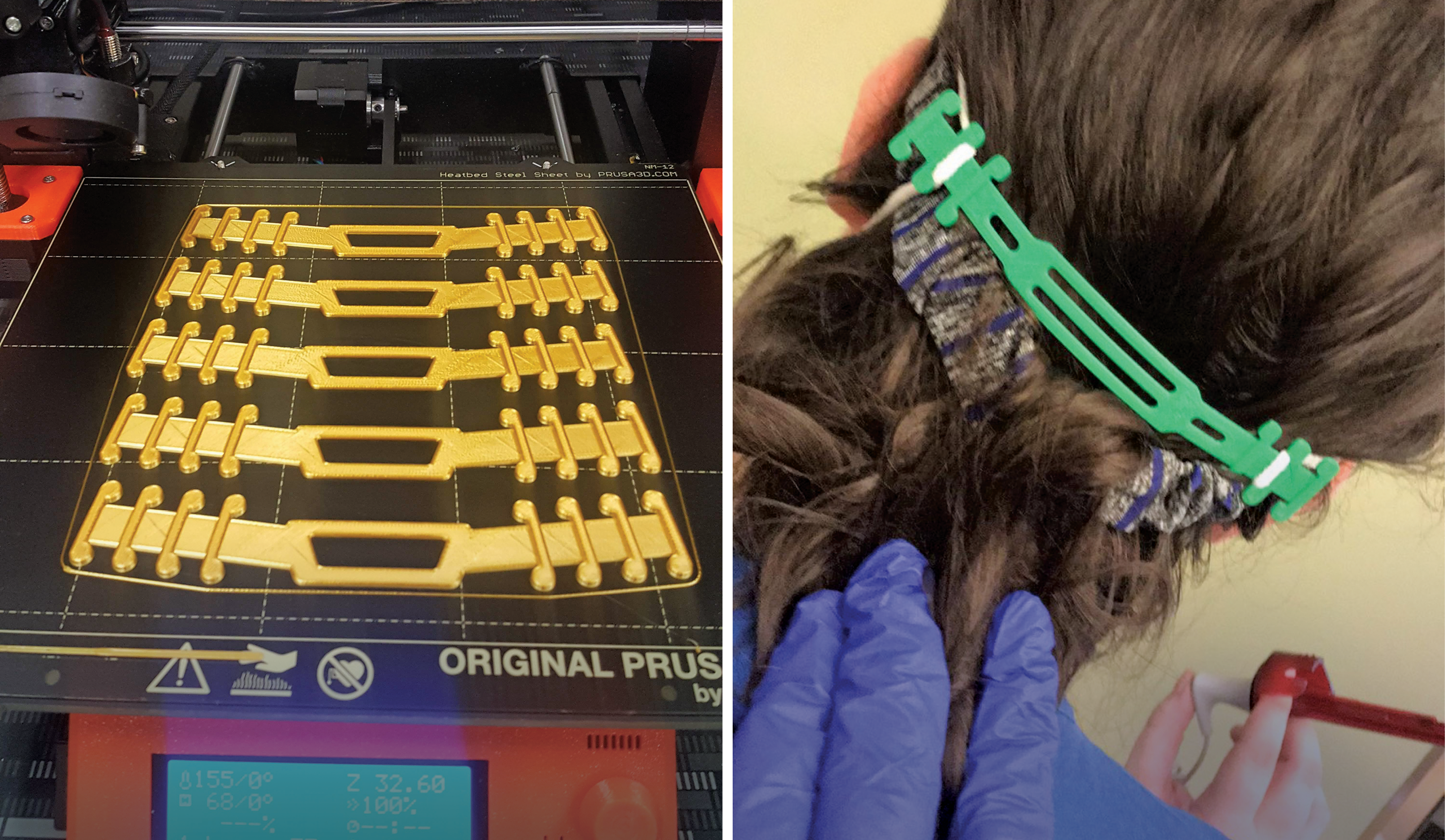 As the COVID-19 pandemic impacted our world, the College of Engineering was committed to supporting those who work on the front lines. Current Master of Science in Mechanical Engineering student and Lab Supervisor Dannielle Croft, and JP Kirkitelos '17/G'19, who is a Materials Technician at Baystate Medical Center, teamed up to create face mask straps for medical professionals using the College's 3D printers in order to make wearing PPE for long hours a bit more comfortable.
"I feel that since we have the resources and support of the WNE administration, that we should do everything we can to support the frontline medical workers who continue to make great personal sacrifices to keep us safe and healthy," said Dannielle.
Dannielle, along with WNE machinist Pete Bennett, has also worked with the Western Mass 3D Printing Collaborative to print face masks and face shield frames.
Keeping Our Golden Bear Community Strong
Senior Adetayo Olatinwo was elected Student Senate President last March and hasn't wasted a moment of time in uniting our campus community. When the pandemic began, Adetayo worked hard to encourage high school seniors to commit to coming to WNE in the fall by joining in the first-ever Virtual Accepted Students Day and moderating a student panel via Zoom. Over the summer, she again used her influence by participating in videos produced by the University to welcome her classmates back for the fall semester and encourage them to take the new COVID-19 protocols seriously.
Amidst all of the changes to our day-to-day lives in 2020, when George Floyd was killed by Minneapolis police at the end of May, Adetayo was again called to action. As Student Senate President, she moderated a campus community forum titled "Rising Up Against Racism: Where Do We Go from Here?" Adetayo helped to steer the discussion around racism, and the tangible steps that the campus community could take to foster inclusion, equity, and civility.
Adetayo's proudest initiative, however, was putting together the first on-campus Black Lives Matter rally this past fall. Despite COVID-19, the rally successfully brought students from all over campus to march together in solidarity, while still following safety protocols.
"My peers and I could not just sit around and make noise through our phones with the hashtag Black Lives Matter; we had to see concrete action," says Adetayo. "Action begins in one's home, and we call Western New England University home. People of all colors showed up to support the Black community. We were one community, one voice, and one heart that day. I had never been so proud of the University. At the end of the night I cried literal tears of joy. It made me so happy to know I am valued as a Black member of my community."
Senior Pilar Betts and sophomore Adell Gadzey also provided a valuable contribution to anti-racism efforts when they moderated a racial justice conversation for United and Mutually Equal (U&ME) this past June for members of the group, as well as other community members, to come together, express their feelings, and brainstorm further actions to stem racism on campus.
WNE students have faced challenges they never anticipated to be a part of their learning experience. We look forward to seeing what they will accomplish as they join the ranks of our WNE alumni.