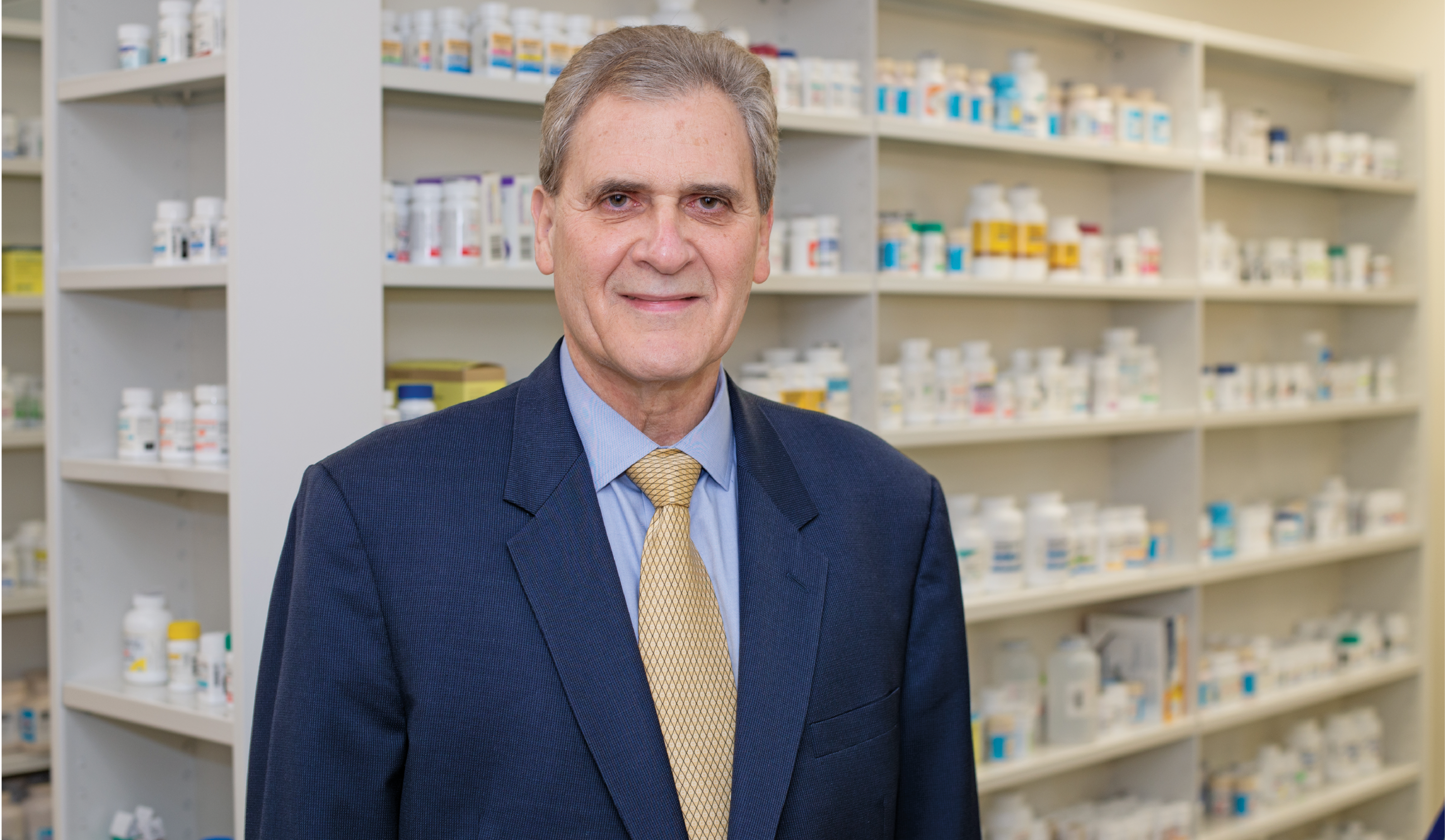 Top 2% Scientist in the World Dr. John Pezzuto
Takes on the Deanship of the College of Pharmacy and Health Sciences
By Mary McLean Orszulak G'10
Research on Resveratrol and Red Grapes Leads Dean John Pezzuto to Be Listed Among World's Top 2% Scientists
A 2020 Stanford University study named Dean Pezzuto among the top 2% of the world's most-cited scholars, ranking him #21 among 80,622 researchers in the medicinal and biomolecular chemistry field.
In the overall category of career impact, Dr. Pezzuto is ranked in the top 4% of the top 2% of scientists, which means he falls in the top 0.08% in the world. His placement is even more remarkable in the discipline-specific ranking of Medicinal and Biomolecular Chemistry, where he is placed #21 among 80,622 researchers in that field - the top 0.02% of the top 2%. In other words, Dr. Pezzuto is ranked in the top 0.0004%.
A Fellow for the American Association for the Advancement of Science, he is the author of over 600 publications, including the first report describing the preventive or cancer-delaying properties of resveratrol, a common constituent found in red grapes and grape products such as red wine. This single report led to a seminal article in Science (1/10/1997) that has been cited nearly 6,000 times. Resveratrol has potential as a preventative or therapeutic agent for colon cancer (similar to Tamoxifen's use for breast cancer), and is the topic of over 20,000 manuscripts.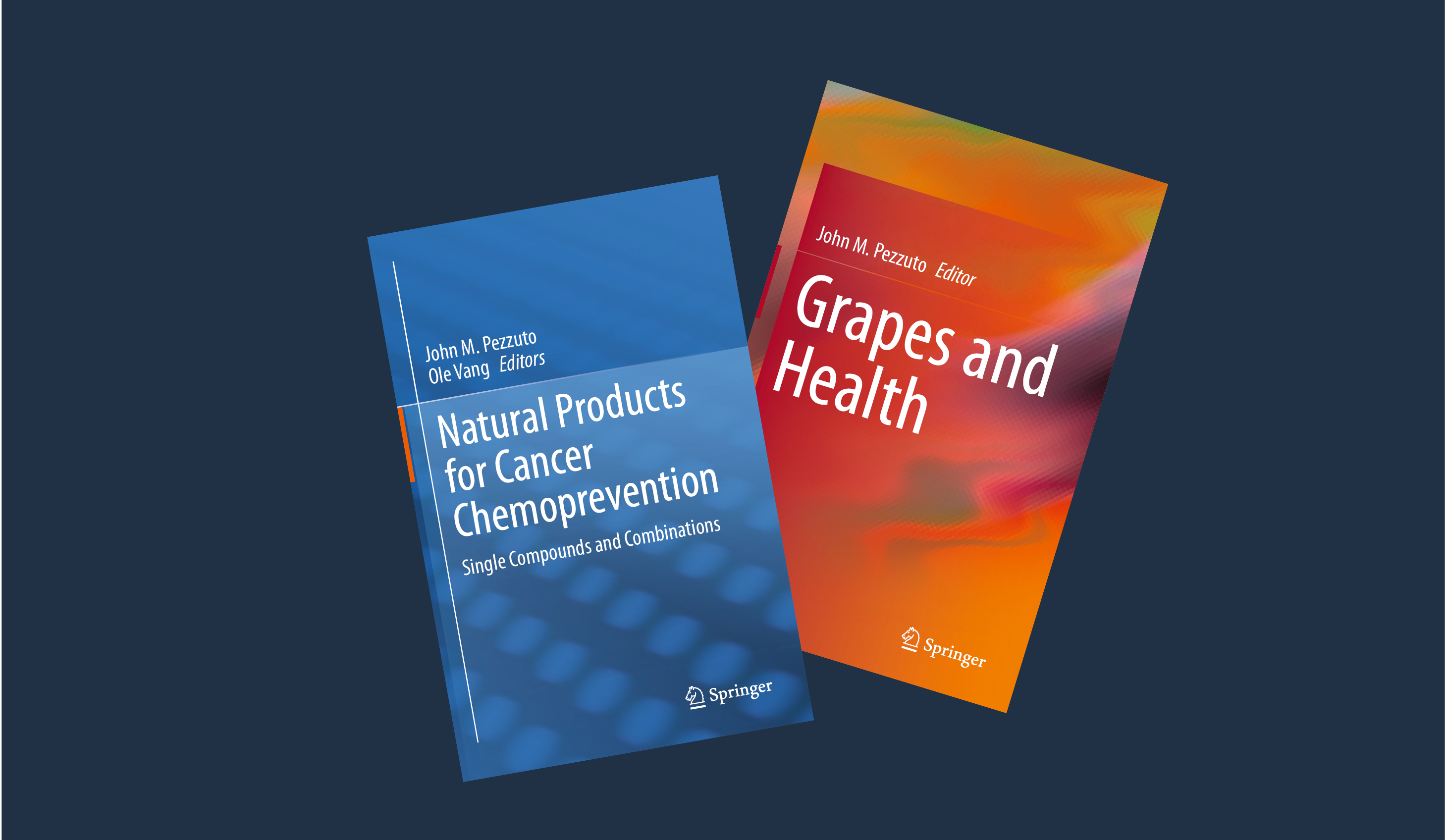 Dr. Pezzuto is the author of Natural Products for Cancer Chemoprevention (Springer, 2020), editor of Grapes & Health (Springer, 2016), and the 2014 recipient of the Volwilor Research Award, the top research award from the American Association of Colleges and Sciences.
Despite the far-reaching influence of this research (its connection to wine led to an article in the New York Times and it was used in a storyline in CSI: Crime Scene Investigation), Dean Pezzuto explains that "grapes aren't in competition for being drugs," so the branch of scientific inquiry into natural chemopreventatives by its nature (not novel or chemically produced) lacks R&D interest from Big Pharma, and FDA approval is cumbersome.
His research looks at the compound's efficacy for ameliorating colon cancer, heart disease, or Alzheimer's over the lifespan—looking at such things as whether or not there are benefits if grape consumption starts later in life. Colleagues are now conducting the first-ever human clinical trials in the UK.
Dean Pezzuto is appreciative that his work has been funded by a significant grant from the California Table Grape Commission, support that will continue his research at Western New England University.
In the short-term, he sees the greatest opportunity for his research in developing dietary or pharmaceutical agents that can play the same role in improving cancer prevention and longevity for dogs. And while grapes themselves can be toxic to canines, medications derived from resveratrol could provide a pathway to demonstrating to the 77 million U.S. dog owners and the pharmaceutical industry their potential for improving human health.
"We hope to get down to a molecular level, looking at how resveratrol affects gene expression," says Dean Pezzuto. "We just published another paper where we looked at gene expression in animal models—if they have grapes in their diet their gene expression changes," he explains. "It's pretty shocking I think, but we kind of expected it when you think of the saying 'you are what you eat.' You don't think of diet as affecting genetic expression, but it does."
"Nature provides many clues for the treatment and prevention of human disease. Academia provides the perfect environment for scholarship, and this is imbued by the spirit of WNE." - Dr. John M. Pezzuto, Dean of the College of Pharmacy and Health Sciences and Professor of Pharmaceutics
"I was excited to come to the College because of its reputation—high pass rates on licensure examinations, strong residency placement rates, regional involvement with interprofessional education, a robust technology program that includes simulations, and high levels of student engagement in service, scholarship, and research," explains Dean Pezzuto. "As a testament to these claims, our faculty have been recognized by national teaching and service awards. It is also notable that our research programs have continued to grow, year after year."
"It is a great honor for us to have such a distinguished scientist among our ranks as Dr. Pezzuto. As WNE enters its second century, research, scholarship, and discovery as exemplified by the work of Dean Pezzuto will take on greater prominence." - President Robert E. Johnson
Beyond its academic acclaim, Dean Pezzuto was drawn to the College of Pharmacy and Health Sciences by the community's nurturing environment that equips students for success. "That's the difference that students find here—small classes, opportunities to get to know their professors, and the ability to create a program tailored for the individual," he says. "That's not something that happens if there is a class of 200 or 300 students and a much larger student-to-faculty ratio—to me, that's huge."
Dean Pezzuto speaks from the heart and a depth of experience. He most recently served as Dean and Professor of Pharmacy of the Arnold and Marie Schwartz College of Pharmacy and Health Sciences at Long Island University in Brooklyn, NY. Previously, he served as Distinguished Professor at the University of Illinois at Chicago, and held deanships at the College of Pharmacy, Nursing, and Health Sciences at Purdue University; and the Daniel K. Inouye College of Pharmacy at the University of Hawaii at Hilo, as founding dean.
Like President Robert Johnson, Dean Pezzuto sees the University's size and unique complement of academic offerings as enabling it to pivot in a highly-competitive environment. He points to expanded opportunities for his learners such as the PharmD/MBA, MS in Pharmaceutical Sciences, and 3+3 Health Sciences/OTD as examples of cross-disciplinary programming and research on the horizon.
"There are points of interaction between the Colleges, particularly Arts and Sciences and Engineering, where we can create some synergism and be more competitive when it comes to complementary degree or certificate programs, and in basic or applied research," he says.
That sense of care and community were center stage as the new dean was tasked with leading the College of Pharmacy and Health Sciences in the midst of a pandemic. He is grateful to the faculty and staff for their unwavering commitment to their learners, and to its alumni who have selflessly served their communities, stating: "Our alumni aren't just on the front lines of vaccine distribution—they are 20 feet in front of it." 
Looking to brighter days ahead, he is inspired by the University's statue of its Golden Bear mascot, one he feels is aptly named 'Spirit.'
"When I lived in Hawaii there was something called 'ohana,' which basically means 'family.' What I enjoyed most about Western New England University was coming to an environment where people work together in a collaborative way with that spirit of ohana."