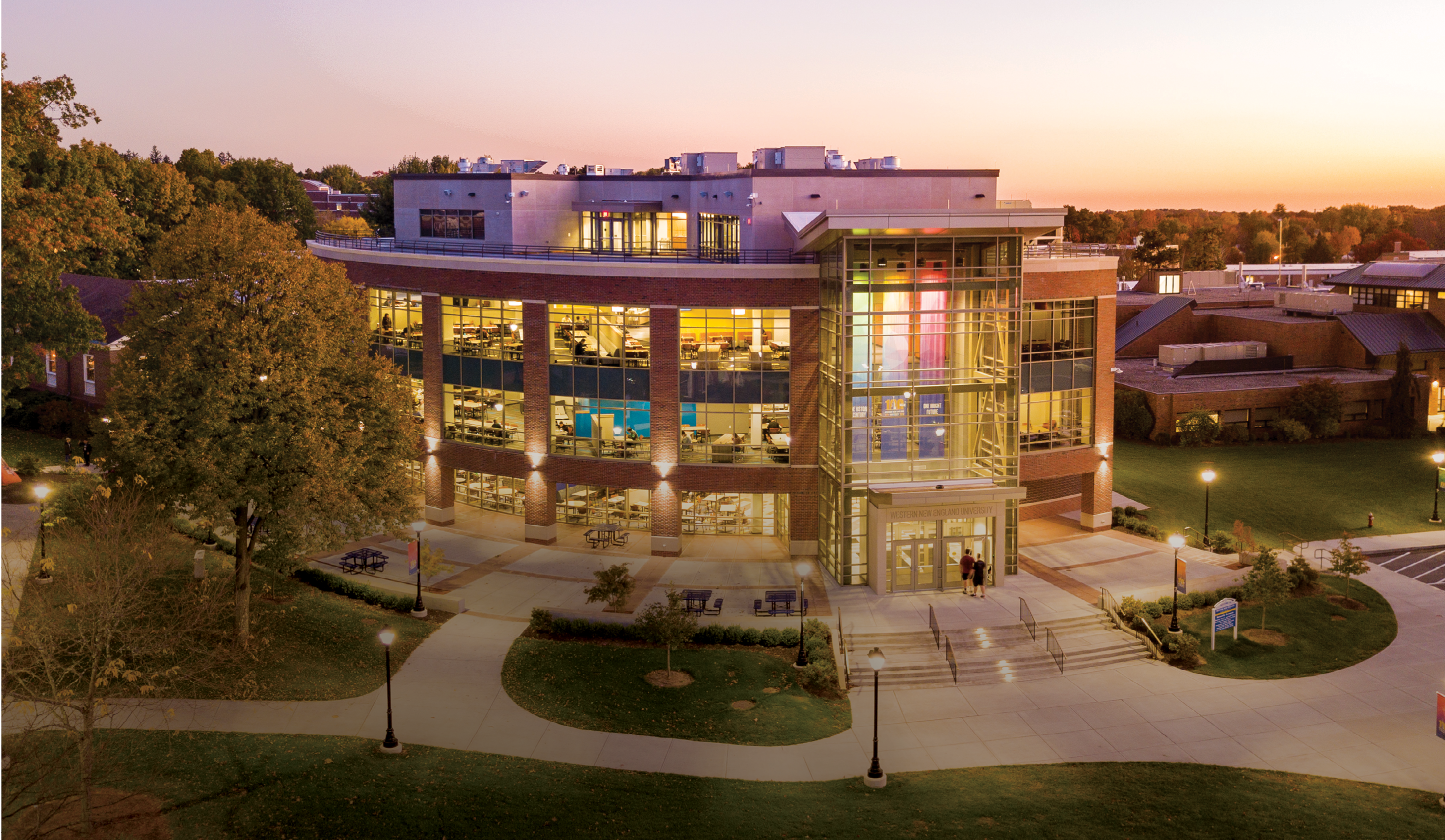 WNE Makes History, Ending Campaign with $36.7 Million in Gifts
Success of University's Largest Comprehensive Campaign Heralds a Bright Future for WNE
By Katie DeBeer
Western New England University concluded the largest and most successful comprehensive fundraising campaign in its history, exceeding its goal and ending a year ahead of schedule. The Campaign for Our Second Century closed on June 30, 2020 with $36,742,692 raised, exceeding its $35 million goal by five percent.
More than one-third of the funds raised were dedicated to increasing scholarship assistance for current and future students. Other campaign priorities included building and enhancing campus facilities, creating impactful opportunities in student life, boosting academic initiatives and experiences, and strengthening the President's Fund for Excellence, which funds a number of strategic priorities.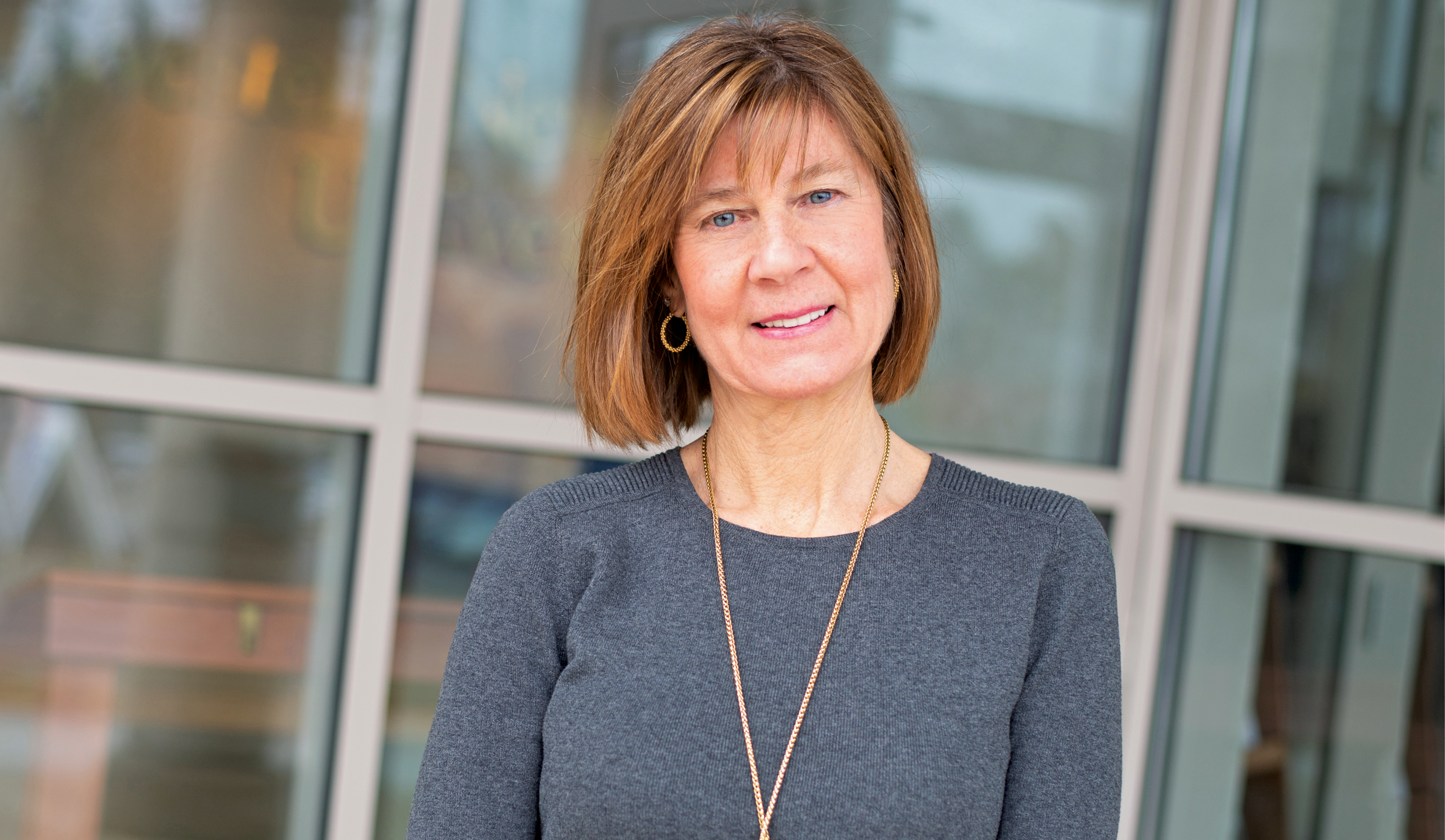 "Raising $36.7 million is a remarkable milestone for WNE. The support we received from alumni, trustees, faculty, staff, parents, students, and friends demonstrates the strong sense of pride of those affiliated with the University. We are truly thankful for each and every donor who helped us cross the finish line of this historic Campaign." - Beverly J. Dwight, Vice President of Advancement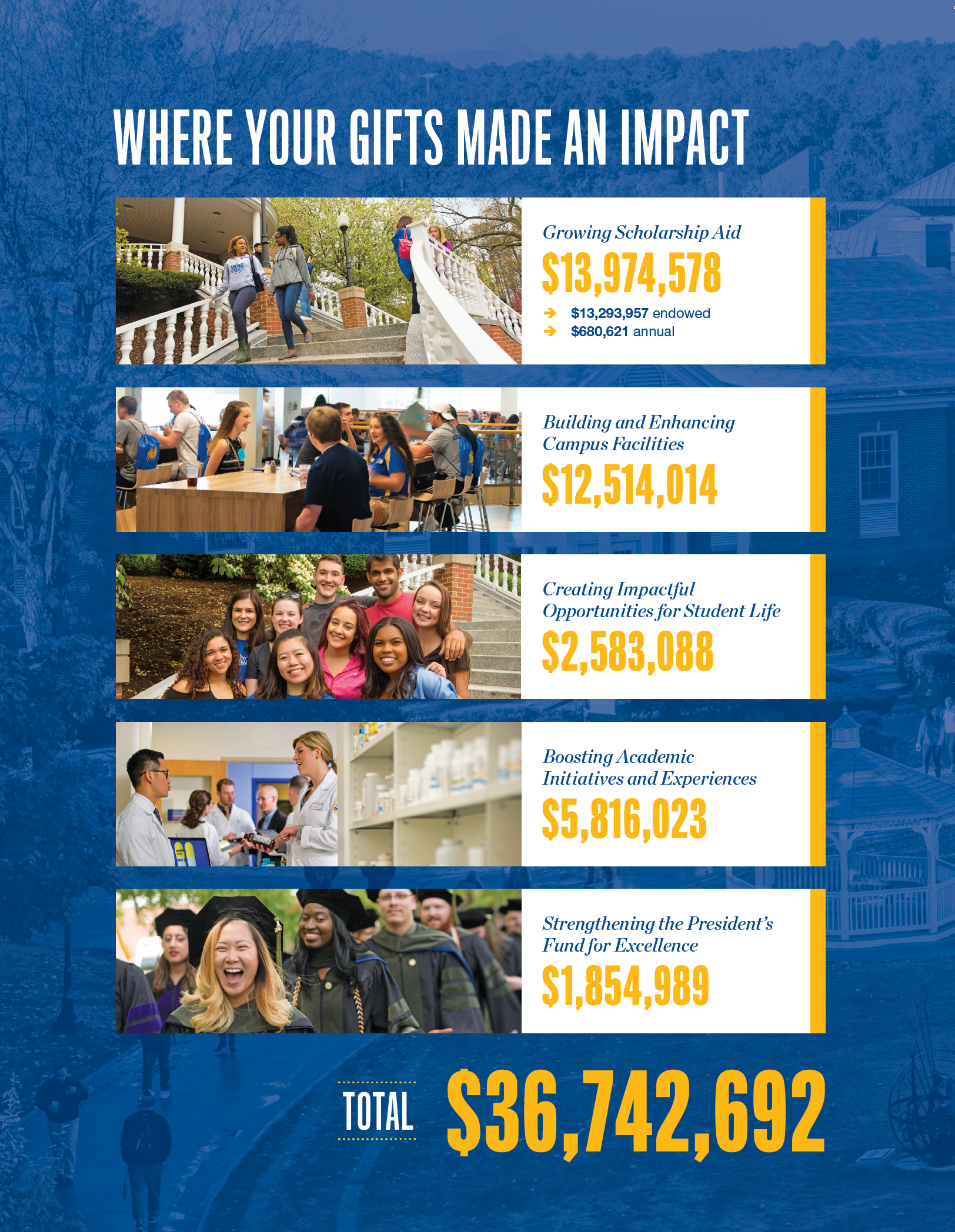 Richard Cassata '80 Invests in Student Life, Athletics, and Scholarship Aid
Alumni support WNE for many reasons. Some are grateful for the leadership experiences that shaped them as students, some feel their education enabled their professional success, and others want to pay it forward to the next generation of Golden Bears. Trustee Richard Cassata '80 (Finance) checks 'all of the above.'
Cassata, of Park Ridge, NJ, is Managing Director of Public Finance at Assured Guaranty Corporation, a leading provider of financial guaranty insurance. As a student, Cassata played on the Golden Bear Baseball team. One of his proudest moments was starting a game during his junior year that the Golden Bears won, keeping a 10-game winning streak alive.
In addition to supporting Golden Bear Athletics and the Baseball Team, Cassata and his wife established the Richard M. and Catherine Cassata Scholarship for students in the College of Business. Cassata's Campaign gift also included support for Student Affairs, the President's Fund for Excellence, and Bear Necessities Food Pantry, the initiative to address food insecurity on campus. Cassata has served on the University's Board of Trustees since 2016.
"I wish everyone had the chance to interact with our students like I do as a trustee. They never fail to impress me."
A Pivotal Moment in WNE History
Beginning in 2016, the first years of the Campaign were focused on securing the lead gifts which would set the stage for success.
Publicly launched in January 2019, the Campaign kick-off coincided with the University's Centennial celebrations, drawing connections between the rich history and bright future of Western New England, and providing opportunities for alumni and friends to share their favorite WNE memories.
President Anthony S. Caprio retired in 2020, having led the University for 24 years. A generous group of alumni and benefactors hosted the Caprio Challenge, inspiring $1.4 million in gifts honoring President Caprio and recognizing his tremendous contributions to the University during his tenure.
Gifts to the President's Fund for Excellence—comprised of unrestricted gifts received on an annual basis—enable the University to meet the most pressing needs as they arise. Thanks in part to these unrestricted gifts, the University was able to quickly adapt when the COVID-19 pandemic began, from investments in instructional technology to enhance remote teaching capabilities to purchasing PPE for on-campus faculty, staff, and students.
With a broad base of philanthropic support among alumni and friends, WNE is poised to meet the challenges of the future.
$14 Million Raised for Scholarship Aid Helps WNE Attract the Best and Brightest Students
Our top priority was increasing available financial aid through donor-funded scholarships. Students who attend full-time and live on campus see a sticker price that at face value can seem like a daunting amount for nearly any family. The good news is that more than 98% of our full-time undergraduate students and 75% of law students receive aid every year—through scholarships, grants, and loans. Campaign gifts to scholarship aid totaled nearly $14 million, a significant boost which will help ensure that a WNE education remains accessible to every qualified and deserving student.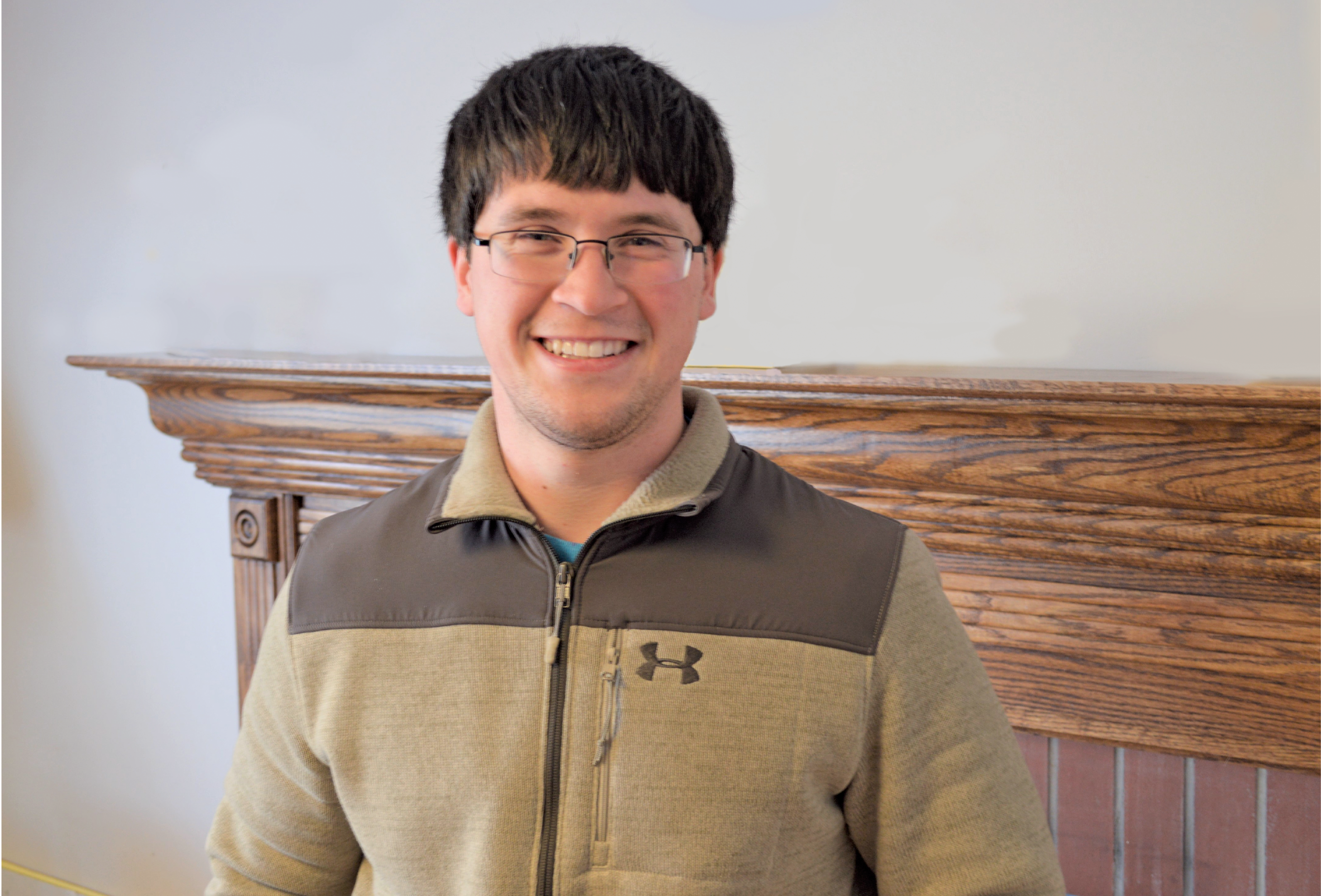 "Receiving an endowed scholarship has truly inspired me and given me both a much needed financial and mental boost. I had the honor of meeting my scholarship donor and his words and wisdom have been imprinted on me. He gave me the confidence that I need to succeed and try new things, not just in my career but also in my life. I am proud to now be stepping out of my comfort zone where I can embrace change, and most of all, embrace opportunity." - Hunter Balak '20, Recipient of the Steven and Elaine Kitrosser Industrial Engineering Endowed Scholarship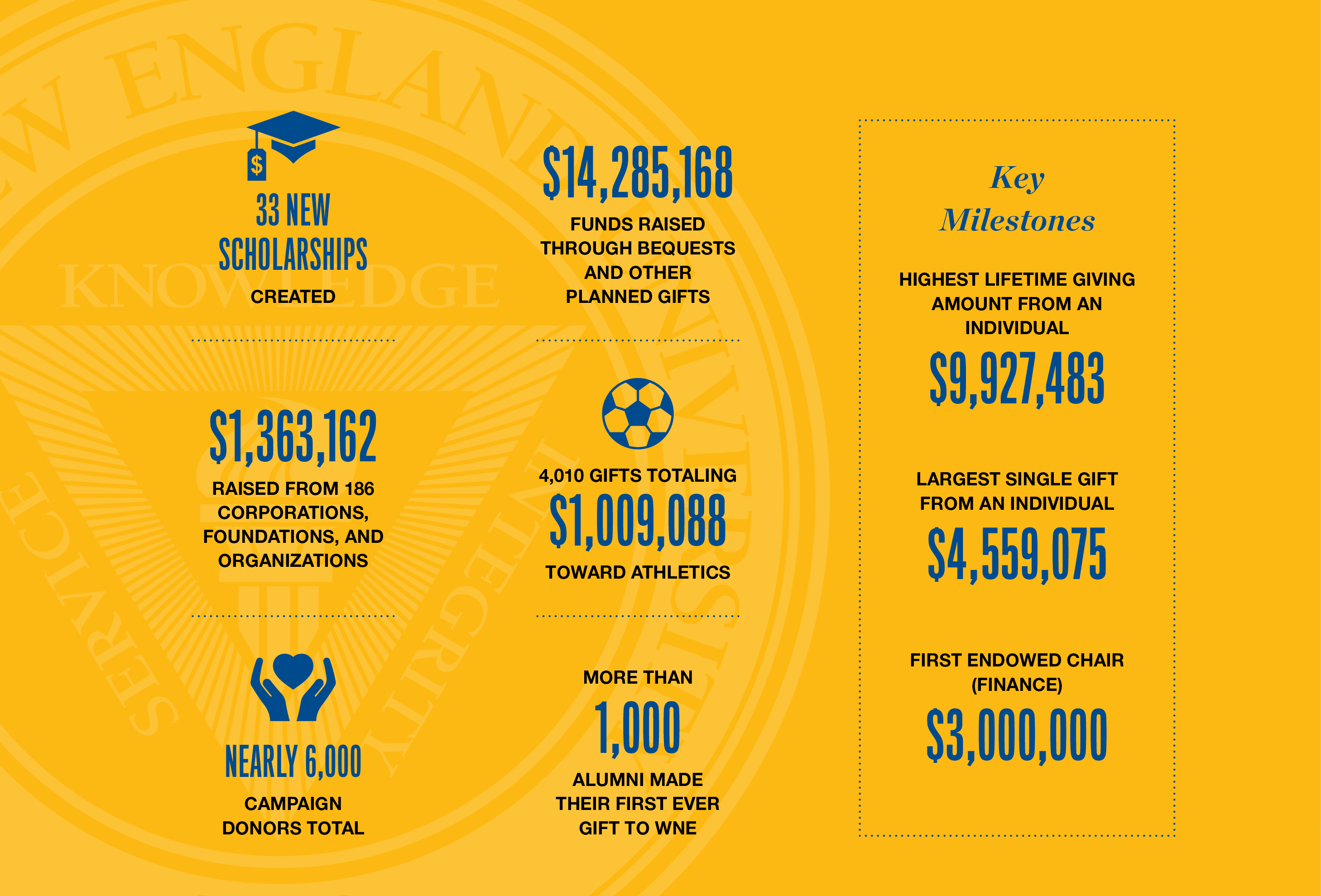 The Campaign for Our Second Century set new records for Western New England University—in the scale and scope of some extraordinary gifts, in the breadth of support from alumni and friends, and in the cumulative results.
As we look to the future, our work to foster a culture of philanthropy throughout campus and the University community must continue. Our commitment to providing a transformational education to every student remains steadfast, and our ability to deliver on that promise depends upon the continued generosity of thousands of donors who help the University to flourish through their gifts each year.
Philanthropy is crucial to Western New England University—both in the growth we experienced in our first century, and for our continued success in the future. The Campaign has strengthened our University, and we are well-prepared for what lies ahead.
To learn more, visit alumni.wne.edu/giving or contact the Office of Advancement at 413.782.1335.
Campaign Leadership
HONORARY CHAIRS
Janet Johnson Bullard '69
Kevin S. Delbridge '77
COCHAIRS
Laura Sturgis Boule '01/G'02
John J. Brennan '71
Denis Gagnon G'76
CAMPAIGN COMMITTEE
Rheo Brouillard '76
Richard Cassata '80
Michael Flynn '82/G'83
Marshall Hart '65
Steven Kitrosser '66/G'70
Stephen Rourke G'81
Robert Salad L'83
Robert Stein '79
Peter Steingraber L'84
Kathleen White '78