Possibility
President Robert E. Johnson Leading Through the Lens of Possibility Thinking
By Mary McLean Orszulak G'10
If there is one thing that Dr. Robert E. Johnson is certain of, it is the power of possibility.
As the sixth president of Western New England University, Dr. Johnson is leading the WNE community to design a roadmap to its future—one of unlimited possibility. This shared ambition will hold fast to WNE's core culture as it rises to become a model for what a 21st century traditional university can and must become.
"I take inspiration from the book The Alchemist in which the protagonist, young Santiago, learns that when you pursue your dream and believe in it, the entire universe will conspire to make it happen," explains Dr. Johnson. "For me, possibility thinking is not allowing oneself to be limited in what we can do and what we can make happen in our lives. It doesn't focus on the 'how;' if you instead focus on the 'what,' the 'how' will happen naturally."
For Dr. Johnson, Western New England's immediate "what" for the next three years is a laser focus on a trio of priorities: stabilization, revitalization, and innovation as a broader strategic vision is imagined.
"When you want something, all the universe conspires in helping you achieve it." - Paulo Coelho, The Alchemist
Made for This Moment
While many might see an age of historic disruption as a time to hunker down and wait for the proverbial storm to pass, Dr. Johnson views it as "an exceptional opportunity."
It's no understatement to say that Robert Johnson stepped into his latest role on August 17, 2020 during a confluence of crises. The world was in the midst of a pandemic, American society was divided as never before, competition for a declining college-age population was fierce, the economy was in freefall, and there was no guarantee that the 3,700 students enrolled for the fall semester would even show up. But Johnson, an eternal optimist was unfazed.
Why?
"I arrived on campus one week before classes started; it was the great unknown," he recalls. "On the first day of class and every day and week thereafter, the people—everyone on this campus—worked really, really hard to ensure that our students had the best and safest experience that we could possibly offer them.
"That diligence of people giving up their summer was reflected in what happened last fall. I am so appreciative and grateful for each and every faculty, staff, and administrator who worked so tirelessly to make sure that the campus was ready. They are the reason that we were able to safely remain learning, living, and working on campus."
President Johnson believes WNE, born in a pandemic, was made to meet such moments.
"We rose to these challenges because we've done this before—tenacity and resiliency are part of who we are—it's in our DNA," he proudly asserts. "Western New England was given birth in the midst of a pandemic in 1919. Back then it was just law and business, and here we are, 100 years later, and it's not just our 90 plus programs that define us, but our people."
Like our students, Robert Johnson was drawn to WNE by its unwavering culture of support. "I've worked at six other colleges and universities; I would venture to say that there are very few institutions that have the 'can do, let's get it done, succeed against the odds' mentality like we do here. And we do it with the sense of purpose of everybody caring for one another, everybody believing in one another, everybody understanding that if we work together, we can truly make a difference."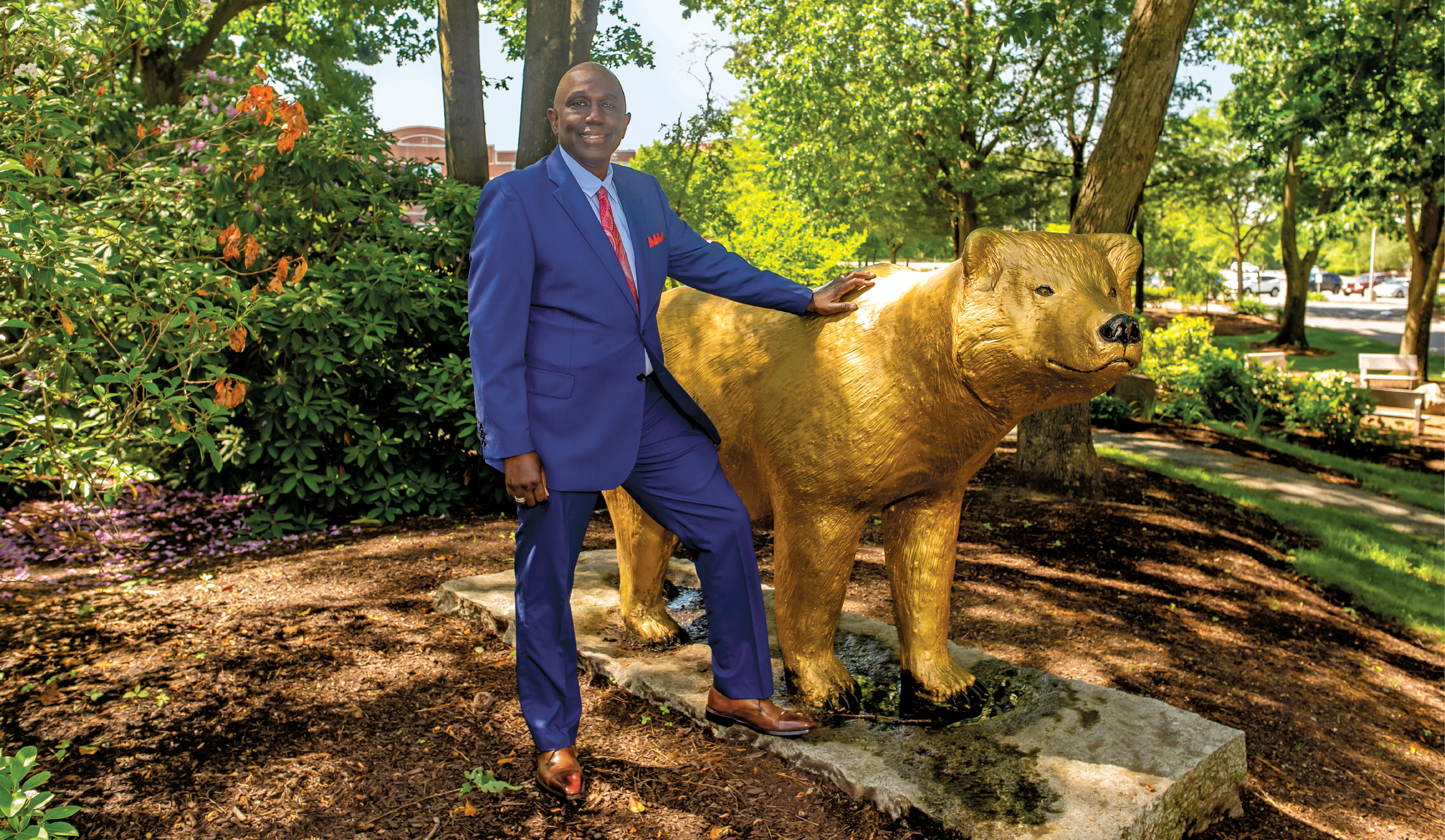 The Future is Now: Vision 2025 Campus Conversations
During October and early November 2020, President Johnson conducted campus conversations with internal and external groups to solicit ideas and perspectives to shape a shared ambition for Western New England University's future. More than 400 people participated in 14 small group conversations, four open forums, and an online survey. On November 19, 2020, Dr. Johnson led a virtual University Town Hall to share the preliminary results from that research, which will be used to inform the strategic priorities that will position us for the next five years.
"We want Western New England to be known for graduating students who are both work ready and world ready, people who understand that they are part of something bigger than themselves as global citizens, and whose entrepreneurial perspective can bring value to the work they do for their employers."
Aligning a WNE Education with the Future of Work
In Dr. Johnson, Western New England University has found a future-focused thought leader and commentator on issues centering around the future of work, agile mind, education, the agile university, and the sense of humanity imperative.
From that lens, he views this period of profound disruption as a catalyst for innovation and an opportunity to make institutions more responsive to the needs of the future.
So how do you prepare students to navigate career paths yet to be imagined?
"In an age where the average Gen Z student may hold 17 jobs in the span of their careers, we must equip them with the soft skills prized by employers—divergent thinking skills, social and emotional intelligence, empathy, and a sense of humanity," says Dr. Johnson. "These uniquely human capacities cannot be replicated by technology and, when paired with an entrepreneurial outlook and a value-creation orientation, are the hallmarks of success in a complex and hyper-connected world."
New technologies come and go, but Johnson believes that what WNE imparts to its students should be evergreen. "That's why we must ready our students—across all disciplines—to view the world through the lens of an entrepreneurial mindset," says Dr. Johnson. "All these essential human skills are mindsets, and how do you learn those things? You learn them at their core with the liberal arts."
Johnson contends that no matter what major a student pursues, each must have the liberal arts at its foundation because as he explains, "That's what teaches you how to think, how to solve problems…that do not yet exist, and to utilize technologies yet to be envisioned.
"Then no matter what line of work you go in to, no matter how many times your job changes or is reinvented you will have the skillset and the mindset, you will have knowledge—the content—and the power of learning. You will have the essential human skills, which is the context."
That perspective is also fundamental to graduating students with a global worldview, one drawn from a portfolio of their academic and cocurricular, internship, leadership, service, and study abroad experiences fostered in the uniquely welcoming and supportive environment that is and will remain WNE.
Making WNE more accessible and attractive to a wider population of students will be an important part of the vision for its future, and survey participants were asked to envision how diversity, equity, and inclusion would be represented in 2025. Actionable strategies will be a key part of the 2021 shared ambition.
When imagining learning modalities of the future, the world's grand, albeit unplanned, experiment with remote learning may seem like an ideal way to level the higher ed playing field to make a college education both affordable and accessible to more students, but Dr. Johnson says research and data show that socialization gained through in-person learning is fundamental to personal development and cultural awareness of college-aged students, typically 17 to 22.
"Studies have shown that online learning is not the path for everyone," states Dr. Johnson. "It doesn't matter if you come from an extremely wealthy or an extremely poor family or anywhere in between, I think the greatest part of college is socialization—meeting people and interacting with people who are different from you gives us all a holistic worldview. You can't get those experiences virtually or learning online. I think anyone who doubted that before the pandemic has figured that out now."
Says the Morehouse College graduate, "I grew up in the city of Detroit and the best thing that happened to me was to leave my neighborhood and go to Atlanta and meet people from all over the country."
That experience helped him to not only find a career, but one of meaning and purpose.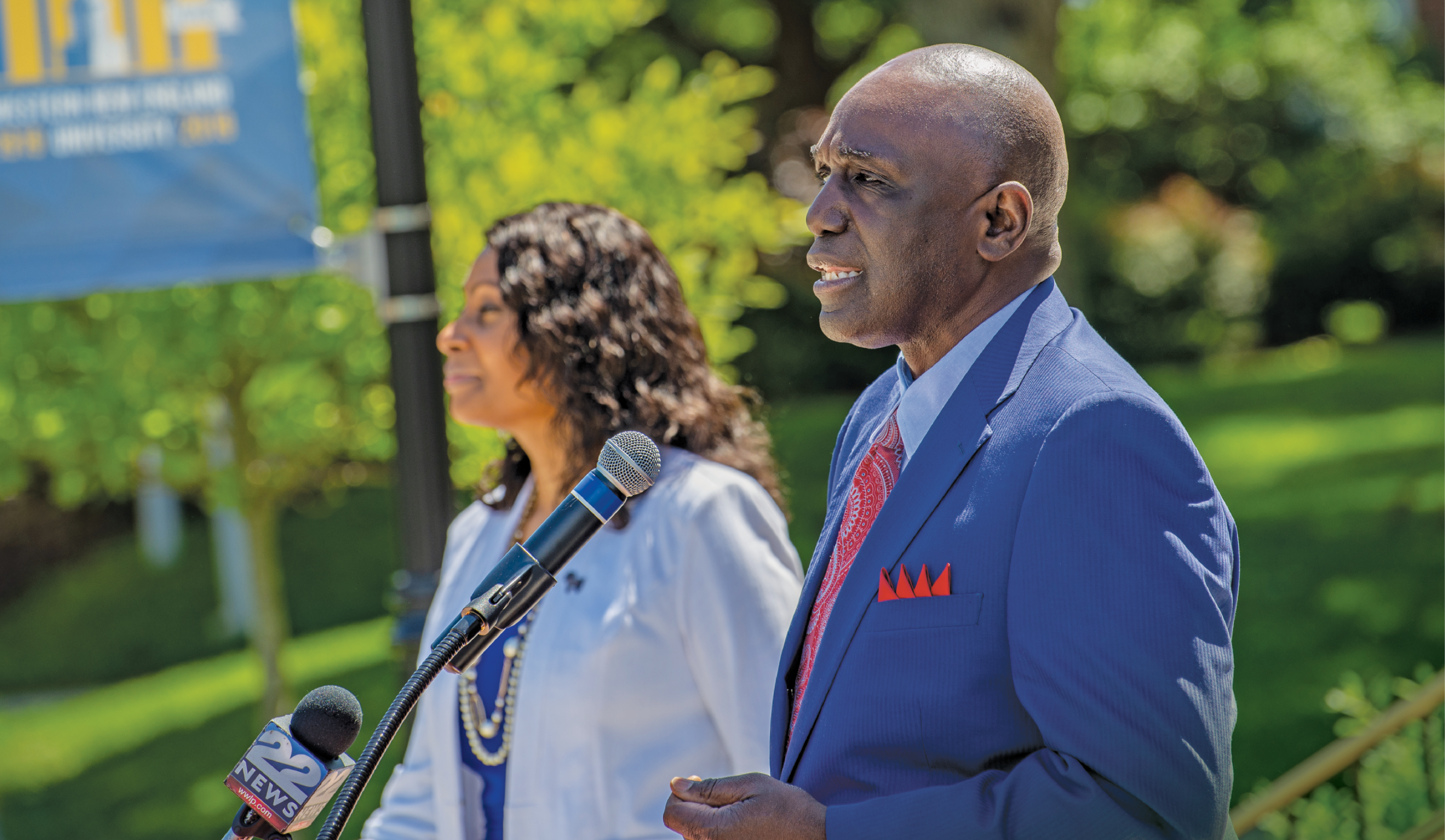 "We were able to remain on campus last fall because it is inherent to our natural culture that we really care about one another. The idea of wearing a mask resonates not because it's something new or different to do, but because it is who we are." - President Robert E. Johnson
"We want every graduate to ask themselves, 'How do I push forward and advance my career to leave the world a little bit better than the way I found it?' That is embedded in all that what we do."
It was that culture, the current and potential for cross-disciplinary learning and research, the breadth and depth of programming, and WNE's strong reputation as a national university with top accreditations that drew Robert Johnson to "Golden Bear Country," a nickname for the WNE community he has wholeheartedly embraced.
As President Johnson and other University leaders analyze the surveys and conversations of the fall, a strategic vision for a shared ambition is emerging. That plan will be delivered this summer as a guide to reimagining the future of WNE over the next five years.
"While some institutions may take a bunker mentality, there will be those of us who will seize this moment and say, how do we create the new traditional university, the 'click and mortar,' on ground and online model that is grounded in the liberal arts and humanities, yet also gives all students the essential human skills to be prepared for the future of work as we know it—and as we don't know it?" - President Robert E. Johnson
For a man who believes that agility is key to adapting, evolving, and innovating, Dr. Johnson is confident WNE is uniquely and strongly positioned to arise from today's challenges with a new vision for a future of unlimited possibility.
Says President Johnson: "Western New England University has the programs, size, capacity—and above all the dedicated people—to pivot to meet our challenges both internal and external and to emerge stronger as a model of 21st century teaching and learning."