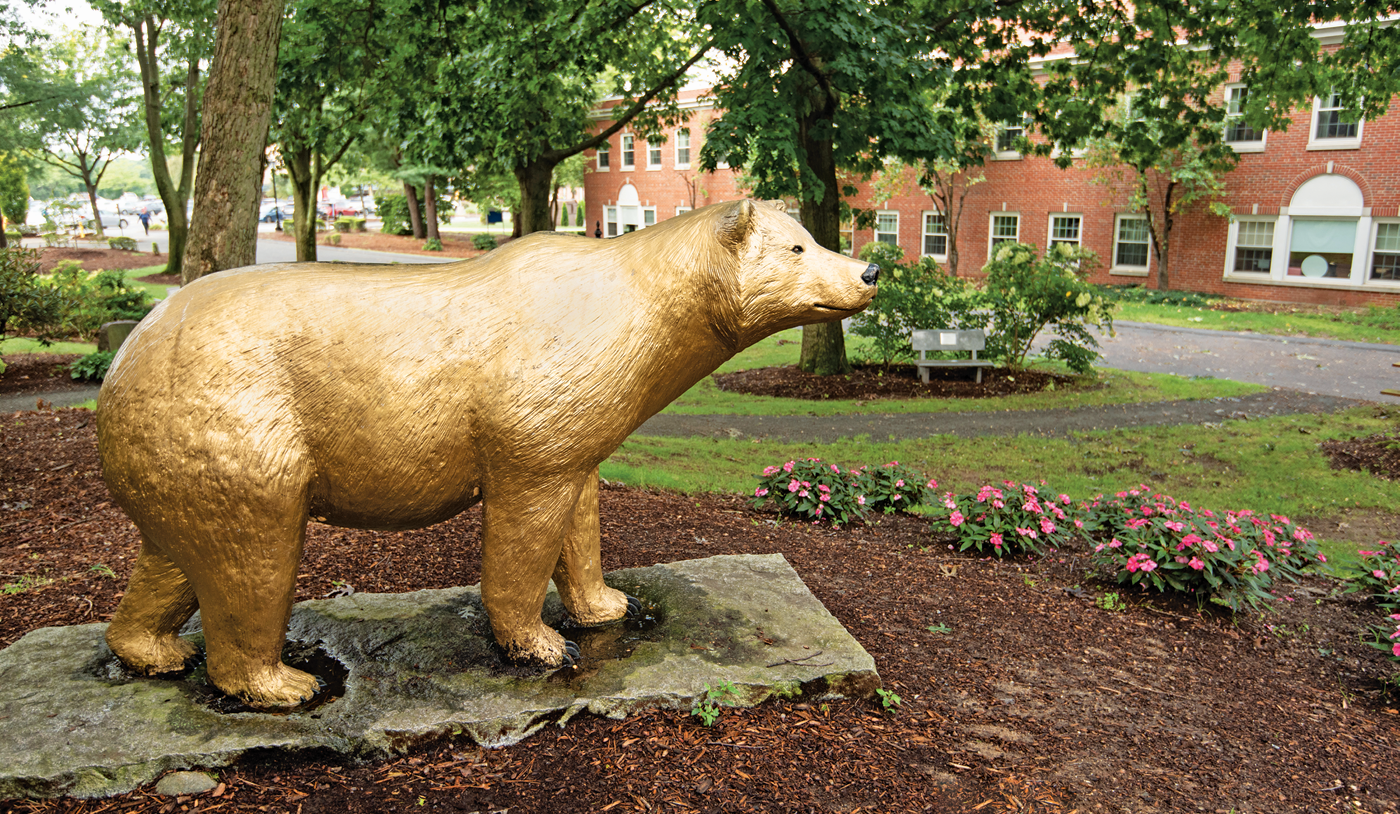 Professional Updates and Accomplishments
Stay Connected
Your classmates want to know about the milestones in your life. Send your news including career changes, accomplishments, publications, weddings, births, and adoptions to the Office of Alumni Relations. Email alumwne@wne.edu or complete a short online form.
JANE SCHUSSLER L'81 (JD) has recently retired from Stock and Leader, and was presented with the Jane Alexander Award by the Women in Law Committee of the York County Bar, for extensive advocacy of women's rights through example, education, and activism in the legal community.
JAMES FIERBERG L'83 (JD) has recently published a book, Mentoring Lawyers: Finding Civility. This book emphasizes the use of a strong moral compass to succeed. It can be found on Amazon.
CHERYL SMITH L'83 (JD), general counsel and title IX coordinator at Western New England University, was nominated and honored for her community leadership and forward thinking at the 15th Annual Leader in Law event presented by Massachusetts Lawyers Weekly.
DOUGLAS CLARKE '87 (Mechanical Engineering) was recently promoted to public relations officer within the Rocky Hill Fire Department. He will continue to serve as a line firefighter alongside his new duties. He has been serving in Rocky Hill, CT, within this department for 11 years. Outside of the fire department, he is also a mathematics instructor at H.C. Wilcox Technical High School in Meriden, CT.
THE HONORABLE WILLIAM F. MARTIN L'87 (JD) is now an associate justice in the District Court in the Commonwealth of Massachusetts.
PAUL HEBERT '91 (Liberal Studies) has been elected Barnstable Town Council President. He has represented Precinct 3 in Centerville for the past six years prior to this election.
ANDREA GASPARDINO KOVACHY '92 (History) has accepted a position at George Washington University as director of volunteer programs and services for the Alumni Relations and Annual Giving offices.
STEPHEN ZAJCHOWSKI '94 (Psychology) has been named the new director of human resources and organizational development for D&T Reliable Transportation in San Antonio, TX.
PABLO MADERA G'96 (Criminal Justice Administration) joined Elms College as the director of public safety. He had been an officer then chief of the Ludlow Police Department for 37 years prior to this role.
RITA AQUILIO L'97 (JD), matrimonial and family law attorney with Lawrence Law, spoke at the NJICLE Hot Tips in Family Law program. She discussed confidentiality obligations for lawyers when blogging.
KELLY (ANGYAL) KUNKEL '97 (Psychology) joined ProBiora Health in Phoenix, AZ, as the education network program manager, responsible for growing the company's network of dental hygienist educators.
JULIANN FLAHERTY G'98 (Criminal Justice Administration) has been appointed as Arlington, MA police chief. Flaherty is the first woman appointed to this position.
CHRISTINE BROOKS '99 (English) has written and published a book, titled The Cigar Box Poems.
DANIEL DESCHAMPS '99 (Criminal Justice) has been promoted to deputy chief of the Eastham Police Department. He is a 20-year veteran of the department.
JENNIFER EATON '99 (Mathematics) has accepted a new position at Hudson Valley Community College, as the faculty liaison and coordinator of the Center for Effective Teaching.
SHENANDOAH TITUS L'99 (JD) has written and published the book The Whistleblower: Defeating Bullies, Harassers & Management Gang Retaliation. The book is published by Outskirts Press and is available on Amazon.
JOSEPH BENNET '00/G'02 (Law Enforcement/Criminal Justice Administration) has been promoted to Hopkinton police chief after serving the department for more than 27 years.
KATE (HARRINGTON) MCAFEE '00 (History) has been named associate commissioner of the Hockey East Conference within the NCAA.
TIMOTHY COHOON G'01 (Criminal Justice Administration) has been promoted to deputy chief of operations after 24 years serving in the Braintree Police Department.
CHRISTINE HORNBY G'04 (Criminal Justice Administration) has been promoted to sergeant officer of the Dennis Police Department. She has served in the Dennis Police Department for 19 years, and is the first female in its history to become a sergeant officer.
LUKE RYAN L'05 (JD) was featured in the Netflix docuseries "How to Fix a Drug Scandal" for his important work in the western Massachusetts drug scandal involving drug lab technician Sonja Farak. He was also interviewed by Rolling Stone magazine and a variety of other news outlets for his involvement in the series.
KELLY TRAHAN L'05 (JD) has recently been promoted to partner at Shipman & Goodwin LLP in the firm's Stamford, CT office.
JOSEPH BURGE '07 (Law Enforcement) has retired from the Greenfield Police Department after serving the town of Greenfield in various police roles, most recently as lieutenant, for the last 28 years.
ANTHONY CINGRANELLI '07 (Finance) is now sales director for Ironside Insurance Group in Boston. Anthony has over 12 years of experience in insurance sales.
JEFFREY MOGAN L'07 (JD) accepted a position at MassMutual as the head of human resources compliance and employee relations.
MARJA BARR G'08 (MBA) was promoted to associate director, contracts at United Health Group.
STEPHANIE (BARROW) LYON '08 (Management Studies) was promoted to director of human resources and joined the executive leadership team at SAERTEX USA in North Carolina.
DUNCAN MARKOVICH '09 (International Studies) just marked the one year anniversary of launching Better Ways LLC, in Branford, CT.
EMILY LAUB '10 (Business Management) has been promoted to associate administrator of human resources and faculty affairs in the Department of Orthopaedics and Rehabilitation at the Yale School of Medicine.
ANDREA (MOMNIE) O'CONNOR L'10 (JD) has been appointed to the panel of Chapter 7 Trustees for the District of Connecticut by the United States Trustee Program.
KRISTI (FANELLI) REPPEL L'10 (JD) has been promoted to partner at Olinsky Law Group in Syracuse, NY.
ISAAC MASS L'11 (JD) and his wife, Angela Mass, have acquired the Greenfield Garden Cinema. They will be the third owners in the history of the 90 year-old landmark business.
SHAUNA FOSTER '11 (Social Work) was recognized as a New Hampshire 40 Under Forty award recipient for her contributions to the field of social work.
KAYLA (MARTIN) MORALES '11 (Psychology) accepted a school social work position at Putnam Valley High School, in Putnam Valley, NY.
ALEXANDRA LYMAN '12/G'16 (Communication/Organizational Leadership) received a Gold Award from the 2020 Educational Advertising Awards and a Silver Award from the 2019 Collegiate Advertising Awards, along with Matt Reilly, multimedia design & technical director, for their work on Western New England University's Lead Piece, which is sent to prospective students and their families. She has appeared on two podcasts: Marketing Mistakes (and How to Avoid Them) from Hollywood Branded; and the Be Awesome! Podcast.
JONATHAN BRETON L'13 (JD) was recently named shareholder at Bacon Wilson P.C.
JOHN MINDEK '15 (Criminal Investigation) graduated from the 84th Recruit Training Troop for the Massachusetts State Police in June 2019.
ALICIA JACOBS G'16 (Communication/Public Relations) was presented with the 112th NYS Assembly District Women of Distinction 2020 Award. This honor is symbolized by a formal Proclamation from Assemblywomen for outstanding volunteer work and positive impact on the quality of life in the community.
TEREMAR RODRIGUEZ VAZQUEZ '16/L'19 (Criminal Justice/JD) was promoted from law clerk to associate at Morrison Mahoney LLP, with the passing of the bar exam.
DANIELLE CHYLINSKI '17 (Public Relations) joined the minor league baseball team the Hartford Yard Goats as promotions and marketing manager. Additionally, in 2020 Danielle launched Chylinski Media, LLC where she is the CEO.
WILLIAM LLOYD '19 (Mechanical Engineering) accepted a position at Barnes Aerospace as a process engineer.
VERONICE SANTANA L'19 (JD) accepted a position as District Court Prosecutor with the Northwestern District Attorney's Office in Massachusetts.
Correction
KEVIN WILLIAMS L'81 (JD) was selected as a 2019 Georgia Super Lawyer by Super Lawyers Magazine. He is a partner at Weinberg Wheeler Hudgins Gunn & Dial in Atlanta, Georgia. This note was incorrectly attributed to KEVIN WILLIAMS L'05 in a previous publication.