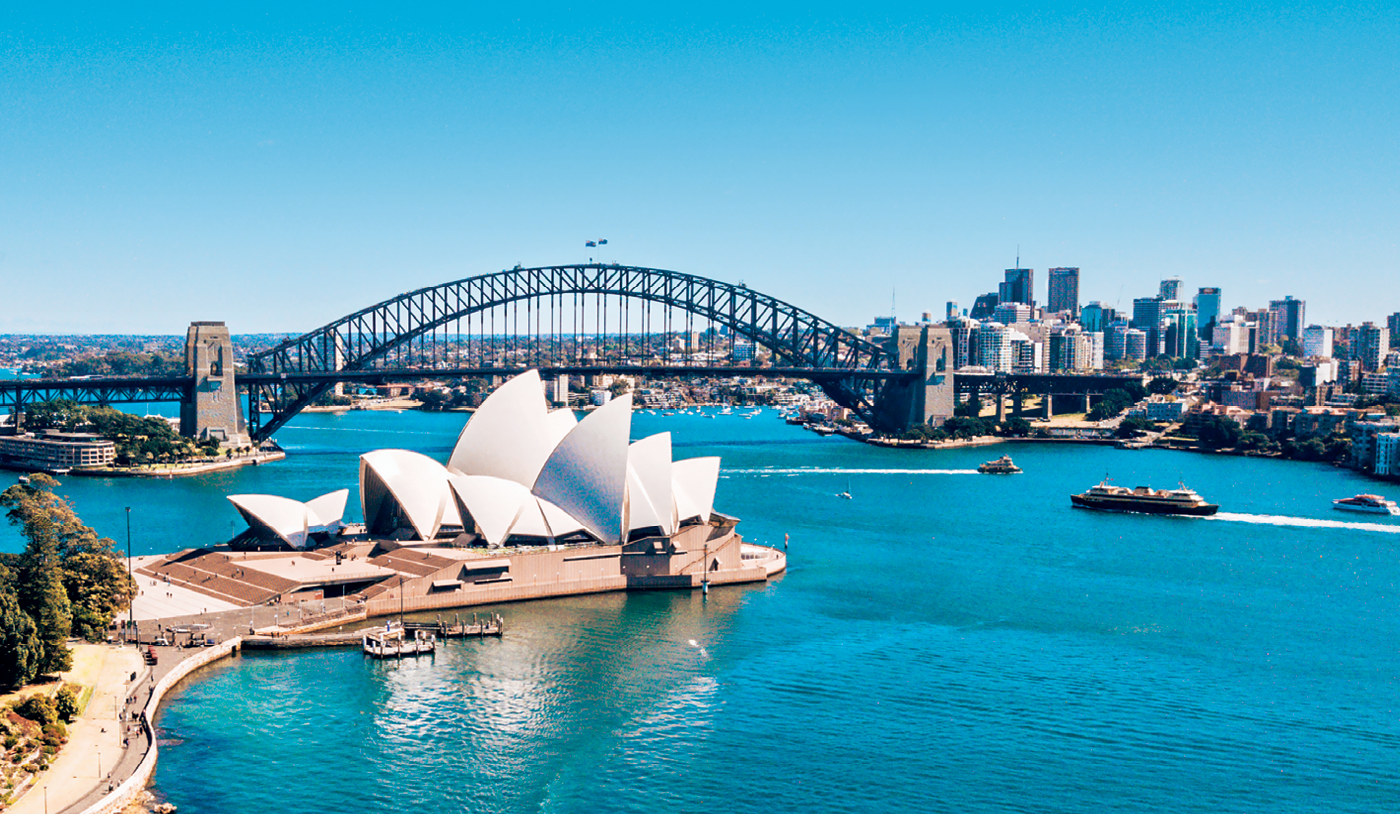 Down Under
How I Spent my Winter Vacation
By Alex Lyman '12/G'16
Ten College of Business students had a Winter Break they'll never forget when they and Director of the Center for International Sport Business and Professor of Sport Management Curt Hamakawa L'84 traveled to Sydney, Australia for an exciting January term study abroad seminar.
The students, wanting to make the most of the opportunity, arrived in Australia early to get a head start on sightseeing and begin the new decade by enjoying New Year's Eve at the world-famous fireworks display atop the iconic Sydney Harbour Bridge.
After the festivities were over, the group got down to business with their classes, which were held at the University of Notre Dame in Sydney as well as on site at the Clovelly Bowling & Recreation Club. The programs consisted of lectures on International Business in Asia Pacific as well as 15 presentations from senior executives of companies and government agencies, including Australia and New Zealand Braze, Pfizer, Google, the U.S. Consulate, Virtual Room, New South Wales Rural Fire Services, and others.
Two alumni living and working in Sydney, David Fitzpatrick '12 and Diana (Sigona) Doddrell '08, took the time to meet up with our students. Doddrell, who works for PricewaterhouseCoopers Australia, welcomed the WNE group at the company's new headquarters building in Bangaroo and gave students a tour of the offices and a briefing of her work for PwC.
Students also spent an entire day at Australia Walkabout Wildlife Park where they were able to take a walk on the wild side and get up close and personal with animals native to Australia, including kangaroos, wallabies, koalas, dingoes, emus, and pythons. They learned about the park's origin and were briefed on eco-education, and indigenous medicines and culture, including learning how to throw a boomerang! Several WNE students even worked up the courage to participate in the Sydney Harbour Bridge Climb, and four others took the opportunity to sky dive over Sydney.
From international educational experiences and professional networking to plenty of outdoor adventure, our College of Business students had the January term of a lifetime!
Here's What Our Students Had to Say
"This course has driven me to open my mind even further and pay attention to more parts of the market. Normally I would pay attention to what is going on at home. Now I know the world outside those walls is massive and has a plethora of shifting parts."
DYLAN GRISWOLD '20
General Business
---
"It was interesting to hear from these business professionals who work in the global market of the Asia Pacific at familiar companies like Google and Costco, along with small businesses and large corporations based in Australia. The global business world is much more complicated than running a business in the U.S. alone. I enjoyed hearing about international business from the speakers' point of view because they conduct business with other countries all over the world every day."
SAMI DION
Rising Senior, Marketing Communication/Advertising
---
"This course gave me a significant global outlook, especially with the wildfires that were going on. I never truly understood the effects and the degree of events like those in other countries until I came here."
WAYDE KENNEY
Rising Senior, Sport Management and Marketing
---
"Each day we heard from credible business professionals who gave us valuable information. This trip has enhanced the tools and skills I will need moving forward. One of the coolest journeys in my lifetime."
BEN SHEA '20
Sport Management
---
"This course made me want to travel more. I absolutely loved the people and culture of Australia and I would love to find similar experiences across the globe."
EMILY SAJDAK
Rising Junior, Accounting