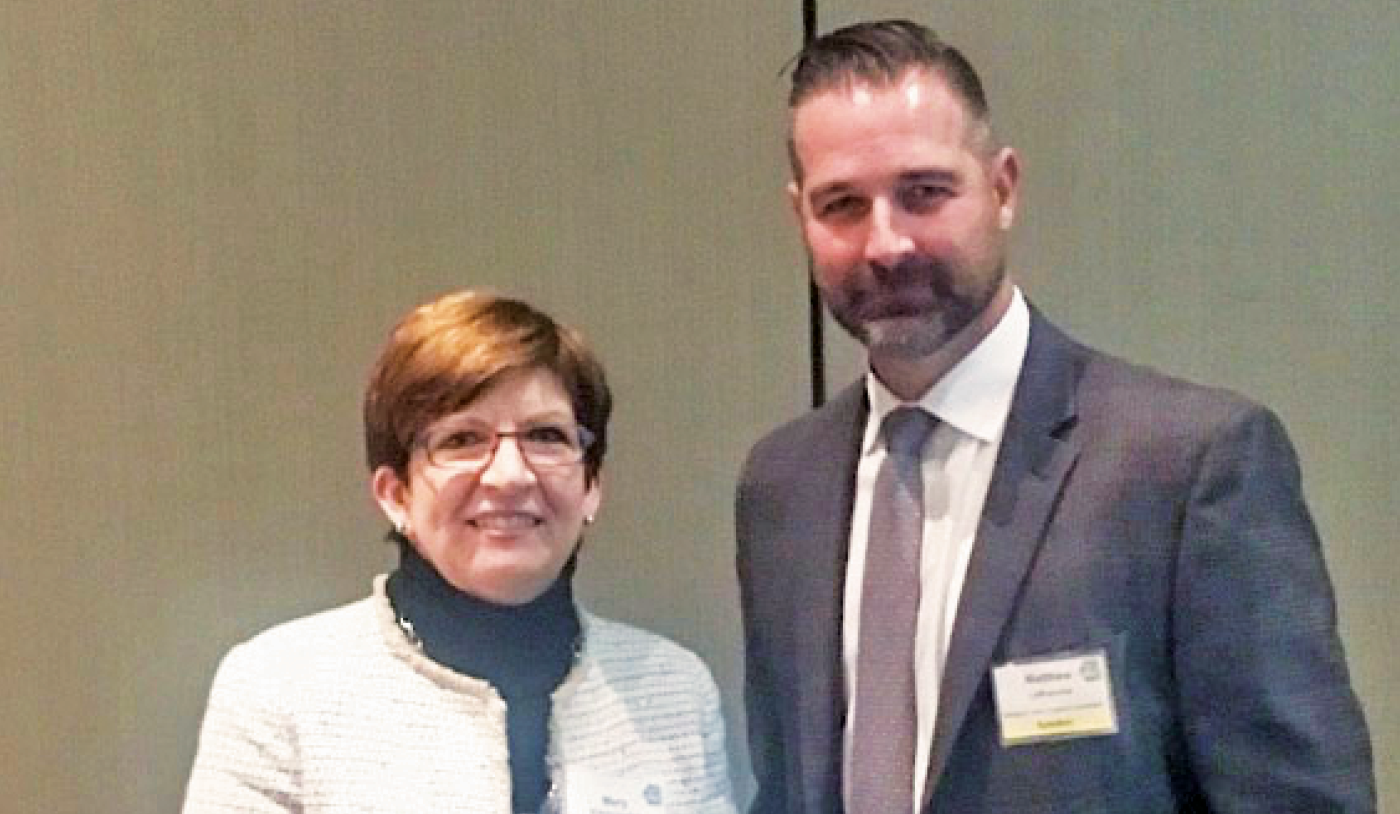 How to Hit a Grand Slam in Business
ATHLETICS DIRECTOR MATT LABRANCHE AND DR. MARY SCHOONMAKER ADVISE FUTURE ENTREPRENEURS TO TAKE A PAGE FROM SPORTS
By Emily McGuinness '20
Attendees of the 2019 Grinspoon, Garvey & Young Entrepreneurship Conference heard from a powerful pairing of WNE experts on the importance of mindset in overcoming challenges, when Matthew LaBranche, director of athletics, and Dr. Mary Schoonmaker, assistant professor of marketing, presented a workshop titled "Entrepreneurial Resiliency: Lessons from America's Pastime."
Drawing 500 student participants from the Grinspoon Entrepreneurship network of 14 colleges and universities, the conference was held last November at Springfield's MassMutual Center. The annual conference is designed to encourage entrepreneurial activity in the Pioneer Valley. Workshop presenters focused on a range of topics, from how to fundraise, to how to pitch. Keynote speaker Emily Levy, CEO and cofounder of Mighty Well, shared her own entrepreneurial success story.
LaBranche and Schoonmaker's presentation centered on entrepreneurial resiliency, citing parallels between success in sport and in entrepreneurship.
"In this day and age where a lack of resiliency can create significant personal and professional challenges for young people, each of our student-athletes is gaining valuable skills through their participation in athletics that prepares them for a bright professional future." - Matt LaBranche, Director of Athletics
"First and foremost the foundation of resiliency is committing to positive personal mental health habits," said LaBranche. He impressed upon the audience that focusing on the result is a surefire way to fail. Like athletes, he says, entrepreneurs should focus on preparation and developing a quality process that ultimately will yield success. He also encouraged them to view failure as a necessary step on the road to success. And just as athletes need good teammates and coaches to succeed, he told them: "Entrepreneurs need to surround themselves with strong collaborators and inspiring mentors."
LaBranche drew easily from his experience as the long-time baseball coach at WNE to provide illustrations of these concepts and to hone in on some of these key ideas. "As a game that is wrought with failure, baseball specifically forces its participants to remain confident in the face of potentially overwhelming failure," he explained. "It is important that players remain mentally and emotionally on an even keel and not allow failure to define who they are as people."
Through his various baseball analogies, LaBranche highlighted how his messages can be internalized by an athlete or an entrepreneur to encourage grit and a growth mindset.
Co-presenter Dr. Mary Schoonmaker, assistant professor of marketing, spoke to the high level of interest in the topic, stating "the conference organizers felt a session on resiliency would help train these nascent entrepreneurs about how to handle the ups and downs on the entrepreneurial journey. Matt's baseball analogies were perfect for this."
Student development has been an important area of focus for LaBranche throughout his career. Since returning as director of athletics, he has invested in three important areas where student-athletes can develop off the field of play. LaBranche reinstated the Captain's Council, which engages team captains as leaders within the athletic department. He also strengthened support for the Student Athlete Advisory Committee, which focuses heavily on service learning, on campus and in the community. Furthermore, he reinvigorated the Life Skills Mentoring program, a collaboration between Athletics and academic support designed to accelerate student-athlete achievement in all areas.
With these experiences, the University's 500 student-athletes are able to develop the critical leadership skills needed as aspiring professionals while achieving their athletic potential.
LaBranche and Schoonmaker's participation in this conference not only showcased Western New England's expertise in academic and athletic programs, but also demonstrated the University's dedication to student-athlete development. Their presentation highlighted our leading-edge athletics department as one that teaches students how to be successful through the establishment of a resilient growth-mindset on the field and in the classroom. Through the medium of athletics, students are able to develop essential skills for professional and personal success, and the lessons learned from sports can be translated into broad terms to apply to almost any entrepreneurial endeavor. Participating in the Grinspoon Annual Conference gave LaBranche and Schoonmaker a platform to illustrate the training, thought, and dedication that goes into the teams and athletes, and their immense impact on the future of these students.
Keep Up with News from Athletics
For all the latest, visit
wnegoldenbears.com
,
and follow WNE Athletics on social media:
Facebook:
@Western New England Athletics
Instagram:
@WNE_GoldenBears
Twitter:
@WNE_GoldenBears