Anthony S. Caprio Transformed a College and Inspired a University
By Mary McLean Orszulak G'10
"Let us be pioneers with our students at the new frontiers created when we break away from the confines of our respective disciplines. Let our students see us working together and teaching together. The challenges our students will face in the new century will be solved by breadth of view and length of perspective." - President Anthony S. Caprio, Inaugural Address
Eight months into his tenure, Dr. Anthony S. Caprio, an engaging and passionate new leader, spoke those words as he was formally installed as the fifth president of Western New England College on April 25, 1997. He would remain president for nearly one quarter of the institution's 100-year history. In that time, President Caprio would shepherd the University through an era of unparalleled growth in an age of unprecedented change, guiding its transformation from a much beloved college to a nationally-ranked university.
The Caprio Tenure. Shaping an Identity. Defining an Institution.
What drew Anthony S. Caprio, an internationally renowned language scholar, educator, and administrator, to Western New England? The power of possibility. He recognized that the ingredients for greatness were already present: a beautiful campus with room to grow, a faculty and staff singularly committed to student success, a dynamic mix of academic disciplines, an athletics program ripe with potential, a loyal base of alumni and community stakeholders, and a history of tenacity in good times and in bad.
In his Inaugural Address that April day, President Caprio laid out both his vision for Western New England and his approach to leadership, one of collaboration predicated on the belief that "Ours is a communal responsibility to advance the College and to realize its full potential.
"Working together," he told the audience, "we will define an entity all its own." Under his leadership that has been accomplished.
With the goal of carving out a distinctive niche and institutional identity that would elevate Western New England to the national stage and beyond, strategic planning began in earnest. These efforts produced a clearly articulated mission and defined goals and purposes that resulted in the Strategic Plan 1998-2003, a Facilities Master Plan, and an Athletics Study that would lead the Golden Bears to 62 tournament appearances, inspire a deeper culture of institutional pride, and boost the growth of athletics and recreational sports.
The Strategic Plan was updated and revised for 2003-08, and a new plan: Individual Focus. Global Perspectives: A Personal Approach to a University Education was adopted for 2009-18. In February 2020, Dr. Caprio presented to the University community the final collaborative document of his tenure: A Call to Action for Our Second Century, which defines the institution's purpose in its second century and outlines action items to make them a reality.
President Caprio's aspirations for the University that had been expressed in his inaugural address would come to be realized over the course of his tenure.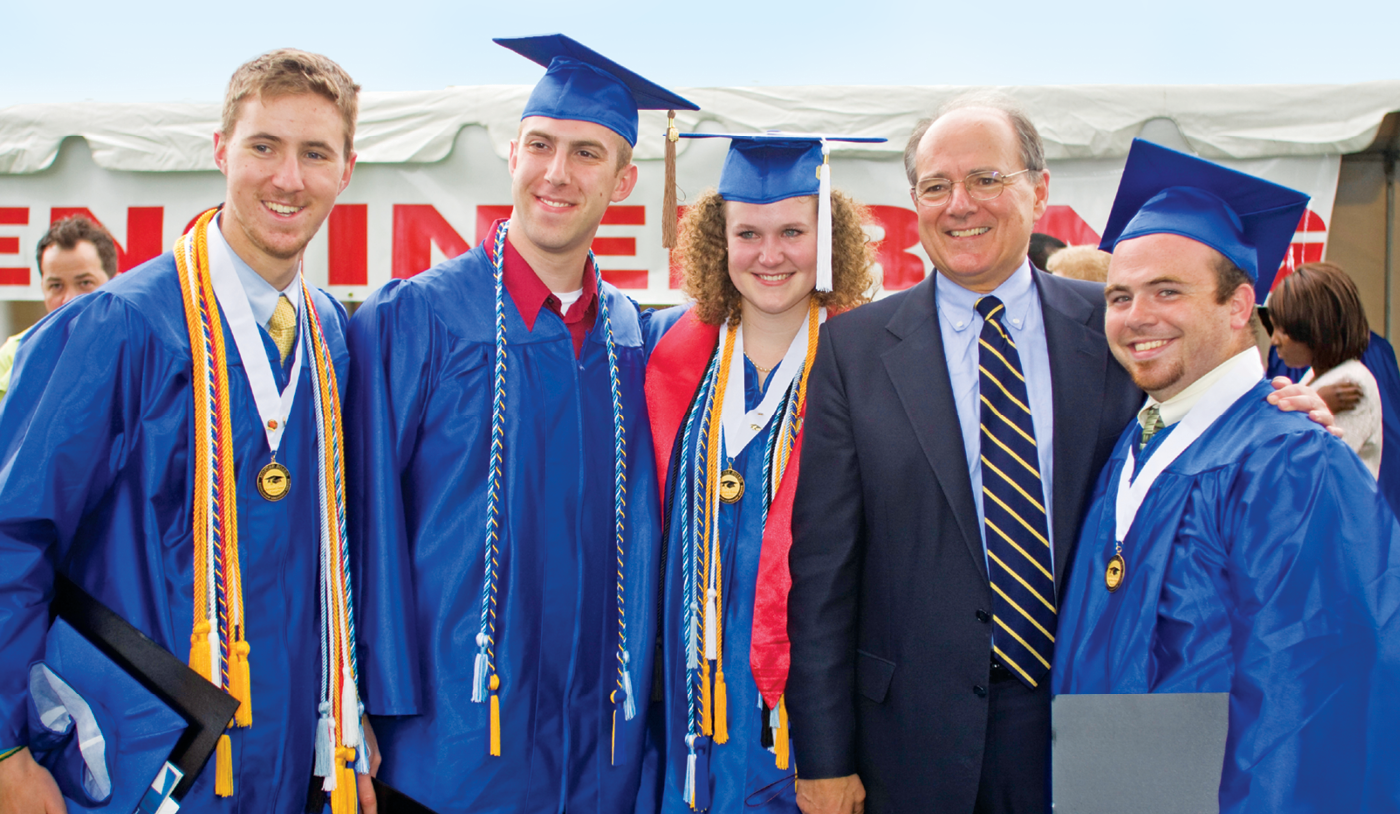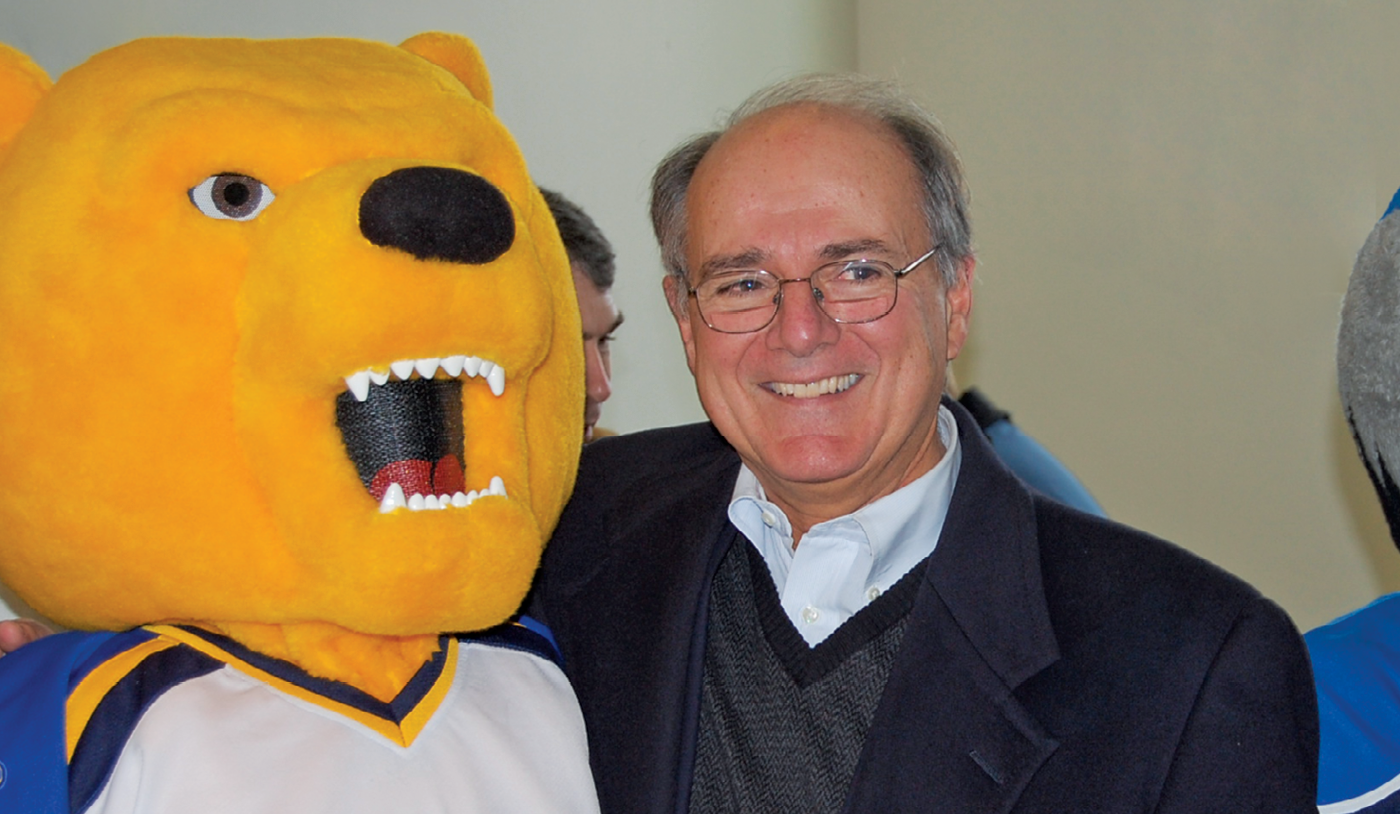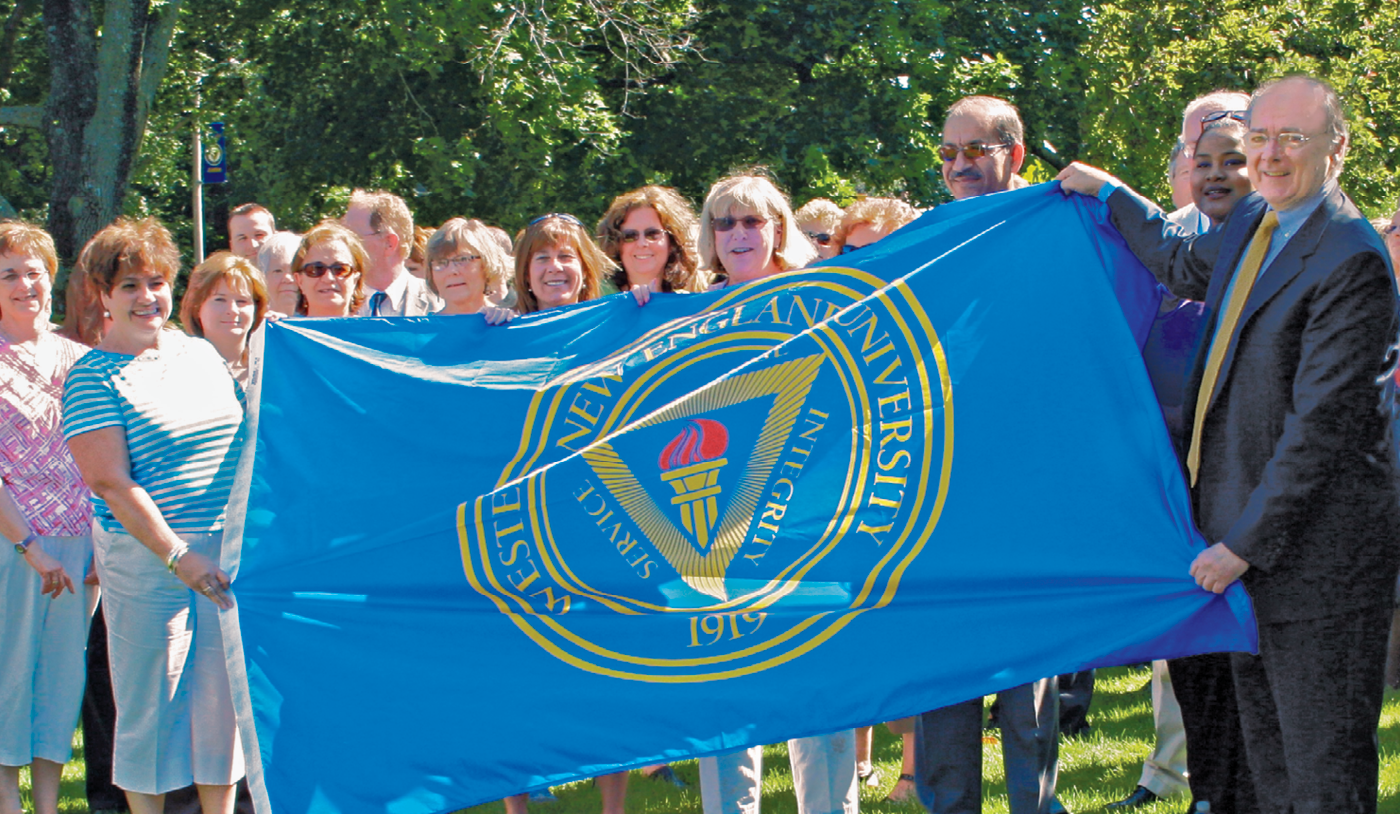 Pioneering New Frontiers
With President Caprio's guidance, innovation and entrepreneurial thinking became central to the University's successful evolution and expansion of academic offerings. Breaking down academic silos, cross-disciplinary collaborations have yielded dynamic combined degree programs and courses, as well as game changing research and patents developed between departments, academic units, industry, students, and increasingly, with peer institutions. Western New England's size made it agile, and while others moved timidly during the Recession years, Dr. Caprio pushed Western New England to move forward with plans to open a pharmacy school, and to create much needed state-of-the-art science laboratories in a new building housing that program and the sciences. Later the University ventured into new fields such as behavior analysis, analytics, and occupational therapy.
Working and Teaching Together
Team-based learning is another hallmark of a Western New England University education fostered under Dr. Caprio's leadership. Observing cross-disciplinary team-teaching provides a model for students to emulate as they problem-solve and collaborate on their own projects and research. Initiatives like the Center for Innovation and Entrepreneurship, on-campus and external competitions, and industry-based research projects give students the skillsets and experiences essential for today's team-based work environments.
"We must prepare our students not only to make a living, but to lead a fulfilling life." - President Anthony S. Caprio
Preparing for a New Century
With the digital age in its infancy in 1996, President Caprio understood even then the value of giving our students the foundational skills to navigate their futures. Despite current debate about the enduring value of liberal arts, time and again, the transferrable skills gained from an integrated liberal and professional education—the ability to research and parse data, to think critically, to communicate effectively, and to live ethically—are those most prized by employers. "If ever the world cried out in need for a breadth of view and length of perspective, it is now," wrote President Caprio in the initial Strategic Plan. "We must hold ourselves to defining professional and liberal education for this era. Everything we do should be viewed in light of our drive to integrate liberal and professional education."
With this holistic view on student development, as he has often been heard to say, "We must prepare students not only to make a living, but to lead a fulfilling life."
Championing the Drive to University Status
A significant achievement of President Caprio's tenure was the result of his efforts to attain university status for the institution. While many clung to the "WNEC" acronym, President Caprio explained often and convincingly that this was more than a name change; it was essential to the very future of the institution.
In truth, by the 2010s Western New England had outgrown its "college" delineation; in many ways it had already become a comprehensive university. With forecasts for declining demographics in the US, the change in name was also important as it sought to extend its reach to international students for whom the term "college" is akin to a high school. In Massachusetts, to be designated as a university, an institution was required to offer PhDs. Capitalizing on the strengths of its existing Psychology program, Western New England introduced the PhD in Behavior Analysis, which has achieved international recognition for the research capacity of its faculty and for its focus in the area of autism. This was followed by the PhD in Engineering Management.
In 2019 the University joined the newly created Doctoral/Professional Universities category in the most recent update to the Carnegie Classification of Institutions of Higher Education. This new classification resulted from the creation of additional professional degrees. Dr. Caprio championed the establishment of the pharmacy and the occupational therapy programs. The first PharmD students graduated in 2015 and the first Doctorate of Occupational Therapy (OTD) students will complete their studies in August. The year 2019 also marked another reclassification when U.S. News and World Report placed Western New England into the category of National Universities, for its Best Colleges 2020 rankings.
"Underscoring these changes is a focus on career-readiness that has long been central to our educational model and instrumental to the success of our graduates," says President Caprio. "That is why we have been ranked number five in the country and number one in Massachusetts for getting jobs. Enhancements to the Career Development Center and the new Vanech Family Academic Advising Center, as part of The Campaign for Our Second Century, will strengthen our ability to prepare students for a rapidly changing workplace and careers yet to be imagined."
"Buildings may be built, academic offerings may grow, accolades may be earned, but it is our people who make Western New England University such a remarkable place." - President Anthony S. Caprio
The Caprio Tenure: Major Milestones
LED ACHIEVEMENT OF TRANSITION TO UNIVERSITY STATUS with Western New England transforming from a college to a university in 2011.


EXPANDED FROM 50 TO 90 academic program offerings.


LAUNCHED THE $35 MILLION CAMPAIGN FOR OUR SECOND CENTURY, the most ambitious fundraising endeavor in the University's 100-year history, and successfully exceeded the earlier $20 million Transformations Campaign (2003-08).


ESTABLISHED SCHOOL OF PHARMACY (now College of Pharmacy and Health Sciences) in 2010.


DROVE THE PURSUIT OF ACCREDITATIONS, beginning with AACSB International Accreditation for business programs (2005), PhD in Behavior Analysis (2014), Doctor of Pharmacy (2016), and Doctor of Occupational Therapy (2019), among others.


SPEARHEADED CONTINUOUS ELEVATION, leading the University to move from a regional to nationally-ranked university in U.S. News and World Report and in the Doctoral/ Professional Universities category in the Carnegie Classification of Institutions of Higher Education in 2019.


ADVOCATED FOR THE ESTABLISHMENT OF THE FIRST PHD PROGRAM (Behavior Analysis 2010) and for LLM programs (2005).


COMMISSIONED PUBLICATION OF COMPREHENSIVE HISTORY BOOK titled Western New England: From College to University–A Retrospective 1919-2011.


GREW CAMPUS FROM 18 TO 28 MAJOR BUILDINGS (185 to 215 acres). Major construction projects included LaRiviere Living and Learning Center, Evergreen Village Townhouses, the Kevin S. Delbridge Welcome Center, Golden Bear Stadium, the Trelease Memorial Baseball Park, the Softball Park, Southwood Hall, the Flynn Family Pavilion, the Center for the Sciences and Pharmacy, and the University Commons. Renovations/expansions were made to Rivers Memorial Hall, Herman Hall, D'Amour Library, Sleith Hall, the Blake Law Center, the outdoor sports complex, and the St. Germain Campus Center.


CHAMPIONED MAJOR ADVANCEMENTS in technology and infrastructure to support the student recruitment, onboarding, and learning experience.


The Heart of the Community
The president has likened Western New England University to a "living, breathing organism." If that analogy is true, then Anthony Caprio has long been at its heart.
Cutting a distinguished figure whether walking through campus or leading the Commencement procession, he is famously approachable. He has an uncanny capacity to connect with people in even the briefest of interactions, make them feel valued and instantly at ease. What is most remarkable is that in subsequent encounters he remembers details of those conversations—to ask students how their project is going, inquire about an alumnus' new job, congratulate a faculty or staff member on an accomplishment, or to thank individuals for all they do for the University.
Throughout his 24 years of service, President Caprio has reached out and traveled across the country and around the globe to connect with alumni and friends of the University. His popularity with students has also made him a sought after wedding guest, honored to stand with the happy couples in WNE alumni group photos as an ambassador of the Golden Bear family.
"I am so privileged to have shared these past 24 years in the company of inspiring faculty, whose commitment to students has transformed so many lives; in concert with caring staff who work tirelessly to help our students feel welcomed; in collaboration with dozens of remarkably dedicated trustees, past and present; and with the support of thousands of alumni who love this institution and the people here as much as I do," he says.
He estimates he has shaken the hands of 24,000 students—one half of our 48,000 alumni. "I feel that each graduate has been imprinted in my mind and in my heart, I am overwhelmingly connected to them."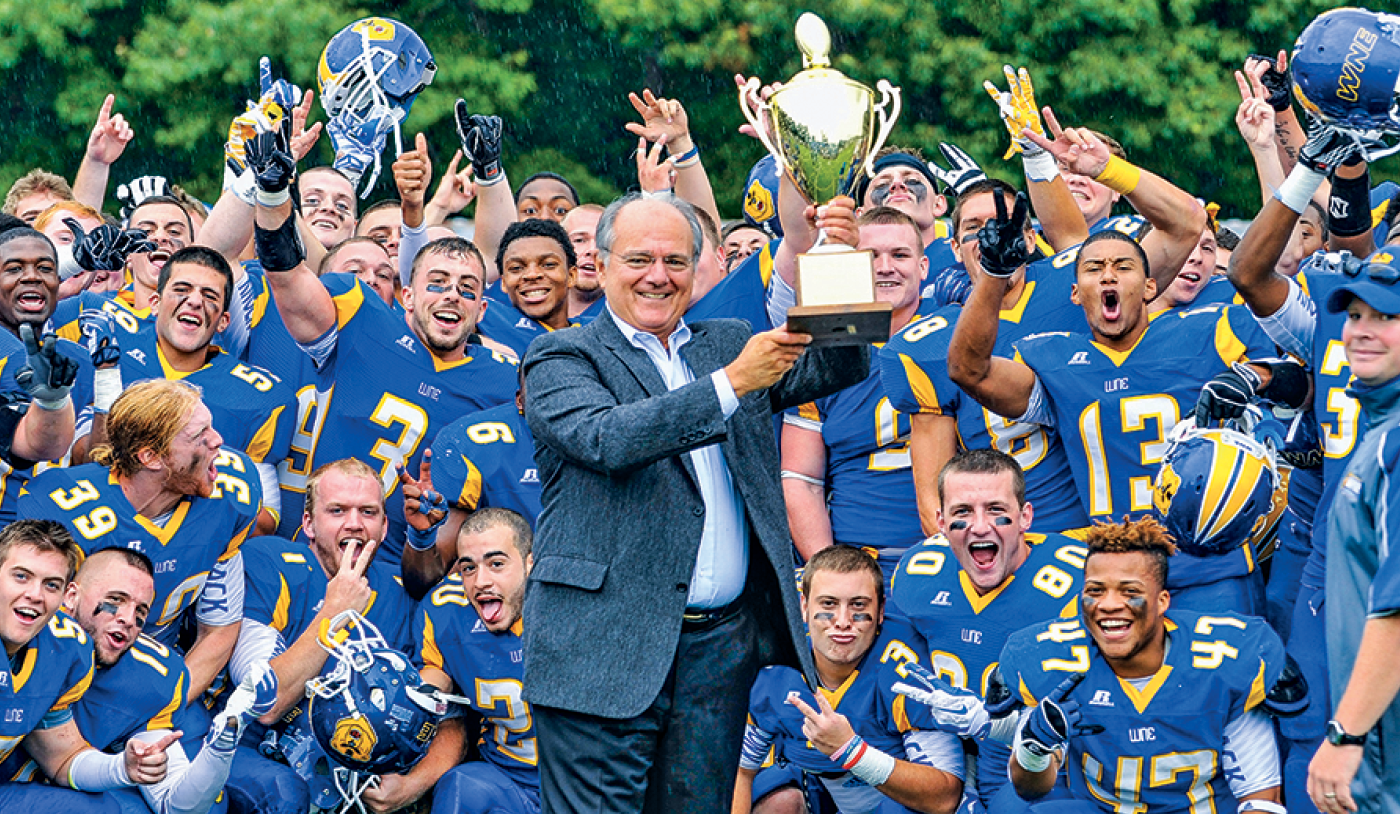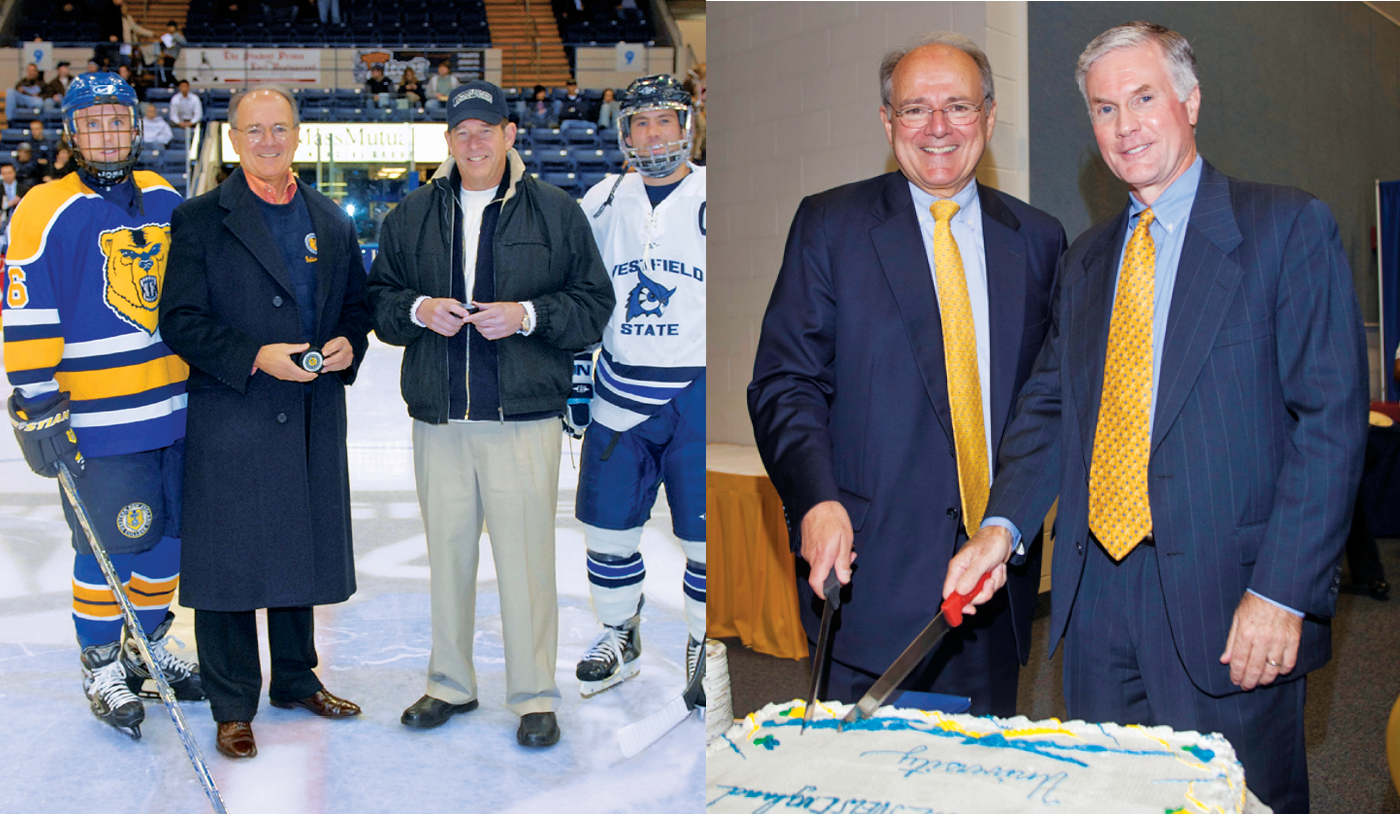 Facing Our Greatest Challenge
Just three months prior to his retirement, Anthony Caprio faced his greatest challenge: the COVID-19 pandemic, which dramatically changed all of our lives. Trustee Janet Johnson Bullard '69 wrote him stating: "You have really had to outdo all that you have accomplished in the previous 23 years of your tenure and you have done it brilliantly. May you be blessed with health and all the courage you will need to soldier ahead." Dr. Caprio responded with calm and clarity stating: "We were creative and entrepreneurial, caring, and united in a singularity of purpose. That is who we are and who we will continue to be for years to come. I am all the more proud to have served as president of this great institution."
Words of Gratitude
"A legendary mentor, leader, and friend. It was a pleasure for my twin brother and me to enjoy a simple meeting with him before graduating in May of 2019…Thank you President Caprio, and stay awesome."
BENJAMIN GREENBERG '19
---
"Anthony, the Western New England University community will never forget the countless ways you have touched all of our lives and your leadership to make this University one of the leading institutions in the country!"
STEPHEN ROURKE G'81, TRUSTEE
---
"Dr. Caprio's kindness, empathy for others, and love for the institution have been constant throughout his tenure."
MYRA QUICK, ASSISTANT DIRECTOR OF HUMAN RESOURCES
---
"It was a pleasure to work with you! You have set the bar high for those who follow."
DR. DENNIS LUCIANO, PROFESSOR EMERITUS
---
"Great leader and better man! We have only known Dr. Caprio for a short time but he has made our entire family feel welcome and part of the WNE family! We will miss our conversations when we visit our son on campus."
BOB GILL, PARENT
---
"Not only is he a wonderful president, but an exceptional individual to look up to."
COLLEEN CLARK-MOELLER '03
What has President Caprio's leadership meant to you? Continue the conversation and share your memories and well wishes with Dr. Caprio at
wne.edu/caprio
.