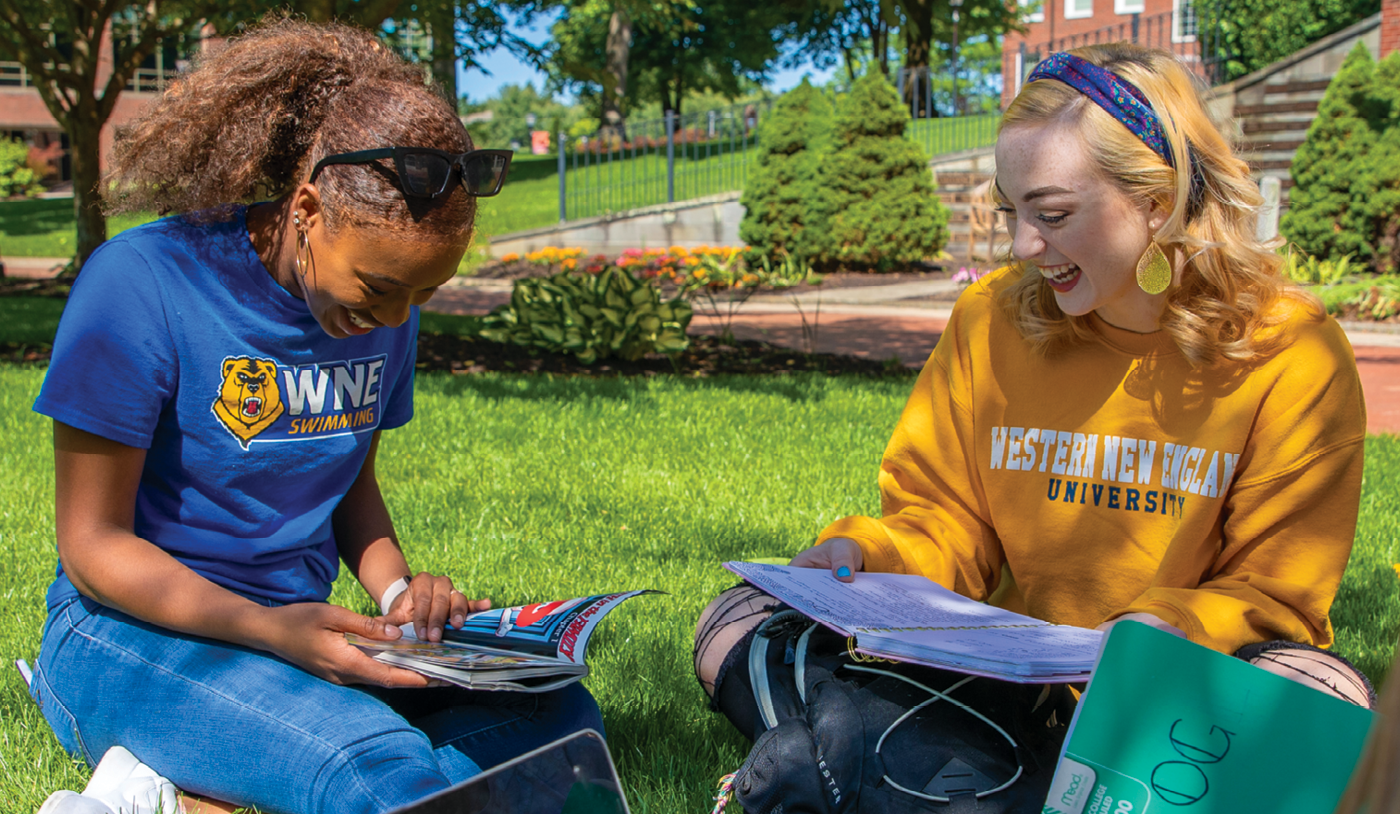 Discovering and Defining Gen Z
By Alex Lyman '12/G'16
The year 2019 marks our Centennial, where the University has celebrated our history and the unfolding of events that make us the institution we are today. As our 100th year winds down, we look to the future and how we will continue to evolve and redefine how we educate our students in our second century.
Generation Z students (born post-1995) became college-age just before our Centennial, and will be present in higher education for years to come. Like Millennials, Gen Z will have a profound impact on the world, complete with its own societal views, technological proficiencies, and generational differences. So what does that mean for the evolution of Western New England University?
Embracing and Helping to Evolve the Digital Age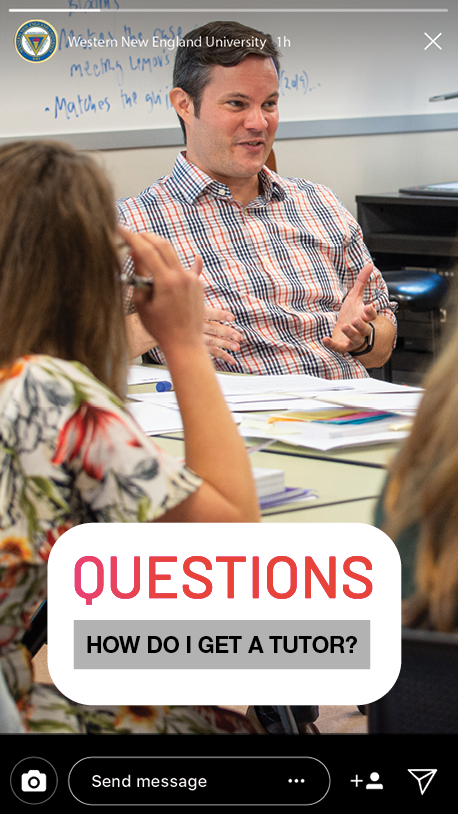 As the first generation to grow up entirely in the digital age, Gen Z students are incredibly tech-savvy and comfortable accessing many types of information quickly. However, being accustomed to the immediacy that the Internet provides presents some challenges to traditional learning. Gen Z's expectation for fast information and desire for hands-on learning has shaken up classroom models in a big way and Western New England is adapting in anticipation of those changes.
"Technology is a double-edged sword in higher education," says Assistant Professor of Education Ray Ostendorf. "Students can scan resources and find information quickly, but there is something that's lost about being a critical consumer of information when it is so readily available."
With Gen Z students preferring visual storytelling and feeling comfortable navigating everything from search engines to Youtube®, it's no surprise that they seek online courses where materials are more accessible, video plays a large role in learning, and collaboration with classmates and professors is just a click away. Virtual learning and our online classroom, Kodiak, allow students to complete course material in the middle of busy schedules and they provide a sense of comfort in a community layout that is familiar and safe.
Yet in direct contrast to their digital upbringing, Generation Z students simultaneously thrive with social, hands-on learning in the classroom and, unlike Millennials, often prefer face-to-face communication over email. Dr. Ostendorf notes that an ideal layout for a classroom session "has short spurts of traditional lecture to establish concepts and guidelines, but then there needs to be an application, a chance to practice it and get your hands into the content. Students want to be able to see the value of what they're doing fairly quickly."
Adapting to the Future of the Job Market
The clear link of the application of their lessons to the real world is crucial for Gen Z students, who can access anything they could ever want to know with a few keystrokes, but must determine how to best put that information to good use. Increasingly, Generation Z students view entrepreneurship as a way to solve problems, pursue their passions, do good in the world, and make a living at the same time.
The Colleges at the University encourage undergraduate students to have an entrepreneurial mindset and offer opportunities for them to engage with the innovation process. From the Entrepreneurship major and minor within the College of Business, to the interdisciplinary Product Development and Innovation course, there are a variety of curriculum-based experiences for student start-ups to blossom. Extracurricular programs include the Western Mass Innovation Jam, which is a weekend program sponsored by local colleges and universities (including Western New England), that is designed to help students develop skills essential to innovating in any context. 
Students begin with brainstorming ideas, form teams, and are guided by experienced industry mentors to develop a product or service, do market research, and put together a final business pitch. The University revitalized the Center for Innovation and Entrepreneurship which provides resources, guidance, and a physical "makerspace" for students who want to launch their own start-ups and entrepreneurial ventures.
With students' aspiration to gain knowledge and solve problems, and a desire to implement their ideas, universities become a key component in helping Gen Z members recognize their own potential. For higher education, the challenge is how to prepare Gen Z for jobs that may not exist yet or may change drastically over time. This is a group that wants certainty; stable careers and a clear path forward, which makes trying to prepare them for what to expect in the job market a multifaceted strategy that WNE is primed to facilitate. The answer lies in providing a foundation in transferrable skills with the capacity for new skills development.
"I think we have to be very mindful of the type of jobs that Gen Z students are going to be looking for in the future, versus the types of jobs that are available now." - Bryan Gross, Vice President for Enrollment Management and Marketing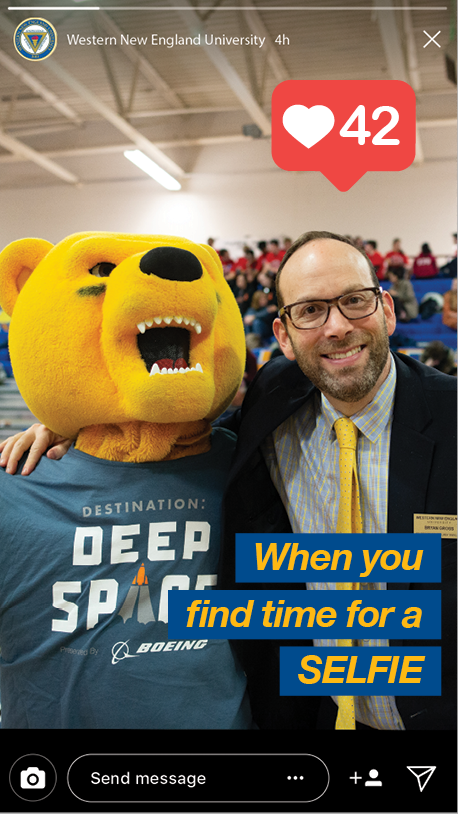 "This generation of students are very career-focused right from the beginning," says Vice President for Enrollment Management and Marketing Bryan Gross. Our continued commitment to career development and its expansion will address that. Another way the University is responding to the needs of Gen Z is that every new student coming in will have a team of four advisors that include an academic advisor, a university advisor, a career advisor, and a peer advisor."
One way the University is meeting students where they are while also emphasizing transferrable and soft skills is through applied experiences. From internships to team projects in collaboration with local businesses, Generation Z Golden Bears are able to connect the social learning environments in which they excel to real-world scenarios that require adaptability, innovation, and promote career readiness. Opportunities like Engineering Senior Design Projects allow local businesses to sponsor student projects so our students can solve real problems while also networking and potentially securing a job.
The University has also examined its physical spaces in order to adapt to the social and hands-on learning Gen Z expects. For example, the new University Commons was created purposefully with more table space and flexible seating arrangements to create environments that can host friends socializing, group projects, meetings, and meals. For our students, all of these gatherings tend to intersect; academics and social lives, creative and nutritional nourishment. Even campus mainstays like D'Amour Library have a dramatically different feel to them. Once a quiet haven for independent study, our library now has more of a lively buzz. Fewer cubicles and more open workspaces inspire collaboration, and the Business Analytics Technology Center equipped with SAP for business students offers a very visible look into the learning that is happening here.
Helping Gen Z Create a Life at College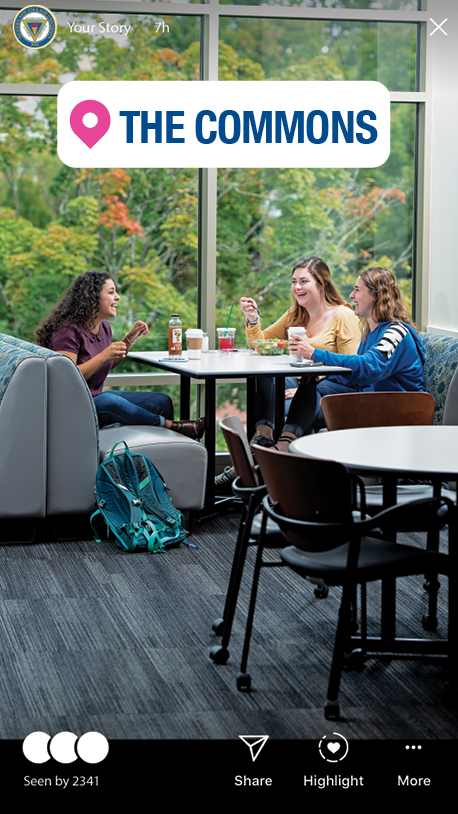 According to a recent Cigna study, as much as they thrive in hands-on learning and social environments, Gen Z as a whole experiences high levels of loneliness. Most of the study's participants attribute this to experiencing shyness, feeling as though the people around them are not really present, and thinking that no one really knows them well. This struggle with interpersonal relationships, coupled with Gen Z having more academic, social, and familial stress than any previous generation, creates challenges for Generation Z to find success and fulfillment in the college setting.
Providing students with opportunities to socialize in a positive, safe space is a critical charge in building Gen Z's resiliency, peer connection, and ability to handle stress and loneliness. Western New England University's longstanding commitment to peer-to-peer support from Resident Advisors, Peer Advisors, U&ME,  First Gen mentors, and Orientation Group Leaders are more important than ever in positively engaging new students in the campus community.
"Transitioning to college means creating new routines, establishing new relationships while maintaining existing relationships from a distance, and adjusting to the academic rigor of the college classroom," said Assistant Vice President of Enrollment Management and Retention and Dean of First Year Students Kerri Jarzabski. "The magnitude of the transition can certainly generate excitement and anxiety. Personalized support is a hallmark of Western New England, where first year students have a network of peers supporting them one-on-one. Faculty Advisors, Career Advisors, and support staff also provide direction as students move through their academic program, seeking internships and research opportunities."
Adds Vice President Gross, "It's important for us to always be rethinking the types of activities we offer. Overall, the University is going to have to get feedback from students and make sure it continues to be a place where students can start and create things that are most interesting to them."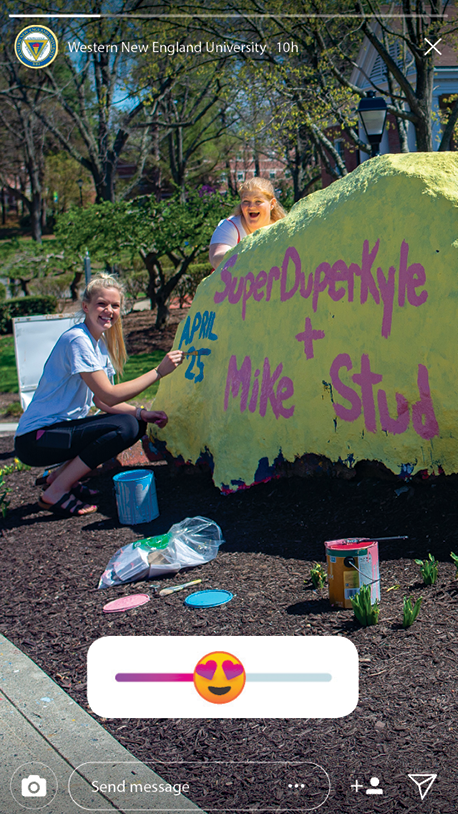 Some of those interests include giving back to their community and creating positive change within our society, and Gen Z members are committed to doing both in high volume. This generation grew up amongst turbulent political climates and current events—everything from school shootings, political corruption, climate change, and social justice concerns. This volatility is their reality; albeit one they are not willing to accept. They feel responsible, capable, and empowered as citizens, despite their young ages, and we are seeing Gen Z students truly have an impact on national platforms.
Offering Gen Z a variety of ways to make a difference, not just on campus but in the larger community, remains a pillar of a Western New England University education that is more relevant than ever. Whether a student finds their calling in Student Senate, volunteering with local nonprofits, or mentoring other students, the University is committed to creating opportunities for them to contribute to the community in a positive way.
Like their forbearers, Generation Z has its own distinctive culture and world-view shaped by its experiences. Gen Z is overflowing with unlimited potential, talent, and the desire to leave their mark, and previous generations must strategically adapt to understand its point of view and embrace what Gen Z members bring to society. Western New England University will likely influence and mold the many Gen Z change-makers, discoverers, and entrepreneurs who will arrive in our second century.
From expanding our program offerings and campus amenities to placing more focus on need-driven student support and a shifting industry landscape, Western New England University is committed to growth and adaptation as the world around us evolves in our next 100 years. We will continue to not only embrace our past, but also to forge ahead as pioneers of a future that all generations will share.