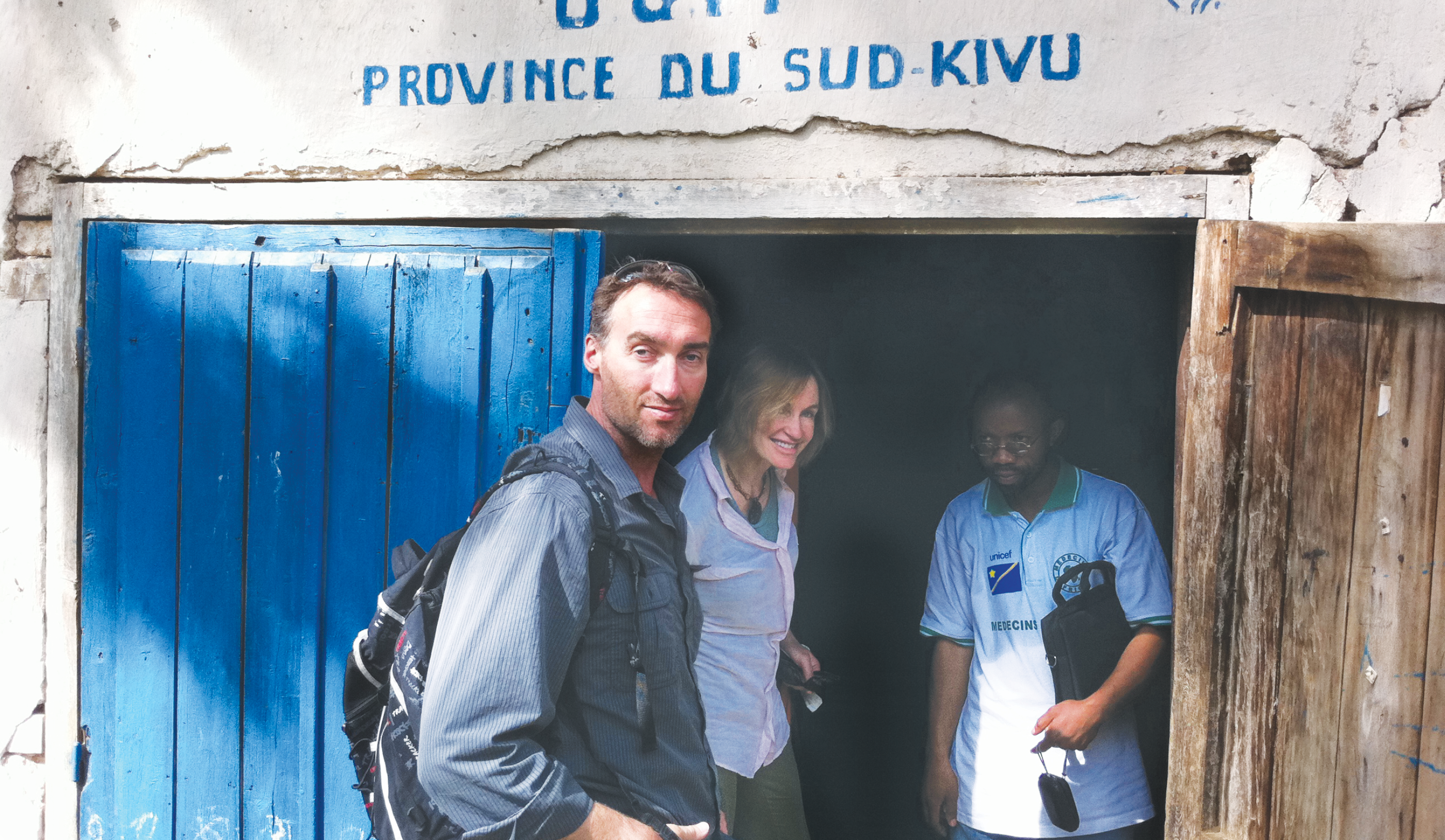 From the Congo to Campus
Professor Christian Salmon is developing creative solutions to global problems and reimagining education at home.
By Alex Lyman '12/G'16
Associate Professor Christian Salmon prefers the role of problem solver—he has to, simply by nature of being an accomplished industrial engineer. However, nothing has tested his resourcefulness quite like aiding the Democratic Republic of the Congo (DRC), where he has worked to develop and maintain processes in healthcare to improve quality of care.
In 2009, Dr. Salmon was introduced to the Heal Africa Hospital in the DRC by his sister, an emergency physician, who was working in the public health realm there. She saw a need her brother could fill, particularly in the hospital's pediatric HIV clinic, which was about to lose its funding due to an inability to provide information about its work. So Dr. Salmon went to the DRC to find out what was wrong.
"There were a lot of problems with Western entities bringing solutions that are not transferrable or sustainable for a developing nation," he explains. "They're not relevant and they're not supported, so the solutions simply don't get implemented or maintained."
The first order of business was to get the clinic's method of collecting patient data organized and streamlined so that the clinicians could use data efficiently and report operational updates back to donors. Dr. Salmon implemented a restructuring of the clinic, which included reducing the amount of data collected from each patient. What he discovered was that medical staff was collecting large amounts of unnecessary data points. Dr. Salmon pared questioning down to five of the most critical metrics for pediatric health, which made data collection easier and reduced appointment times. He also helped bring in a more accessible information technology software package produced by the Centers for Disease Control and Prevention specifically for low-resourced healthcare settings. Within seven months, the clinic had an appreciable and manageable body of information and could accurately report information.
The result was that operations were smoother, and the clinic had a better idea about who their patients were and what they needed. It also became easier for critically ill children to be identified, and quickly admitted to the hospital through a much more efficient process.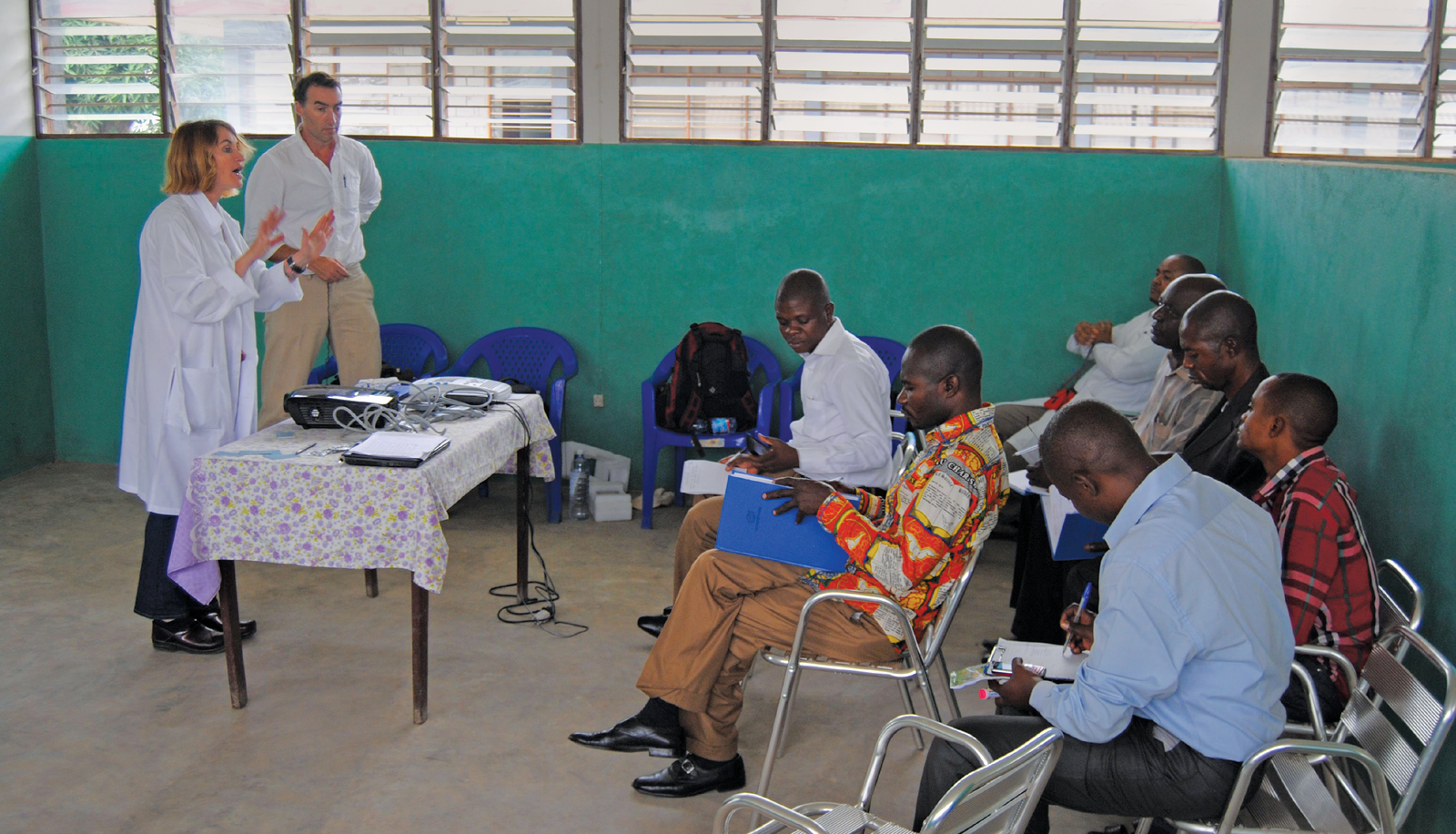 Another hospital in the DRC that Dr. Salmon worked with had an issue surrounding physical resources; namely ultrasound gel. He says that it is common for donors to be willing to provide large pieces of equipment like an ultrasound machine, but do not ensure that continual supply of the smaller needs, like ultrasound gel. This causes hospitals in developing nations to use inappropriate substitutes, if any, which compromises results. While on site, Dr. Salmon researched "alternatives to ultrasound gel" and discovered that a corn starch slurry might be used, though corn starch was not accessible in the region. Another search for "alternatives to corn starch" brought him to a British cooking website that recommended cassava, a root vegetable which happens to be abundant in the DRC. So Dr. Salmon experimented and taught doctors how to cook up their own ultrasound gel, which proved to be an excellent alternative. The cassava ultrasound gel was later officially deemed a good substitute by an academic study that was published on the online peer-reviewed journal PLOS ONE, as well as a validation study in partnership with Einstien Hospital that was published in the Journal of Obstetrics and Gynocology.
"Once you get involved in this kind of environment, there's always more you can do." - Dr. Christian Salmon
Dr. Salmon notes "Once you get involved in that kind of environment, there's always more you can do." This was certainly true for him as well as for Associate Professor of Biomedical Engineering Michael Rust, who has been working with hospitals in Guatemala for the past nine years, and has involved his students through study abroad trips there.
"Overall, our goal is to help improve the healthcare system in our Central American neighbor," Dr. Rust says. "First, we are working with the existing hospital infrastructure to keep the medical equipment functional for longer periods of time. This includes training programs with hospital technicians to give them the background knowledge needed to work with medical equipment, as well as tips for preventive maintenance to keep equipment running. We are also developing new medical devices that are more suitable for use in the Guatemalan healthcare system, including point-of-care diagnostic tools that can be used to screen for diseases that are prevalent in the rural communities."
Working with healthcare processes and technology in developing nations brought Professors Salmon and Rust together with the idea that they could do more as a collaborative effort under the construct of some sort of institution. They could even involve their students and colleagues. And thus, the Center for Global Health Engineering was born with Dr. Salmon serving as director, and Dr. Rust as codirector (though they intend to periodically switch roles over time).
"Our goal is to help improve the healthcare system in our Central American neighbor." - Dr. Michael Rust
The Center for Global Health Engineering not only allows both professors to continue their respective research, but it gives them a nexus from which to release their findings and look for funding. It is also an excellent opportunity to cultivate relationships with faculty members in other fields who have expertise the Center may benefit from. Because, as Dr. Salmon aptly noted, "Everyone has something to offer from other disciplines, we just need to give them the context."
Dr. Rust adds, "The problems we are tackling in the field of global health are complex, and we really need a multidisciplinary team of people to address them. The Center will be a place where anyone with an interest in global health can come to contribute their time and talents toward making the world a better place."
Learn more about the Center for Global Health Engineering.
Finding Smart Solutions Closer to Home
While Dr. Salmon spends much of his time improving healthcare processes in developing countries, as the chair of the Department of Industrial Engineering, he is equally invested in transforming engineering education to better suit students in the modern world.
One of his first actions in the role was to form an undergraduate Student Advisory Board to create a simpler and more open line of communication between students and faculty.
He also has championed a strategic partnership called the WNE FIRST® Robotics Initiative. FIRST Robotics Competitions (FRC) are becoming an increasingly popular extracurricular activity for students at the elementary, junior high, and high school levels around the nation, where teams not only build their own robots and program them to complete tasks in competitions, but also market and fundraise the entire effort, making the experience a well-rounded and fun mix of STEM, team-based learning, and entrepreneurial thinking. Through the WNE FIRST Initiative, undergraduates mentor students teams and host major FRC events (see Campus News). The University has also established a $1,000 scholarship for incoming first-year students who have been FRC team participants.
"The robots are the excuse," explains Dr. Salmon. "They are not the end goal. The rest of it is design, marketing, outreach, entrepreneurship skills, and organization. It teaches kids a lot of different skills. The end goal is really to get more people involved in STEM, business, and entrepreneurship-related activities."
FRC is an expensive endeavor for schools to develop, with students needing to fundraise upwards of $50,000 per year to build a robot and compete. Acknowledging that not all communities have the resources to fund FRC teams, the First Tech Challenge (FTC) was established in order to make schools such as Duggan Academy just across the street from campus a more accessible version of the FRC program for underserved areas. 
Dr. Salmon and his students see the FTC program as an ideal opportunity to engage directly with the Springfield School District. He notes that FIRST Robotics exists all over the country and the world, but as of yet Springfield is not involved, and he wants to change that.
"Because the FTC is a much more accessible option and less demanding of resources, we want to develop FTC teams in Springfield," he says. "Our Longmeadow High School team did really well, but ultimately they would have been fine whether we existed or not. My goal is to integrate with the Springfield School System because we can change their lives by giving them the framework of the program and a way to develop their own skills."
The graduate programs in both Industrial Engineering and Engineering Management are experiencing their own shift under Dr. Salmon's leadership and vision. Previously the department only offered a Master of Science in Engineering Management. Now with a master's in Industrial Engineering, he is working to help prospective students more clearly understand the distinctions between the two degrees. Dr. Salmon says the MS in Industrial Engineering is an ideal choice for engineers seeking to advance within the field, while the cross-disciplinary MS in Engineering Management is designed to help them develop the business and leadership skills necessary to move into broader executive roles.
With the graduate education landscape trending toward courses with both immediate relevancy and application as well as opportunities to apply toward certificates or master's degrees, he has revamped three existing certificates and introduced five new offerings.
"Part of this process is a continuous dialoged and program structuring to ensure that we offer programs and subjects that enable people and organizations to remain on the front wave of a paradigm of lifelong learning, in an accessible and affordable manner," he says. Towards this end Dr. Salmon has also formed a Graduate Student Advisory Board that will enable the department to assess the quality of their product from the students' perspective, as well as a Industrial Advisory Board through which he hopes the department will be able to garner information from industrial partners on the relevancy of the course and material offered to undergraduate and graduate students.
Whether working abroad or at home, Dr. Salmon has proven that collaboration between disciplines, ingenuity, improvisation, and the ability to bring people together is a formula that solves problems, regardless of scale.