After the Storm: Alumni and Students Aid Disaster Recovery
By Mary McLean Orszulak G'10
For days they are the lead story on every media outlet, capturing national attention as we monitor rapidly changing weather maps and watch meteorologists battling winds and ratings to tell the big story. Then, just as quickly, they are too often forgotten. They are natural disasters.
In the eleven years that she has worked for Vermont Emergency Management, Erica Bornemann '08 (Political Science), now the agency's director, has seen a lot. But nothing could have prepared her or the Green Mountain State she loves for the highly unusual conditions that led Hurricane Irene on August 29, 2011 to rain down on the state for 12 straight hours and leave many rural communities still struggling to recover economically more than seven years later. 
When it stalled over Vermont, Irene turned virtually every small mountain stream and brook in the state into a torrent, flooding over banks and gushing down rivers to the populated valleys below. The floodwaters carried away homes and harvests along with many of the state's iconic wooden bridges. Three lives were lost.
"Hurricane Irene exacerbated the impacts of what was an extremely wet year," recalls Bornemann, who leads one of four key divisions in the Department of Public Safety. "We had another disaster declaration that spring because we had a combination of record snow fall and record rain fall for two straight months that brought our biggest lake, Lake Champlain, above flood levels and that lasted for weeks. Then we had rainstorm after rainstorm so we never really dried out all summer. So you put seven to eleven inches of rainfall on top of that and you've got a huge disaster."
According to Bornemann, the storm was a billion dollar disaster for the small state (pop. 623,657). "There was $250 million in damages that were eligible for our programs and another $250 million in highway infrastructure. There was also a lot of hard work that had to be done in terms of economic losses so it was a billion dollar disaster for us—and that's big. The only storms it compares to were the 1927 Great Vermont Flood and the 1938 New England Hurricane. Hopefully we won't have anything as big as that again in my lifetime."
With bridges and roads washed out, many communities were cut off. Vermonters, known for their culture of self-reliance, didn't wait for help. Neighbors helped neighbors and where no roads remained they built their own. In a state highly dependent on tourism, many small towns have still not recovered economically.
"Recovery is something that lasts a lifetime for many people. So on a day-to-day basis we are recovering from no less than 10 disasters here in Vermont." - Erica Bornemann '08
What Prepared Bornemann for Her Role in Disaster Recovery?

"The huge advantage to political science is that it's broadly applicable," says Bornemann, who interned for Springfield Emergency Management and then for her current agency. "You can go work on a campaign, get involved in policy or analysis, or like me apply what you have learned in local government. Once I began working in emergency management, I earned my master's in Public Administration from Norwich University. We often say here that public service is the public trust and we take that very seriously. If there's one message that I would give to current students it's that as a public servant you are beholden and responsible to your constituents."
Building Resilient Communities
As communities around the country face even larger storms this year, lessons learned from Irene have strengthened Vermont's disaster preparedness. One of the biggest obstacles facing storm responders was spotty communications in a state where mountainous topography and a disdain for cell towers had offered limited coverage. Since then it has adopted the Vermont Alert system, which allows residents to receive wireless alerts. Bornemann's team has also stepped up social media communications and she welcomes a new nationwide system for first responders called FirstNet.

As part of her job, Bornemann oversees preliminary assessments of damage with FEMA to validate damage declarations to procure federal monies to repair local infrastructure. "That's so important because infrastructure supports a town's economy and if it is damaged and stays damaged for a long period then over time the economy will erode," she says. "People will move away and the community will erode. That's the whole purpose of emergency management—to ensure that folks are not only prepared for a disaster, but also that their responders are ready, and that we have all of the partners at the table to be able to recover fully and build better than it was before."
Being Ready
With major storms wreaking havoc on unexpected places like hurricanes in Vermont and tornados in Springfield, it's essential to be prepared for the unexpected.

"Disasters are cyclical so no matter where you are, you're always before or after a disaster," reminds Bornemann. "That's the way we really view it. The biggest things that I encourage people to do are (1) Be informed and have a plan—have cash on hand, food and water for more than three days, and make sure your whole family knows the plan. (2) Get involved—you may not be in a place where you were affected, but you definitely have some neighbors who were. Your community and everyone has an obligation to take an interest in making sure that their community gets back up on its feet. If you're going to volunteer, do it through an affiliated organization and make sure you're not just showing up. (3) If you're going to make a donation, do so in the way that your emergency management asks you to make a donation. After a big, nationwide disaster people want to help, but it can almost be a second disaster when it's not done in an organized fashion."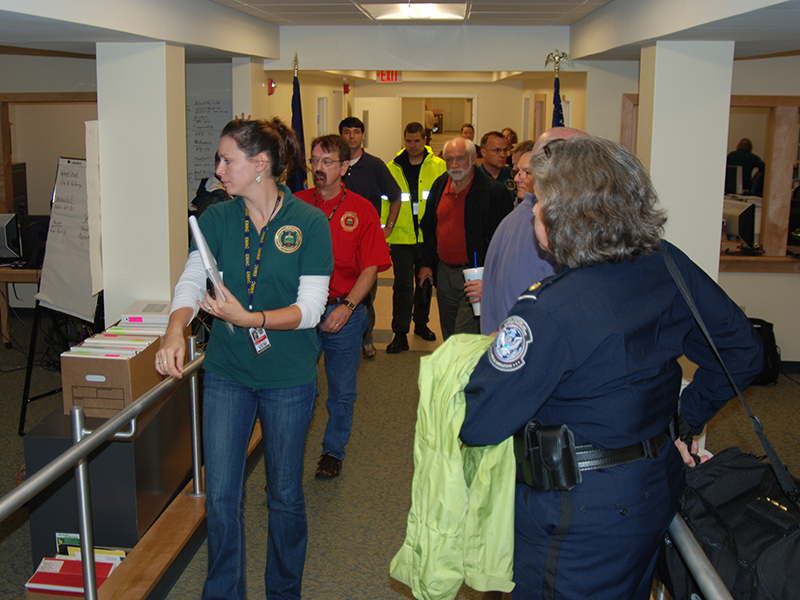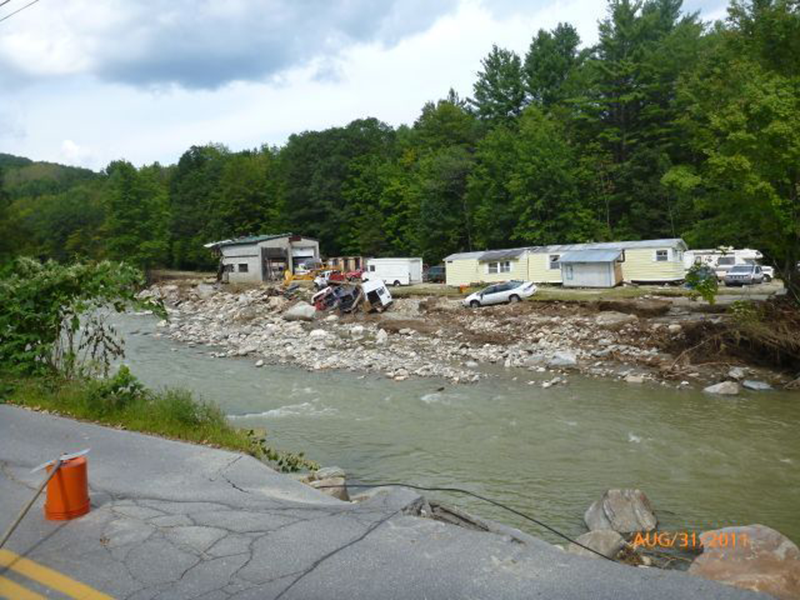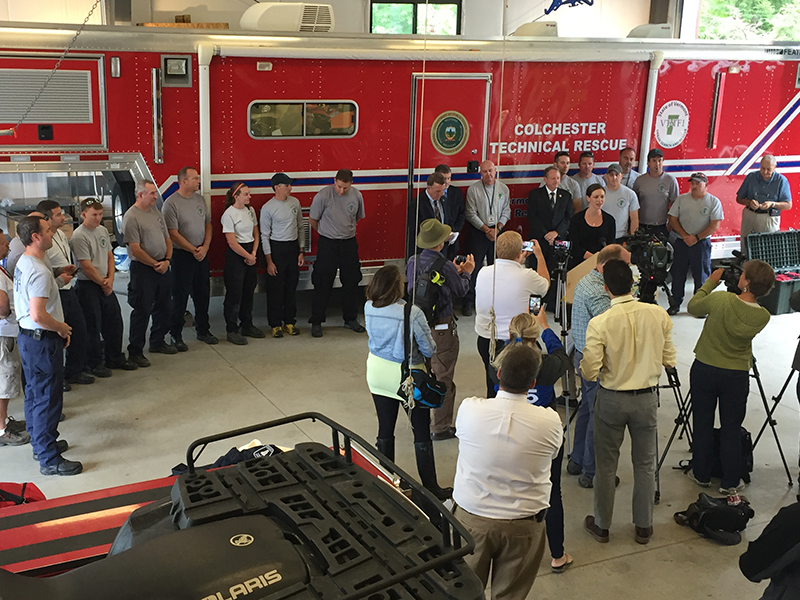 Alexis Zysek '16 

Answers a Call to Serve

When Alexis Zysek '16 graduated with her bachelor's degree in Social Work, she decided to join AmeriCorps to develop leadership skills, strengthen communities, and aid in natural disaster recovery efforts.

Zysek and her team of young volunteers were trained at the Southern Region headquarters in Vicksburg, MS. When Hurricane Harvey began to take shape out West, they were told to be ready to deploy there. Suddenly, the U.S. was facing hurricanes on two fronts, as Irma was speeding toward Florida and Zysek would soon be too.

Following the Category 5 hurricane's landfall in Florida on September 10, 2017, the team was sent for two weeks to volunteer with Save the Children at a shelter in Miami to provide child-friendly spaces for displaced families. Next they traveled to the Keys and witnessed Irma's devastation at ground zero.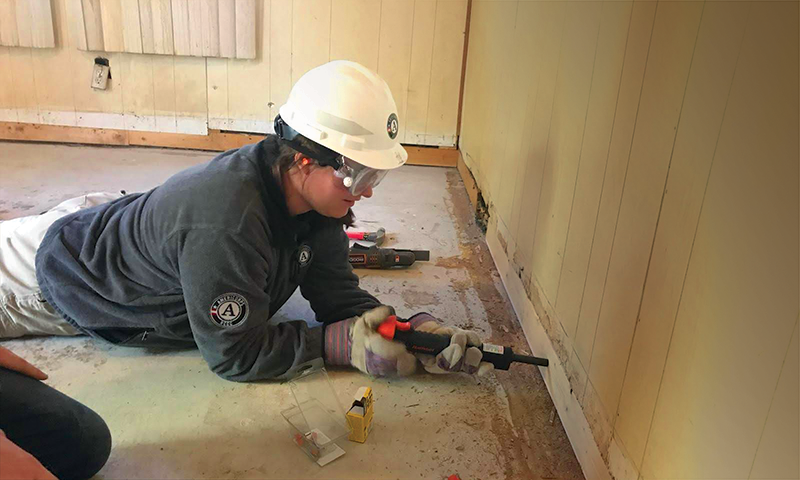 "The Key West flooding had receded, but the debris was just everywhere," she recalls. "Parts of buildings were ripped off and boats overturned. People's entire homes were just piled up by the side of the road waiting for dump trucks to take them away. We distributed supplies and estimate that we helped more than 13,000 individuals affected by Irma."

As Zysek met members of the community, she was struck by the stoicism of the Floridians who know all too well the risks of living in an idyllic setting in the shadow of potential storms.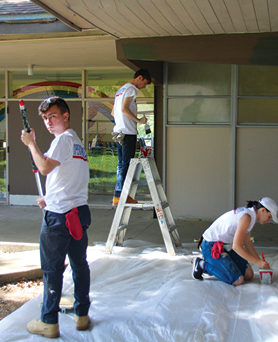 Alternative Spring Breaks Assist in the Aftermath
Last spring, a team of 20 undergraduates from our Alternative Spring Break program traveled to the Houston area to help assist with Hurricane Harvey relief. "People need to understand the time it takes to clean and rebuild," says Gian Zito (Management and Leadership), who co-led the trip. "It's important to help everyone equally or to the best of your ability. Because any help counts when it is truly needed." To help communities deal with long-term legal issues, contingents of law students have spent four of their Alternative Spring Breaks assisting residents in New Orleans and Biloxi, MS.
"You really feel the devastation through the residents, but you are also inspired by the composure that they show as they scramble to get their lives back together," says Zysek.

Next, the team worked on rehabilitating homes in Columbia, SC, a low-lying region still recovering from what has been deemed "Thousand Year" flooding when 13 dams failed in 2015. Other assignments in the region included clearing overgrowth in a historic African American cemetery in Richmond, VA with a small nonprofit, The Enrichmond Foundation. Then the team came full circle—back to Florida to work for St. John's Housing Partnership in St. Augustine on home renovation projects.

Now looking to start a career in disaster response, Zysek says, "My service in AmeriCorps was incredibly meaningful and eye-opening. In my New England internships, I really used the skills that I gained in the Social Work program. But in disaster response, you're called to wherever you are needed and join with whomever you can to work toward the same goal—getting victims into a safe environment in the shortest recovery time possible. I learned so much from the people we helped, who were really the experts because they had lived through hurricanes before. It was truly life changing."
Social Justice Warrior Dr. Jodie Roure L'97 Shines a Light on Puerto Rico Recovery
Dr. Jodie Roure L'97 will never forget how powerlessness she felt on September 19, 2017, as she huddled with her 12 year-old twins in San Juan, Puerto Rico, while Hurricane Maria raged just outside the vulnerable walls that protected them. "I reassured my children that I would keep them safe," she recalls. "All the while knowing that I had no guarantee of my own safety."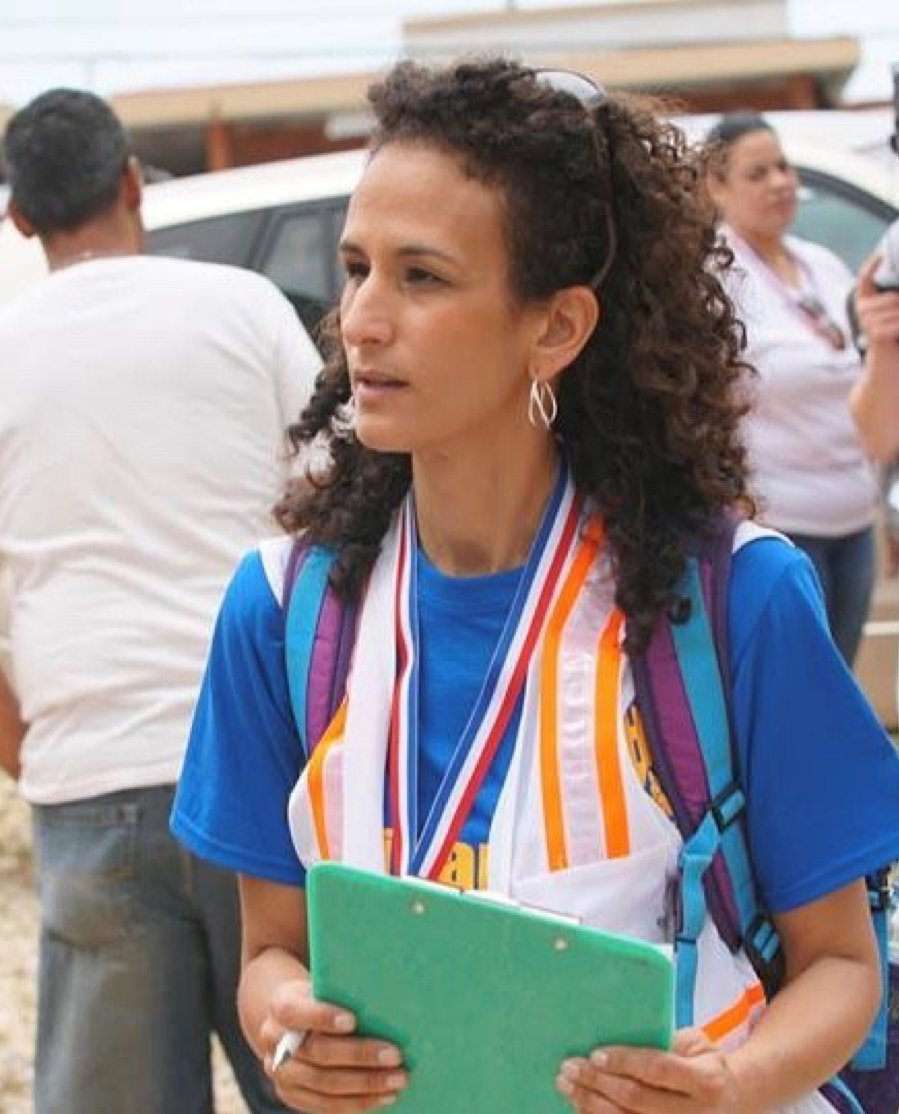 Her family survived that night of terror and its aftermath, while 2,975 other U.S. citizens did not. And as the U.S. territory languished in darkness for months, Dr. Roure, a force of nature in her own right, took back her power and channeled it into saving lives on the island where she had been living.
Roure, an associate professor in the Latin American and Latina/o Studies Department at John Jay College of Criminal Justice, CUNY, was originally scheduled to be the keynote speaker the following weekend at Western New England's Annual Law Alumni & Students Color Dinner, but that commitment would have to wait a year.
Instead, when she returned to New York, she leapt into action, recruiting resources and allies to save lives. Through the nonprofit she established now called the Hurricane Maria Assistance & Relief Institutional Alliance, Inc. and support from the American College of Surgeons (ACS), Roure quickly assembled a team of attorneys and leaders to support efforts to send 25 volunteer doctors and nurses to provide immediate medical aid. Her team enlisted Jet Blue in the efforts, and flew with the volunteers to Puerto Rico to spend 14 days bringing over $200,000 of critically needed medical supplies to some of the island commonwealth's most remote communities. Working in partnership with ACS Fellow Dr. Rafael Rodríguez Mercado, secretary of health of Puerto Rico, that initial trip has evolved into an ongoing collaboration as part of its ACS's Operation Giving Back volunteer program in Puerto Rico, the first ever such program on U.S. soil.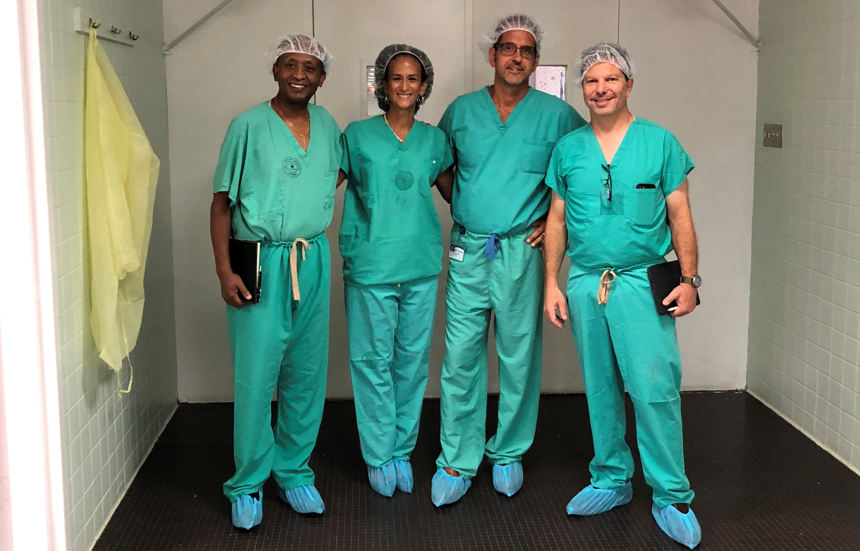 Dr. Jodie Roure, with Medical Director of Operation Giving Back Dr. Girma Tefera and the lead team of volunteer surgeons Dr. Michael Lekawa and Dr. Matt Dolich, whose work was the focus of an ACS conference held in Boston in October. 
Keeping Puerto Rico in the Spotlight
In the year since Hurricane Maria (and Irma) struck, Puerto Rico has gone on record as the longest power blackout in U.S. history and has amassed damage estimates of close to $100 billion dollars. Roure has worked tirelessly to advocate for Puerto Rico through her new role as CEO of Hurricane Maria Assistance & Relief Institutional Alliance, Inc. With support from the local community in Puerto Rico, in March of 2018 she led a brigade of students, faculty, and alumni from John Jay College to assist in humanitarian relief efforts, an initiative that has built a pipeline for continued support and advocacy.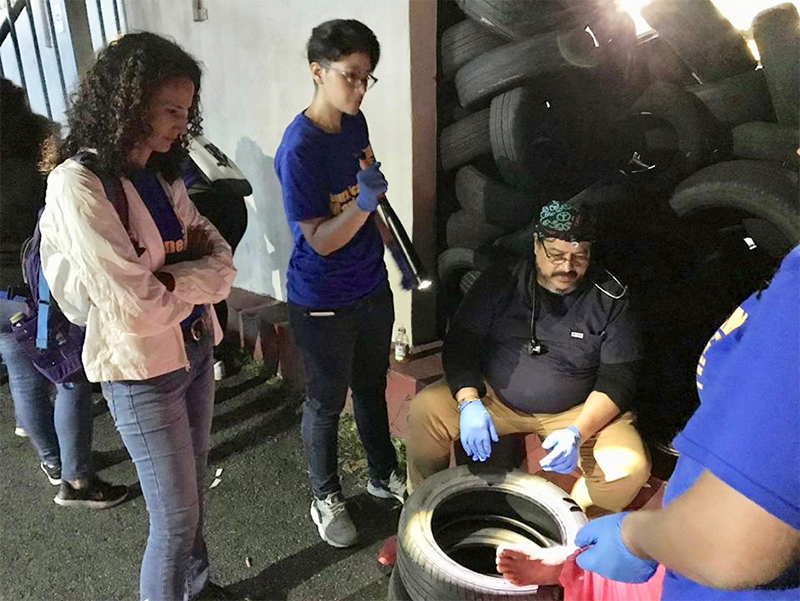 Dr. Roure, her students, with Senator Dr. Jose Luis Vargas Vidot participating in his Rondas Nocturnas or Nocturnal Medical Rounds that take place from 7 p.m. to 5 a.m., aiding the homeless, sex workers, and substance abusers, which are vulnerable populations left with little to no support
Through her efforts to continue to shine a light on Puerto Rico's needs, Roure was invited to testify before the U.S. Congress. She and fellow volunteers received an award from Puerto Rico College of Surgeons/Doctors and was honored as a "hero without a cape" by the American Medical Student Association at the University of Puerto Rico at Rio Piedras.
During the crisis and the brigade building process, Roure employed her many talents for networking, organization, advocacy, negotiation and communication honed in law school to make things happen quickly—and ultimately save lives. It was a path first inspired by her father, an advocate for migrant workers' rights, who regularly took young Roure with him to the farmlands of rural New Jersey as a documenter and translator.
A year after Hurricane Maria transformed her life, Dr. Roure was finally able to speak at the 2018 Law Alumni & Students Color Dinner, where she encouraged attendees to find their own connection points to causes they care personally about. 
"Uniting forces for the greater good is a role lawyers play in the world. You have to see yourselves as social justice warriors, as change agents who can make a difference. This is how we will create a more just world, how we will enrich the fabric of these United States, by showing that the diversity of ideas is the essence to maximizing opportunity." - Dr. Jodie Roure L'97
About Dr. Jodie Roure L'97
CEO of Hurricane Maria Assistance & Relief Institutional Alliance, Inc. Dr. Jodie Roure L'98 is an associate professor in the Department of Latin America and Latina/o Studies at John Jay College, project investigator and director of the John Jay College Ronald H. Brown Law School Prep program, director of the University of Houston Law Center Pre-law Pipeline Program,ACLU Fellow, expert on domestic violence, and advocate for diversifying the legal profession. Dr. Roure earned her J.D. from Western New England University School of Law, and holds a Ph.D. from the University at Buffalo-State University of New York, and a B.A. from Rutgers University-Douglass College.